Have you ever asked yourself why customers leave your store? And how many reasons have you found? Just a few? Honestly, there are soooo many of them! In this post, we will try to find out what mistakes store owners make on their websites that force their customers to leave without a purchase.
Based on our hands-on experience, we've come up with two major factors affecting the overall impression of an online store: homepage and website navigation. Let's see what can go wrong here and how to avoid potential pitfalls.
Homepage
What page is exactly responsible for the first impression and further customers' steps? I think Homepage comes to your mind first. If you want to know what annoy customers on it most, read on. As a bonus, we added useful tips.
They don't understand what a website sells
Look around your website, how many categories are there in your web store? And how many of them are represented on the Homepage? Only 2 of 10? Believe us, it brings no benefits to.
Customers rely mostly on the Homepage to determine which type of a website they've landed on and what the product range is.
When you sell a broad range of items, this point is heavily important for you. To tell the truth, customers can misinterpret the type of site because they don't see what they need and don't look through categories because they don't believe the site will carry them. The customer scrolls the Homepage, doesn't find something that catches his eye and thinks "Okay, this is not a store where I will find a bag ". In order to avoid such coincidence, let most crucial product categories occupy a good part of the Homepage to show a breadth of items you sell. So, try to bring your homepage to such a view that a short glance over it should indicate the store's product diversity.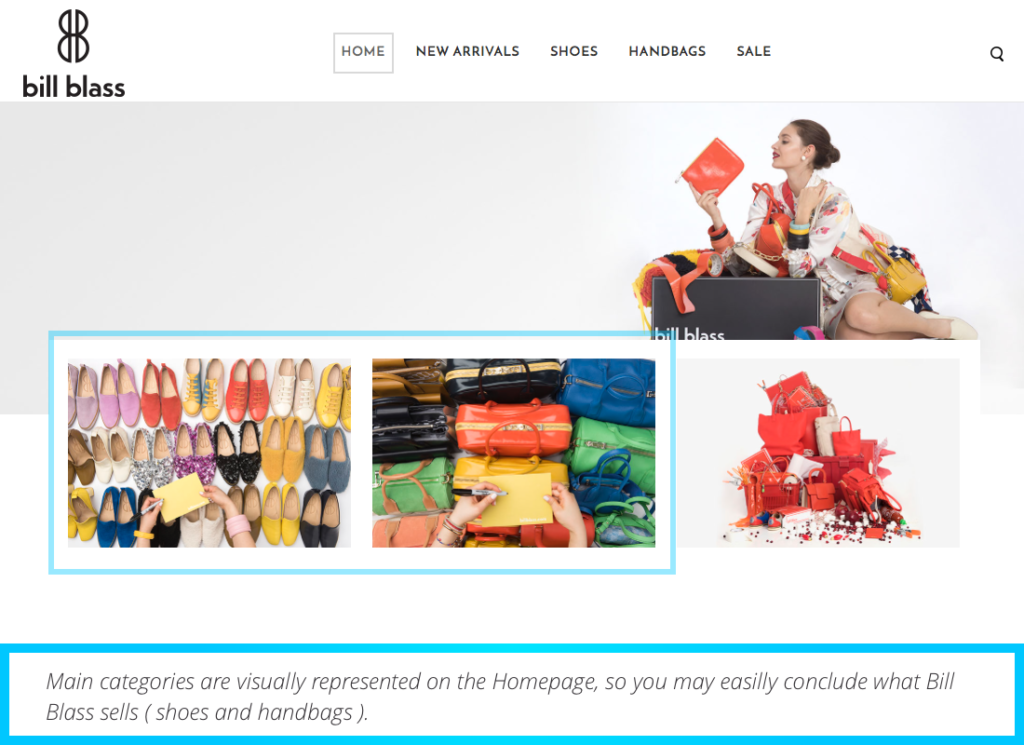 One more point here is thematic categories. When sites rely mostly on either featured, thematic, or curated category navigation, the users often run into severe issues and have to leave because the site's taxonomy doesn't properly support the expected method for finding products online – by type of product.
In moments of complete despair, customers try to search on a site, if they strongly believe that it contains the product. But they can meet new difficulties.
They can't find the search field
So, when a user got stuck and have no ideas what to do further, the search field can be a fallback. And it will be a total loss if a user overlooks it.
The search field should be obvious and prominently positioned on the homepage. Not only for users who want to search immediately and seamlessly, but also so that any user instinctively knows where the search field is located at the very beginning of the browsing experience.
You can tell that there are more important parts on the website than the search field. And you will be right. On the one hand, the visual impact of the search field shouldn't demand too much attention. But on the other hand, the search field should be directly noticed and shouldn't battle for users attention with various graphical and promotional banners or carousels.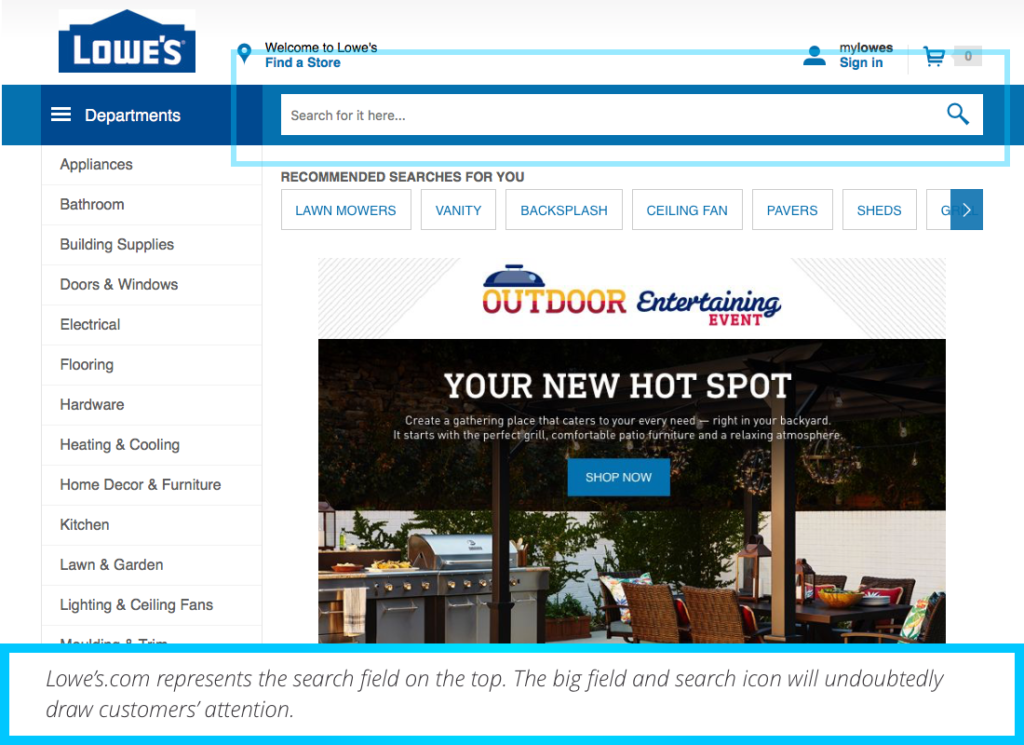 We recommend you to make all elements equally conservative and increase the visual dominance of the search field dynamically, e.g. use bolder borders, more contrasting background color, bigger field and font size, increased vibrancy of the "Go" button, or even giving the field keyboard focus.
Website's ads are intrusive
One more reason for customers leaving is unexpected interrupters or ads.
When a potential buyer lands on a website for the first time, where an ad suddenly springs out. What will be his first impression?
According to the research, customers tend to be very negative towards sites with ads on the homepage. Particularly, if the ads are placed in pop-ups banners or overlays and perceived as a "spam". If you have on the Homepage content which causes annoyance, or at best is just ignored, it is a wasted opportunity.
How do your best and don't irritate customers? We give you the answer.
Carve out a block of a fixed size and position given for internal "ads" and then craft graphics to insert the most current and relevant campaigns. Don't forget to take great caution in how promotions and features are designed and how they integrate with overall homepage design.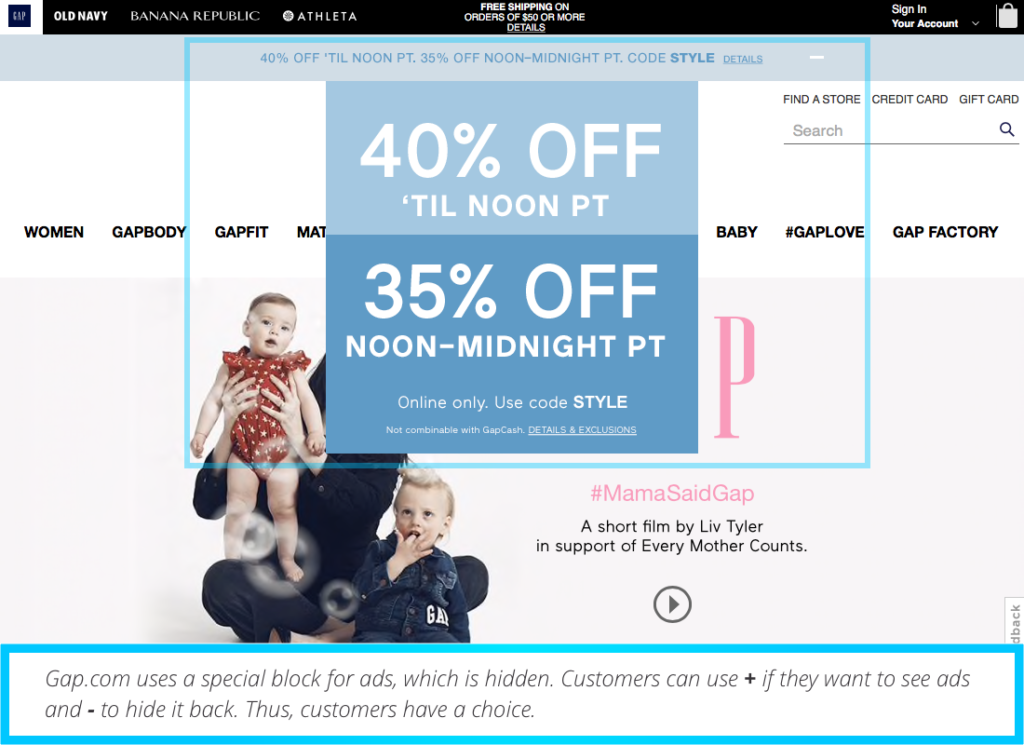 Wizards should be mentioned here, because they were frequently mistaken for being ads, but can be absolutely helpful for buyers, searching for complicated products: computers, cars or smartphones.
When a visitor lands on a website and hasn't yet decided what product he wants, he is more likely to look for a wizard.
Unfortunately, users tend to overlook them. To avoid risk, place wizards directly on the homepage and make them look very different from graphical banners or ads. As users have tremendous attention to form fields, it will be great to include select fields or other form UI elements into a wizard. Moreover, the criteria selection on the wizard can function as information scent about wizard's features and scope.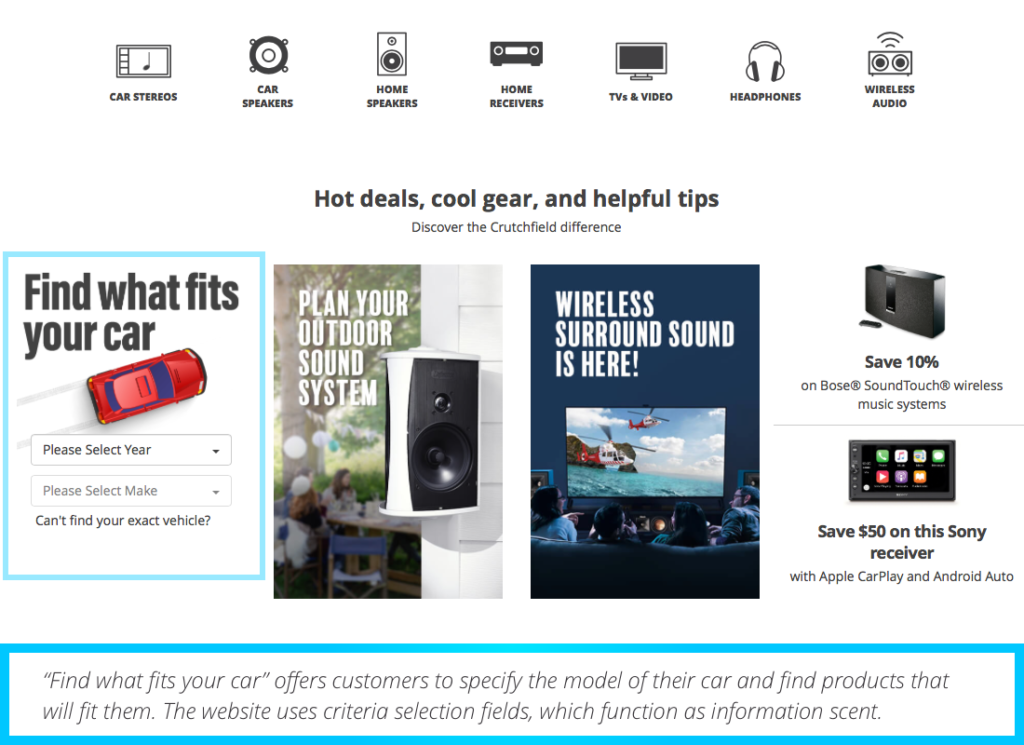 Website works slow 
Customers have no patience to waste their time waiting for your website to load. KISSmetrics researched how loading time affects your bottom line and we offer you to look through some key points:
The longer your page load time is, the more customers abandon your store.
79% of potential buyers who are dissatisfied with website performance are less likely to visit this website again.
Most participants of this research say that they would wait 6-10 seconds before they leave websites.
52% of shoppers affirm that quick page loading is important to their site loyalty.
They are skeptical about a website
An immense part of customers are still skeptical about eCommerce sites and it is one more reason for leaving. A Stanford study found that 46% of online customers access sites credibility on the look of the homepage.
Customers expect to be able to get in touch with a retailer through phone or custom service channels, such as online forms,  live chat support, e-mail. If you put contact details ( phone number and location ) for the foreground and provide buyers with online help and support, it gives you more chances to look more secure and trustworthy.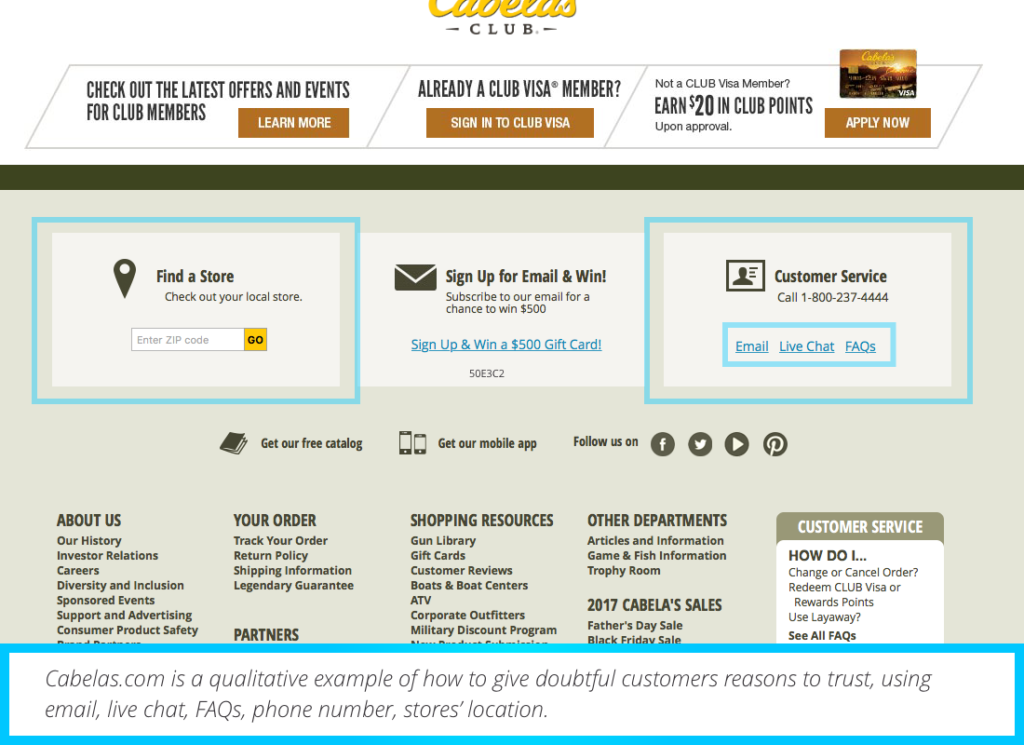 Website's design is poor
More and more customers use their smartphones, tablets or desktops for online shopping and according to the Business Insider's research, m-commerce will reach 45% of the total U.S. eCommerce market by 2020. Putting a mobile responsive design at the core makes customers more likely to buy your products.
At the final part of the article, I want to answer the question: How can we increase our customers' patience?
A great part of industries depends on visual elements, especially such as home decoration, apparel or accessories. By aesthetics (side-wide layout, quality content and design) you may set a positive tone for the shopping experience and make visitors more patient and loyal. When they appreciate your inviting and inspirational parts, they are more likely not to commit drastic movements.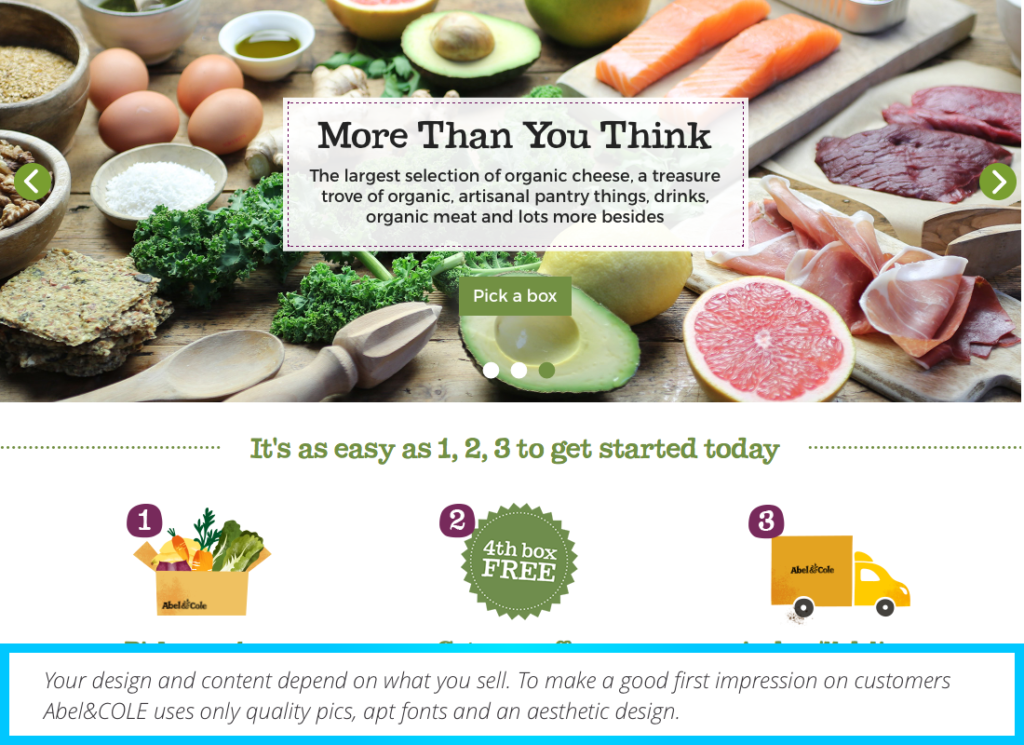 ---
Keeping your homepage clean, organized, and easy to navigate is just as important as having a neat and tidy brick-and-mortar shop. If your homepage in a complete mess, your website sucks. Look through your website and ask yourself: Is it easy for customers to find products? Is it easy to find the search field? Does your website look secure? If not? It's time to change it. Listen to your testing metrics and act quickly. May the force be with you ??
Categories and Navigation 
The smart and non-frustrating website navigation menu for e-commerce business is a truly crucial thing. Any website's navigation must be functional, accessible and usable. It's a very bitter situation when a visitor of your store can't find what he/she wants, wastes tons of his/her valued time and leaves your store full of anger and completely unsatisfied.
You see, sloppy site's hierarchy can lead to fundamental misconceptions. Let's look through common website navigation menu mistakes.
Misconception between categories and filters
Categories and filters are completely different things and perceiving them as interchangeable is a critically harmful tactic. So many sites do this wrong and use categories in places when, in fact, will be better to use filters and vice versa. Such mismatch provides confusions and limitations for users.
Today we are ready to split these two notions once and for all. Categories are unique elements, they are part of product catalog hierarchy. They normally generate a new page which is either a sub-category page or a product list and often includes filter options. In their turn, filters are tools for narrowing down the product list within a category. Users can specify filters to meet peculiar needs.
Tip:  To find out which classification is applicable to a given product catalog, ask yourself: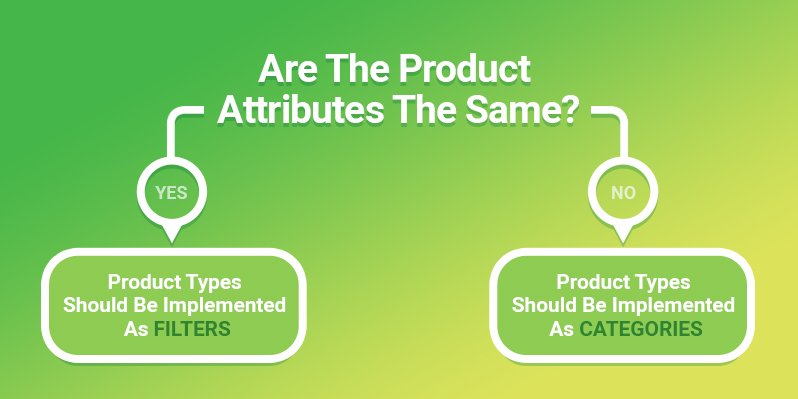 For example, for "skirts" and "pants", the size attribute will be essentially different, and the product type should be categories. Compare this to "women's bike helmets," "one-size bike helmets," and "waterproof bike helmets," where the product attributes will be the same – these should instead be one "helmet" category with a product type filter, possibly with separate filters for size, features, and gender.
Only one item to access all products 
Not only the Homepage plays a big role in website's type inferring, but also product categories. Having in main navigation only one item "Products", "Catalog" or "Categories" to access all the product categories is a poor idea. "Products" button badly affects navigation experience. So, customers will face troubles to infer what type of products you carried, sometimes they can even misinterpret the website for being as not as an actual e-commerce site.
"Products" button necessitates double-hover website navigation menu, which is generally unwelcome.
So, users first have to hover the singular main navigation item
to reveal the main category options, then move the mouse downward within the narrow hover area, and then, when having found the main category they like, move their mouse in a straight horizontal line within a hover area of very short height, to arrive at the larger hover area for the sub-categories.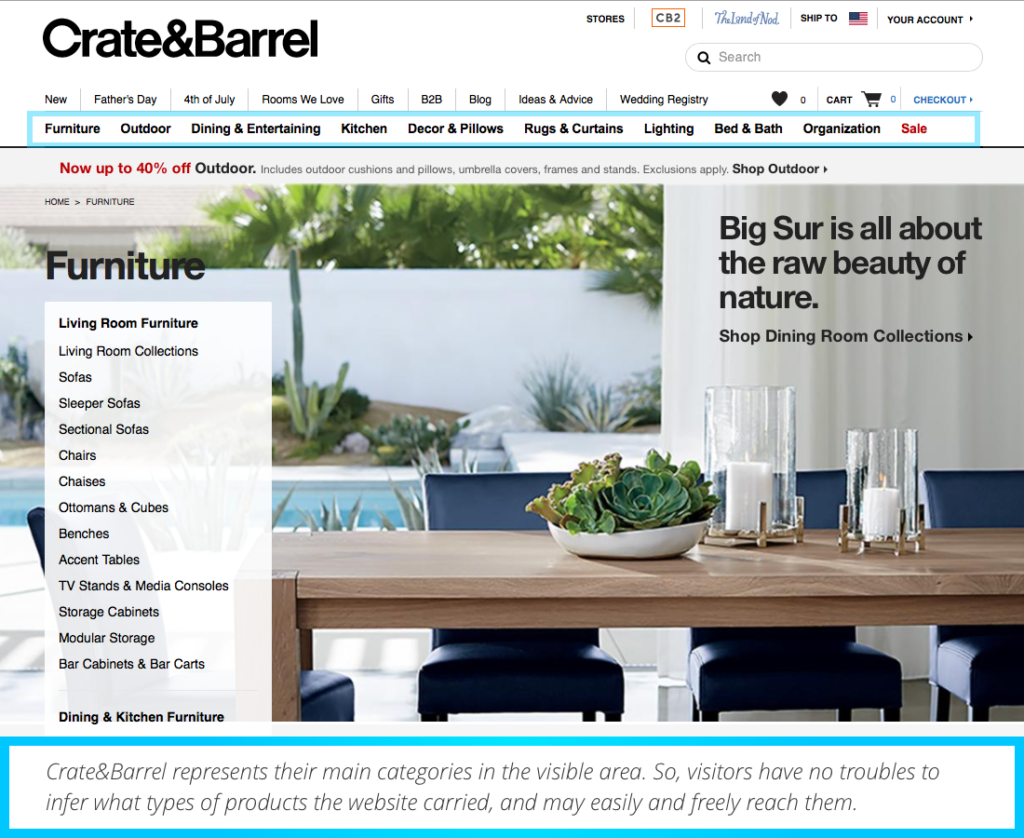 Tip: Place the top-level product categories in the permanently visible main navigation bar to make them immediately visible and accessible to the user.
Lack of visual representation
Only imagine, you see a lot of small words without any visual delimiter. Think how much you might be overwhelmed when you try to discern something you need.
Visuality helps buyers to distinguish parent, child, sibling categories and not only in main navigation dropdown, but also in left-nested filters.
When you pay more attention to visuality it increases scalability, reduce choice paralysis and make it easier to compare relevant options.
In other words, having a visual hierarchy in filters and category lists is important for the same reasons as it is in drop-down navigation, and it can be indicated with largely the same design techniques.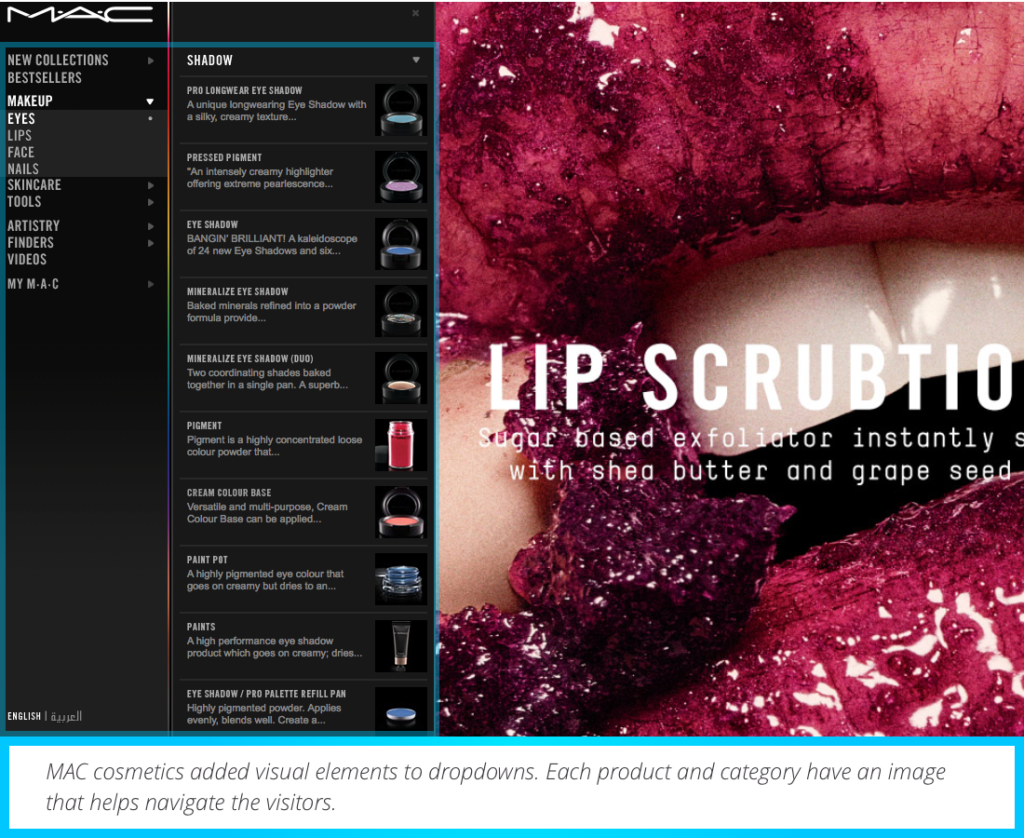 Tip: Give your buyers clear vision distinction between the headers and the sub-category links (such as font size, color, and capitalization). Be sure to include a spatial indicator, such as " >" or "+", for users to know that some sub-options are currently hidden.
Make text labels on categories link leading to a page providing a more detailed overview of the sub-category options. Having no shallow categories will eliminate doubts of suspicious users.
No sibling categories on product pages
It's a generally known situation when a user is unsure about the nuances of two or more categories and therefore goes to one, then checks information and determines that it isn't a great fit and then wants to proceed to the next sibling category which may prove a better fit.
Despite this being a very common navigation pattern, the problem is that 56% of websites don't give users an opportunity to use sibling categories.
It is important to stress that the point of showing sibling categories provides users with permanent access to alternative navigation paths.
Tip: So, as a user gets stuck in one category (e.g. "Dining tables"), he'll look for a new path and be able to see his most obvious alternatives: the siblings (e.g., "Dining chairs" or "Kitchen Tables & Islands"), which are still within the same parent scope (e.g., "Dining room & kitchen") but not the same as the currently shown category. In short, it is a category scope adjustment as opposed to a full scope switch. See below, how PotteryBarn does it.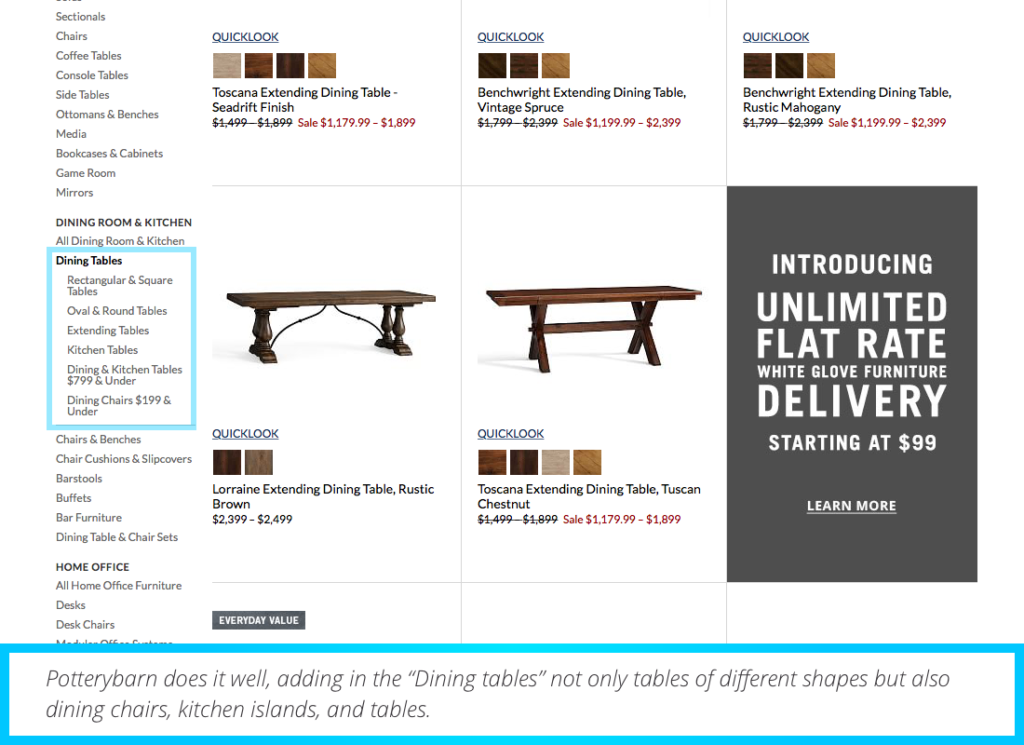 No "What's new" category
How often is your web store replenished with new products? Often? And one more question to you. Do you have "What's New" or "Fresh in season" category? No?
Many users will want to see "what's new" in your store to avoid having to plow through previously browsed products, if they want to be inspired, or when buying for someone else.
For example, they can check your website from time to time, so if you have "What's New" category it makes the process of finding new products that are now available in your store since their last visit much easier.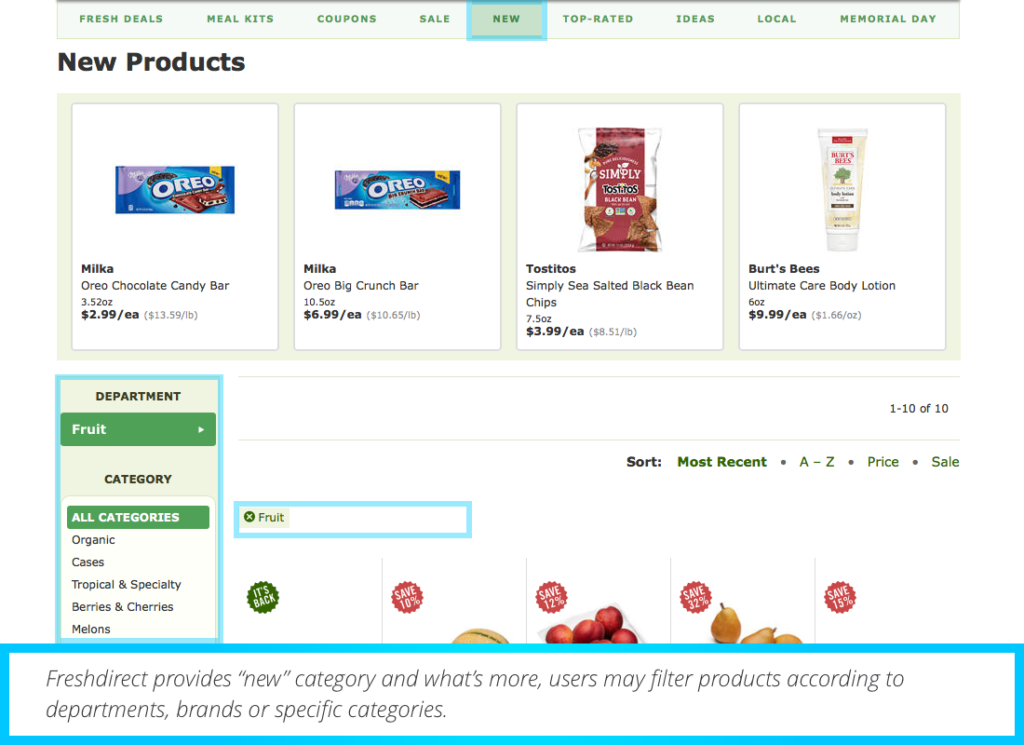 Tip: It's especially urgent for seasonal industries such as clothing or groceries. But don't perceive this point too literally. For example, fresh apricots aren't literally new since they are in stores every year. But they are new to the store around summertime, and most users will, therefore, expect to find them in  "What's New" section. Indeed, the category or filter shouldn't necessarily be called "What's New"; often, alternate labels such as "New Arrivals" or "In Season" are more suitable.
Inclusion of too-specific categories in drop-down menus
Overdoing is a good synonym to this mistake. Drop-down menus often prompt online merchants to display product-sub-type categories in the main navigation drop down as much as possible. Unfortunately, this tactic represents a great risk of misunderstanding among users.
Tip: During the process of sub-categories grouping ponder how deep a level of categories you will want to display. And then group sub-categories into thematic and clickable headers.
Thus, most drop-down menus should contain two category levels below the navigation item: a parent category (e.g., "Living Room"), and sub-category children (e.g., "Sofas", "Chairs", etc.).
Your categories are not descriptive
Your navigation is a place where you start a conversation with potential buyers. If category naming includes any industry jargon, brand or site-specific words, it's very unlikely that your conversation will start.
Shoppers should be able to scan navigation labels and instantly understand what those labels represent within the store context.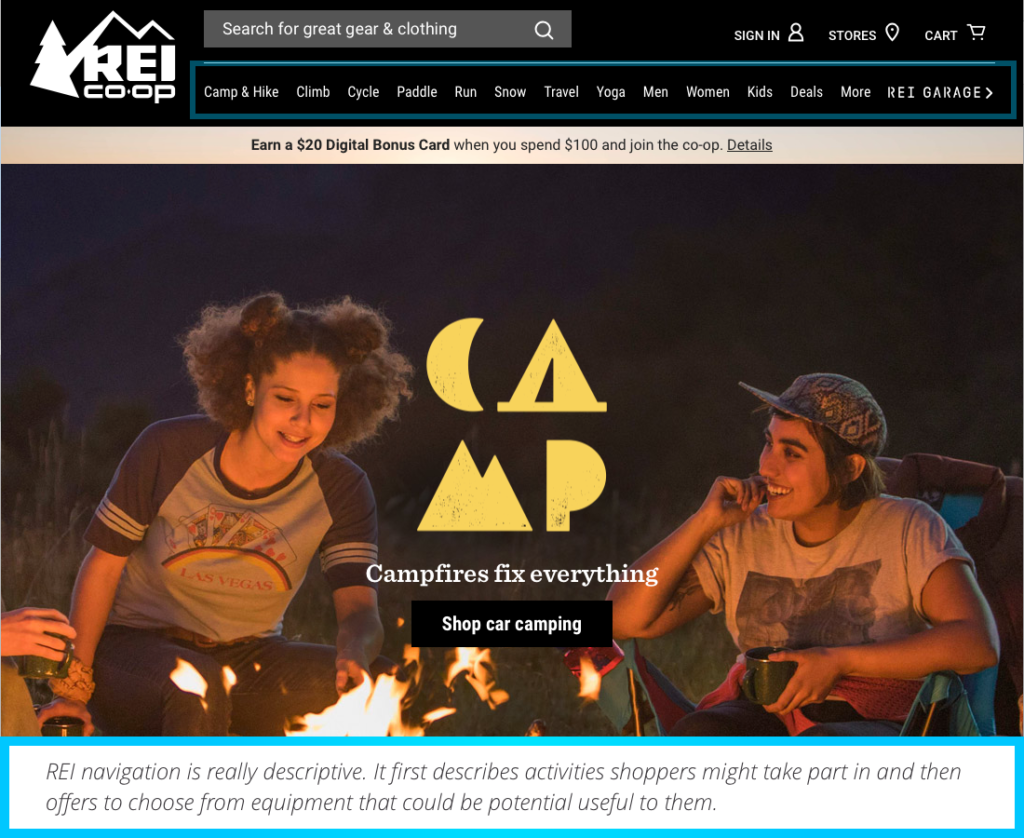 Tip: Avoid the ambiguously named options because they are mostly ignored or users find themselves frustrating. Instead, more descriptive category names should be used, giving the user a better idea of what product types to expect. Also, it will be a great bonus for SEO. If site- or industry-specific words are truly needed, consider making combined titles, which include both the jargon and the descriptive words.
[vc_separator type="short" size="" icon=""]
Are you making these mistakes? Follow Aitoc tips, check your analytics and share your results with us in the comments.