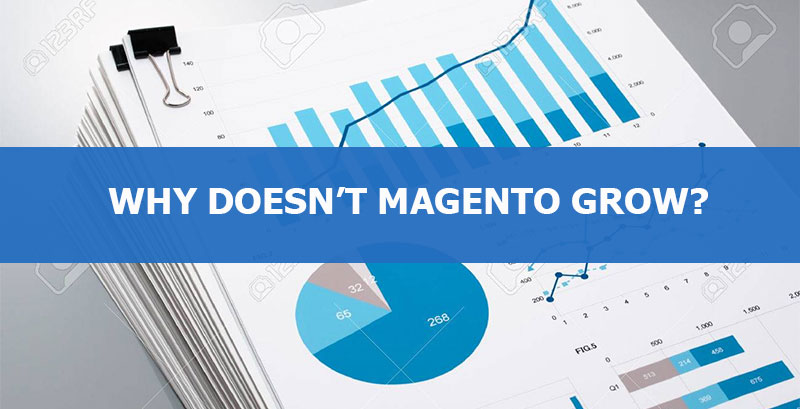 In the previous article, I described several wrong approaches for the Magento market share counting and evaluation. In this article I will try to answer the questions: whether Magento is still a popular and perspective eCommerce platform for old market players and new ones, and what is going to happen with Magento in the nearest future?
According to Builtwith and Datanyze calculations, Magento has about 6% of the Commmerce platforms market share with 233K Magento-based stores and about 4M of the total eCommerce stores on the Internet.
To evaluate perspectives of Magento platforms let's take a look at the dynamics of Magento stores quantity for the last years.
Magento-based store quantity dynamics
Here is a graph of Magento-based stores number from 2011 until recently.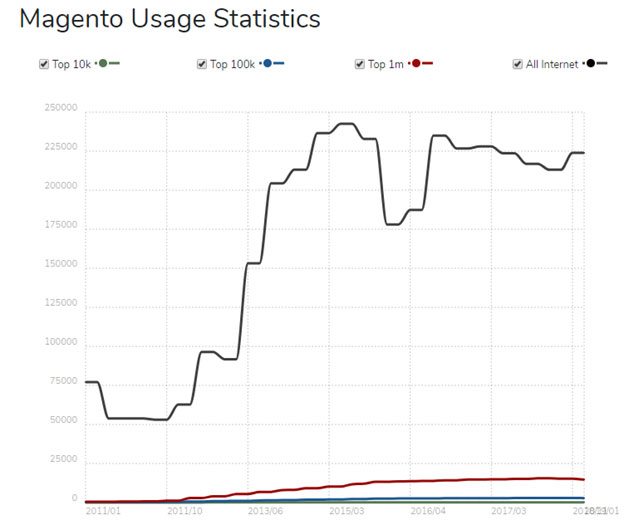 We will analyze it carefully. The first thing that catches the eyes on this graph is a significant gap which begins with a number of stores declining at August 2015 and finishes with a recovery at the beginning of 2016. Let's find out the reasons of such changes on the graph.
What does the gap on Magento Usage Statistics graph mean?
Magento.com with the reference to Builtwith pointed to the intensive growth of Magento platform.

We can see on the graph that such a growth really existed but previously the number of Magento-based stores dropped by about 50k stores.
Let us not forget that this graph shows the number of Magento-based stores identified by Builtwith.
For more than ten years many times. So, it is reasonable to assume that there weren't changes in the number of Magento-based stores while the algorithm of web stores identification and calculation was changed.
I asked Gary Brewer, a co-founder of BuiltWith, about this gap, and he wrote to me:
"I don't suspect that's a real drop. Have a look at JavaScript that has the same drop. The 'entire internet' indexing is 10 years old. The process of doing it has changed in that period. I think that in 2016 we changed the method but then improved it again later".
Indeed, we can see such a gap in the BigCommerce graph (All Internet).
In general, the number of Magento-based stores didn't change since Autumn 2015 till spring 2016.
The graph should look in the following way: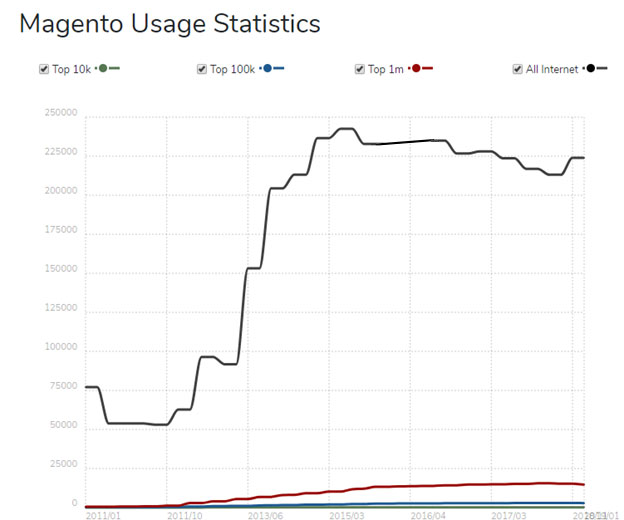 In the Magento stores dynamics we can mark 3 separate periods.
 3 periods in Magento platforms dynamics
First period
We can see that from 2012 to the middle of 2015 there was a significant and persistent growth of the Magento-based stores quantity. For 3 years the number of Magento stores has increased more than 2 times. This fact has been mentioned many times in different articles.
As a result, there was a noticeable growth of the Builtwith Top 1M, 100k. 10k.
Second period
However, in the middle of 2015, the growth of Magento stores ceased. Even a declined trend has emerged since 2017. So, the growth of the Builtwith Top 1M, 100k 10k has significantly slowed down.
Here are the BuiltWith Tops graphs.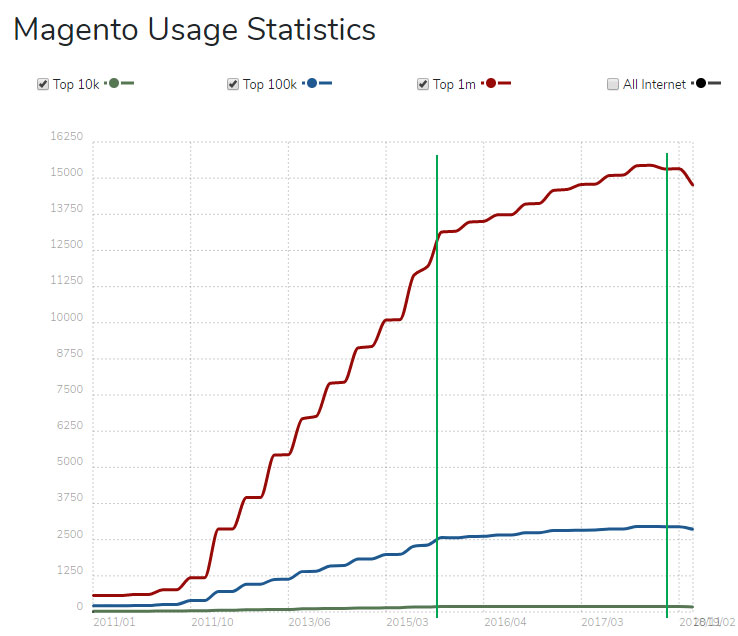 In the last article, I wrote that a web store traffic doesn't grow instantly. The eCommerce platforms distribution in the Top 1M, 100k, 10k reflects their popularity and growth dynamics in previous years (except re-platforming cases). Apparently, the more stores appeared in the previous years the more stores with good traffic we will have now. There is a delay between the graphs: the Magento stores dynamics in the entire Internet and the dynamics of the Builtwith Top graphs (Alexa, Quantcast etc.).
Changing in the Builtwith Top graphs point out to changing in the Magento growth dynamics. Besides, in August 2015 a massive of the Biltwith Top 1M was changed, but it shouldn't significantly affect Top 1M web stores dynamics.
The ceased growth Magento stores number in 2015 didn't lead to stop the growth of Magento-based websites number in the Buildwith Tops. It has led to noticeable showering of this growth.
Third period
We can see that in the middle of 2018 there is a declining trend in the Top graphs. We can assume that something has changed on the eCommerce market or in the Builtwith algorithms.
What does declining in Tops mean? It means that that the number of Magento-based web stores in the Buldwith Top 1M, 100k, 10k is declining. The web stores haven't disappeared. They have just been re-platformed that is why we have a declining trend in Tops.   We can see on the graph that the declining trend appeared in the second part of 2018. We will return to this fact at the end of the article.
Now let's consider the following questions:
What happened with Magento in 2015?  Which event stopped the explosive growth of Magento platform? Well, Magento 2 was released on 17 November 2015.
Magento 2 was released on 17 November 2015
Here is a Magento 2 growth graph: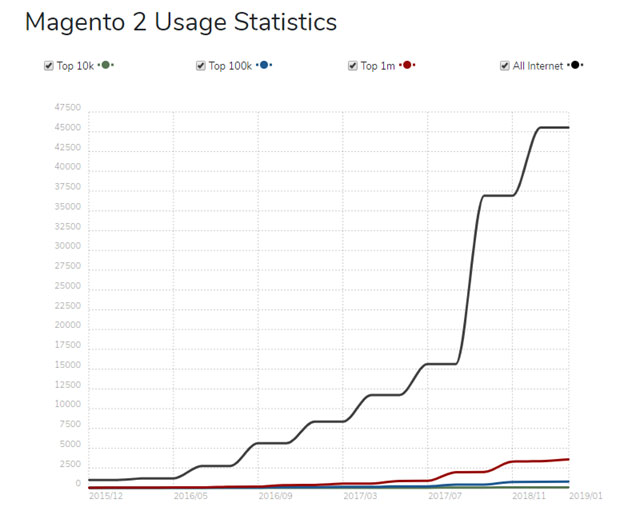 There is a small growth of Magento 2 stores in 2015-2017 years while the number of all Magento stores was slightly decreasing in these years.
On the base of Magento and Magento 2 graphs we can conclude:
Despite the growth of Magento 2 stores, the general number of Magento-based stores has slowly been declining since 2015.
It's a very important conclusion to understand Magento perspectives.
I can suppose that a very small number of new Magento-based stores has been appearing since 2016. Magento 2 growth can be explained by Migration from Magento 1 to Magento 2. The general quantity of Magento-based stores hasn't changed significantly.
Where does Magento 2 gain customers?
The following table can show us the sources where Magento 2 takes new customers.
Magento 2 gains customers mainly from Magento 1.7 – 1.9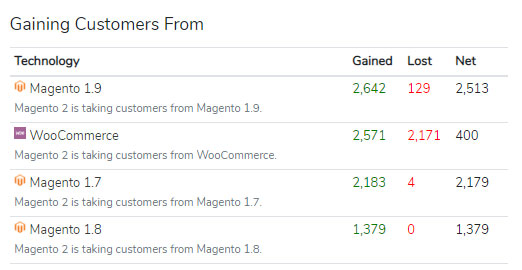 I have removed different Magento 2 variations from the table.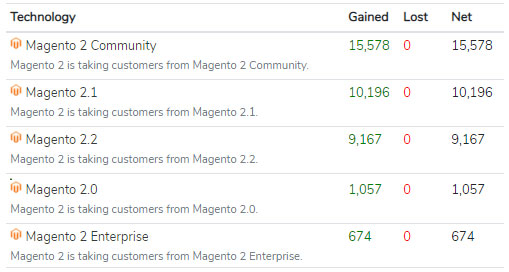 Now it's time to ask the main question of this article
 Why doesn't Magento grow?
Let's compare the general Magento store quantity with the number of stores on Magento 2.
Now let's take a look at SimilarTech Data:
Magento 2 vs Magento 1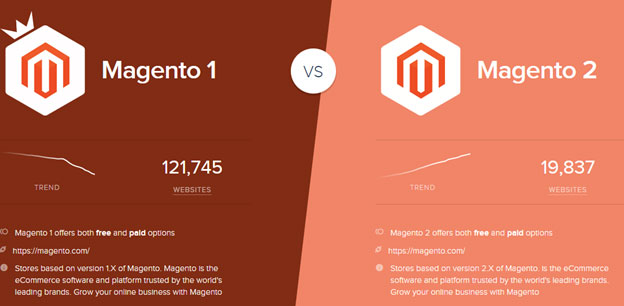 Magento 1 has better usage coverage in almost all web stores groups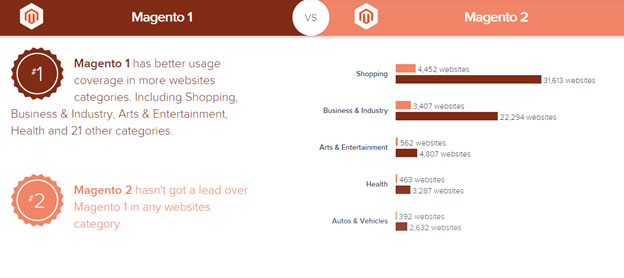 Magento 2 has 6 times fewer web stores than Magento 1.
Builtwith provides similar information: 47k stores on Magento 2 vs 186k stores on Magento 1
On April 2019, Magento 1 has about 5 times more stores than Magento 2 does.
However, for more than 3 years later only a small number of stores have migrated to Magento 2. Why? Why do merchants migrate their Magento 1 stores so slowly?
Magento 2 migration is a very sophisticated process
It is impossible to migrate from Magento 1 to Magento 2 just using an automated service or tool.
Merchants should do everything from scratch.
There are 5 things about Magento 2:
Magento 2 is not cheap
Impossible to migrate a Magento 1 theme
Magento 1 extensions don't work with Magento 2
Everything has to be tested
Perhaps, more migration will be needed
This case study shows that migration from M1 to M2 is a very difficult process.
Magento 2 migration is not easier than migration to any other platform. Several platforms look more attractive than Magento.
In fact, moving from Magento 1 to Magento 2 is not a classic platform migration. We can consider this process as re-platforming because everything has to be changed.
The main reason to migrate to Magento 2 is ending of Magento 1 support.
In February 2017, Magento announced that it would stop supporting of Magento 1 in November 2018. Now take a look at Magento 2 usage statistics graph on more time (mark checkbox 'All Internet'). In 2017 there was a huge jump from 15k to 45k web stores in less than a year.
Now take a look at the Buildwith Top 1M, 100k, 10k graphs. The declining trend started in the second part of 2018 means that the most successful stores began re-platforming.
Is Magento coming back?
The graph provided by Builtwith is not up-to-day. It covers only February 2019. Let's compare data for April 15, 2015, with a similar one on several previous dates.

In April we can surprisingly see an upward trend. Moreover, Dataneze shows us the same upward trend from the end of 2018:

This graph looks quite optimistic. But we still don't know what will happen in the nearest future in reality.
Magento has recently extended Magento 1 support to June 2020, and licenses have been extended to mentioned date as well.
In my opinion, the closer June 2020 the faster merchants will move from Magento 1 to Magento 2.
But not all of them will migrate to Magento 2. A Significant part of merchants will choose another platform.
Now I am unable to say whether the total number of Magento-based sores will decline or rise. There is not enough information to make an educated guess about the Magento upward trend. I know that numbers provided by Builtwith and other similar companies are highly related to the methodology of technologies identification and calculation. So, the declining trend in Magento stores number looks more reasonable.
The near future of Magento
Adobe looks quite optimistic with Magento. They have bought Magento as well as many other companies and signed a partnership agreement with Akeneo. According to several authors, Adobe is going to build a self-sufficient eCommerce ecosystem for B2B and B2C clients. People have already started to talk about Magento 3. If Adobe integrates Magento with its other solutions, more likely Magento will become more expensive and its support as well.
On the other hand, Adobe may decide to sell Magento again as an independent company as Ebay did in 2015.
Nobody knows what will happen with Magento. It makes significant pressure on Magento community. Moreover, June 2020 is getting closer.
I have discussed Magento perspectives on Reddit. One person replied to me that Magento is still a very popular eCommerce platform which is able to provide everything needed for a successful business.  According to this person's opinion, Magento is the best choice for merchants who want to invest time and money in their business.
I disagree with this opinion. Any investment is usually made in reliable or, at least, predictable technology. An investor should observe potential benefits.
Nowadays Magento is a highly unpredictable platform.  We don't know what will appear in the next update. I don't think there are many merchants who want to make such an unreliable and unpredictable investment.
A lot of developers complain that Magento 2 is broken. They have noticed many issues and bugs that make using Magento 2 hard and frustrating. So, some people who have already moved to Magento 2 are thinking about re-platforming.
In my opinion, this year we may see a noticeable declining in the total Magento stores number. Of course, many will move to Magento 2. But many of Magento 1 merchants will choose another platform.
Due to its significant cost and installation and support complexity, Magento is more oriented to middle and large size merchants.  But Magento is not the only platform for medium and upper-level business. Shopify Plus is a very decent choice for such merchants. So, nowadays there is a choice for any size merchants.
Maybe Adobe will move Magento to Cloud-based SaaS solution with a subscription model to make it more attractive for small customers.  Maybe Adobe will decide to sell Magento company in a couple of years. Who knows?
Right before publishing this article, Mark Lavelle has made a message. According to his information, more likely we will see a new complex eCommerce platform for Top level merchants. Adobe plans to integrate fully sales, marketing, and product development activities in their future eCommerce solution. We can make an educated assumption that a new eCommerce platform will differ from M2 much more than M2 differs from M1. I can guess the Adobe will not provide any convenience migration tool from M1 and M2 to the new version of the platform. In such a case merchant will be in flight from Magento very soon, and we will definitely see a strong declining trend in the total Magento stores number.
Final words
According to Builtwith, Magento platform hasn't grown for the last years. It can be explained by the numerous migration difficulties and high expenses. So, most of the merchants prefer to stay on Magento 1.
But Magento 1 licenses and support will be canceled on June 2020. In general, the future of Magento looks highly unpredictable. Now Adobe is going to integrate Magento in their other services and create a multifunctional platform for top-level merchants.
In 2019 I expect significant growth of Magento 2 stores while the total Magento stores number will continue to decline.
In the next article, I am going to observe Magento extensions market and its the most prominent layers.