Admin Order Analytics
Description
Our Admin Order Analytics module extends the default Magento Google Analytics integration. Once it has been installed, the orders placed in your admin panel immediately start to show in your Google Analytics data.
Most functionality can be found when creating an order in the admin panel. The process for doing that is documented in the official Magento user guide. https://docs.magento.com/user-guide/customers/customer-account-create-order.html
You should also know the process of configuring Google Analytics in Magento. https://docs.magento.com/user-guide/marketing/google-universal-analytics.html
By default, Magento only integrates with Google Analytics for frontend orders placed. With this extension, you can also record your admin panel orders. Therefore, this will provide a complete view of your website's performance and sales. Also, it tracks which admin users place each order so that you can track sales performance by the sales agent.
Compatibility
Admin Order Analytics module is compatible with the following Magento platforms:
| Community Edition (Open Source) | Enterprise Edition (Commerce) | Cloud Edition |
| --- | --- | --- |
| 2.3.0 - 2.4.* | 2.3.0 - 2.4.* | 2.3.0 - 2.4.* |
Installation
Installing module using zip file
Unzip and paste the extension file into your root Magento folder.
Connect to your server by SSH.
Go to your Magento root folder.
To install the extension, perform this command:
php bin/magento setup:upgrade
php bin/magento setup:di:compile
php bin/magento setup:static-content:deploy

Composer installation
If you haven't installed any Aitoc module before, you will first need to add your Aitoc composer repository. Please go through the document to see how you can add a composer repository.
To install the module, you will need to run the following commands:
composer require aitoc/module-admin-analytics
php bin/magento setup:upgrade
php bin/magento setup:di:compile
php bin/magento setup:static-content:deploy -f

To switch the extension on/off, perform these commands:
php bin/magento module:enable Aitoc_AdminAnalytics
php bin/magento module:disable Aitoc_AdminAnalytics

To update the module, use below command:
composer update aitoc/module-admin-analytics

Module Demo
Configuration
Enable Google Analytics in Magento.
The setup of the Google Analytics can be found in Stores > Configuration > Sales > Google API: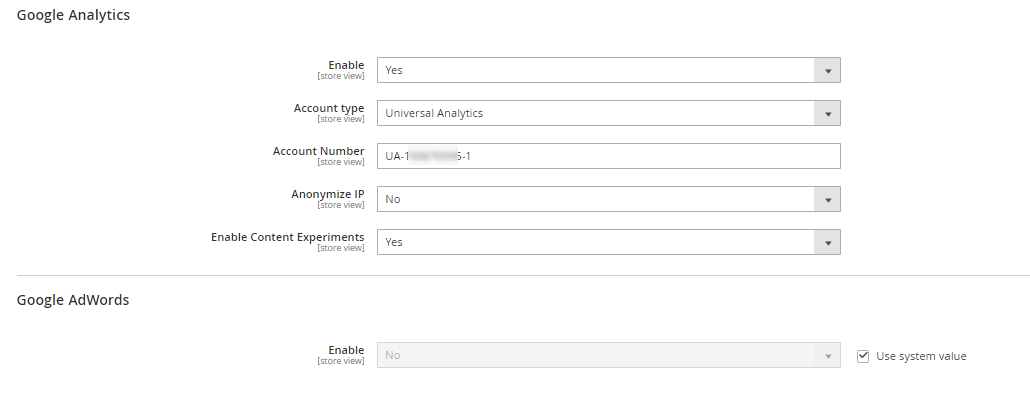 Here Google Analytics needs to be enabled and linked with the correct account number.
Enabling MOTO Order tracking
To access the configuration of the module, select Stores > Configuration > AITOC Extensions > Admin Analytics from within the admin panel:

If the Enable Google Analytics for MOTO tracking is set to Yes, then all the admin orders will start recording in the Google Analytics account for that website.
How the module works
After the initial configuration, your Google Analytics account will begin showing additional information: - Admin panel orders - Which admin user took the order
Admin panel orders
You will observe this in the Conversions section of your GA account: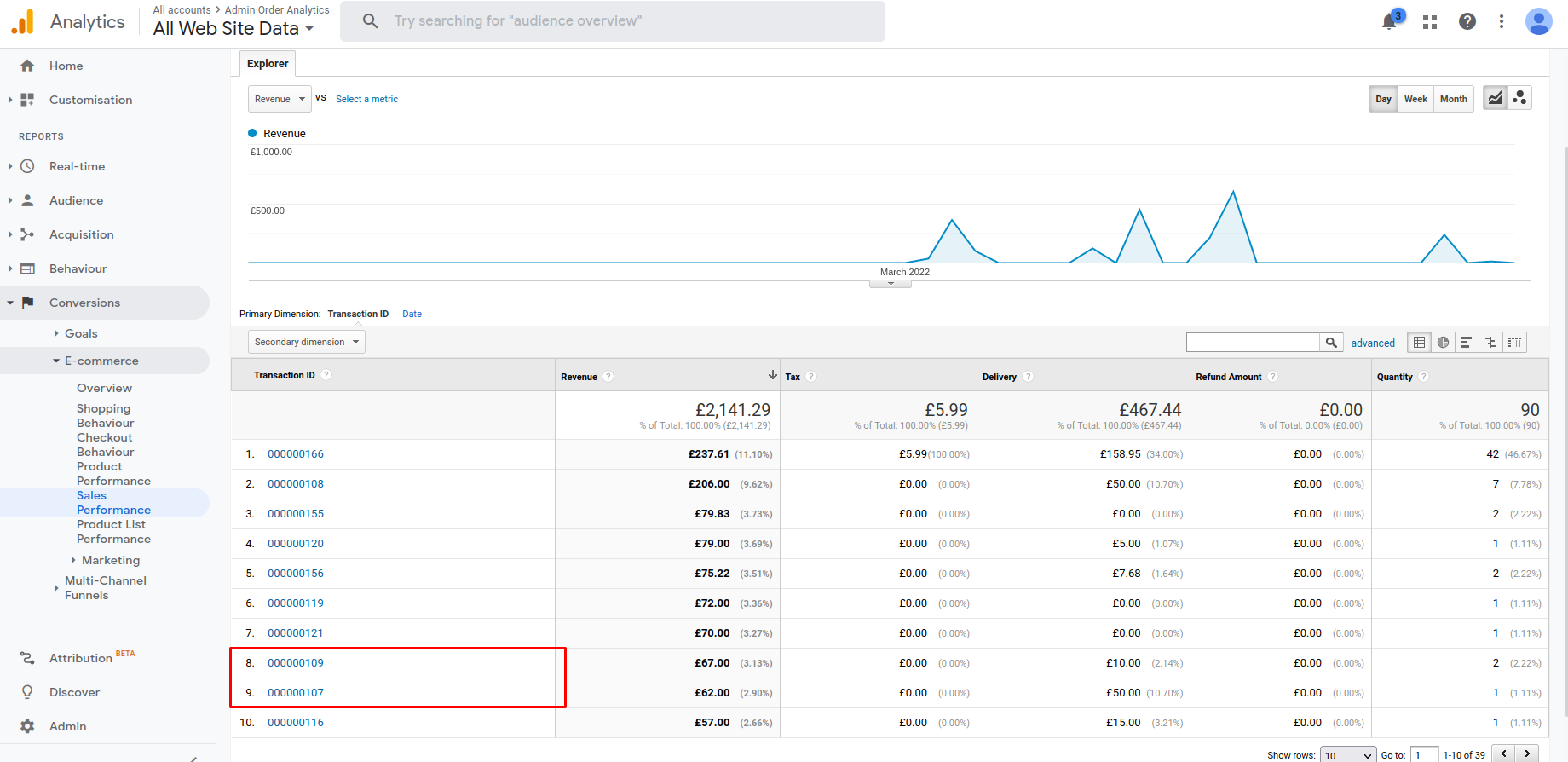 and these are listed alongside front-end website orders.
Admin orders sent to GA get sent with a unique Event: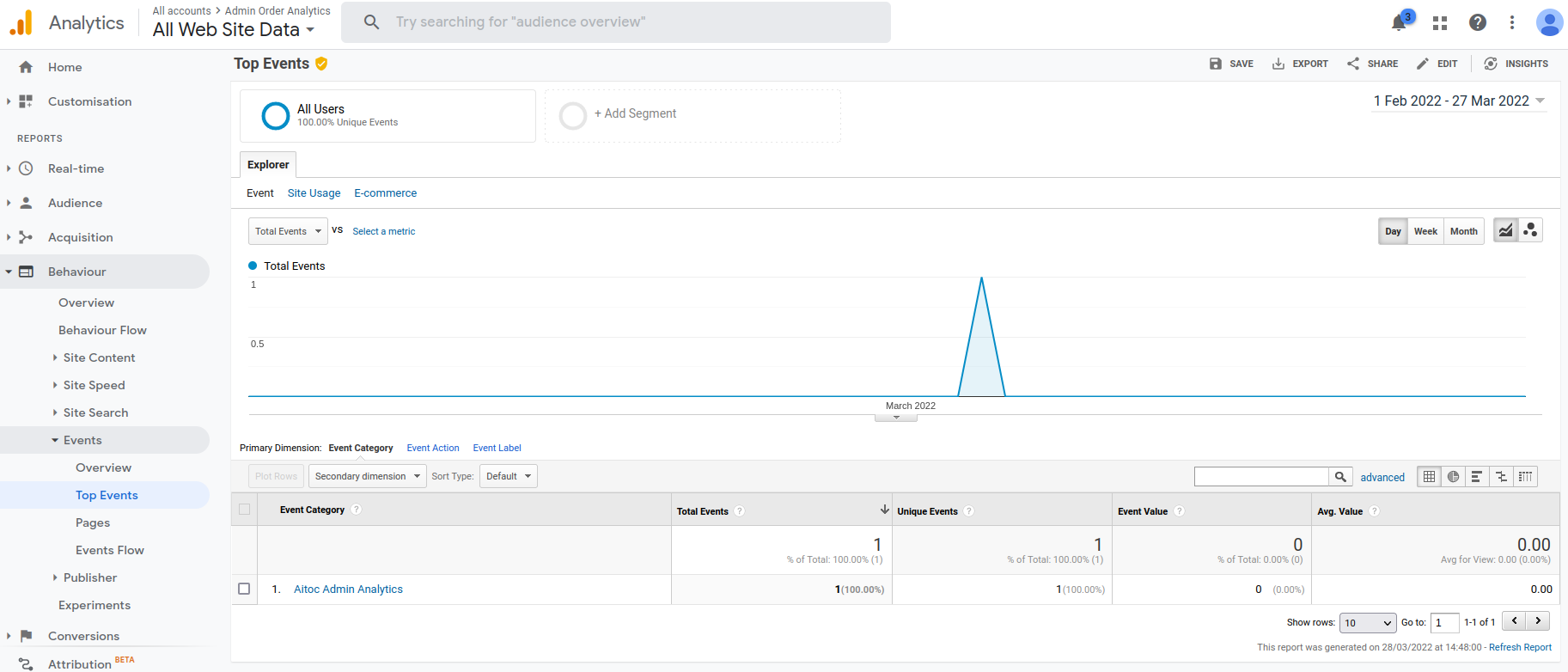 In the Events section, if you drill down through Events > Top Events, to Aitoc Admin Analytics and select Agent Order, you will see the number of orders in the period being viewed. However, if you then drill down further by clicking on Agent Order, you will see which admin panel users placed the orders: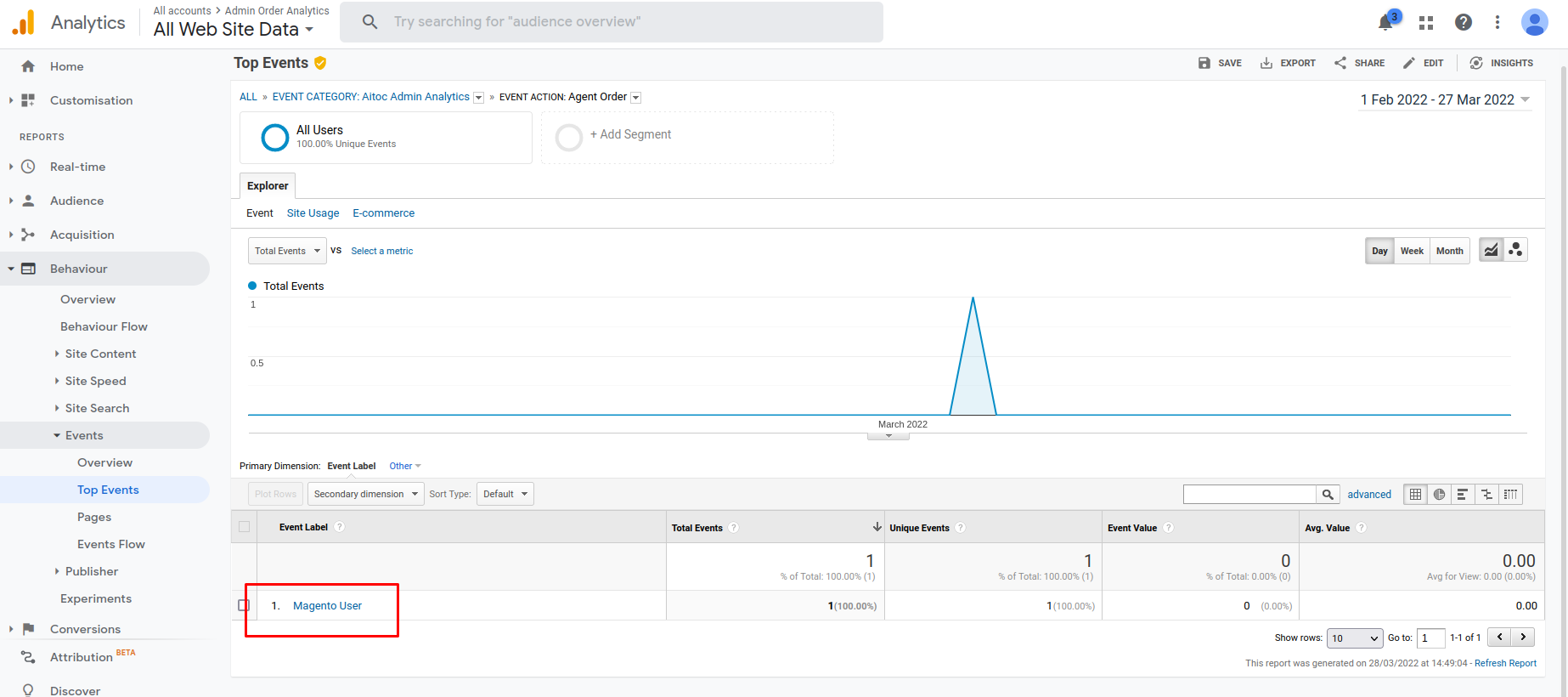 Here the Magento User is the Magento backend user.
Using these events within GA segments, you can easily find out the value, frequency, and overall contribution to the business that these orders make.
Note
If you have configured and enabled Google Analytics in Magento for the first time, it will take some time to get data reflected in Google Analytics Dashboard.
THANK YOU FOR CHOOSING AITOC EXTENSIONS!