Abandoned Cart Emails Pro for Magento 2
The Abandoned Cart Emails Pro is a turnkey solution that helps e-commerce stores recover abandoned carts through a smart email marketing strategy. The product aims to boost conversion rates and optimize email marketing efforts by sending well-designed, timed reminder emails. It also offers features such as custom offers, timed discount offers, and the ability to send multiple emails to different customer groups. The product is fully GDPR compliant and provides features such as customizable email templates, discount codes, campaign management, and campaign statistics.
Send personalized emails to return visitors to abandoned carts
Increase conversion by emailing custom time-limited offers
Select optimal send intervals to maximize customer response
Auto-login returning users to create a seamless shopping experience
Create multiple campaigns to detail your marketing strategy further
Equip URLs with the unique UTM values for Google Analytics
Features
Recover Abandoned Carts With a Turnkey Solution
Turn hesitant visitors into buyers with a smart email marketing strategy. Incentivize more purchases with flexible email offers spread out across multiple emails. You decide how many emails should be sent and what exact offers and discounts they contain. Adjust campaigns on the go for even more flexibility.
Abandoned Cart Emails Pro Benefits for eCommerce store
Cart abandonment rates can be significantly minimized with an effective email marketing toolset at your hands. This is how Abandoned Cart Emails for Magento 2 can benefit your business:
Engage Customers In a Conversation
A customer added a product to the cart but didn't buy it after all. Why? The answer to this question will be fundamental for improving your existing strategy, and customers' feedback is exactly what you need here. By sending abandoned cart emails, you not only remind buyers about items left in the cart but also find out why those products were abandoned in the first place. Direct communication with prospects helps store owners to bring valuable insights into possible options for improvement.
Boost Conversion Rates
Abandoned carts inevitably decrease the e-commerce conversion rate. Kind email reminders have the power to resolve this issue. They will encourage buyers to return to the store and finalize the purchase if properly designed and written, turning more prospects into actual customers.
Optimize Email Marketing Efforts
Once you set up the abandoned cart email template using the extension, you can configure the required trigger actions and set up the optimal time for email delivery. As soon as a trigger takes place, the module will send out an email in a completely automated way, saving you time and money on performing this task manually.
How is the helpful module for you?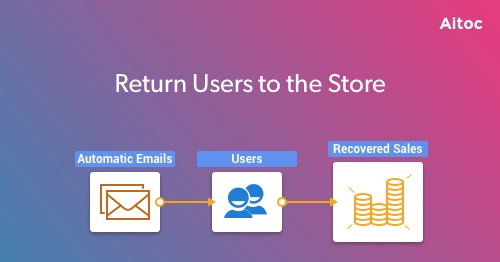 Return More Customers to Their Abandoned Carts
Convince users to go back and finish their order. Sweeten the deal with custom offers.
Secure more purchases with custom offers
Create a sense of urgency using time-limited deals
Tweak exact email send intervals to remind the users about their unfinished purchase
Send Your Email at the Right Moment to Close the Deal
15% of users say they would buy a product if offered a discount. Give these customers a reason to return to your store. Make your message irresistible!
Include a nice discount to convince customers to buy from you
Customize how long your discount coupon will be valid for
Create a sense of urgency with timed discount offers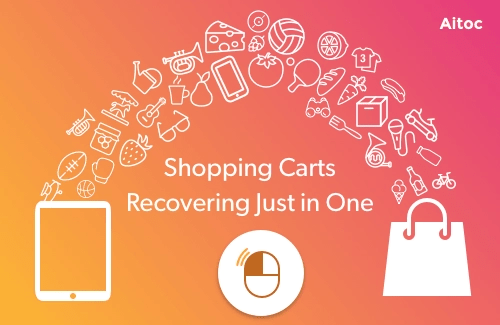 Make Gradually Better Offers if the First One Didn't Work
Some people won't be impressed with your first deal. Make them an even better one.
Send multiple emails to find the deal your customer can't ignore
Capture even unlikely sales from people who were only browsing
Auto-login customers to eliminate a possible roadblock to a new purchase
Quick Overview
1. Send different emails to different customer groups to improve the response rate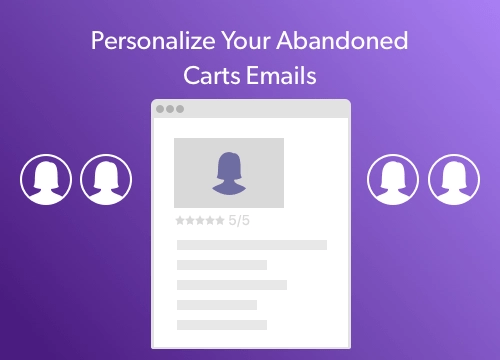 2. Ensure that all your emails match company style and brand book guidelines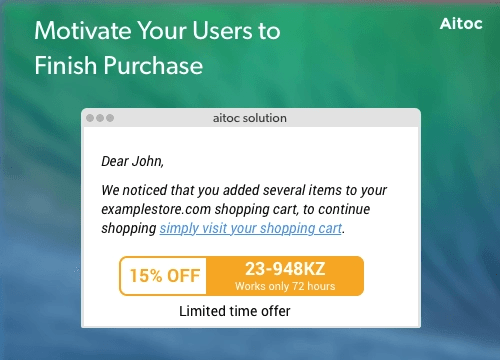 100% GDPR Compliance
Abandoned Cart Emails Pro is fully GDPR compliant. The extension emails customers registered with your website and agreed to process their data through the Magento store. And since they added some products to their Cart view, they have demonstrated a genuine interest in the company's merchandise.
All users can also unsubscribe from Abandoned Cart email alerts by clicking Unsubscribe on any email they receive.
Changelog
2.1.3 - August 3rd 2023
+Added Starting ID field in configuration to decide from which order the emails will generate
+Improved the logic of email generation when customers abandoned the cart more than once
2.1.2 - November 7th 2022
+Added PHP 8.1 compatibility
+Added Magento 2.4.4 compatibility
2.1.2 - September 13th 2021
+Added Compatibility for PHP 7.4
+Added Compatibility for Magento 2.4.x
2.1.0 - November 8th 2019
+Added possibility using Google UTM Metrics in emails
+Added new coupon discount types: Fixed, Percentage, Use Cart Price Rule coupon
+Improved extension usability
*Fixed bug with insert email variables in templates
*Fixed bug with sending test email: autogenerate email directives in emails
2.0.5 - July 9th 2019
+Added compatibility with Magento 2.3.x
*Fixed several critical bugs
*Made code refactoring;
2.0.0 - October 10th 2018
+Abandoned Cart Emails Pro becomes a part of Follow Up Emails marketing tool.
+Added a pre-set marketing campaign and ready-to-use email templates
*Fixed several minor bugs
*Made code refactoring
1.1.3 - June 22nd 2018
+Added ability to create and edit several campaigns;
+Added campaigns grid;
+Campaigns can be filtered now;
+Added an option to enable / disable discount code included in the Abandoned previously);
+Added an option to change the discount amount (was only 10% previously);
+Added an option to disable / restrict module for different user roles;
*Fixed a bug where the Abandoned Cart email contained invalid links;
*Fixed a bug where "Exclude out of stock" feature did not work;
*Fixed several minor bugs;
*Made code refactoring.
1.1.2 - September 29th 2017
+Added compatibility with Magento CE 2.2.0;
*Fixed minor performance issues with statistics calculations.
1.1.1 - May 18th 2017
*Fixed an issue with the Campaign's Delay Period setting not saving entered value;
*Fixed some installation-related issues.
1.1.0 - December 5th 2016
+The extension is compatible with Magento 2.1.2;
+Added general setting - time interval after which to consider a cart as abandoned;
+Added abandoned alert template;
*Fixed an issue with incrementing recovered carts qty and value in statistic.
1.0.0 - June 29th 2016
+Initial release