Custom Product Options for Magento 2
Assign the unlimited product options via templates
Customize product options in the backend
Set the custom options input type
Define product options priority
Manage Magento 2 custom options templates
Features
Simplified Management of Custom Product Options in Magento 2
The default Magento 2 functionality allows store owners to create product options only by hand and for a single product at a time. Therefore, manually adding the same options to multiple products turns into a long, difficult and ineffective process. The more extra hours you waste, the more money and potential profit the store lose.
With the Magento 2 Custom Product Options extension, you have the possibility to easily add variants for any number of products and speed up all the adjustments. Also, using different types of custom options, you can enhance your online store usability. Thus, your product management process will become more organized and fast, as well as the buyers will get more diverse product offerings.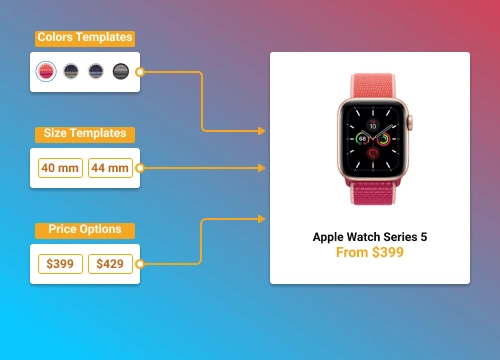 Create and Assign the Unlimited Product Options via Templates

This Magento 2 Product Option extension will permit you to set up and assign a limitless number of different templates without any difficulty. You can add as many information to all the options as you need. Here are a few examples of custom options:
Hence, you can make products more customized, complete and beneficial for customers. Also, it's possible to automatically mass-link your products to the required templates and use numerous option packs with the same product. As a result, thanks to this handy solution, the management process will be improved and accelerated.
Manage Magento 2 Custom Option Templates in the Backend

With the extension, you can create the unique product options and manage them on the grid: edit, delete or duplicate the existing templates, assign them to Magento 2 products or change their status. Also, you can select the default value for a specific option. While editing the Custom Options Templates you will be able to set:
Template Title
Option Order on the storefront
Option Title
Option SKU
Option Description
Option Input Type including Text, File, Date and Select
Option Price and more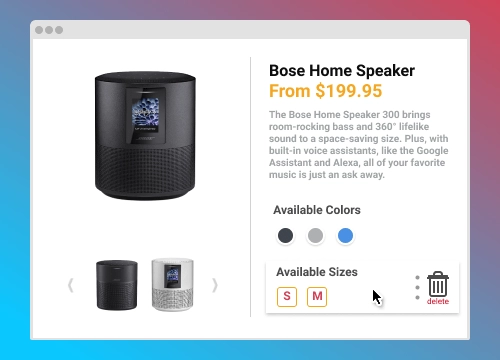 Assign Multiple Options to a Product in a Few Clicks

Save hours on routine. Easily assign any number of custom options to each product using templates. You can do it multiple ways. Either select a template and products to assign to it or do the same from the product editor in the Magento 2 backend. Working with Magento 2 custom product options has never been so easy.
Boost User Experience for Magento 2 Product Pages

Feel free to readily order and reorder custom options on the storefront to define the best product page view. With the help of icons, drop-down menus and text, you make it easier for customers to choose the necessary product configuration and add the item to cart. Satisfied with your website user experience, buyers will more likely complete the purchase and increase the store conversion rate.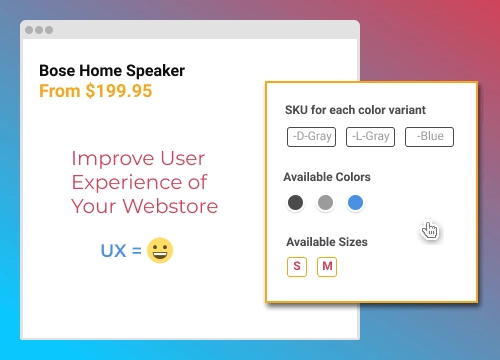 All Features of Custom Product Options for Magento 2 plugin
Create a single options template that can be used on many products
Provide your customers with different product options
Mass manage all options templates from the grid
Configure options templates on store view level
Arrange options order any way you need
Enable / disable selected options in a template when needed
Quickly duplicate templates to build new ones
Changelog
1.0.10 - December 19th 2022
*Fixed issue with keeping custom options available for product after removing it from custom option template.
1.0.9 - July 15th 2022
+Added Magento 2.4.4 compatibility
+Added PHP 8.1 compatibility
1.0.8 - May 11th 2022
*Fixed issue with selecting multiple products and saving the option template
1.0.7 - January 11th 2022
*Fixed issue with assigning template to products
1.0.6 - November 3rd 2021
+Added compatibility with PHP 7.4
+Added compatibility with Magento 2.4
*Fixed issue with custom option pricing
*Changed how products are updated so updates happen in the background to improve the speed of operation in the admin panel
1.0.5 - May 17th 2018
+Initial Release