Grouped Product Options for Magento 2
The Magento 2 Grouped Product Options extension allows store owners to display custom options for each simple product on a grouped product page, allowing customers to specify different requirements for each item. This extension is helpful for various online stores, including those that sell products with customizable options, offer items in sets or bundles, and stores looking for upselling options. This improves customer satisfaction by offering various relevant products and enhances the order placement and processing experience by allowing customers to choose custom options for the entire group with just a few clicks.
Enable customizable options for grouped products at your store
Organize any simple products in a grouped product
Display required options on a Magento 2 Grouped product page
Add any number of product attributes
Show purchased products in the shopping cart as individual products with selected attributes
Features
Extension Overview
The Grouped Product Options extension is for you if you need help with the custom options for Grouped products. Using this extension, you can display custom options for each simple product on a Grouped product page in a walk. So your customers can specify different requirements for each item.
What kind of stores is the extension designed for?
The module comes in useful for any Magento-driven store, but here are the ones that can take the most advantage of it:
Online stores where most simple products have a few customizable options that a user needs to define first (electronics, furniture, home appliances)
Magento stores sell many items in sets or bundles because it's convenient for the customers (clothing, sportswear and sports equipment, tools, bath sets, etc.)
Stores that are looking for flexible upselling options (book series, kitchen utensils, gifts, and souvenirs)

The availability of grouped products encourages customers to buy in bulk more often, increasing the average order value of an e-commerce store. However, Magento 2 doesn't offer the functionality that allows customers to freely change the colors, sizes, and models of products in groups. Store owners are strictly limited to creating grouped products from items that cannot be customized.
This limitation can be highly frustrating when you have products that almost always go together: bath sets, clothing, sportswear, electronic gadgets and their accessories, etc. It generally brings certain inconveniences and, what is even worse, may force visitors to abandon the cart and leave without a purchase.
Grouped Product Options is a handy Magento 2 extension that opens up an easy way to work with customizable product bundles. This turnkey solution requires no additional customization, allowing admins to add and edit multiple product attributes in groups.
How does the module work?
As per the Magento documentation, the simple products with custom options are now unavailable for the Grouped Type products. Our module solves that problem and allows you to generate a bundle of multiple products where the individual products can be customizable options available.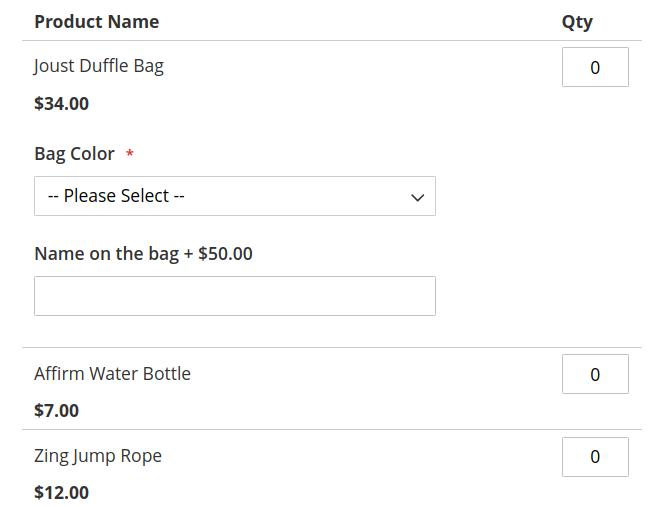 Setup Grouped products with customizable options for individual items
Using the module, you can now make the simple product with custom options to be part of the Grouped product and sell them as a bundle.
By doing so, you can sell multiple entire products as a bunch while the individual product's custom options will still be available, which allows customers to customize specific products.
Grouped Product Options extension Benefits
Efficient product management can be easily achieved with the right tools at hand, and this extension is one of them as it provides for:
Easier Product Organization
The extension removes the burden of manual, routine adding custom options for products in groups. Thanks to its easy and intuitive interface, the solution allows assigning necessary product options within minutes, significantly simplifying the overall grouped products management process and saving your admins' time.
Enhanced Customer Satisfaction
Online retailers win customer loyalty and satisfaction by offering various relevant products. And by doing so for products in groups, they attract more buyers to the store and improve their shopping experience, increasing the chances of a successful sale.
Convenient Order Placement & Processing
With the ability to choose custom options for items in groups, customers won't have to spend a lot of time to hand-pick the required configuration for each product – they can do so for the entire group with just a few clicks. This will make order placement quicker and easier, simplifying further employee order processing.
Changelog
1.0.4 - June 9th 2023
*Fixed the issue of updating the simple product with custom options if it's part of a grouped product
1.0.3 - February 7th 2023
+Added PHP 8.1 compatibility
1.0.2 - June 7th 2021
+Added compatibility with PHP 7.4
*Fixed an add to cart issue for grouped products
1.0.0 - February 11th 2018
+The extension released.