Loyalty Program for Magento 2
Set up a customer-driven loyalty program for your store
Encourage customers to spend more with unique rewards
Offer different discounts to users based on their gender or membership period
Give users progressively better rewards for staying with you
Create a dedicated Loyalty Program page inside My Account
Features
Improve Customer Experience With a Well-Planned Loyalty Program
Nurture brand loyalty and increase customer satisfaction with a loyalty program tailored exactly to your business specifics and your customers' behavior. Make coming back to your store really worth it for your buyers. Provide customers with a reason to stay with you for a long time by giving away coupons and offering exclusive discounts.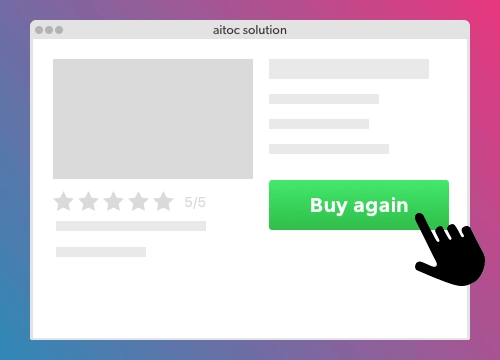 Offer Loyal Customers Undeniable Reasons to Buy From You

Encourage customer loyalty by increasing the value of rewards for shoppers who buy from you often.
Create and implement an incentives strategy to boost sales
Reward repeat customers based on their activity and membership age
Give irresistible discounts to users who visited you on their birthday
Give Different Types of Rewards to Different User Groups

Select and track key shopping parameters to define the most valuable customers for your store.
Offer exclusive discounts to users based on their gender prior to special events and holidays
Boost sales by offering users higher discounts for a bigger average check
Set up tiered rewards based on the amount of spendings, number of orders, or average check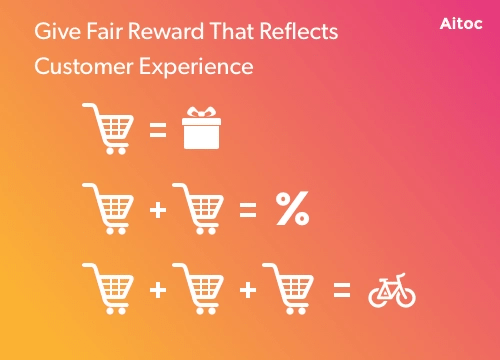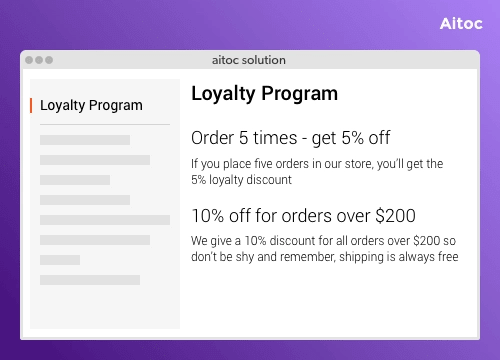 Explain Loyalty Program Rules on a Dedicated Page

Place Loyalty Program info in My Account section as a separate tab for more convenience.
Store all relevant information about your Loyalty Program in a single place
Get a permanent link to your Loyalty Program rules
Decide Which Orders Are Taken Into Account in Your Loyalty Program

Be flexible with how you measure customer activity within the Loyalty Program.
Select whether orders in specific statuses should contribute to LP metrics
Exclude orders with cancelled, pending, and on hold statuses from user progress
Choose custom statuses that contribute to Loyalty Program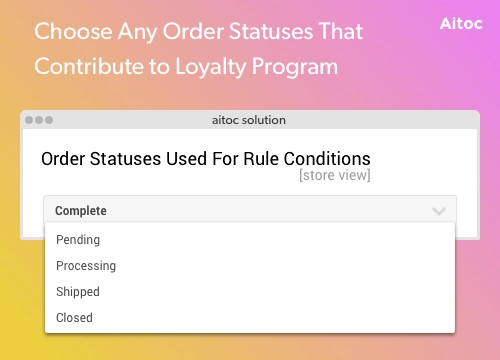 1. Customize Your Loyalty Program With 8 New Parameters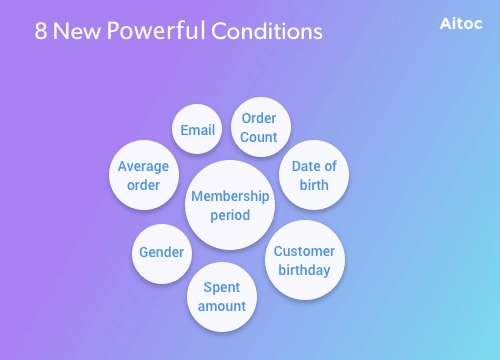 2. Provide Exclusive Deals to Corporate Users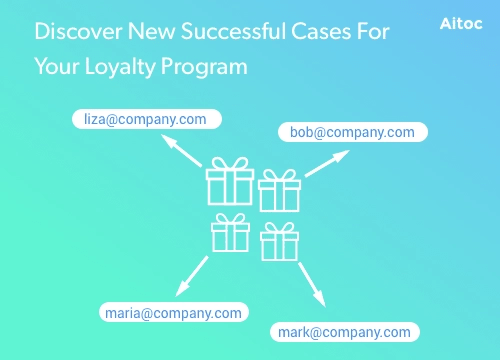 Quick Overview
User Case: Electronics Store

The way we calculate customer's value is by reviewing how much money they have spent at the store within the last 12 months. We've come to this time limit empirically, since using longer periods will risk including too much inactive accounts that are no longer shopping with us. The extension was great help in creating a loyalty program that takes into account this exact metric and allows us to stimulate users to make more purchases for progressively larger discounts next time they shop with us.
User Case: Sports Nutrition Store

We needed a comprehensive solution that would allow us to create a multifaceted loyalty program from the get-go. Our marketing relies heavily on using cumulative discounts and bonuses as the biggest incentive for one-time users to become repeat customers.
Since the introduction of Aitoc's Loyalty Program for M2 we managed to cover all our needs, especially offering the best deals to our big spenders who place regular orders more often and for larger amounts.
User Case: Selective Perfume Store

Selective perfume can be pricey. But that's the point of it, for some customers. Even so, we were excited to have an opportunity to offer personalized discounts to buyers on their birthday. For our business model, it accomplishes two goals at the same time: we incentivize a large purchase and at the same time don't change our pricing policy in a detrimental way.
100% GDPR Compliance
Loyalty Program for Magento 2 is fully GDPR compliant since it does not store, process, or share any customer-specific data.