Shipping Restrictions for Magento 2
Restrict particular methods of carrier shipping
Set shipping restriction according to customer's shipping data
Restrict shipping based on product attributes
Limit shipping by countries and other locations
Limit shipping by payment methods and more
Features
Accommodate Shipping Process to Your Business Aims
A well-set and flexible shipping system is a crucial element for any e-commerce store. Magento 2 store owners tend to implement a cost-effective and legit shipping process that's why many of them have already evaluated the power of perfect extension for these aims.
A powerful Shipping Restrictions for Magento 2 allows limiting shipping methods based on customer attributes, product parameters, order info, cart, store view, customer groups, and locations.
Unlike the default Magento functionality, where the restrictions are for the whole catalog, the module empowers to set limits for shipping on certain products. You can control the Magento 2 restrict shipping methods right from your admin panel.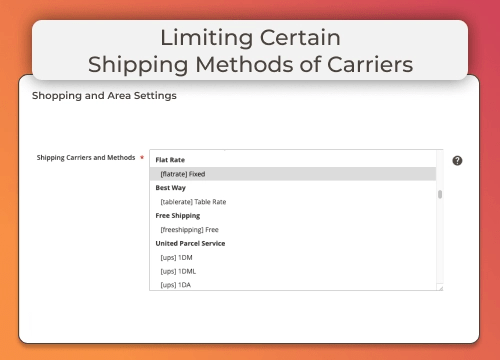 Limiting Certain Shipping Methods of Carriers

Typical shipping methods that most carriers propose include the land, air, sea shipment, and some more.
The Magento 2 module allows limiting only unnecessary options instead of blocking all of them. For short-life products, you may limit ground mail methods because it often takes more than a week to deliver.
The shipping restrictions functionality enhances admins to set or cancel restrictions right from the grid for every single case.
Shipping Restrictions on Product Attributes

The extension also allows limiting shipping depending on product attributes. Merchants surely want to prevent any risks, that's why limited, high-value goods or premium brands' items require high-qualitative shipping methods such as FedEx. The appropriate shipping method allows them to provide the proper delivery to any customer's location.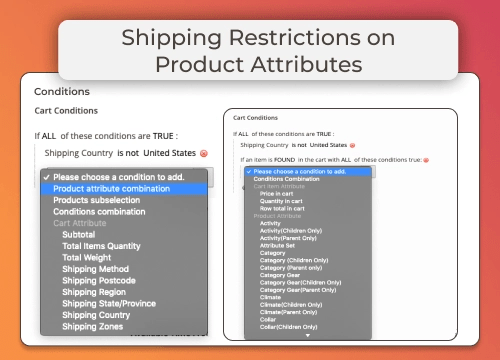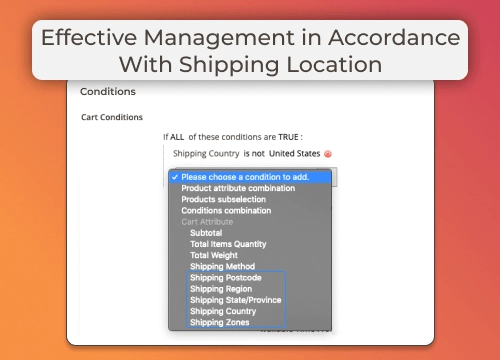 Effective Management in Accordance With Shipping Location

Arrange the destinations of shipping and appoint restriction rules to the whole area at once. Certain shipping methods will be visible and ready-to-use, depending on shipping info.
The Magento 2 Restrict Shipping locations extension provides flexible settings for including/excluding:
shipping country
specific state/ region or province
postcode
For example, if the area is the mid-city, there will be no shipping fee. If the cust
Limiting Shipment According to Payment Methods

Customers may choose different methods of payment and they will logically wait for the different shipping methods.
For example, they will use Paypal for Worldwide FedEx of Express shipping method. If they select the cash on delivery payment method, then Home Delivery method will be applied.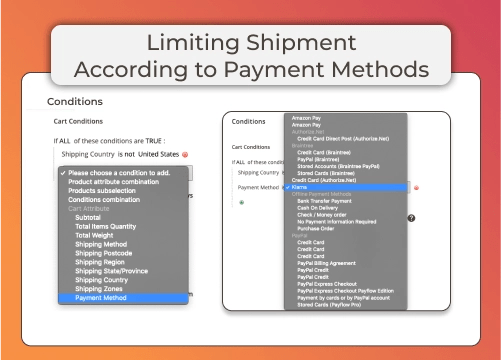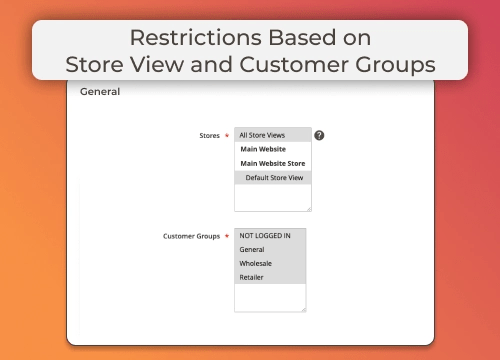 Restrictions Based on Store View and Customer Groups

In case you deal with customers from all over the world, this feature will suit you perfectly well. The plugin enables you to choose what shipping method will be displayed/hidden for a particular store view and selected customer groups.
Limiting Shipping Based on Cart Info

Apply the module's functionality to classify shipping methods based on cart data:
Subtotal - the total value of the goods in a shopping cart
Total commodities - the total number of items
Total weight - the sum of the weight of the cart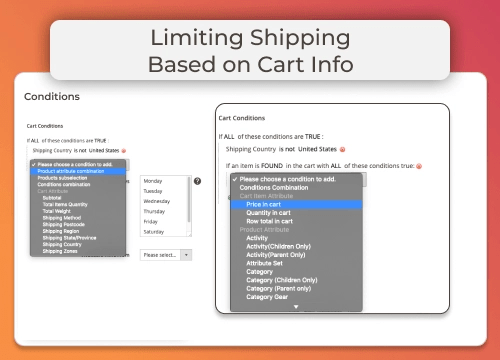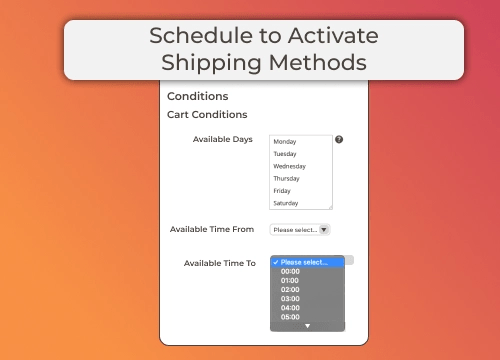 Schedule to Activate Shipping Methods

The activation schedule is another essential and noticeable SRM2 feature. It assists online stores during holidays and special events to suit different marketing campaigns.
It's possible now to set specific time frames to activate the shipping rules based on specific time. The schedule details include start/end date, weekdays, and start/end time.
Changelog
1.0.3 - June 28th 2022
*Fixed error when running setup:upgrade command
*Fixed issue with deleting rule
1.0.2 - May 17th 2022
+Added compatibility with PHP 8.1
+Added compatibility with M2.4.4
1.0.1 - October 18th 2021
+Added compatibility with PHP 7.4
+Added compatibility with M2.4
*Fixed issue with time and cart price rule conditions
*Fixed issue with shipping area configuration and now it works with admin orders
1.0.02 - November 19th 2019
+Extension release