Shipping Rules for Magento 2
Establish shipping rules depending on product, order or cart attributes
Set up delivery rates for a single product or order
Define shipping options basing on store views and customer groups
Use the customer location info to provide shipping methods
Finally, create as many rules as you need
Features
True Flexibility to Your Shipping Rules in Magento 2
Business environment can be changeable and inconstant, that's why store owners often face the need to regulate shipping rates and discover appropriate delivery solutions.
Magento 2 does not give a chance to implement flexible shipping rules by default. Don't worry! Your best solution is purchasing a reliable extension with related functionality.
Magento 2 Shipping Rules extension is a powerful tool for e-commerce businesses that assists to arrange and modify shipping rules without extra pain. Applying this friendly plugin, you will get a wide set of comfortable conditions and features.
Magento 2 Free Shipping Rule enables store owners to use the selected parameters in custom combinations or individually. The extension helps to recalculate rates provided by popular shipping carriers such as DHL, UPS or FedEx. Moreover, Magento 2 UPS shipping module functionality involves helpful algorithms to calculate delivery rate surcharges, discounts and overrides.
Highlight your business needs and discover the outstanding abilities of this handy extension!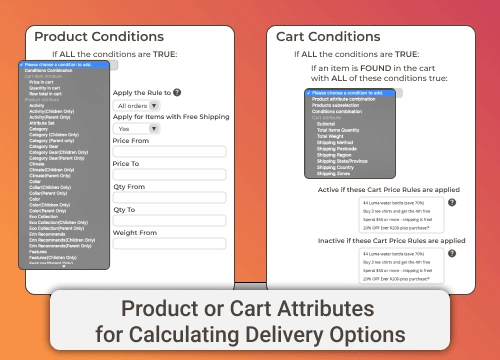 Product or Cart Attributes for Calculating Delivery Options

Choose the way how to apply a new shipping fee
Define the shipping fee amount for a shopping cart
Specify this fee amount for the chosen product
Having regulated the actions for shipping rules, you will be able to adjust the shipping rates counted for the order.
Shipping Rules for Store Views and Customer Groups

Thanks to the Shipping Rules extension by Aitoc, you may have separate shipping rules for each Magento 2 store view and any selected group of customers.
For example, your premium users will value this feature most of all, because you will be able to propose them better shipping rates. Create rules for as many groups as you desire.
In order to avoid overfilling, the log of emails can be easily cleared.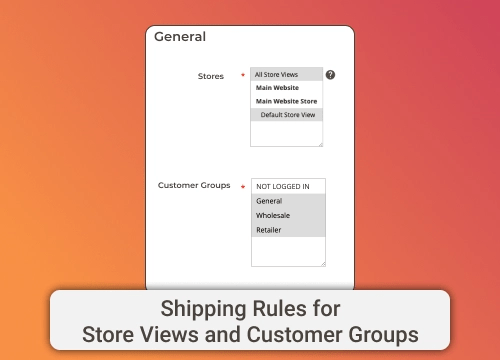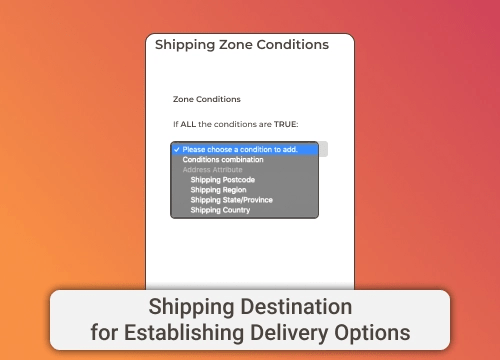 Shipping Destination for Establishing Delivery Options

The Shipping Rules extension for Magento 2 stores also allows choosing such location parameters as country, region, state, and ZIP-code to define the rule. For example, give your customers a shipping discount for an order to Wisconsin with subtotal greater than $300 that includes any 'brand_name' item.
Timeframes for Shipping

Managing shipping rates, you may also establish specific time to set for the customers' orders. Nothing complex - just use your admin backend for assigning specific days and time for each rule. The rule will be automatically activated during the valid period.
Setting timeframes looks especially helpful in cases when stores arrange promo campaigns or during the hottest days of the shopping season.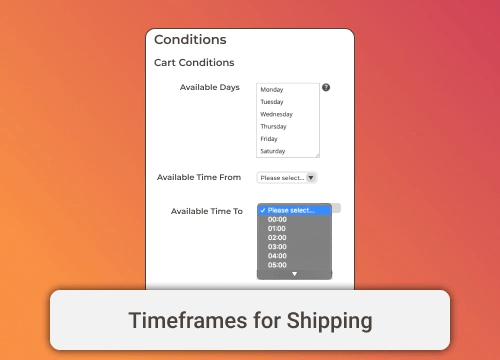 More Features of Magento 2 Shipping Rules Extension:
Exclude any shipping option and rate for specific products and attributes
Assign sort order for rates that will be displayed on your site
Show altered rates as standard
Apply a CSV file to create and modify shipping rules faster (coming soon feature)
Changelog
1.0.7 - November 14th 2022
*Fixed issue with shipping rules for admin orders
*Fixed error when deleting shipping rule/zone
1.0.6 - May 23rd 2022
+Added compatibility with PHP 8.1
+Added compatibility with Magento 2.4.4
1.0.5 - December 3rd 2021
+Added compatibility with PHP 7.4.
+Added compatibility with Magento 2.4
*Fixed issue with adding new shipping rule
1.0.4 - March 2nd 2020
+Better compatibility with 3rd-party shipping carriers
1.0.2 - February 19th 2020
+Added compatibility Shipping zones with Shipping Table Rates extension
*Fix compatibility with 2.2.x extensions
1.0.1 - November 26th 2019
+Add new Cart Total calculation type
*Calculation bug fixes
*Fixed calculation logic for Base Shipping Rate calculation type
1.0.0 - November 25th 2019
+Extension release