Web Push Notifications for Magento 2
Target different customer groups
Remind about your store
Notify visitors about discounts or promotions
Inform customers about order completion
Promote new registrations
Features
How Magento 2 Web Push Notifications Work
Web Push Notifications uses a web browser to show customers push notifications from your website.
Talk to potential customers even after they already closed your website. They will see your message as a push notification whenever their browser is open.
Magento 2 Web Push Notifications Extensions' Benefits
Web push notifications can increase ecommerce business performance significantly. Here is how Magento store owners can benefit of this marketing tool:
Engage Customers Faster

Direct communication with customers is key for establishing beneficial relationships with them. Browser notifications allow sharing the latest news and deals faster and providing buyers with real-time order status updates, which not only facilitates their engagement, but also has a positive impact on their loyalty.
Improve Conversion Rates

Using the extension, online retailers can tailor their messages to different customer groups and make them more personalized. Besides, custom web pop-ups provide an ability to return the visitors that have already closed the website. All this combined acts as a powerful tool that actively converts visitors into real buyers.
Recover More Abandoned Carts

Web push notifications is one of the most effective ways to keep up with shopping cart abandonment. Leveraging pop-ups with attractive deals and offers, storeowners can encourage customers who are just about to leave to finalize the purchase. This provides an outstanding opportunity to win lost sales back.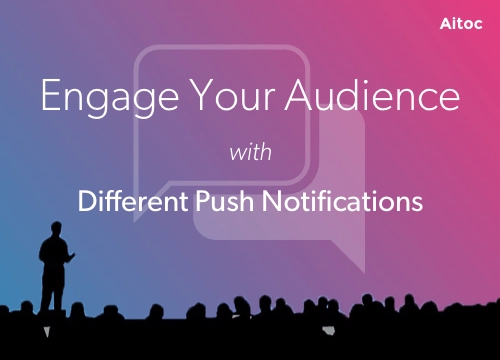 Create a New Channel to Engage With Customers

Adopt an omnichannel mindset for your online store. Add a new and efficient way to talk to your customers and get immediate feedback.
Organically build a customer base that is ready to engage with you from their browser
Add an alternative channel of growth and user engagement
Send immediately actionable messages through a highly effective channel
Grow Subscribers with Almost No Effort

Get multiple opportunities to grow your new channel. Explain to the user why they should enable notifications on their web browser so they will
Choose from three automated notification template types: Order Status Change, Signup Engagement, and the 'We Miss You' message
Apply push notification automation to order-related events: canceled orders, payment reviews, closed order, etc.
Assign manual notifications to the specific time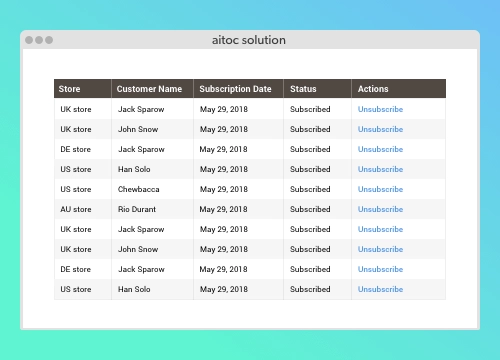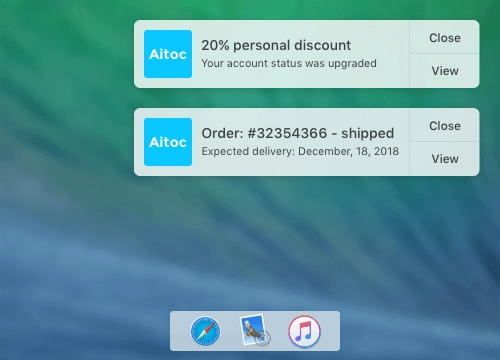 Return Potential Customers to the Store
Use a smart web push notification system to inform new customers about sales, promotions, and order status changes even after they already left your website.
Remind visitors about new deals in real time
Return customers to your store even after they closed the tab
Drive sales with a smart notification system
Craft Unique One-Time Notification Campaigns

Create one-time notifications that will drive new customers to your store. Offer discounts or time-limited deals to capture more sales.
Increase sales with unique marketing events
Inform your customers right when the promotion starts
Send out short messages about new products and services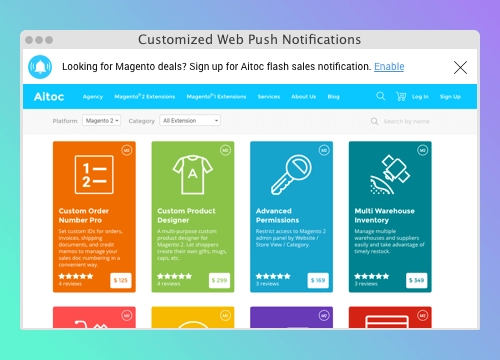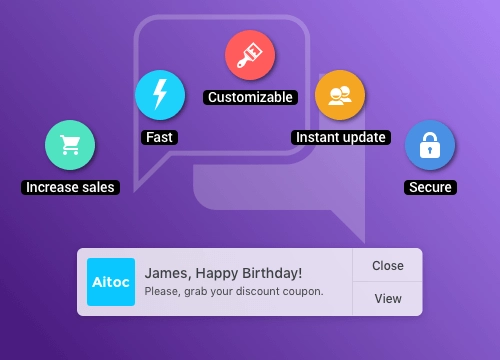 Target Specific Groups with Customized Messages
All customers are different. You need to talk their language to persuade them your products are the best.
Create custom templates to send out specific messages to distinct groups of users
Send different messages to first-time visitors and repeat customers
Track Push Notification Efficiency in Dashboard

Learn what works and what doesn't work for your store. Use dashboard data to determine how well your notification campaigns perform. Define your top performers. Then make them even better.
Set ambitious marketing goals and achieve them
Monitor your CTR values to better understand user needs
Collect transparent sales and engagement data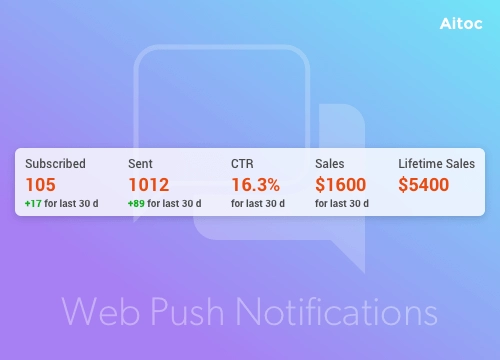 1. Inform users when their order is approved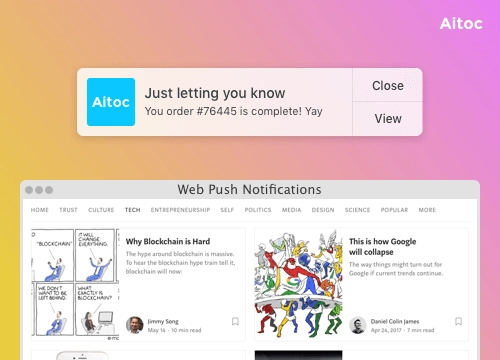 2. Instantly inform users of flash sales, events, and promotions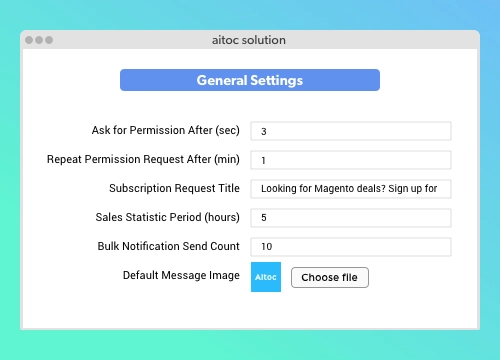 3. Analyze individual campaign performance with UTM tags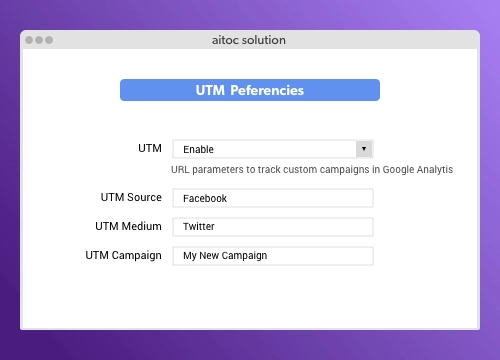 4. Customize the prompt message to capture more sales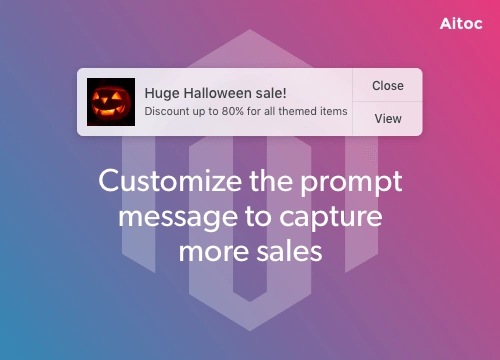 Quick Overview
User Case: Youth Clothing Store

We started using the extension in May. We have been experimenting a lot with its functionality. The best results we've seen was from user registration rates. During the first few months the rise was really noticeable and helped us a lot. Registered users are more likely to buy from the store.
We estimate Web Push Notifications helped us make the cost of each lead on our website significantly lower.
User Case: Online Retail Network

After two months of using WPN we collected a lot of data about how our visitors react to push notifications. We noticed that once we started using push notifications to return customers for a 40% discounted offer the customer retention rates skyrocketed.
Essentially we've combined an efficient tool with an aggressive marketing strategy and saw results in a crowded and difficult market.
User Case: Ethnic Food Store

One of our best selling items are seasonal baked goods such as the ones people buy during Easter and Christmas.
This year we decided to complement our offline efforts with new online marketing strategy. Great to see this year's Easter bunnies sold even better with Web Push Notifications. We used it to create a "2+1" deal that was a huge success. More customers than we expected.
100% GDPR Compliance
Web Push Notifications by Aitoc are fully GDPR compliant. The extension does not create any tables that store customer data. It grabs customer-specific data from default Magento tables. See user manual for more details.
All Features of Web Push Notifications for Magento 2 plugin
Target multiple customer groups with tailored push notifications
Display notifications about promotions or discounts
Inform customers about order completion
Entice visitors to register on your website
Set up the extension on the store view level
Track the full list of push notification alerts that have been created and / or sent
Create one-time push templates that will be triggered at the specified time
Add links to your push notification body to lead customers to the desired page
Set UTM parameters to track your push campaigns via Google Analytics
Browse and edit all your recurring push notifications templates in one place
Mass delete or change the status of your recurring push notifications templates
Manually manage the subscription status for any of your visitors that have enabled push notifications
Changelog
1.0.7 - November 1st 2022
+Added PHP 8.1 compatibility
+Added Magento 2.4.4 compatibility
1.0.6 - December 22nd 2021
+Added compatibility for Magento 2.4
+Added compatibility for PHP 7.4
1.0.5 - June 10th 2018
+Initial Release