Payment Restrictions for Magento 2
Take the payments management to a completely new level, providing flexible rules to restrict payment methods
Restrict payment methods based on product and customer data
Use shipping information to limit payment methods
Regulate payment methods based on cart total
Apply limits on backend and frontend orders
Features
Make Your Payment System Great Again
Does your payment system perform not well enough? Are there any issues that require urgent optimization? If yes, then you are in the right place. Getting payments is one of the most essential business requirements. That is why online store owners constantly care about efficient payment management. E-commerce business involves various payment methods, but not all of them are suitable for each client or order.
Fortunately, there is a helpful solution - Payment Restrictions for Magento 2. The module empowers e-commerce business owners to set up convenient payment conditions, as well as manage access to the payment methods for different product parameters and customer groups.
Adjust all payment processes in accordance with your business needs and boost your Magento 2 store productivity with the Magento 2 limit payment method.
Payment Restrictions According to Product and Customer Attributes

The module allows using product parameters to create Magento 2 products based on payment methods restrictions. You can easily disable the check/money order method for not expensive goods or for the items of a certain material.
Choosing the extension, you are able to also use some customer's attributes to restrict payment methods. For example, a customer ID, IP address, shipping location, date of sign-up, gender and many more. Besides, Magento 2 Payment Restrictions lets you use customer groups to limit payment options as well.
Give the VIP groups of customers the additional payment options, such as Check/Money order.
Limiting Payment Depending on Shipping Methods

Use Magento 2 Payment Restrictions functionality to regulate payment based on particular shipping methods. It will help you to keep a balance between the delivery cost (charged by the third-parties) and the possible risky challenges of the customers' orders.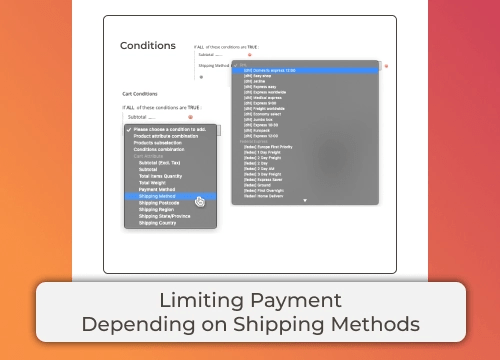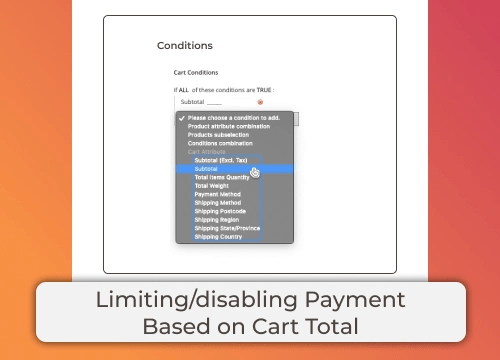 Limiting/disabling Payment Based on Cart Total

Another essential feature provided by the Magento 2 Payment Restrictions extension is the ability to regulate payment methods depending on the cart total.
Naturally, all store owners take special care of the high-value orders. Therefore, they need such reliable and safe payment methods as Wire Transfer. You may select the condition as Cart Subtotal and apply the payment rule with the most appropriate option.
Restrict Payments, Choosing Certain Day and Time

The Magento 2 Payment Restrictions functionality allows setting specific day and time when the payment method will be limited. For example, if your store doesn't work on Saturday and Sunday, you can restrict all the methods for these days.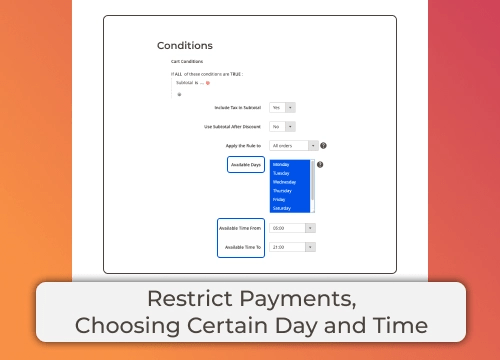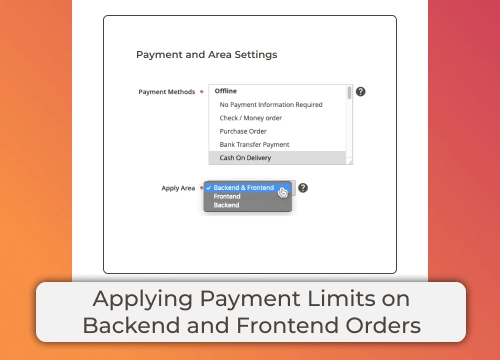 Applying Payment Limits on Backend and Frontend Orders

The module empowers merchants to set payment restrictions both on the frontend and in the admin panel.
Sometimes admins forget that particular Magento payment gateways can not be used for some customers or situations. In order to avoid such cases, set the restrictions to apply in the admin panel as well.
Changelog
1.0.4 - September 27th 2022
*Fixed product detail page error when Paypal payment method is configured and enabled
1.0.3 - May 13th 2022
+Added PHP 8.1 compatibility
+Added Magento 2.4.4 compatibility
*Fixed issue with Payment method titles when creating payment restriction rule
1.0.2 - October 29th 2021
+Added multi-address checkout support
1.0.1 - October 4th 2021
+Added compatibility for PHP 7.4
+Added compatibility for Magento 2.4
*Fixed issue when installing module using zip
1.0.0 - November 23rd 2019
+Extension release