Magento Rapid Deployment Packages
Get to market in as little as 4-6 weeks for a fixed price.
Aitoc has helped over 30,000 merchants. Leverage our market-leading experience to get online quickly and professionally without compromising quality or performance.
Only Aitoc's Rapid Deployment packages bring together our experience of building websites, with our large ready-to-use portfolio of B2C and B2B modules, plus integrated hosting. We also have a range of financing options available.
Choice of packages

Customisation included

Free hosting

Access to Aitoc products

Financing available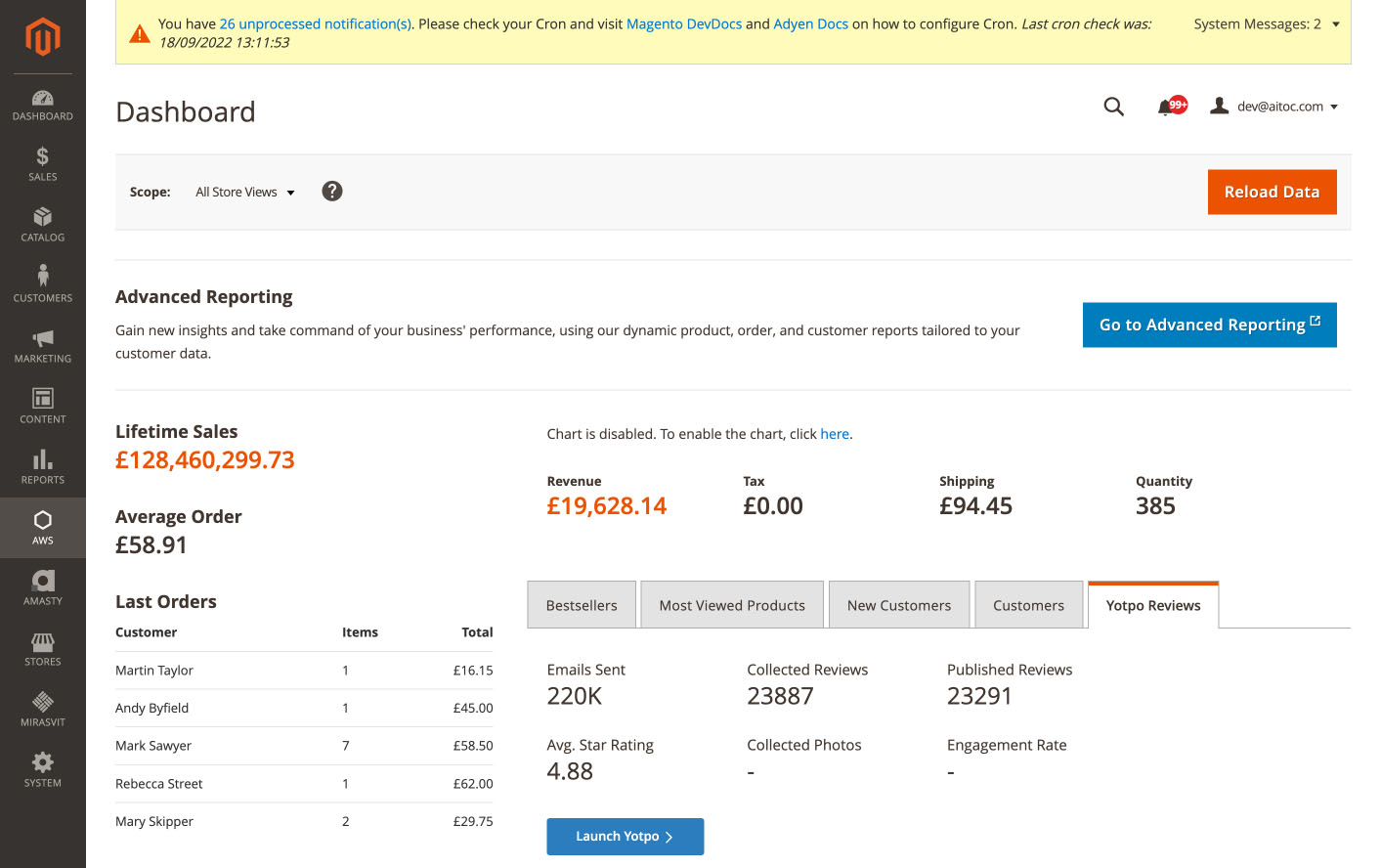 Our Magento Rapid Deployment Packages
Fixed Price. Launch your Magento website in 4-6 weeks. All built with Hyvä.
Foundation
4-6 weeks
Hyvä cost included

Fixed cost

Financing options available

Magento 2.4.6

Aitoc modules

B2C focussed

Discovery workshop (4h)

Theme customisation (10h)

Hosting included (6 months)

Standard SEO

Basic analytics

90%+ Google Lighthouse scores

Standard Magento configuration

ElasticSuite site search

QA testing

Basic training
Elevate
6-8 weeks
Everything from Foundation +

Discovery workshop (8h)

B2C + B2B

Theme customisation (40h)

Custom development (40h)

Product data migration

Advanced SEO

Enhanced analytics
Summit
8-12 weeks
Everything from Elevate +

Discovery workshop (16h)

B2C + B2B + D2C

Theme customisation (80h)

Custom development (100h)

Customer data migration

Workflow / Process automation

Advanced analytics

Enhanced training
Pinnacle
12+ weeks
Everything from Summit +

Discovery workshop (24h)

Theme customisation (120h)

Custom development (200h)

Bespoke data migration

Bespoke training
Ready to talk?
If you are considering either Magento or Adobe Commerce for your project, then please give us an opportunity to discuss with you how our rapid deployment packages can de-risk your project and maximise your budget.
Delivery Process
Aitoc deliver on an agile methodology that delivers iterative updates throughout your project. We keep in touch with you throughout the process, and you get direct access to your project delivery team in real-time via a private Slack channel.
Your Trusted Partner
Based in the UK, Aitoc serves customers worldwide and delivers a wide range of consulting services and products. Today, Aitoc is owned by On Tap - another pioneer of Magento development.
22 years experience

30,000 customers

In-house team

Magento solutions since 2007

End-to-end service delivery

Dedicated project manager
Choose your level of customisation
Aitoc's Rapid Deployment Packages enable you to have a Magento or Adobe Commerce website up and running in as little as 4-6 weeks.
Additional customisation is available either during the project, or post go-live, as part of an ongoing support and development.
Hosting included
We believe in simplicity. That's why every Rapid Deployment Package comes with free hosting for six months, courtesy of our partners at On Tap Cloud .
What's more, this is production level scalable hosting, with a free staging instance configured and ready to go. Everything you need to get up and running. Simple.