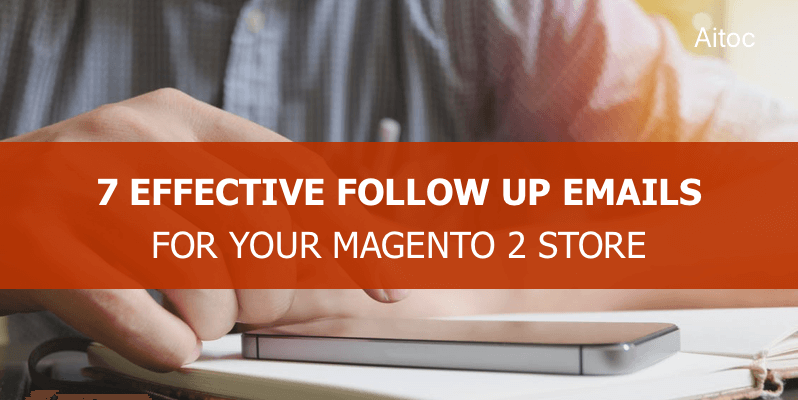 First of all, what exactly a follow up email is and when can it be considered as effective? Simply put, a follow up email is a personalized transactional message that is triggered by a certain user action. Sent either by an automated email marketing system or configured in Magento, these emails do not require the user to respond, however, are still a highly effective means of marketing communication.
Follow up emails for Magento 2 ecommerce platform help retailers interact with their customers and prospects directly, nurturing their loyalty, trust and brand awareness. Statistics only prove that email marketing is able to deliver outstanding results to ecommerce business owners. According to a National Client Email Report, it can bring up to 3,800% ROI, which means you can earn $38 for every $1 spent. Just imagine!
Second, what does an 'Effective follow up email' mean?
As a rule, follow up emails are aimed at achieving the following mission-critical objectives:
Turn a subscriber to a customer;
Engage customers at the store (browsing, purchasing, reviewing, participating in polls, etc.);
Encourage a customer to complete a purchase.
A follow up email that helps to achieve the above-mentioned goals can be considered as effective.
Eventually, any marketer strives to increase the Customer Lifetime Value (CLV), which is the value a business gets from the entire relationship with a customer. Auto-triggered emails have the power to do so, as the higher the customer engagement is, the higher CLV and, consequently, sales will be. But in order to be effective follow ups should be strictly aligned with the overall communication and marketing strategy.
In this post, Aitoc shares top 7 follow up emails that proved to work best for Magento-driven ecommerce stores. Sounds interesting? Keep on reading to learn more.
[vc_separator type="" size="" icon="circle"]
Welcome Emails
The ingenious is always simple: there is nothing more important than making a great first impression, especially when it comes to getting to know your potential buyers. Depending on your attitude and behavior on this stage, the further relationship with a prospect will either flourish or be destroyed. And that's where Magento welcome emails come to play.
A welcome email is the very first message you send to a new website visitor. 74% of new subscribers actually expect to get a welcome email, so you definitely cannot ignore that one.
Depending on the way a user gets to your mailing list, there are two types of welcome emails:
Emails for the users signed up for a newsletter
Emails for the users created a user account on a website
Let's have a look at each type in detail.
1. Emails for the users signed up for a newsletter
Goal: encourage account creation, turn a subscriber to a client
Target addressee: new subscriber
Trigger: signing up to a newsletter via a special form on the website
When to send: in 10-15 minutes after the subscription
Great news! A new subscriber has joined your user base. However, you should go beyond conventional greetings is you want to turn him or her into an actual buyer. First of all, it will be a great idea to invite new subscribers to create an account in your store. This will allow you to get some basic personal information like, for instance, gender or birth date, that can be further used to generate targeted offers for the newcomers. To encourage the account creation, consider offering a coupon code or a freebie. You can also provide a certain amount of reward points in case you're running a loyalty program in Magento 2.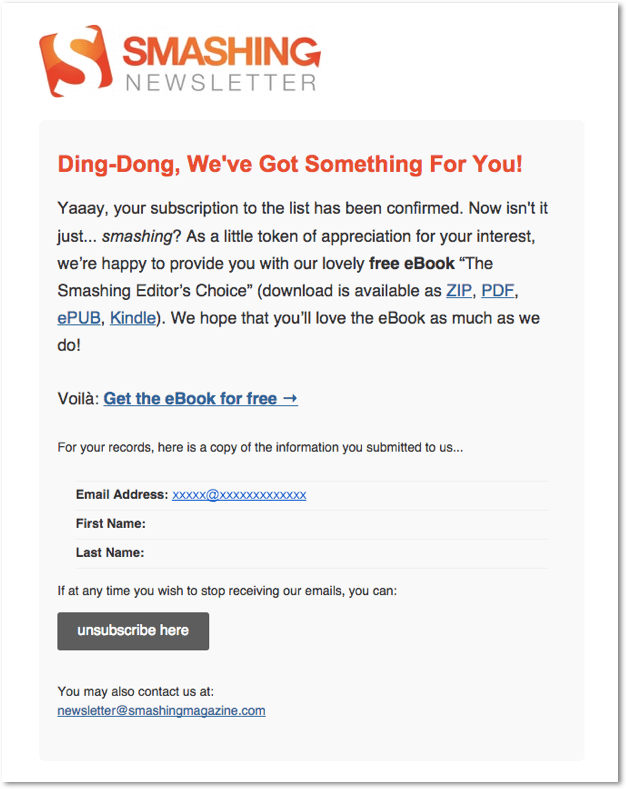 2. Emails for the users created a user account on a website
Goal: inform a potential client about the company, share hot deals to encourage the first purchase
Target addressee: newly registered user
Triggers: creating an account on the website
When to send: upon the account creation
To score points with registered users, you can share links to useful content like best-sellers or promotional items, and, of course, offer a discount to give subscribers an instant incentive to place the first order at your store.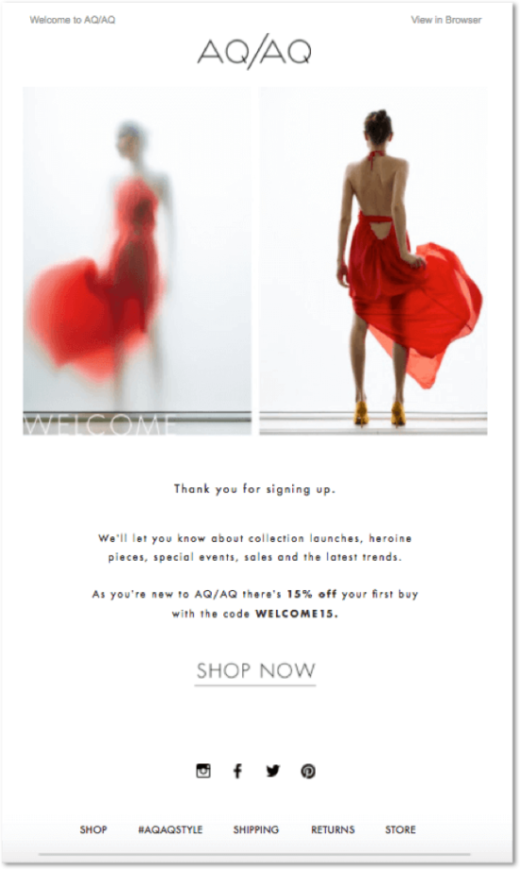 [vc_separator type="" size="" icon="circle"]
Birthday Emails
Goal: customer engagement, activity stimulation
Target addressee: current client
Triggers: birthday date coming soon
When to send: 1-5 days prior to the birthday date 
Date-based emails sent on recurring events are widely spread amongst marketers, but the popularity of birthday email campaigns is huge. Birthday emails have 481% higher transaction rates than any other marketing email! As plain as daylight: you hardly can find a person who wouldn't want an unexpected birthday greeting.  So why don't you use this undeniable fact to your benefit and remind the birthday person about your store?
Take advantage of a Magento birthday email to say a few kind words on a subscriber's special day and let them know that you care. You might offer a generous discount or even a gift too! It's up to you to decide how to make your buyers' birthday unforgettable. Such emails will definitely do a good turn by not only increasing the chance of closing a sale, but also inspiring customers' loyalty in the long-term.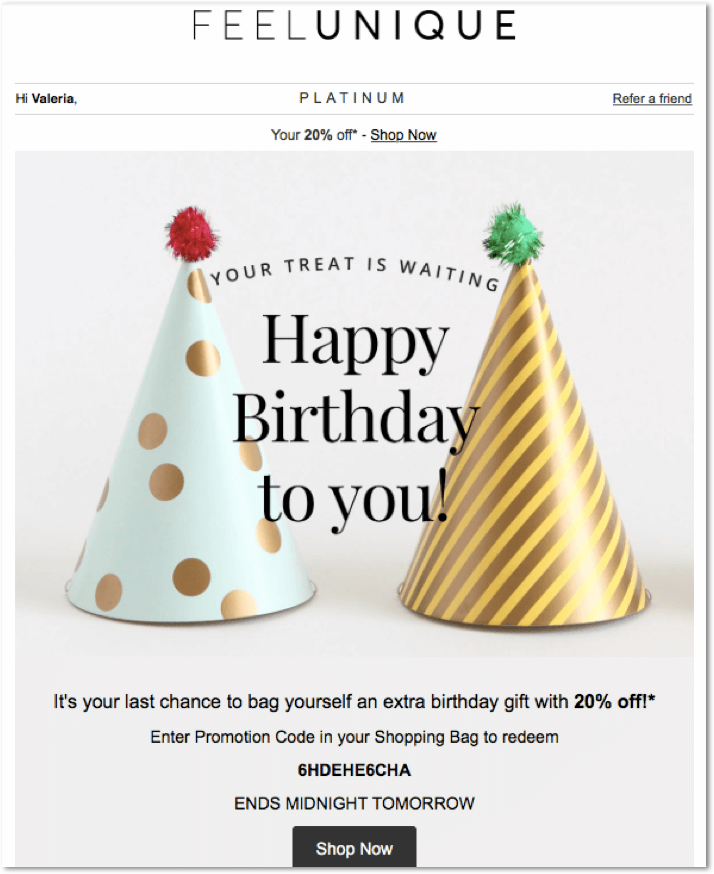 [vc_separator type="" size="" icon="circle"]
Post Purchase Emails
Goal: customer assurance, customer engagement  
Target addressee: customer who just made a purchase  
Triggers: order placement/order dispatch
When to send: when the trigger occurs 
The sales cycle does not end up with a successfully completed purchase. According to statistics, acquiring new customers is five times more expensive than retaining the existing ones. To turn a first-time buyer into a regular customer, you should continue communicating with him or her even after the sale.
Post purchase follow up emails sent once in a while are crucial for customer retention. Depending on your customers and their purchase history, here is a couple of email ideas you may use:
Order Confirmation. The #1 post-purchase email, as the very first thing your customer want to know upon completing an order is that the transaction was successful.
Shipping Confirmation. Okay, now when the order is placed, let your customers know the dispatch date so that to keep them in the know of the current order status.
Product Support. You can share a care manual with a customer who has just bought a washing machine or provide any other useful tips and usage ideas related to the products bought.
Further Purchase Encouragement. To entice customers into buying more, you can use these emails to offer a new valuable deal to them.
Request to review or rate a purchase is another post-purchase email you can make use of. Let's have a look at those as well.
[vc_separator type="" size="" icon="circle"]
Product Reviews & Ratings  
Goals: activity encouragement, feedback collection
Target addressee: previous buyer
Trigger: purchase completion
When to send: 1-2 weeks after the order is delivered 
Nowadays online reviews are real power. The most detailed product descriptions still could not compare with the traditional word of mouth. According to industry studies, 84% of buyers trust online product reviews as much as personal recommendations. That said, providing your clients with the ability to leave feedback helps you to build trust with them and attract new customers, which is a direct result of the prevalence of positive reviews of your products.
Ask customers to write a couple of words about their experience with your store to not only get a foundation for further improvement of your products and services but also benefit from better SEO results.
Not only it helps to send out email review requests it also allows admins to add discounts to review reminders which significantly increases the number of reviews. Besides, it also provides for a visual representation of the review statistics - a graphical chart, accumulating public opinion on certain products. Ultimately, a good rating of public reviews helps an occasional visitor become a buyer, even if he had doubts before taking a look at the reviews.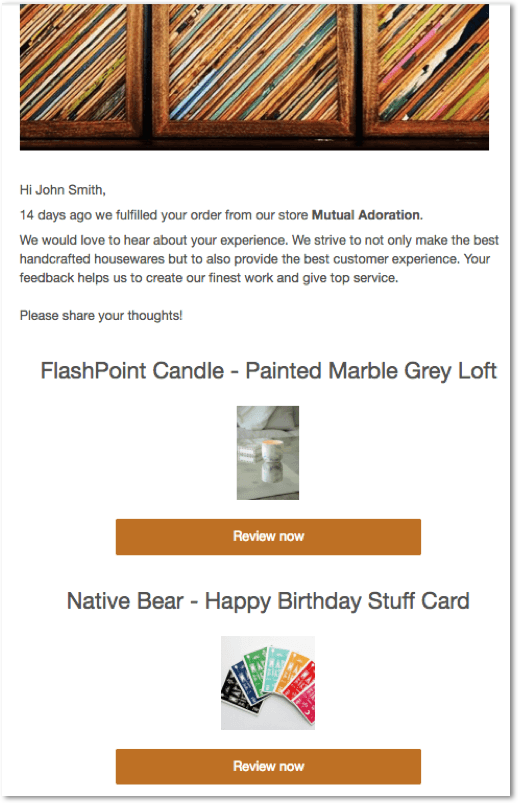 [vc_separator type="" size="" icon="circle"]
'We Miss You' Follow Ups
Goal: remind customers about your store, encourage a purchase  
Target addressee: previous buyer
Trigger: absence of new orders during a long period of time
When to send: in 3-4 months from the last purchase
Seems like you haven't seen some of your previously active customers for a while? Well, this happens, as none of us goes on a shopping spree on a daily basis. But why don't you remind existing customers about your company from time to time? Create tailored emails with fancy offers and bring those buyers back to your store. The idea is simple: they have already bought a product from you and, given the fact they liked it, this is the perfect moment to get them to order a product once again or upsell related items.
In your Magento email template, you can feature a personalized discount or a limited-time best buy deal to spark the interest of your customers in your store. Even if they do not intend to make a purchase, ability to place an order at a lower price will definitely do the trick.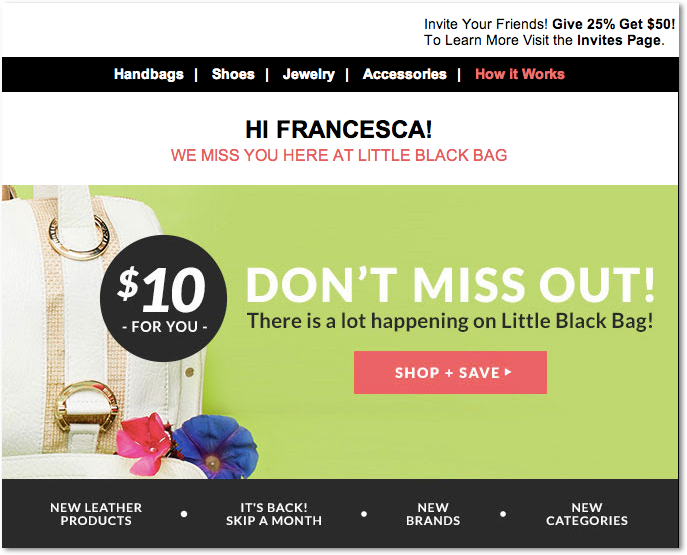 [vc_separator type="" size="" icon="circle"]
Abandoned Carts
Goals: decrease abandoned cart rate
Target addressee: visitors who haven't finalized the purchase
Triggers: items left in a cart
When to send: the same day/the day after the trigger
In 2017, online shopping cart abandonment rate in the retail sector was estimated at 76.2%. In other words, 3 out of 4 online customers leave with no purchase. That's huge! Fortunately, email marketing has proved to be one of the most effective means of recovering abandoned carts. Almost a half of reminder emails are opened, and almost a half of the recipients who engaged with the email content finish their purchase.
By sending abandoned cart emails to prospects, you can kindly remind them about the unfinished purchase. A discount code or free shipping share via an email will be a super effective way to encourage them to complete the checkout process.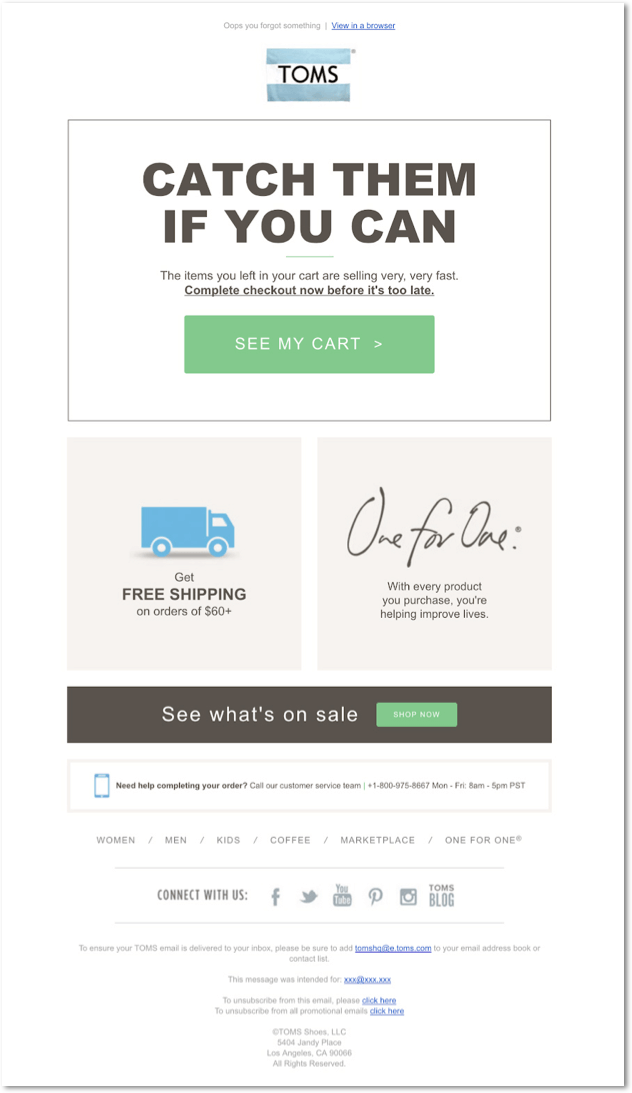 [vc_separator type="" size="" icon="circle"]
Order Status Updates   
Goal: increase order fulfillment speed and accuracy
Target addressee: employee responsible for order fulfillment
Trigger: order status change
When to send: when the trigger occurs 
There are multiple back-office processes that can be optimized with the help of email notifications as well. One of them being order status management. You should ensure all of the employees related to the process are always up-to-date with the current state of each specific order. With automated emails, you can notify administrators and sales managers about Magento order status change through its entire lifecycle to make the order handling process more effective and fast.
[vc_separator type="" size="" icon="circle"]
How About the Efficiency?
Of course, gathering content ideas for your email strategy is important. But what has the most value at the end of it all is whether the goal of each email is met. The key metrics to be tracked here include the following:
Welcome emails: the number of subscribers who made the first purchase
Birthday emails: the number of sales triggered by a birthday email
Post-purchase emails: the number of website views triggered by a transactional email
Product reviews & rating requests: the number of reviews submitted via the email link
'We miss you' follow ups: the number of sales triggered by a reminder email
Abandoned cart reminders: the number of recovered carts, cart abandonment rate decrease
Order status update: average order processing time decrease, the amount of successfully fulfilled orders
Final thoughts
Email campaigns remain part and parcel of successful ecommerce marketing strategies. As a prospect arrives at your website, you should make your best to guide them through the entire customer journey in the most engaging and interactive way. Aitoc Follow Up Emails for Magento 2 is the all-in-one solution designed to make the communication with your customers throughout that journey easy and fun.
We hope this article will help you create the most effective email strategy for your Magento 2 store. Good luck!
For more details about our  Magento 2 extensions, please visit our website. Have a question or idea you'd like to discuss? Contact us at [email protected]– someone from our dream team will get back to you in the shortest time.