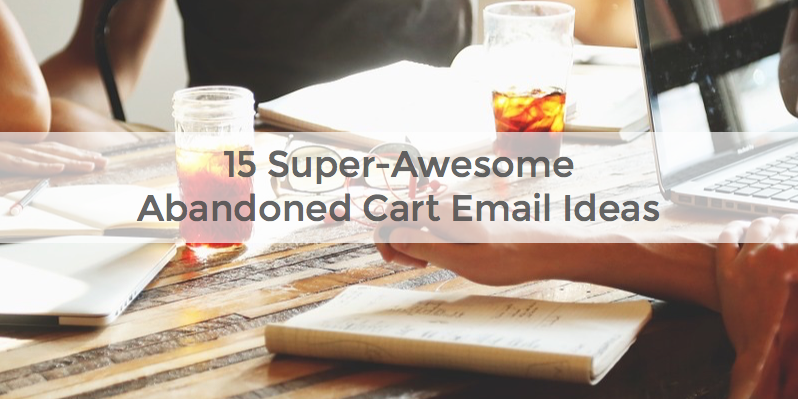 Did you know? Over 68% of all shopping carts on the Internet get abandoned.
While many eCommerce store owners are aware of the problem, few know how to write an effective abandoned cart email that would make customers come back and finalize their purchase.
But no worries. We've browsed through hundreds of great abandoned cart email examples FOR you, and, guess what… Many of them have things in common. So, we've put together a list of 15 abandoned cart email ideas that are up for grabs right below.
1. Provoke them
As David Oglvy famously said, "When you have written your headline, you have spent 80 cents out of your dollar." So, take the subject of your abandoned cart email very seriously. Otherwise many people won't even get past it.
Try to make your subject as thought-provoking and click-inviting as possible. Whether we admit it or not, our human brains respond to:
Questions (Still can't decide?)

Negatives (Don't miss out, Don't go)

Emotionally charged words (Still want these fabulous shoes?)
Here is an example from Nordstrom: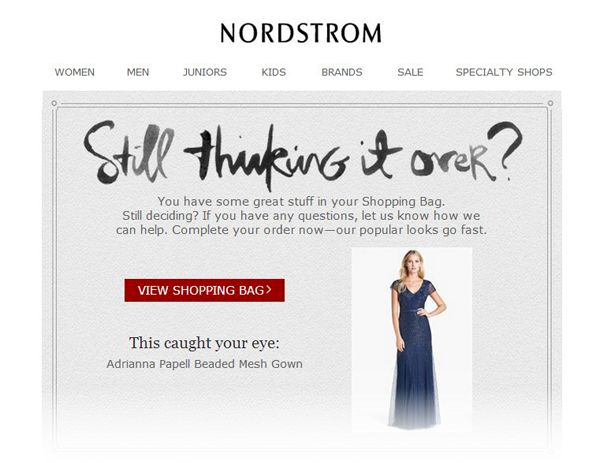 2. Surprise them
You get to make the first impression only once. Try to shock the reader of your abandoned cart email a bit. We realize it may take some time to come up with a great (and not poor-taste) original idea. But it is sure to pay off in the future.
Here is a really good one from Ray-Ban: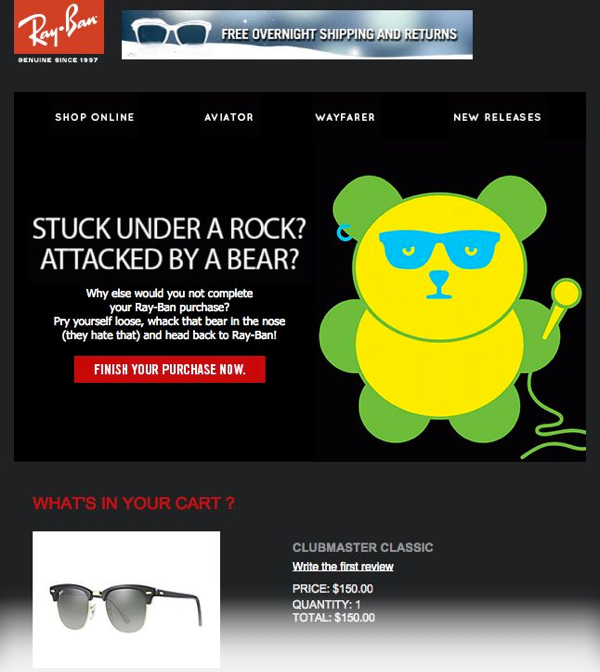 3. Get personal with them
Marketing scientists have discovered that, when we address a customer with a simple "You" or by their first name, we are much more likely to get response. So, include these words into the subject line or the body of your email.
Marketers from Nasty Gal take it to another level with an email written in first person singular: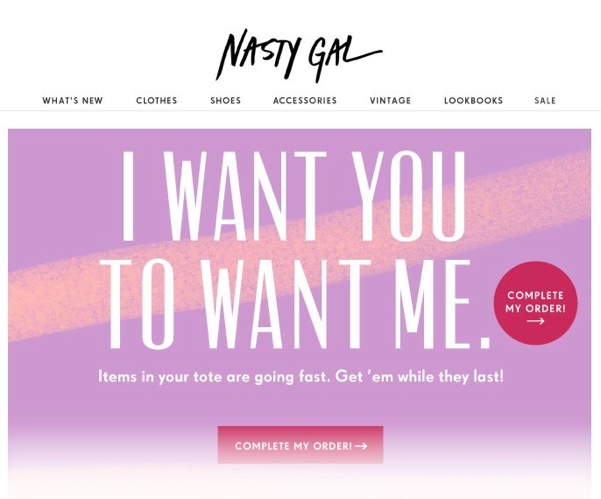 4. Thank them
Many abandoned cart emails we've come across begin with a "Thank you", and this is not by chance. Thanking the customer first emulates natural human behavior when we cart nicely and say something polite to people before getting down to business.
Here is a big thank you email from Pottery Barn kids: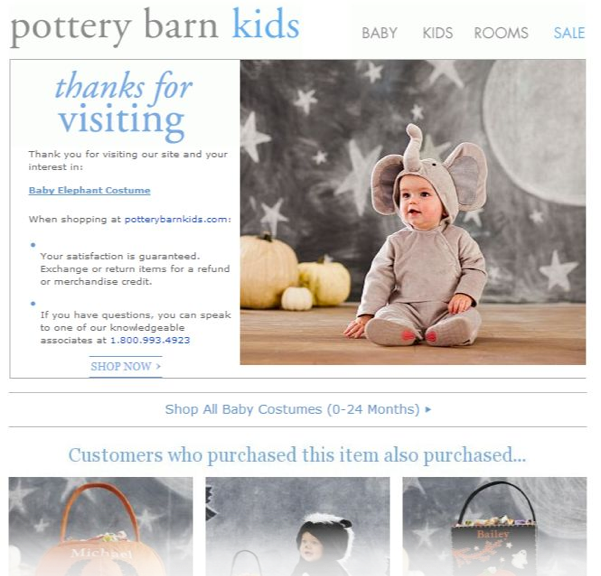 5.

 

Flatter Them
Another great idea you can borrow straight from Crate&Barrel (a brand that has been highly successful at recovering abandoned carts), is to tell your customer something like:
Great choice!

We like your taste.

You have a flair for great things.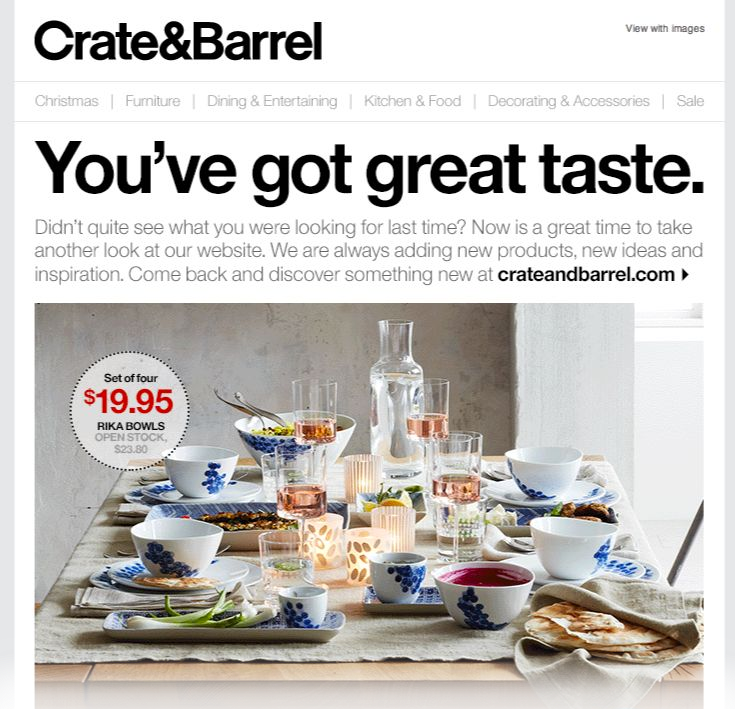 In case you haven't guessed it yet, the idea is to say something people like to hear. Of course, it might falls on deaf ears of a limited share of skeptics, but will work for most people.
6. Impress them visually
Impressive design can help your email stand out among tons of run-of-the-mill messages. And it's really not that difficult to create a nice-looking, visually-appealing abandoned cart alert email. Perhaps a hand-drawn portrait of the item(s) left in cart would do?
We really like the email from Glossybox: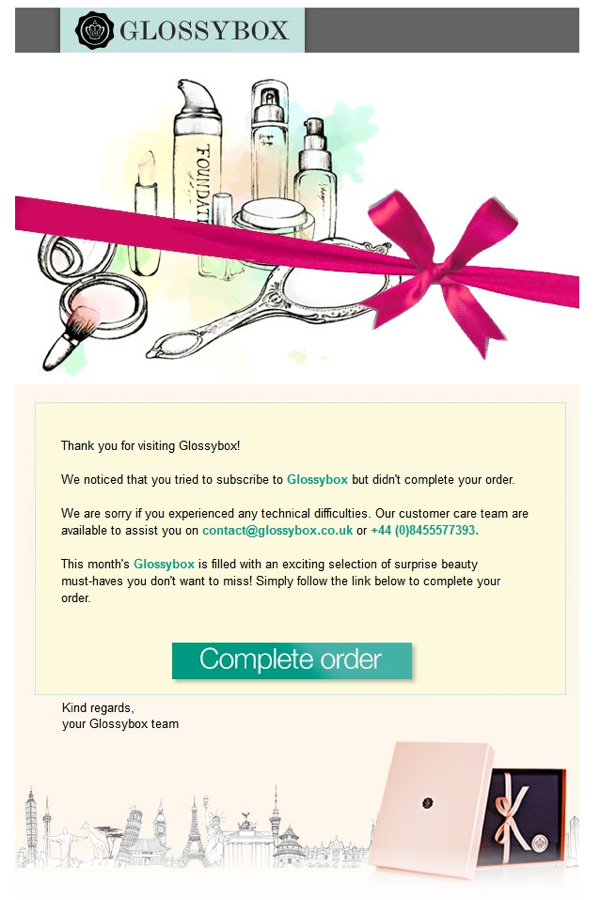 7. Give them a discount
Statistically, over 50% of people abandon shopping carts, because they want to put aside some items for future purchase. Shoppers are even more likely to do that if the website offers no Wishlist, Favorites or Items for Future Purchase functionality.
If that's the case, a reminder that comes together with a coupon may just nail it. For example, instead of saying the usual "there is something in your cart", you can say:
Come back and save $20

Save $20 on your next purchase

Get 20% off the items in your cart
Here is an example from Birchbox: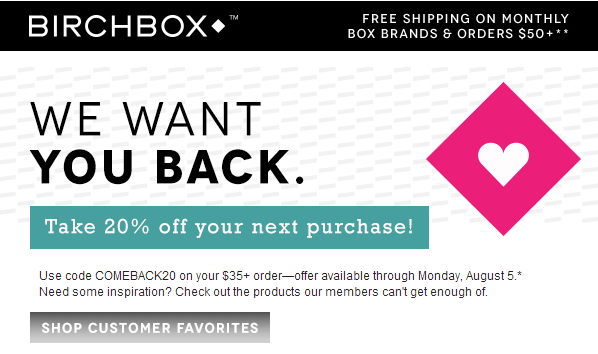 8. Rush them
Another psychological trick that hardly ever fails is creating urgency with your customers. People are more likely to act the moment they are reading your email, if you say something like
The item in your cart is about to sell out - only 3 left!

Your cart is about to expire

Our special offer expires soon
Here is an example from Gilt: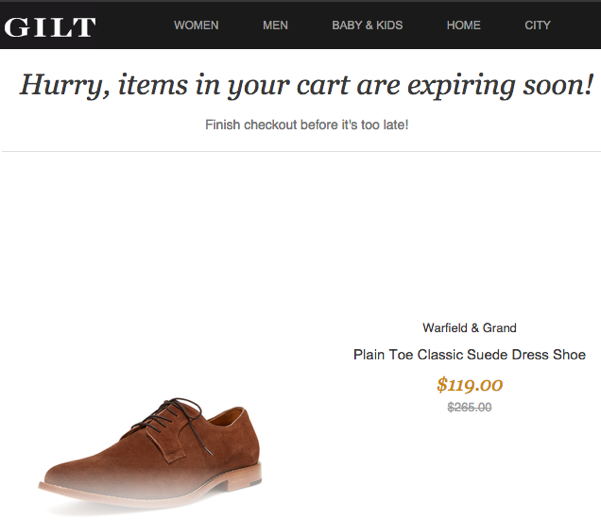 9. Lure them with reviews
Customer reviews are a really old a proven way to solidify trust in your product. So, why not include a few into your abandoned cart email?
Here is how Dollar Shave Club does it: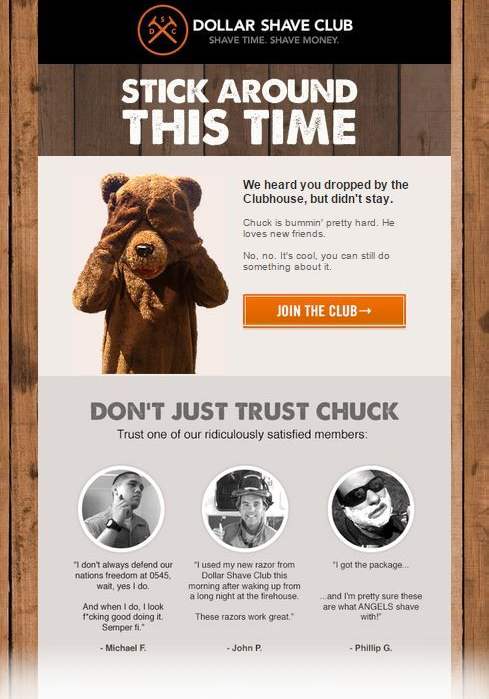 10. Offer them free delivery
According to research, more than 50% of all abandoned carts occur because the delivery fee is higher than expected or because the shopper does not qualify for free shipping.
While not every brand can economically afford to ship for free, if you know this may be the concern at your store, you can emphasize your shipping conditions in the abandoned cart email.
Here is an example from Debenhams Ireland, in which they highlight their delivery deal right upfront: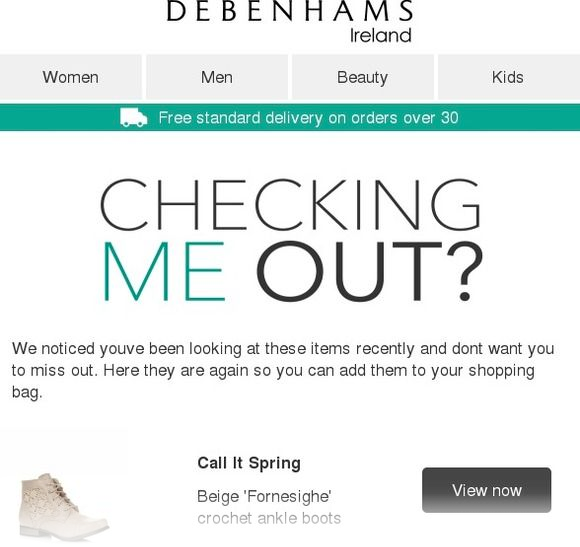 11. Show them additional benefits
Quite often, your customers are not aware of the additional benefits your company offers. If can be anything from unconditional money-back guarantee to same-day delivery, to other things.
For example, here is how Net-a-Porter does it: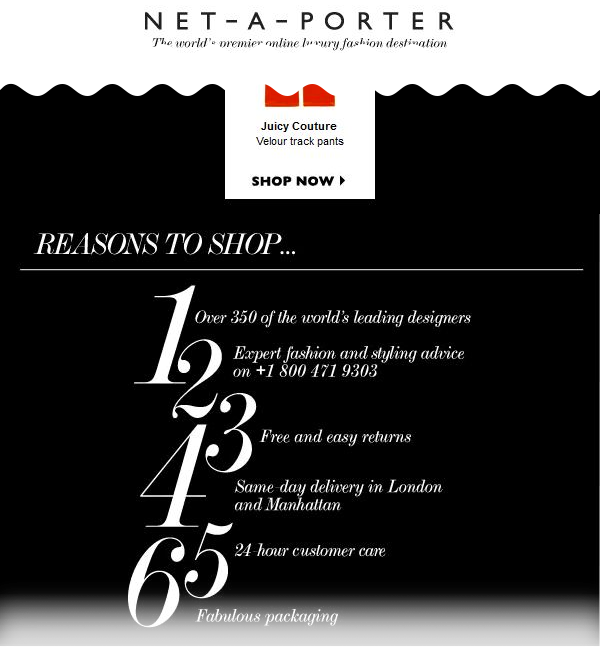 12. Let them see your face
Emails from real people are harder to ignore. People are more likely to open, read and act on an email if it comes from a real person with a name and a face to that name.
So, it is a good idea to include an image and the name of the business owner, your customer care employee, or someone else within your company at the end of your email.
Here is an example from Lamps Plus: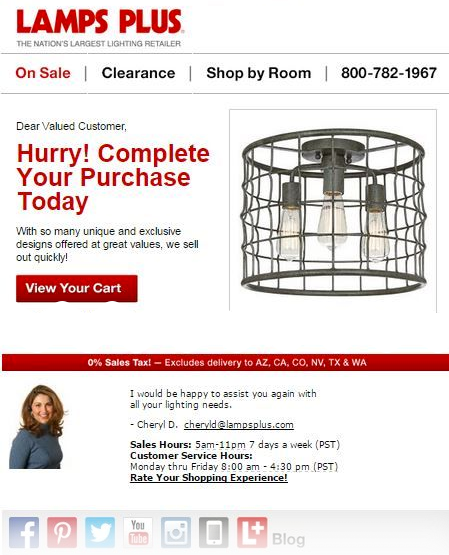 13. Invite them to browse your site
Well, what if your customer has already purchased this item from another store or doesn't need it anymore, or your shipping conditions are not looking great anyway?
Have them come back to your store and stick around for longer by adding navigation links to your email. Many big brands do that. Basically, an abandoned cart email is an opportunity to bring customers back to your store, even if they are not planning to buy the item(s) in their cart.
An example from Pacsun (note the top navigation in this email):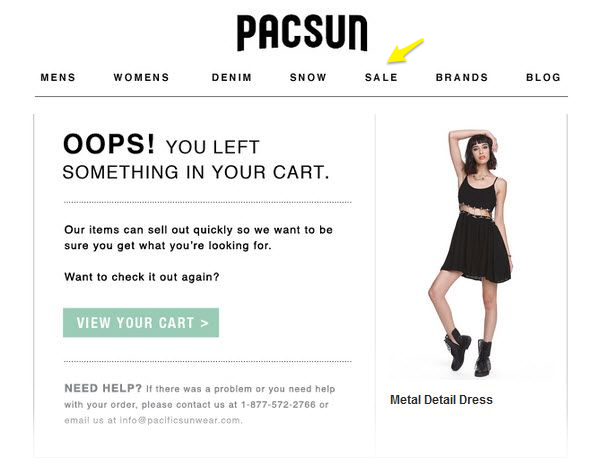 14. Upsell to them
Another smart way to use your email's real estate and to kill several birds with one stone is to include You may be also like… items at the end of your email. This is similar to how, if you don't like some item in an offline store, the sales assistant suggests you to try on another one.
For instance, Monsoon takes the opportunity to pitch their bestsellers: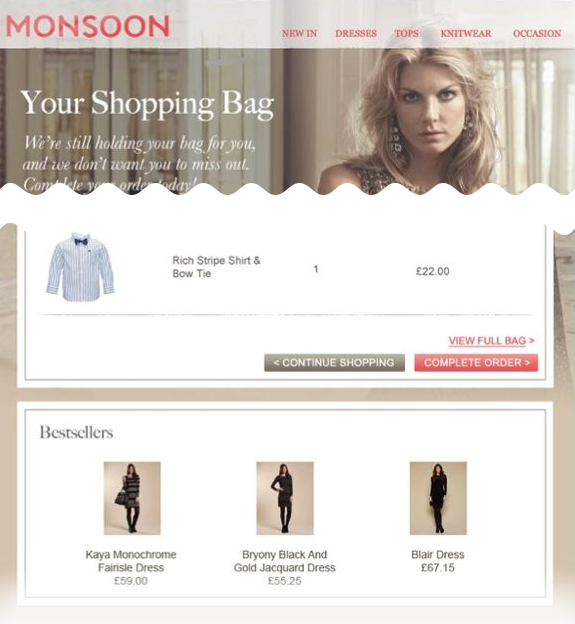 15. Encourage them to call you
Many abandoned cart email include a phone number to call. This is the case when inviting question could mean inviting more sales. Perhaps your customers DO have questions about your merchandise, but they don't bother writing an email.
Hence, include a phone number in your abandoned cart alert or add a click-to-call button to the mobile version of your email. Here is an example from Altitude Sports: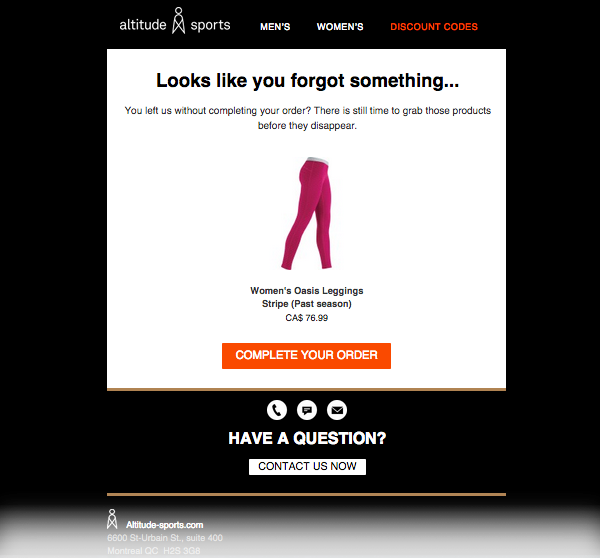 Wrapping it up
With so many brands sending abandoned cart emails to their customers these days, it's hard to stand out of the crowd. However, there are certain ways to reinforce your items-in-cart message and entice customers to click the cart recovery link.
For example, you can just grab the ready-to-use templates we offer in the Abandoned Cart Alerts Pro extension. They have responsive design and each come with a plain-text copy of the email.
At the same time, we recommend to make your abandoned cart email unique. It's always better to edit the template and create your own subject, title, call-to-action and design, because people get used to templates very quickly.
Wishing you a speedy shopping cart recovery,
The Aitoc team