The latest updates of this fall from the Aitoc Team
Even though there is still a whole fall month to come, we have decided to update you on some important releases Aitoc has made lately. These past few months have been highly productive as we have introduced a bunch of amazing Magento 2 extensions. So, without any further ado, here a brief overview of the newest solutions by Aitoc. 
CopPay Payment Gateway
CopPay Payment Gateway for Magento 2 enables integration of the ecommerce platform with CopPay, a multicurrency blockchain-based payment system. Acting as a payment gateway, our extension allows accepting the most popular crypto coins at online stores running on Magento 2. Customers can now pay in various cryptocurrencies such as Bitcoin, Ethereum, Litecoin, Ripple, Dash, and others.
Merchants decide whether to accept crypto coins or fiat money, including dollars, pounds, and euros. And regardless of the currency buyers use, the order amount is securely transferred to either retailers' bank accounts, in case with traditional currency, or to a crypto wallet. Ecommerce business owners can take advantage of the non-commision nature of the extension, as customers are charged for paying via CopPay. The icing on the cake - it's completely free to download and super easy to configure!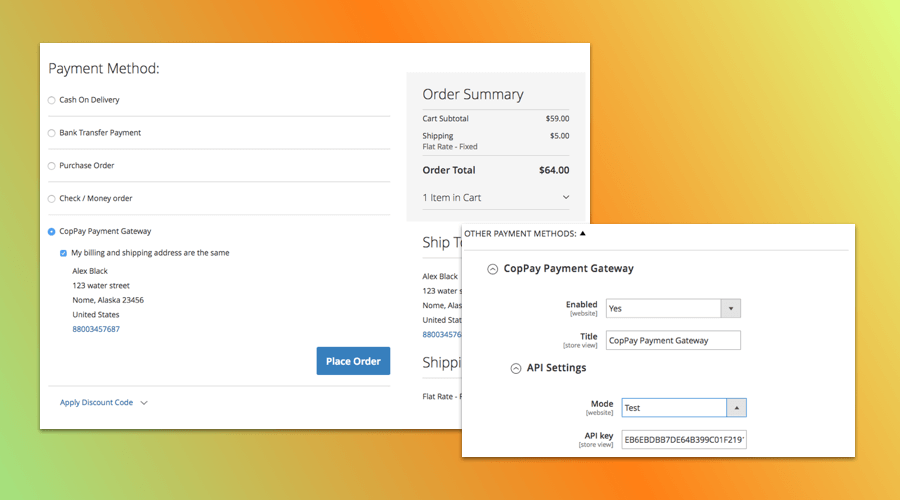 You can learn more about the extension in one of our previous posts.
Loyalty Program
We've seen your interest in Loyalty Program extension for Magento 1 and decided it's high time to make a brand new solution for Magento 2 users. We are also excited to tell you that Loyalty Program for Magento 2 is designed completely from the ground-up. You get all the benefits of Magento 2 fast and secure architecture while keeping the key features of its Magento 1 predecessor.
Inform users about your Loyalty Program. Customers can now see a dedicated Loyalty Program page in My Account section. Thus, they can learn all the details about your program and access their own shopping statistics.
Create unique sets of loyalty rewards for your store. We've enhanced the standard Magento functionality with custom parameters to make it possible to configure the rules that match your business requirements.
Decide which orders contribute to your Loyalty Program. Remove unnecessary orders from the equation. take into account only those orders that impact your revenue and drive real value to your store.
Nurture a loyal customer base with a tiered rewards system. Create a multi-level system based on your customers' lifetime value. Give out the best rewards, offers, and discounts to the clients that contribute to your sales the most.  Set free shipping thresholds, birthday discounts, and better deals for your loyal customers to boost sales and grow your community faster.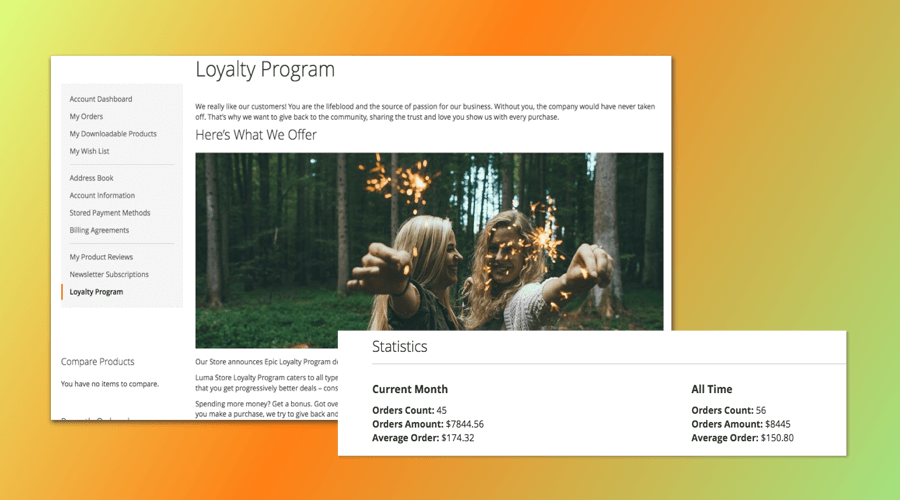 Orders Export & Import
There are no online store owners who haven't dealt with orders export and import. As the amount of sales grows, the number of order records increases accordingly, bringing more and more data files to your storages. Handling this data is a process all Magento store admins are used to, but each one of them, we bet, is secretly hoping to make it as easy and quick as possible. And here's where Magento extensions come to play!
We launched our first Orders Export and Import extension for Magento long ago and it has proved to be extremely useful and popular among our clients. But the sky is the limit, so it was high time for us to polish the extension up and enhance its functionality. And we've made it! Our new, completely transformed edition of Magento 2 Orders Export and Import  is finally launched. We have optimized its performance and fixed all the bugs, even the minor ones, to ensure its seamless and fast operation in any browser.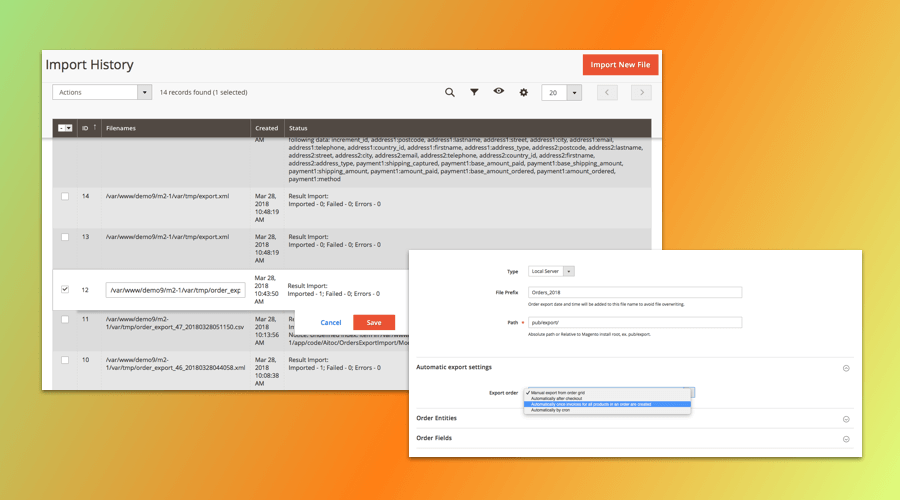 The new version boasts a pool of new features and handy settings that will help online merchants to export and import order data even faster and way more effectively. For instance:
Compatibility with large data files allowing to export/import large (huge!) amounts of order data files in one take
Ability to transfer orders from and to legacy ecommerce platforms (Magento 1, WooCommerce or Shopify)
Automated user account creation based on order billing information
Error Log for import operation to instantly detect any failures during the importing process and introduce necessary corrections
Error Log storage limit to prevent the log from taking too much space on the server
Bulk Export-Import count to work on slower servers
GDPR compliance as the extension doesn't store any private customer information
The upgraded Magento 2 Orders Export & Import is all ready to surprise you with its handy functionality and outstanding performance.
Abandoned Cart Emails Pro
There is nothing that can help Magento store owners reduce shopping cart abandonment than a well-thought-out email marketing campaign. Our Abandoned Carts Extension is the right tool to tackle this challenge. Recently we have polished it up to address your requirements even better. Not only have we fixed a number of minor bugs, but also made the code refactoring to increase the extension's performance.
Besides, we perfectly understand that every marketer is looking for a way to optimize efforts and resources. Thus, to simplify and accelerate the process of setting up an email marketing campaign, we have added a pre-set campaign and default email templates to the extension. With such a ready-made pack, you can start recovering lost sales without any delay!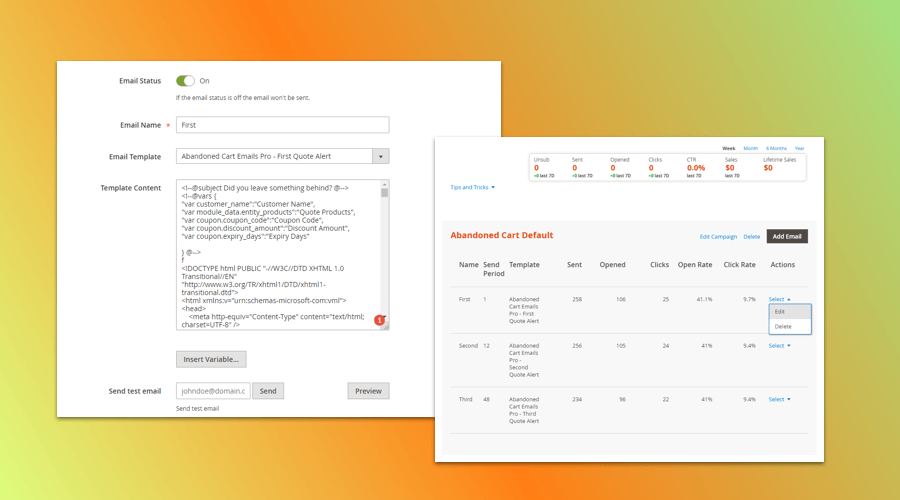 Product Reviews & Ratings
Product Reviews & Ratings for Magento 2  is probably one of our most popular extensions. And there's an obvious reason for that: the importance of customer reviews cannot be underestimated, as they affect not only your SEO metrics but your sales. With that in mind, we have updated this extension too. We have carried out serious code optimization and removed a bunch of bugs, so the module works like a charm now. Try it out and see for yourself!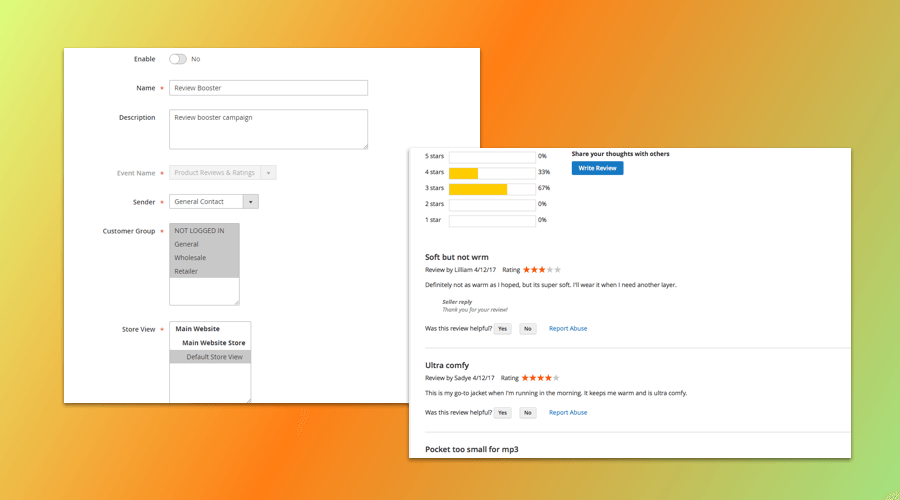 [vc_separator type="" size="" icon="star"]
Looking to enhance your Magento-driven store with extra functionality? You can find a great range of Magento 2 extensions here.
Have a question or an idea? Do not hesitate to reach out to us at [email protected] or drop us a line via Facebook. Someone of our dream team will get back to you shortly.