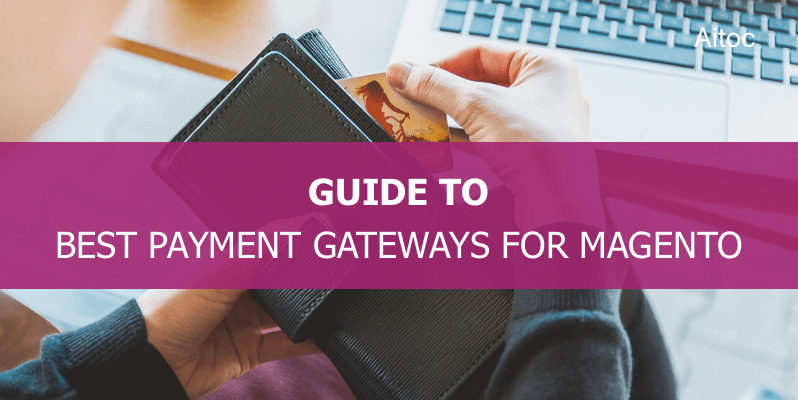 What gateway should you choose for your Magento store? 
There is no ecommerce business that can operate without a proper payment gateway. Acting as a mediator between ecommerce stores and a payment processor, they charge customers' credit cards and then send the funds to the store's. That is, basically, the foundation every online business resides on. 
When choosing a gateway for your store, you should consider not only the built-in availability of the gateway in your ecommerce installation but also advantages and drawbacks of different gateways. There is a whole range of aspects to take into account, starting from currency support all the way to license costs and transaction fees. And since nowadays the number of available gateways is huge, selecting the one that would address your needs best might become a challenging task.
Being a flexible ecommerce platform, Magento takes e-business needs into account, and payment gateways are no exception. Some payment gateway integrations are available out-of-the-box, while others can be enabled through Magento plugins or set up by Magento developers.
From years of experience in the ecommerce field, we have come up with a list of proven payment gateways that work best for a Magento-driven store. In this post, we share the main pros and cons of them. Keep on reading to learn more!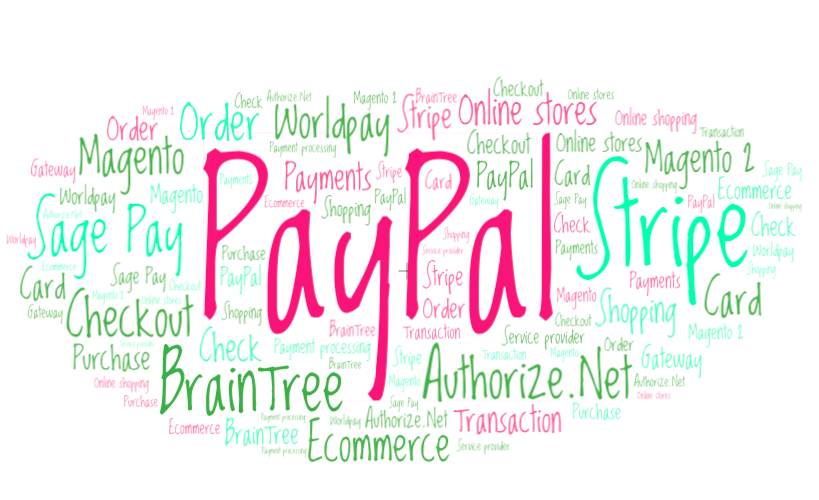 PayPal
An extremely popular payment acquirer, PayPal processed more than USD 450 billion in 2016.
Pros:
Supports multiple currencies.

No setup or monthly fees involved.

Payments via a credit card or through a user account.

Money or payment can be sent via a user's email or through the service.

Can be used anytime on any device and is available in 200+ countries and regions.
Cons:
Users are not always satisfied with the provided customer service.

The transaction fee is 2.9% + 30 cents for every transaction.

PayPal often faces cyber attacks.

Clients may have to temporarily leave your site to complete the transaction.

The service may freeze and take over the funds in a seller account without contacting you.
Authorize.net
More than 430,00 merchants worldwide use Authorize.net. And here is why:
Pros:
No setup fee.

Free fraud protection tools.

Proven customer support.

High security of card information.

Works with different cards.
Cons:
Monthly gateway fee - USD 25. Daily batch fee - 10 cents. 10 cents per transaction.

To get access to this gateway, it is required to create a merchant account.
BrainTree
This gateway is beloved by such startups as Airbnb as it enables the creation of a seamless checkout experience at a reasonable cost.
Pros:
No setup costs.

Supports 140+ currencies.

Powerful fraud protection tools.

Advanced security.
Cons:
Payment transaction fee - 2.9% + 30 cents for qualified cards.

Available in 40+ countries only.

No fee returns for partial refunds.
Sage Pay
Put to use by over 55,000 businesses, Sage Pay processes millions of payments on a monthly basis and is extremely flexible, easily scaling to your needs.
Pros:
Flexible pricing plans, with the price dependent on the volume of transactions.

Fraud screening.

High security.

24/7 customer support.
Cons:
Supports less than 30 currencies. Such a number may be not enough for an international store.

Merchant account application process may be too long (5-10 working days).

Cancellation fees may be high.

Not very intuitive for first-time users.
Stripe
Developed to make it easier for companies to do business online, Stripe has turned into one of the most popular gateways thanks to an extensive set of tools it offers to online merchants.
Pros:
Covers 135+ currencies.

No setup or monthly fees.

Fraud and disputes handling.

Accepts all major debit and credit cards.

Strong authorization features.

Full and partial refunds are available.

Supports wallet payment methods.

Offers local payment methods.

Easy payment management.

Admin user role permission management.
Cons:
2.9% + 30 cents for every successful transaction.

No 3D secure services are provided.

Functionality adjustments involve additional payments.
Worldpay
Renowned ecommerce brands,  start-ups, and online and offline businesses make up the target audience of Worldpay.
Pros:
Direct processor: no-third party processors are used.

Competitive pricing options (pay as you go and monthly payments).

Offers ATM services to store's customers.

Decreases rates when transaction volumes are growing.

Highly secure payments.
Cons:
2.75% + 20 pence per transaction.

Slow turnarounds. Large transfers may be processed during a couple of weeks.

Some unexpected expenses may arise. So read Terms and Conditions carefully.
Conclusion
Online merchants should be mindful when it comes to selecting Magento payment gateways for a particular store. The right choice will do your store a good turn, while a bad one may make customers leave without a purchase.
In this article, we have reviewed some of the most commonly used payment gateways and outlined their pros and cons. We hope that it will help you choose payment gateways that will meet your short- and long-term business objectives.