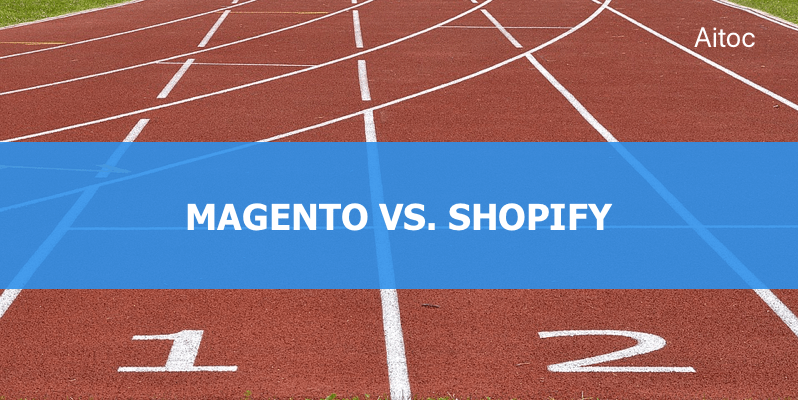 What platform suits a small-sized newcomer best?
As online shopping becomes more and more popular, the market responses with a great supply of specific software tools for ecommerce businesses. Today, the endless list of ecommerce solutions includes products by such industry leaders as Magento, WooCommerce, Shopify, BigCommerce, and others. Product diversity and healthy competition are what drives any market forward. However, with this array of options, it gets harder for retailers to select the platform that would address their needs to the fullest.
Choosing a solution for launching a web store is one of the most important tasks for any merchant stepping onto the ecommerce field. The choice made will have a direct impact on either success or failure of the new venture. This is especially relevant to smaller companies, given their meager budgets and resources.
In one of our previous posts, we already discussed the differences between Magento and Odoo. Now we are going to compare Magento to another trending platform, Shopify, and find out which one suits better for small businesses, in particular. So, let's start!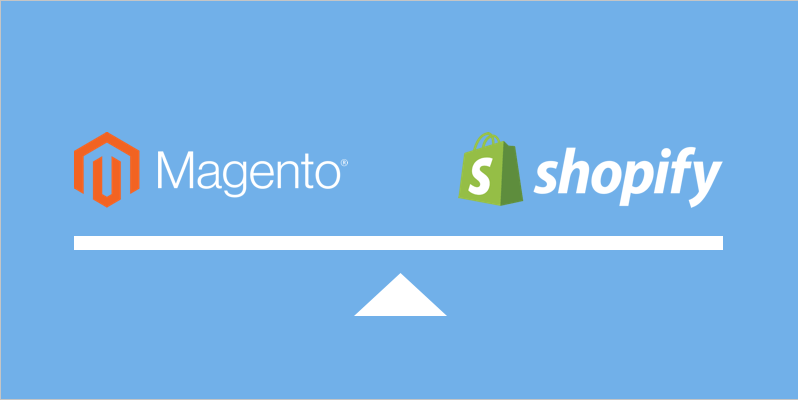 Magento vs. Shopify: Introduction
Magento and Shopify rank among the most popular shopping cart software suites. Even though they are considered to cater to mid-sized businesses, both platforms offer different versions to meed the needs of merchants of different sizes. Magento has its open-source Community Edition, whilst Shopify provides Shopify Lite and standard Shopify for startups and smaller businesses.
Each platform has its own pros and cons, so it can become quite challenging to choose between them. We have come up with the following list of criteria to compare Magento and Shopify.

Pricing
The implementation cost is the major concern for small retailers deciding on a platform for their website. Both Magento and Shopify require investment, but the payment models vary.
Magento: Magento Commerce is an open-source software that can be downloaded and used free of charge. This makes it a perfect option for small businesses. However, being a self-hosted platform, Magento Commerce requires additional investment into a hosting service (more information on hosting comes further in this article). The upfront costs also include the cost of a theme, if you choose a paid one, and a domain name. You might also need to install some extensions to enhance the basic functionality. A lot of them have one-off fees or annual licensing, but, on the whole, unless you don't have an in-house developer team, you will have to engage experts in integrating Magento components.
For larger businesses, Magento offers two enterprise plans, Magento Commerce Starter (from $2 000 per month) and Magento Commerce Pro (from $3,417 per month). The final price for a paid version depends on the business size.
Shopify: Shopify works on a subscription basis: you will be charged monthly for using the platform and the hosting it provides. Currently, there are three plans available, including Basic Shopify ($29 per month), Shopify ($79 per month), and Advanced Shopify ($299 per month). The initial costs will also include theming if you opt for a paid theme (see more info on that further in this post). Prices for additional modules and plugins start from $60. Overall, Shopify has a fixed "all-inclusive" pricing scheme. So, the costs of using this platform will remain more or less the same over the time within the chosen plan.
Hosting
Hosting can be easily classified as the foundation for a successful ecommerce store. It has a great impact on the site performance and determines the amount of products that a catalog can include.
Magento: Magento does not provide any hosting of its own, so you have to set up your own hosting prior to setting up your store. Of course, figuring out the best hosting provider requires additional efforts. But as a result, you can have a hosting that addresses your requirements best, including budget and security considerations. Given the fact that Magento is free, this investment will pay off in the future.
Shopify: Shopify is a hosted platform, providing their own hosting to users. All hosting costs are included into the monthly plan payment. This comes convenient, however, store owners are not able to choose the hosting solution to match their unique needs, as they have to use the one offered by the platform.

Theming
Theming is another vital aspect a retailer should take care of to give a website the desired look and feel.
Magento: Magento offers over 1 000 of beautifully-designed and easy-to-customize themes and templates, both free and paid. The price point for the paid ones starts at $29. Thus, it will not break the bank if you choose to go for a more exclusive theme. Online merchants will be able to easily make their website responsive, as there are multiple responsive Magento themes available in the Marketplace.
Shopify: Shopify has a gallery of attractive and responsive themes as well. However, it is not that rich as the one of Magento, and counts about 60 themes in total. Besides, because of its hosted shopping cart, Shopify has limited customization options. You can select one free theme out of 10 available, but if you want to purchase one, be ready to splurge! The cheapest paid theme will cost you about $140.

Development and Customization
For smaller businesses, the ease of development and customization of a platform can become a deciding factor. With a tight budget, you can hardly afford huge expenditures on coding.
Magento: Being open-source, Magento has a freely available code that can be easily modified. This provides endless opportunities for platform customization to tailor it to unique business needs. However, launching and managing Magento requires profound PHP programming skills and a thorough understanding of its architecture. In case you don't have a technical background, you will need help from a professional Magento development company to set up and customize the platform for you, resulting in slower implementation times and additional development costs. If you can't afford engaging additional developers, you can always turn to Magento community to self-learn how to use and maintain the platform.
Shopify: Shopify boasts its own Ruby-based template language – Liquid. Highly intuitive and easy-to-use, this language allows launching a Shopify-driven website with just basic HTML and CSS knowledge. This makes Shopify a more attractive option for non-tech-savvy merchants. However, should you need more specific functionality that requires altering the source code, you won't be able to do that in Shopify.

Out-of-the-box functionality
Magento and Shopify rank among ecommerce leaders for a reason. These two platforms offer robust out-of-the-box features required to launch an online store. Whilst the basic store management functionality is more or less the same for the two solutions, their advanced capabilities vary.
Magento: The native feature set provided by Magento is really impressive. The platform is able to cover the majority of ecommerce business needs, satisfying small and large retailers. Strong product management, flexible attribute management, as well as merchandising, customer segmentation, marketing and multi-lingual capabilities are some of the Magento's strengths.
Shopify: Shopify provides a great suite of ecommerce functionality too. Features like order management and inventory management are comparable to Magento, but Shopify's catalog management for simple products is far more intuitive and importing CSV files is a no-brainer in this platform. Besides, as opposed to Magento, most of these features can be easily configured in the system.

Extensions and applications
Even if the core functionality addresses your needs at the beginning, the chances are you will have to expand it as your business grows. Here is where third-party plug-ins and extensions come to play.
Magento: Magento is an absolute winner when it comes to plug-ins. With over 5,000 Magento extensions available on the marketplace, you will be able to implement literally any feature you need. The icing on the cake: some of the extensions are completely free.
Shopify: To tell the truth, Shopify does not provide such a freedom of choice. It still offers a decent selection of applications and add-ons. As for now, there are around 200 of them in the Shopify Marketplace. But this figure is obviously small in comparison with Magento.

SEO
It is highly essential to ensure comprehensive SEO capabilities when launching an ecommerce website of any size, as it contributes to the success of a store.
Magento: Magento offers a whole range of SEO tools necessary to drive organic traffic to your store and help it rank higher in search engines. These include but are not limited to editable title tags, meta descriptions, page URLs, alt tags, and others. And what's important, the majority of these features are available out-of-the-box, making it easy for newcomers to set up a SEO strategy with minimal effort.
Shopify: Shopify is also a fully-optimized solution providing either basic or advanced SEO functionality in all of its versions, which allows store owners to easily tailor their content to SEO requirements.

Support
Availability of customer service is another vital criteria, as timely and quality support is critical for both consumers and businesses.
Magento: Being open-source, Magento Community edition does not provide any kind of an official support service to its users. Instead, the platform has the community-based support. Counting thousands of developers and industry experts, the Magento community can give an answer to almost any platform-related question. However, you should keep in mind that the majority of information shared by the community is rather technical and developer-oriented. There are also lots of official Magento user guides available too.
Shopify: To put it simply, Shopify provides a superior customer service. With its Help Center, the platform offers 24/7 support through multiple channels, including live chat, email, and phone. Should any problem arise, Shopify's support team will be available to help. Apart from that, Shopify offers a plethora of educational materials like tutorials and guides on their website.
Summing up
Selecting a platform that will become a foundation for your ecommerce venture is a tough task, so you have to weigh up pros and cons. An inappropriate choice can become a costly mistake. Both Magento and Shopify are great platforms that serve the needs of online merchants around the world. But when it comes to smaller businesses, the situation is ambiguous.
If you need to start selling as soon as possible, Shopify might be a better option. However, if you are on the hunt for a solution that can be tailored precisely to your needs and be scalable to handle your business growth, Magento is the right fit.
Have any questions regarding Magento or need professional help with Magento development and customization? Feel free to reach out to us at [email protected]