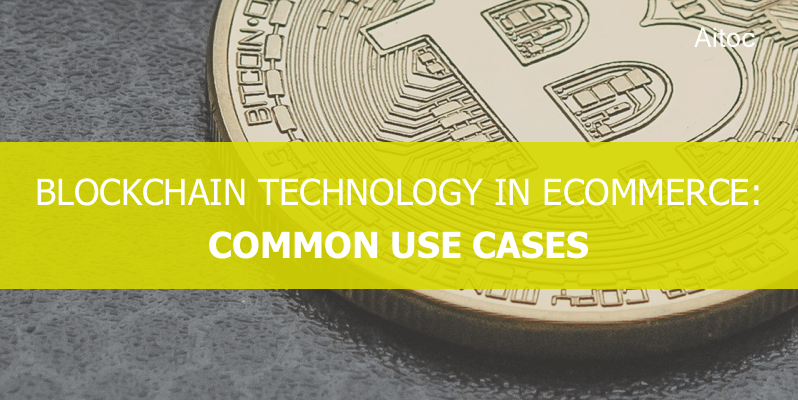 Top blockchain application areas to help online retailers grow
There is hardly a person who hasn't heard of the blockchain yet. Today this cutting-edge technology is actively used across a variety of domains, ranging from finance and banking to healthcare and government. With $945 million spent on this decentralized technology in 2017, the worldwide blockchain spending is expected to reach $2.1 billion in 2018 according to the industry predictions. A highly secure technology like blockchain is especially relevant now, when the new data protection legislation, GDPR, is coming into effect in just a couple of weeks.
Blockchain has found multiple advocates in retail and ecommerce fields. A decentralized shared database where any change made is easily spotted, blockchain provides for high transparency and reliability. Thus, forward-thinking ecommerce businesses leverage it to increase business efficiency, streamline payment transactions and, most importantly, ensure data security. For instance, Alibaba, a multinational e-commerce conglomerate, is reported to adopt blockchain in its cross-border logistics processes.
In this post, we have defined some common use cases, illustrating the real opportunities blockchain brings to online retailers.

Peer-to-peer payments
One of the greatest things about blockchain is that it allows making payments without any third parties. Today, a banking institution, a payment service provider or some other kind of intermediate usually takes part in the online payment process. It may take up to a week for a bank to process a payment. Not only this impacts the overall transaction time and cost, but also makes data weaker, since middleman have access to it.
Through the use of blockchain, it is possible to create a decentralized marketplace where conventional payments are replaced by smart contracts. Smart contracts are self-executed virtual contracts that perform credible transactions automatically. The agreement is made between a buyer and a seller, so they are the only two parties participating in the process and having control over it. For example, an online customer wants to pay for his purchase only upon receiving the delivery at his door. As soon as the package arrives, the buyer confirms the delivery and the payment is automatically transferred to the merchant. No third parties, no additional costs, yet higher transparency and reliability.
Personalized product offerings
Over the last few years personalization has become a priority for online merchants that look to enhance customer service. Personalized offers and loyalty programs can become a true leverage that drives higher sales and customer satisfaction. Implementation of such a personalized approach is only possible if based on relevant, trustworthy data. But for evident privacy-related reasons customers are usually reluctant to share their personal information with others.
Blockchain allows capturing the customer purchasing history as well as any other data securely on the ledger. Buyers have full control over this information and are able to share it only with the merchants of their choice. With this information at their disposal, companies will get the opportunity to offer customers the products and services they are likely to be interested in, which will be beneficial for both parties.
Access to trustworthy product information
The credibility and reliability of product information are highly important when it comes to online shopping. Buyers expect the products they are going to purchase to be genuine and maintain a high level of quality. Since it is hardly possible to try out a product when buying online, its description is the only source of information for a customer.
Thanks to the blockchain, the product information is trustworthy and remains up-to-date continuously. Customers can learn product characteristics, see corresponding certificates and other documents that prove the origin and quality of goods. This is crucial when it comes to expensive, luxury products like jewelry or designer clothes and accessories. In such cases, the authenticity of product information becomes one of the key factors affecting customer decisions. Thus, online retailers can gain a competitive advantage by ensuring it to their buyers. For instance, IBM's new project, TrustChain, involves precious metals manufacturers and suppliers and allows verifying the provenance of diamond rings.
Verified customer reviews
Online customer reviews are a blessing and a curse for today's e-retailers. To make a purchase decision, buyers usually turn to reviews, which they trust as much as friends' recommendations. Positive feedback contributes to better sales, so online merchants try to encourage buyers to leave product reviews on their websites. But sometimes dishonest sellers cannot resist publishing fake reviews. Besides, negative reviews can be generated by competitors to blow their rival's reputation. Customers obviously do not want to feel jilted and become more and more suspicions of the testimonials they read.
Blockchain provides the ability to verify product reviews, allowing to modify the logic behind creating and publishing reviews. This lies a foundation for new industry standards that result in a win-win situation for every party involved.
Optimized supply chain management
And last, but not least, blockchain can increase the overall efficiency of the supply chain. Depending on the company size and the product type it offers, the supply chain can include multiple intermediates, span over countries and even continents, and involve a huge number of payments and invoices. So, it becomes highly difficult for ecommerce and retail businesses to support the required level of transparency of the supply chain management process.
Because of its nature, blockchain is able to address this task. The records on inventory, orders, sales, and other information cannot be changed or erased unnoticed if stored on the distributed ledger. This way blockchain helps to better track and store product data, allowing to trace any product throughout its entire lifecycle: who was it made by, where it comes from, where was it stored, who purchased it, who processed the order, etc.  As the result, the supply chain becomes more transparent, integrated and fraud-proof, saving considerable resources for its members.
Final words
It is crystal clear that the blockchain unlocks outstanding opportunities for retail and ecommerce businesses. This advanced technology has the power to revolutionize the entire industry, leading to higher transparency, credibly, security, and cost-effectiveness. Not only can it bring a business to a whole new level, but also add more value to end-customers. If you're seeking a way to beat the competition and nurture customer loyalty and trust, it is high time to enroot blockchain into your business processes.