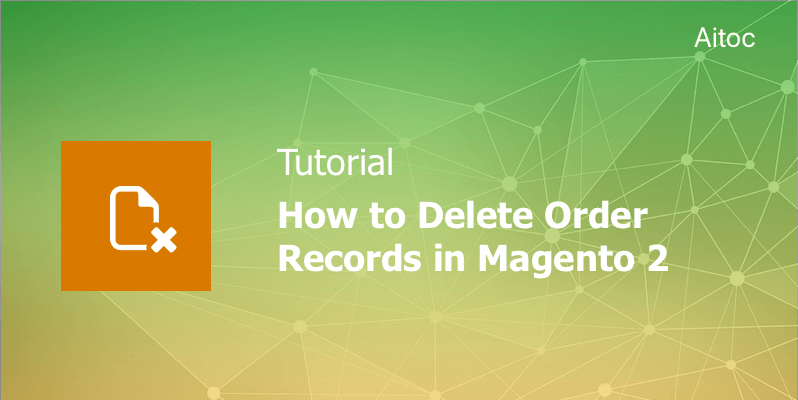 Delete orders from the Magento grid in a few easy steps with the Magento 2 Delete Orders extension
Magento is a great ecommerce platform that is able to satisfy needs of almost any e-business. Multiple renowned companies across the world, including Nike, Ford, and Lenovo use it. Magento-driven businesses rave about high performance, flexibility, and SEO-friendliness of the platform, among other things.
But there is no such thing as perfection, so Magento has its own drawbacks (minor ones, to be precise). And the absence of the order delete functionality in the Admin panel is one of them. Luckily, there are Magento extensions like Magento 2 Delete Orders that are specifically designed to give the web store such functionality. In this tutorial, we're going to show you how to delete orders from the Magento 2 workspace with the help of this extension.
Module Overview
Delete Orders is a Magento 2 extension, developed by Aitoc, that provides Magento 2 stores with the order deletion and archiving functionality. It means that you can easily get rid of any redundant order records, for instance,test or old orders. Being extremely easy to use, this module doesn't require any adjustment for a specific store. You can start using it right after the installation.
This module not only deletes order records, but also removes all related documents, including invoices, shipments, and credit memos. Thus, it puts everything in order in all these sales record grids. Scheduled order deletion is another great feature of this extension.
How to Delete Orders from the Grid
Log in to the Magento Admin Panel and navigate to Sales > Orders. On the Orders workspace page, you can delete order records either individually or in bulk by applying the mass-action.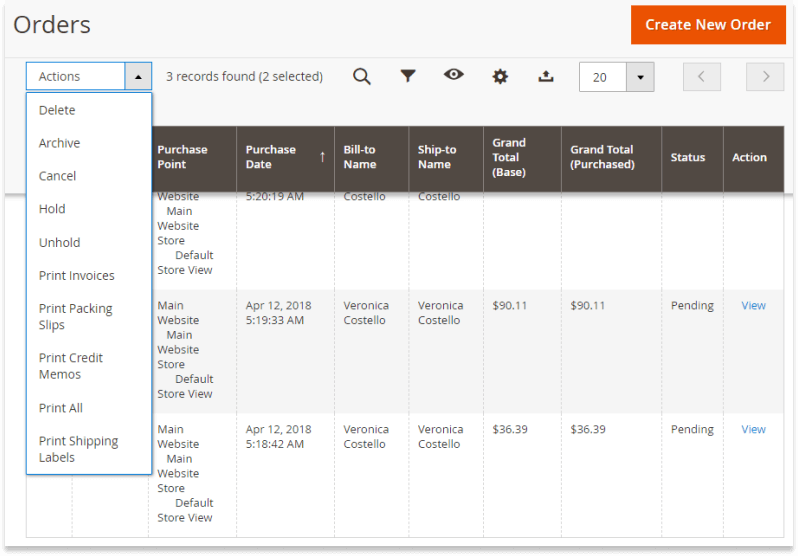 Select the required orders in the grid using their checkboxes and choose the 'Delete' action in the action dropdown menu.
How to Delete an Order from the Order Page
You can also delete the order from its page. To do that, access the order page and click 'Delete' at the top of the page.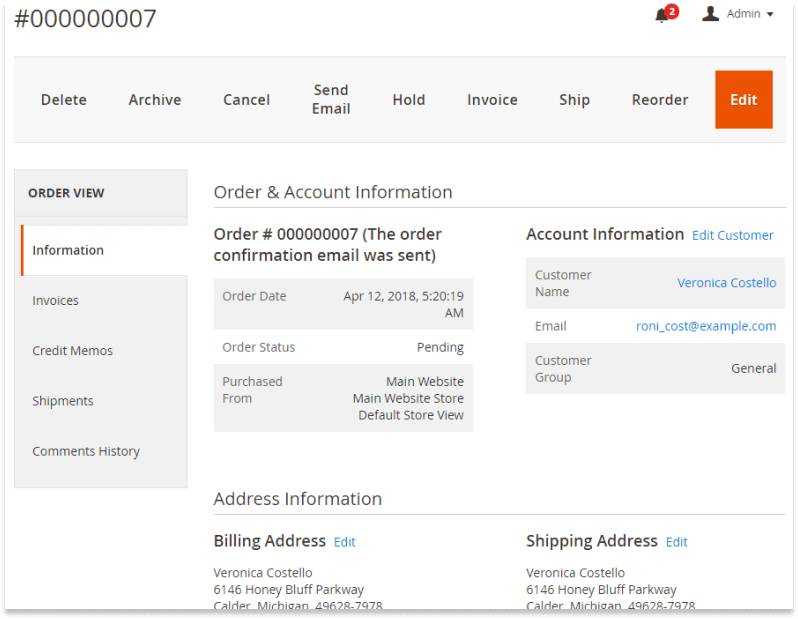 Please note that you won't be able to restore the order and order-related documents after you delete the record.
Scheduling Order Deletion
You may also create an automatic rule to schedule order deletion. Go to System>Delete Orders by Aitoc - Automatic Rules.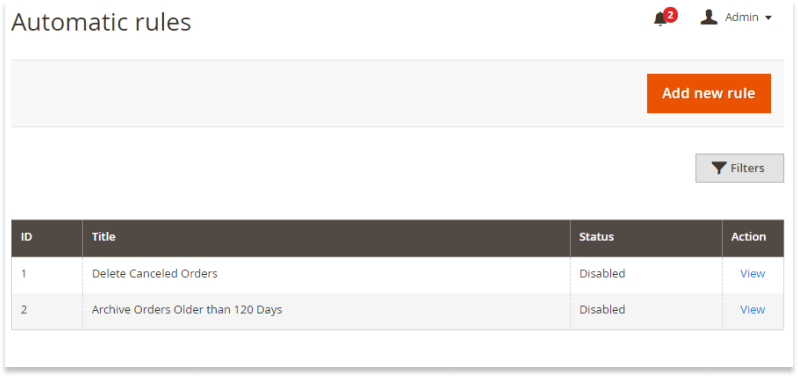 To add your first rule, hit the 'Add new rule' button on the Automatic Rules page. Set a new rule title for internal reference first. Then select the scope and set the 'Action' field to 'Delete'. Choose the required order statuses and specify the necessary period of time.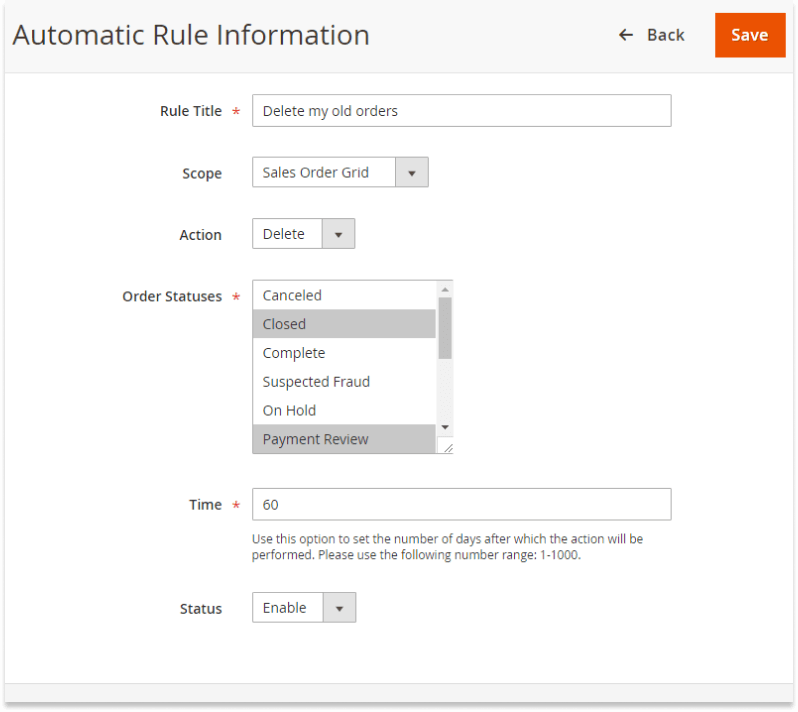 Make sure to set the 'Status' field to 'Enable' otherwise the rule won't be activated. To switch off the active rule, you can change its 'Status' field to 'Disable'.
Archiving Orders and Deleting Archived Orders
Order archiving is an attractive option for those Magento users who want to remove order records from the workspace, but seek a way to keep them safe elsewhere. The Magento 2 Delete Orders extension is a perfect solution in this case, as it enables Magento admins to archive order from the Orders grid.
What does it mean? Orders that are sent to the archive are removed from the Orders workspace. But admins can restore or delete them anytime. To restore or delete the archived order, go to Sales > Archived Orders.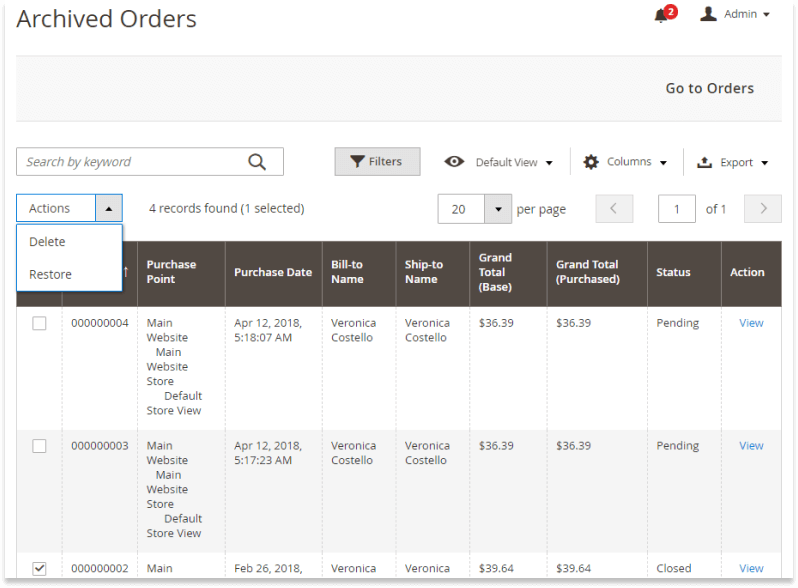 You may restore or delete orders from the Archived Orders grid or by accessing each archived order page individually.
Final Thoughts
Magento counts among best ecommerce platforms. It has many great features that make online businesses opt for it. Extra functionality that Magento may lack can be added easily by installing Magento extensions. With Magento 2 Delete Orders, for instance, Magento store admins will gain complete control over the Orders workspace by deleting and archiving unnecessary records from the grid.