Use Magento 2 Shopping Cart Price Rules to launch successful promo campaigns
Needless to say that promotional campaigns are part and parcel of any ecommerce marketing strategy. Be it a giveaway in social media, a special offer for new website visitors or a follow-up email campaign for existing customers - marketers have a multitude of promo tools in their arsenal to engage customers and encourage them to make a purchase.
Among many elements of an effective promotional campaign, such as the idea, the target audience, mechanics and others, the pricing tactic plays a crucial role. Economic factor has been one of the most important aspects impacting purchase decision-making for years, and it still is. That is the reason why figuring out pricing terms should be approached wisely.
As one of the leading ecommerce platforms, Magento provides great opportunities for merchants to set and manage product prices at their stores. Magento 2 shopping cart price rules are an attractive way to reward customers and adjust product prices depending on specific business needs (e.g., provide seasonal discounts) and grow sales. In this article, we're going to show you how to create such a rule.
How to Set Up Magento 2 Shopping Cart Price Rules
To create a new shopping cart price rule, log in to the store's Admin panel, and navigate to Marketing > Promotions and choose Cart Price Rules.
To start adding a new rule, tap the 'Add New Rule' button. Then complete 'Rule Name' and 'Description' fields. If you want to activate the rule right after you save it, set the 'Active' field to 'Yes'.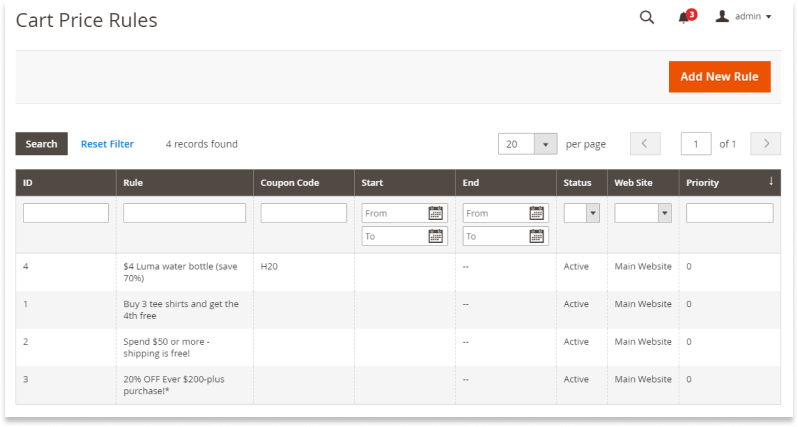 Magento allows store admins to establish the rule scope by assigning the rule to specific websites and customer groups. It means that the rule will only apply to selected websites and customer groups. To disable the rule for unregistered users, don't choose the 'NOT LOGGED IN' option.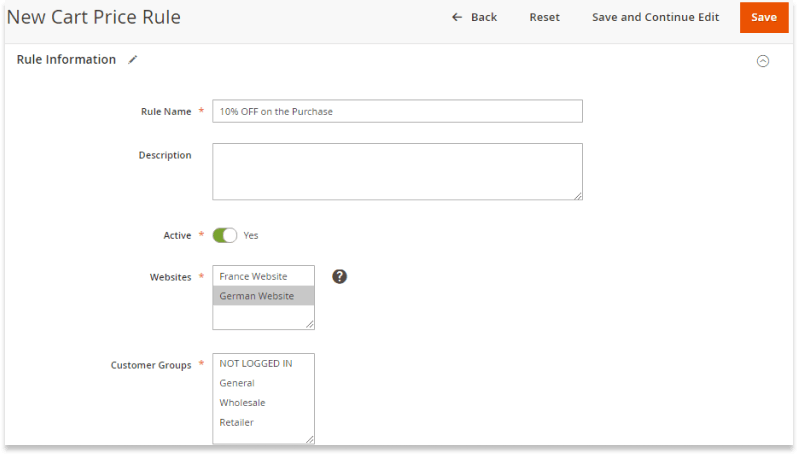 If you wish to offer your potential or existing customers a promotional code to entice them into making a purchase, you may associate a coupon with the shopping cart rule.
To use a specific code, set the 'Code' field to 'Specific Code' and add a numeric value to associate with the coupon in the field below. Need more unique codes? Take advantage of the coupon auto-generation feature, but you'll need to save the rule beforehand.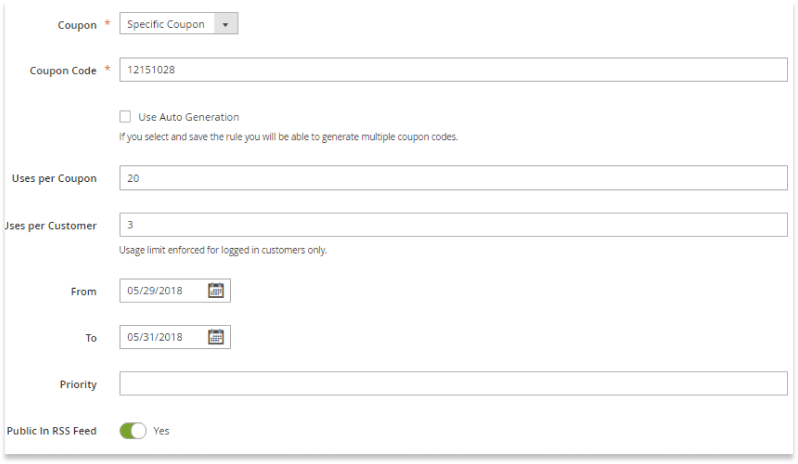 You can easily manage codes by limiting the number of uses per coupon and/or per customer. And that's not all! You may even set the validity period for Magento codes by leveraging the Calendar.
The rules' priority can be managed by entering numbers in the 'Priority' field. A rule with '1' in this field will have the highest priority if compared to other active rules. To add the rule to the RSS Feed, set the 'Public In RSS Feed' feature to 'Yes'.
Introducing Conditions
Proceed to the 'Conditions' section to add conditions that must be met to qualify a customer for the discount. The rule will be applied only when the conditions are satisfied.
The default rule is 'If ALL of these conditions are TRUE:', but you can adjust it by clicking 'All' and 'TRUE' and choosing alternative options such as 'FALSE' or 'ANY'. To apply the rule to all the product, leave the rule unchanged.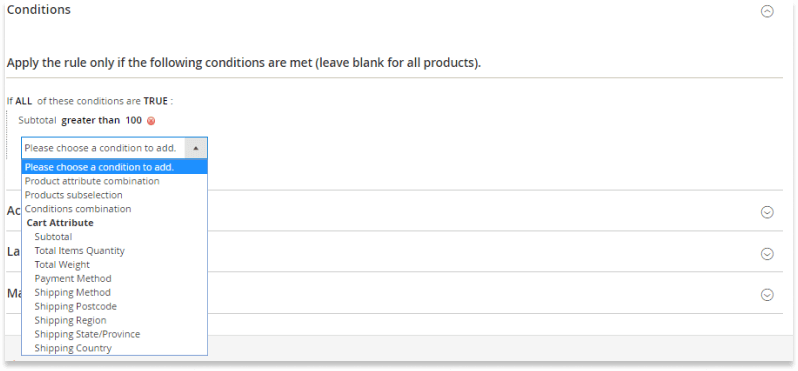 Hit the plus button to continue configuring condition. You may create conditions based on product attribute combination, products subselection, and conditions combination. Complete the next part of the condition according to the needs of your promotional campaign. For instance, you may create a regional price rule by introducing conditions for such cart attributes as Shipping Postcode and Shipping Country, to name a few.
Defining Actions
When you're ready, go to the 'Actions' section. In this step, you are to define the actions that must be taken when the conditions are met. For example, you may subtract a percentage from the original product's price in the shopping cart or enable a fixed amount discount.
As shipping costs are one of the biggest expenses for e-businesses, Magento takes care of them too. It's up to you whether to apply a discount to the shipping amount or enable/disable free shipping for products associated with the rule.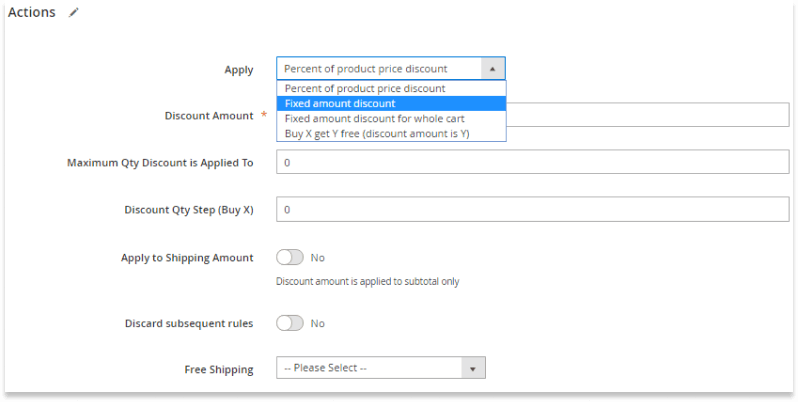 If you wish to prevent customers from making use of other discounts, set the 'Discard Subsequent Rules' field to 'Yes'.
Add as many extra conditions as you need and scroll down to the 'Labels' section. Here you can enter the text that customers will see in parentheses after the word 'Discount' at the shopping cart. Set a default label for all the Store Views or add custom labels for each of them.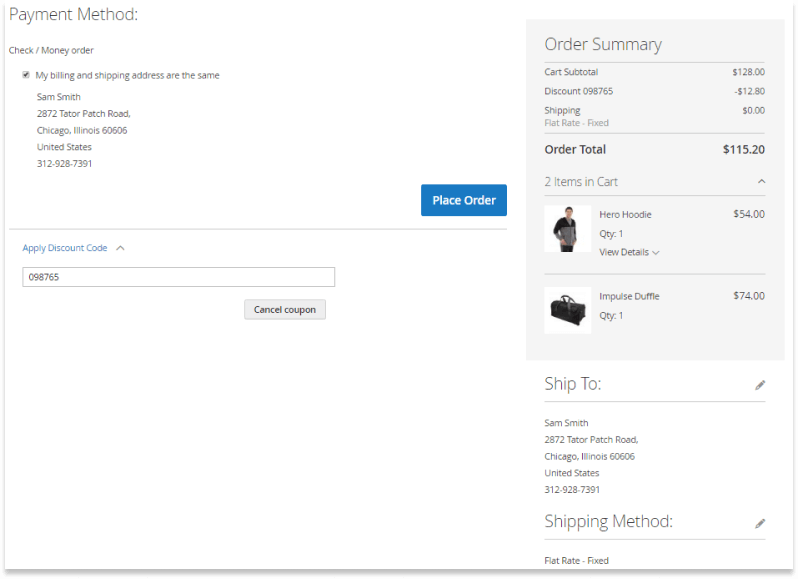 Save the rule and test it to make sure it works as intended. And now it's time to spread the word about your promotional campaign!
Final Thoughts
Promotional campaigns are indispensable when it comes to reaching customers and encouraging shoppers to make the first purchase in the store. Armed with Magento 2 shopping cart price rules, web stores can launch such campaigns whenever needed. In this article, we showed you how to create a new shopping cart price rule. Have any questions? Drop us a line in the comments below.