Get inspired by these cool abandoned cart email reminders!
With new marketing techniques born every day, online retailers have access to multiple tools to attract website visitors and grow their customer base. However, an engaged visitor is not a guarantee of an actual purchase. It's quite common when a prospect visits a web store, adds an item to the cart and goes away without completing the transaction. Today the disappointing phenomenon of shopping cart abandonment tortures all ecommerce businesses, large and small, leaving them with lost sales.
Some impressive stats first
In 2017, online shopping cart abandonment rate in the retail sector was estimated at 76.2%. In other words, 3 out of 4 online customers leave with no purchase. In view of this, companies across the world lose up to $18 billion in revenue each year from cart abandonment. That's huge!
Here's where email reminders come up on the stage
To battle cart abandonment, store owners can optimize the checkout, reconsider their shipping policy, and, most importantly, leverage email marketing. By sending abandoned cart emails to prospects, you can kindly remind them about the unfinished purchase. Besides, you can offer consumers an incentive, say, a discount code, to encourage them to complete the checkout process.
Email marketing has proved to be one of the most effective means of recovering abandoned carts. Almost a half of reminder emails are opened, and almost a half of the recipients who engaged with the email content finish their purchase. Thus, there is absolutely no doubt that email marketing can work to your benefit. A well thought-out email campaign can help you with that.
In this post, Aitoc has gathered some great abandoned cart email examples. Check them out if you want to get some inspiration for your own abandoned cart recovery strategy.
Fresh and eye-catching design
The main goal of an email reminder is to instantly catch customer's attention. Otherwise, it will be buried in the trash with dozens of random promo letters. A slick and bright email template is your proven way to make your customer read your message. We love these examples from Debenhams and Orlebar Brown. A pop of color plus stylish design make a winning combo!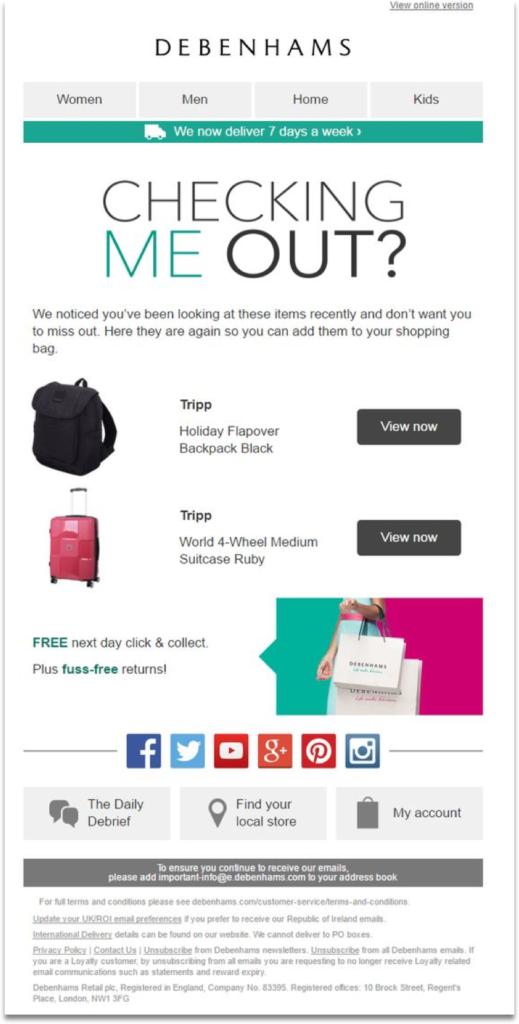 Personalization
Personalization can help you get customers' trust and loyalty, so why don't you adopt this approach in your abandoned cart email strategy too? Have a look at Dope and Space NK. In their reminder emails, they call customers by their names, kindly mentioning the items left.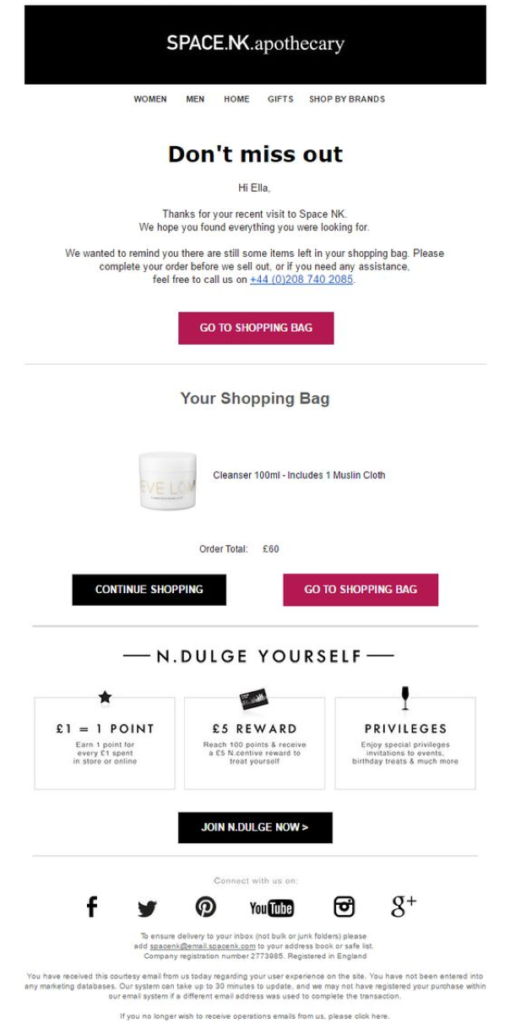 Follow-ups with a warning notice
Another great way to encourage buyers to complete the order is to put some fear into them. What if the items they were going to buy would sell out whilst they're thoroughly thinking over the purchase? A short notice about products selling quickly can become your sales savior. Here are a couple of examples of how popular brands use it in their abandoned cart emails.
Stuart Weitzman and PacSun warn about the goods selling fast.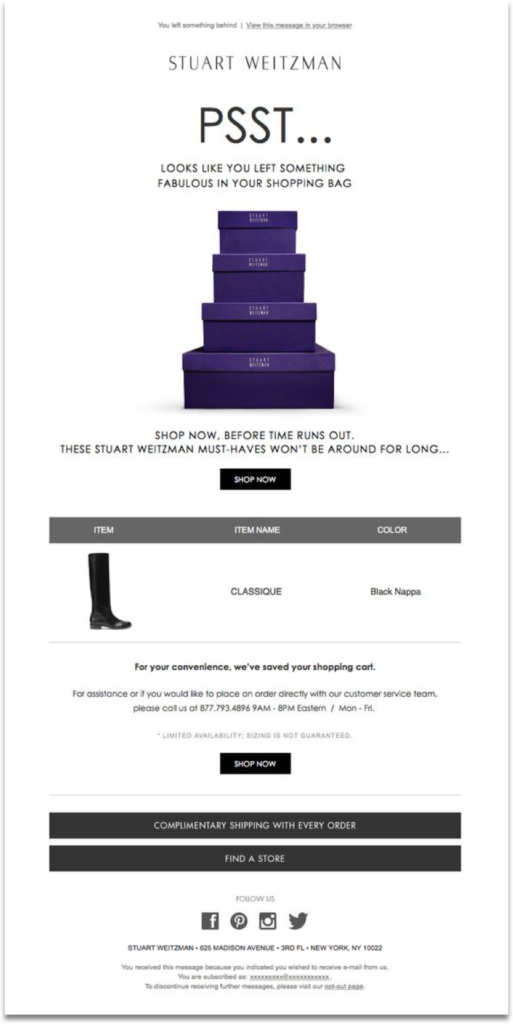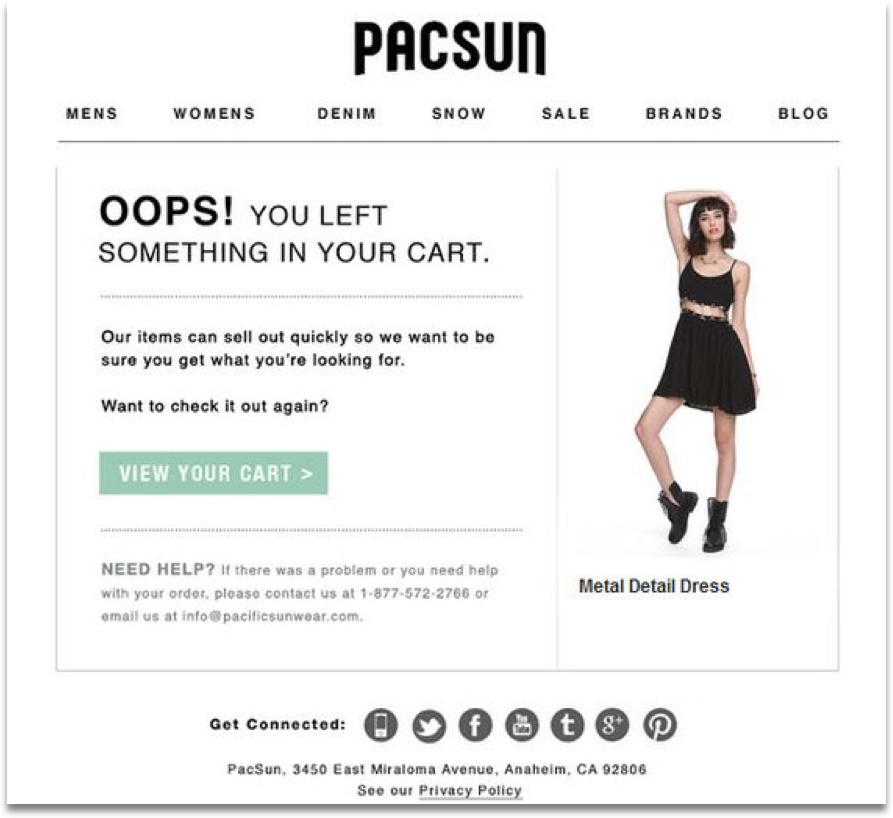 Michael Stars notes that some of the items are about to be sold out.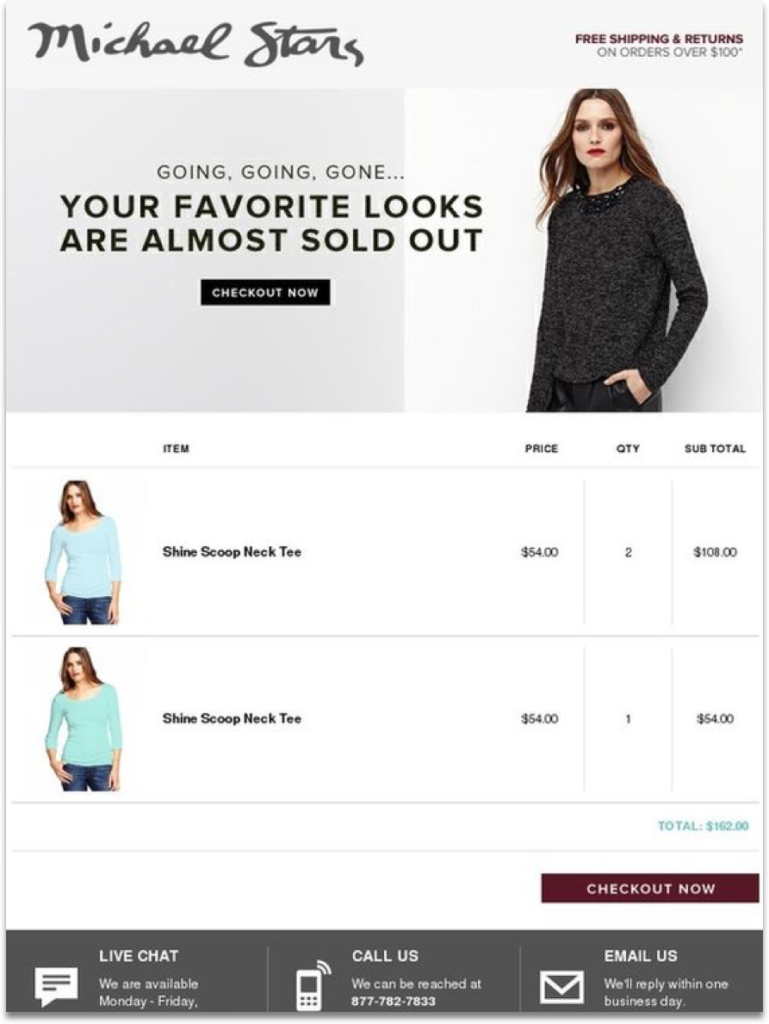 Tempting offers
Nothing induces customers into making a purchase than a value deal. By adding coupon codes, discounts or free shipping you can easily win your buyers back. To illustrate that, we've picked these cool emails from Levi's and Bloomingdale's. Take a look!
Levi's offer quite a big discount on the left items left in the cart to make their buyers complete the purchase.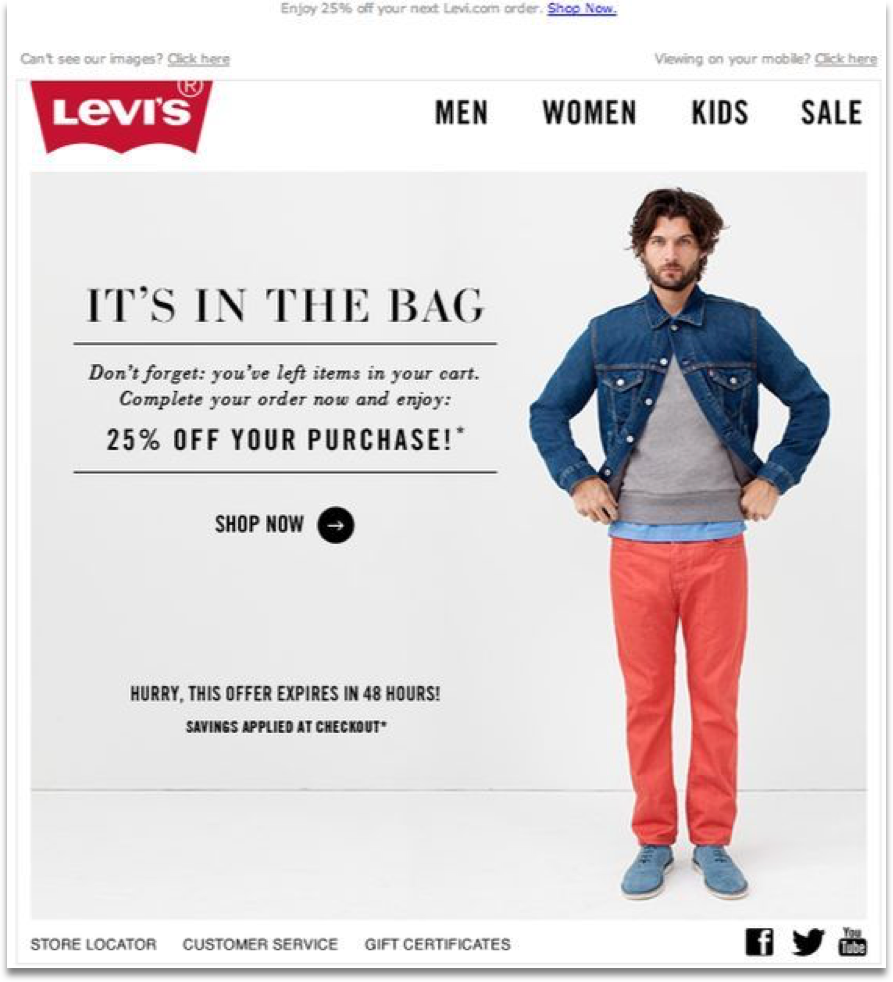 Bloomingdale's, in their turn, list a whole range of benefits that a customer can get access to.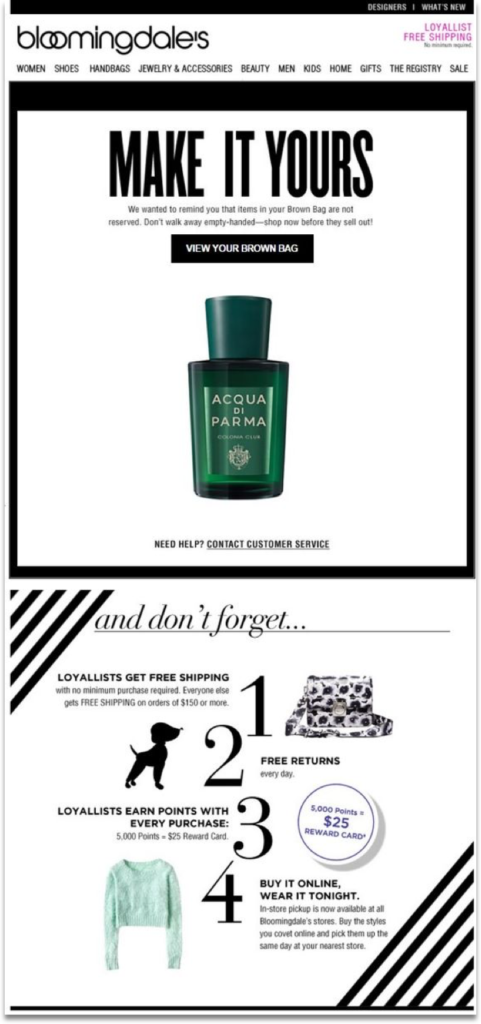 Summing up
You can't get rid of shopping cart abandonment, but you can bring your customers back and recover lost sales. We hope that the email reminder ideas we shared in this post will become a foundation for an effective email marketing campaign of your own.
In case you're running a Magento store, check out our Magento 2 Abandoned Cart Emails Pro extension. This handy tool will help you create killer cart recovery emails and send them over to your buyers without effort.