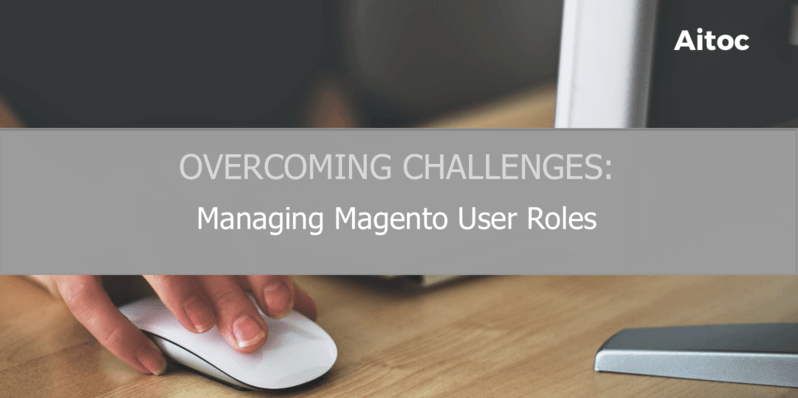 Complete control over back- and front-ends of the website, high scalability of the platform, and SEO friendliness are among a bevy of factors making Magento one of the most popular ecommerce platforms. However, every bean has its black, and some Magento functionality needs pruning in order to address users' requirements best. 
It may seem that managing Magento user roles is a simple task. You just assign a couple of admins to take care of the store and that's it. Well, this can partially be true when the store is small.
But what about bigger ecommerce businesses? Multiple stores can be united under the same Magento installation and there might be dozens of people allowed to access the admin panel. Some critical management challenges are almost inevitable in this case. Below we overview the most common ones. 
Managing Magento User Roles: Big Stores' Challenges
• Numerous Sellers
It's hardly possible to find a single vendor to supply all your web stores with necessary goods. You will deal with many sellers, and some of them may deliver similar products to different stores. All these vendors will have access to the admin panel, and your store admins will find it difficult to properly control all these users.
For instance, a company from Hamburg provides your German, Italian, and UK stores with female bags, and a vendor from Boulogne (France) supplies your French store with the same items from their local warehouse. And that's not even the most complicated case! 
• More Than One Store
Multiple stores often work under one Magento umbrella and this imposes a set of challenges to online retailers.
Store owners prefer employing different people (store managers) to take control over each website. With the default installation on hand, you can only assign the same permission to different users. You are not allowed to confine their access levels to a particular website. Such Magento user roles won't cause any problems when it comes to websites in different languages. But if you run UK and U.S. stores, some difficulties may arise if store managers will not pay attention to what a website they've accessed from the admin panel. For example, a UK store manager may delete vital order information in the U.S. store, and the customer will never receive his/her order.
• Multiple Product Categories
If your business is big enough, you may have two or more web stores offering the same product categories to your clients. E.g., one of your e-shops is dedicated to sports clothing, and another one equips customers with casual clothing. As each store sells thousands of items, their store managers may need a helping hand not to drown in the data galore.
You may want to assign an employee to aid the managers of these two stores in controlling specific product categories (e.g. men's T-shirts). You would like to allow this person access to this product categories only, but you can't do that. Default Magento doesn't have this functionality. So, the employee will have to lose time manually extracting the required data.
• Identical Employee Roles
Entrepreneurs often create identical Magento users roles to assign them to people who do the same work. But those who have many online stores may need to limit employees' access to specific data just because they won't use it. For instance, a marketing manager of a German shoe store doesn't need access to a Spanish consumer electronics website.
But default Magento functionality doesn't offer admins such an attractive option. Marketers of each store will see Promotions' data of all the shops that are under the same Magento roof. That's not what you expect, right? 
Settling Functionality Issues with Magento Extensions
Here, at Aitoc, we aim to help online store owners to cope with functionality difficulties of default Magento installations. We developed Advanced Permissions for Magento 2 to help store admins establish absolute control over Magento user roles by efficiently managing their access permissions.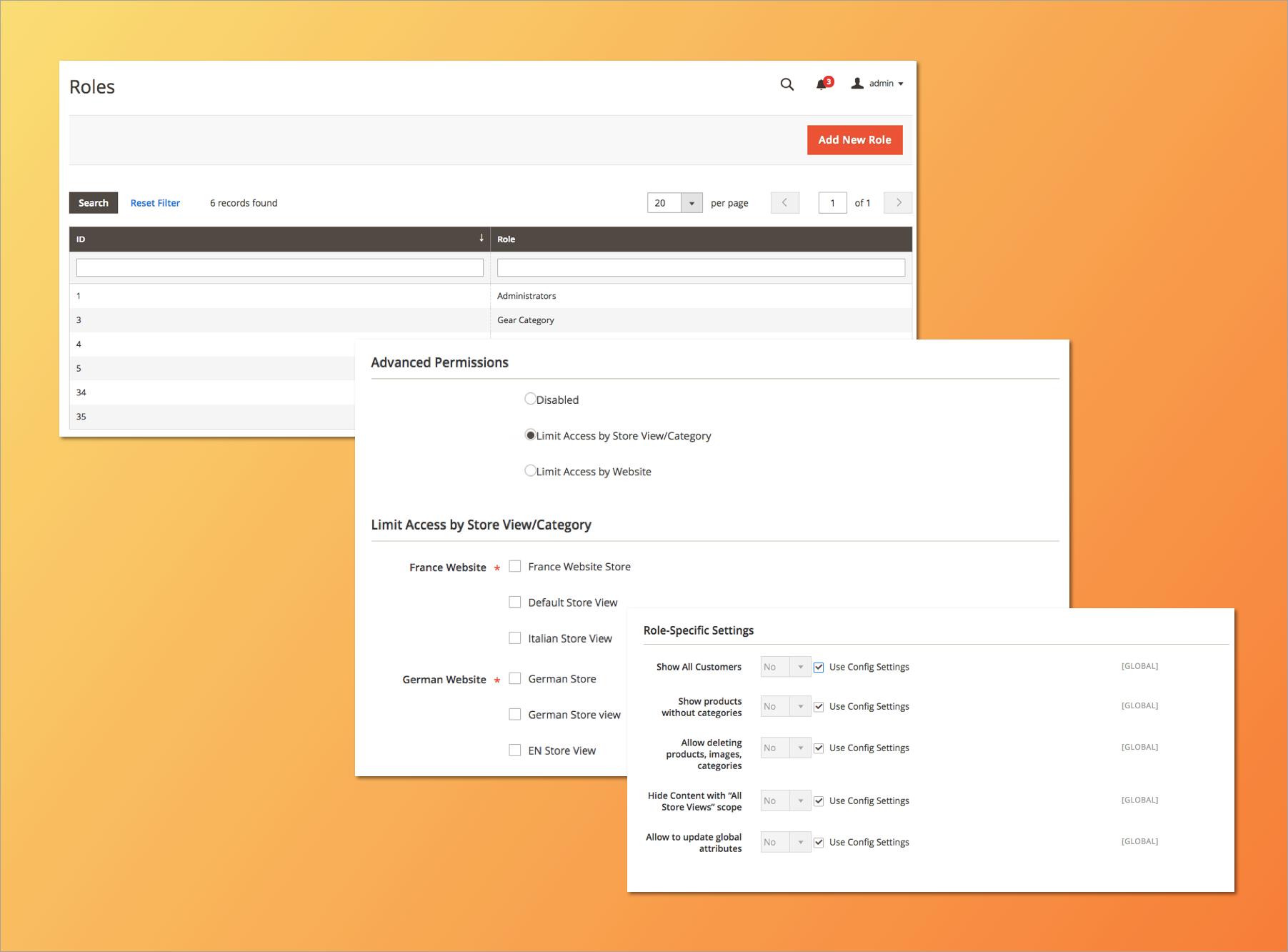 The default installation allows store admins to manage Magento user roles by:
Creating numerous user roles

Specifying website resources that each role assignee can access

Assigning admins to corresponding roles
You can't limit vendors' access permissions to specific websites, Store Views or Product Categories. Giving them access to the same resources in the admin panel involves a risk of interfering. E.g., one of the sellers may occasionally make some vital changes in their counterpart's product data (e.g. upload wrong images) in the admin panel, and other admins may fail to notice the changes before it's too late.
You can use this module to restrict users' access to Store View/Category or Website. The store's head administrator who has unlimited rights within the admin panel can change other admins' permission settings per role or globally.
Magento stores that take advantage of the Advanced Permissions extension can eliminate the risk of getting data deleted (e.g., product data), restrict users' access to specific product categories, prevent them from updating global attributes, and more.
This extension is also available for Magento 1.
Conclusion
Managing user roles and permissions is one of the most important tasks store owners should tackle in order to ensure data accuracy and overall security of their Magento websites. To overcome the limitations of the default Magento functionality, we propose entrepreneurs to leverage specialized Magento 2 extensions like Advanced Permissions by Aitoc. Such a tool will allow store admins to manage user role permissions in an effective and convenient way, providing for higher control and protection of your store.