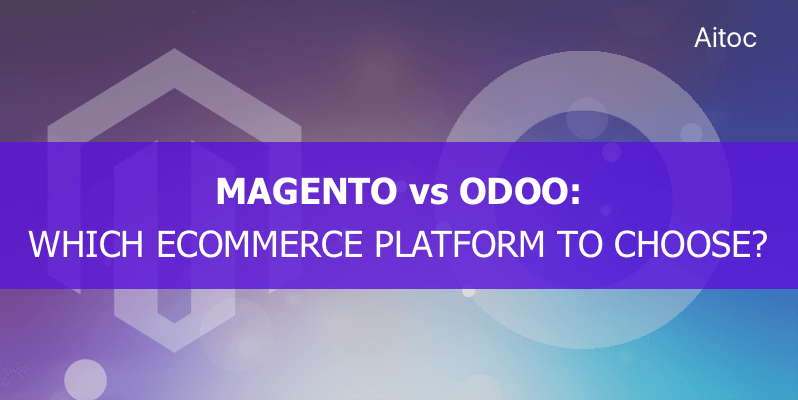 Released over a decade ago, Magento has instantly hit the ecommerce software market and offered store owners brand new ways of engaging customers and generating revenue. With almost 250,000 active sites worldwide, Magento has earned its place in the sun and become one of the leading ecommerce development platforms.
While Magento keeps on growing its customer base at a rapid pace, newcomers continue to enter the highly-competitive field of software providers. Odoo, initially known as OpenERP, has entered the market not so long ago, but already got an army of supporters. A well-integrated suite of software applications, the platform provides a comprehensive out-of-the-box functionality that covers almost every aspect of ecommerce business, including inventory management, accounting, marketing and many others.
Obviously, both Magento and Odoo have their pros and cons. In this post, we will compare the two to find out which platform is the best for launching an ecommerce venture. So, let's begin!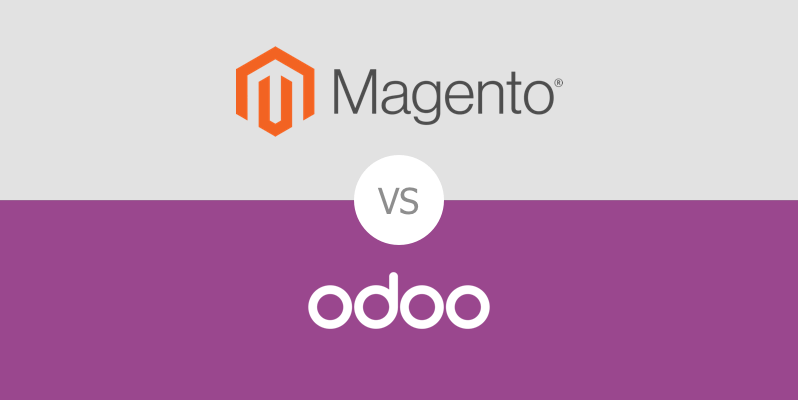 ---
Functionality
Magento: Magento is a robust platform that serves specifically to the needs of ecommerce industry. Thus, it provides an extensive range of functional capabilities that are critical to modern online retailers. Multi-language and multi-currency support, flexible product catalogs, product comparisons, marketing and promo tools and many other features come out-of-the-box in Magento. However, if you require additional functionality, especially related to back-office and operations management, additional modules should be installed. Luckily, there are thousands of ready-made solutions, both Magento and Magento 2 extensions, available on the market to address business-specific tasks.
Odoo: Odoo positions itself as an all-in-one business management platform that incorporates the full range of enterprise systems. With a wide spectrum of in-built applications, Odoo can take care of ERP, accounting, analytics and other business processes without the need of deploying external plugins. This way it partially overcomes the limitations of Magento. Nevertheless, since Magento is an ecommerce-focused platform, it still offers a more tailored and comprehensive functionality to online retailers.  
---
Costs
Magento: The price of deploying Magento depends on the chosen platform option. Magento Community is a basic, open-source version of Magento. Developers can use and extend its core functionality for free. The other version, Magento Commerce (former Magento Enterprise), features a more advanced enterprise-grade functionality, and its licensing cost starts from $18,000 per year. Of course, extra features can be unlocked with the help of Magento extensions. And this will be charged additionally for both platform editions.
Odoo: Same as Magento, Odoo offers both an open-source and a paid editions. The first one is free of charge. Odoo Enterprise price depends on the number of users and features and starts from $130 per user annually. A free trial of the enterprise version is available.
---
Ease of Development & Community support
Magento: Magento is based on PHP, which as of today dominates the market with over 80% share. The default Magento installation is quite intuitive and easy-to-use which makes it a perfect option for developers. The platform allows getting an online store up and running relatively fast, also providing great flexibility and multiple customization options. Besides, Magento has a huge community of over 150,000 developers worldwide who help grow and enhance the platform. Magento developers have access to documentation and resources, updates, the latest findings, and community forums. Thus, if any issue arises during the development process, it is always possible to find a relevant information resource or get a valuable piece of advice from experienced specialists.
Odoo: Written in fast-programming languages Python and PostgreSQL, Odoo provides for quick store deployment. However, the platform lacks proper documentation, which can slow down the development process. As for the supporting community, Odoo counts 20,000+ people. Even though the number of websites running on Odoo is constantly growing, it is still not as huge as the number of Magento-based stores. This means the amount of relevant Odoo development resources is not so big. So it makes it difficult to work with the system for the developers with lesser experience. But, it's worth mentioning that Odoo seems to pick up the speed. Therefore, we believe the platform support will become more profound and accessible within just a couple of years.
---
Integration
Magento: Even though Magento provides for a plethora of built-in capabilities, integration with 3rd-party systems is still a relevant task, especially for the bigger stores. Magento provides advanced APIs that allow for smooth integration with external software and services. There are a variety of ready-made integrations to the leading enterprise tools like Sage, Microsoft Dynamics CRM, SAP, and others. Magento is also highly scalable, which is another vital feature when talking about integration.
Odoo: Being modular, Odoo already provides the majority of applications required for business process management. Thus, it is able to free smaller store owners from the hassle of having additional systems for accounting, ERP, etc. Thanks to its easy-to-configure nature, Odoo also makes it simple to integrate stores with third-party solutions. However, Odoo integration has to be performed by experienced specialists due to its higher complexity from the development point of view.
---
SEO
Magento: Magento offers a variety of tools to drive more traffic and rank higher in search engines. The SEO-friendly platform provides a proper URL-structure, flexible meta-implementation options and analytics to track website visitors. All this makes it easy to create and implement an effective SEO strategy for an online store.
Odoo: Odoo boasts a great SEO toolset too. Apart from standard SEO capabilities, it also supports inline SEO suggestions and has an in-built link tracker functionality, which the default Magento installation lacks.
---
Hosting
Magento: Finding a suitable hosting provider for a Magento-powered site won't be difficult. Today almost any hosting service supports PHP, so there is a myriad of platforms to choose from. Magento Community can be deployed on simple and budget-friendly hosting plans. Magento Commerce, in its turn, may require a more professional and advanced hosting platform. In any case, the selection of options will be huge.
Odoo: Since Python is not as widespread as PHP, Odoo hosting will be a little bit more challenging. In most cases, Odoo users will have to rent VPS and hire an Odoo expert for website deployment. However, there are alternative solutions providing the Odoo-hosted version for $10-20/month.
---
SUMMARY
No doubt, both Magento and Odoo have a range of undeniable advantages. Being easy-to-use and feature-laden, these platforms help get an ecommerce business off the ground. However, the choice of one platform should be based on your priorities and expectations.
In most cases, the out-of-the-box functionality of Odoo can meet the basic needs of small and middle-sized companies operating in different business domains, including ecommerce. An ERP platform at its core, Odoo offers a vast selection of modules required for new businesses to start.
However, if you need robust ecommerce functionality and look for a platform that will easily expand as your online business grows, Magento can give you right what you need. Its flexibility, scalability and customization options cannot be overstated. With thousands of available extensions and a huge community of professionals, Magento is definitely the first choice for ecommerce businesses aimed at continuous evolvement.
If you think about launching a new ecommerce project or want to enhance your store with next-gen tools, feel free to reach out to Aitoc Magento development company. Our professional team will gladly assist you in bringing your creative ideas to life.