ContentAI is a Magento module that automates the content creation process for your website using OpenAI (Artificial Intelligence). It allows you to generate content for any product attribute automatically. The module uses the OpenAI API to generate accurate text content and scans your product catalog to identify content opportunities.
Powerful OpenAI integration

Auto-generate any product content like description and metadata

Saving time and money in content creation

Incorporate your company or product USPs into the content

Create Prompt for text-based product attribute to enable auto-generate content

Improving site SEO

Easy to use, and no specific content writing experience is required

Especially useful in the B2B segment, where the product data often does not have long text descriptions - turns specification/attribute heavy product data into well-written SEO-friendly content
Features
ContentAI is a revolutionary Magento module that harnesses the power of OpenAI (the technology behind ChatGPT) to generate content for your website automatically. If you need help generating content for new products, then this module will automate the content creation process and save you many hours of effort, and it will also save you money.
The module allows you to generate relevant and accurate long product descriptions from primary attribute data. It can also generate content for any product attribute, like short descriptions and SEO content (meta tags and descriptions) from existing content.
Why is the module useful?
For any business, having well-written, compelling, and unique data for the products is most important to have a better ranking in Google to reach more customers and achieve better revenue.
However, writing content is challenging and often takes a long time to generate across your entire website. As you take on new products, the process continues. Of course, getting your products online with good content gives you an advantage over your competitors. However, with a dedicated writer, it is often an achievable goal.
For example, for a product with no (or very little) description text, you tell ContentAI what type of product it is, its key attributes, and why a customer might buy the product. From this basic information, ContentAI will generate a lengthy product description that is well-written, accurate, and enticing for the end customer. You won't believe how good the results are!
Content is generated on-demand virtually instantaneously and accurately, meaning that even non-skilled users can generate content comparable to experienced content creations but is done so in a tiny fraction of the time - meaning the cost is negligible. The content is also always spelled correctly and grammatically correct.
How it works
The module uses the OpenAI API to generate text content for your product attributes, including lengthy, short, and SEO content. It does this exceptionally well, even if there is very little original content to work from.
For example, ContentAI can transform only a few words of content into accurate and commercially relevant text content that spans multiple paragraphs.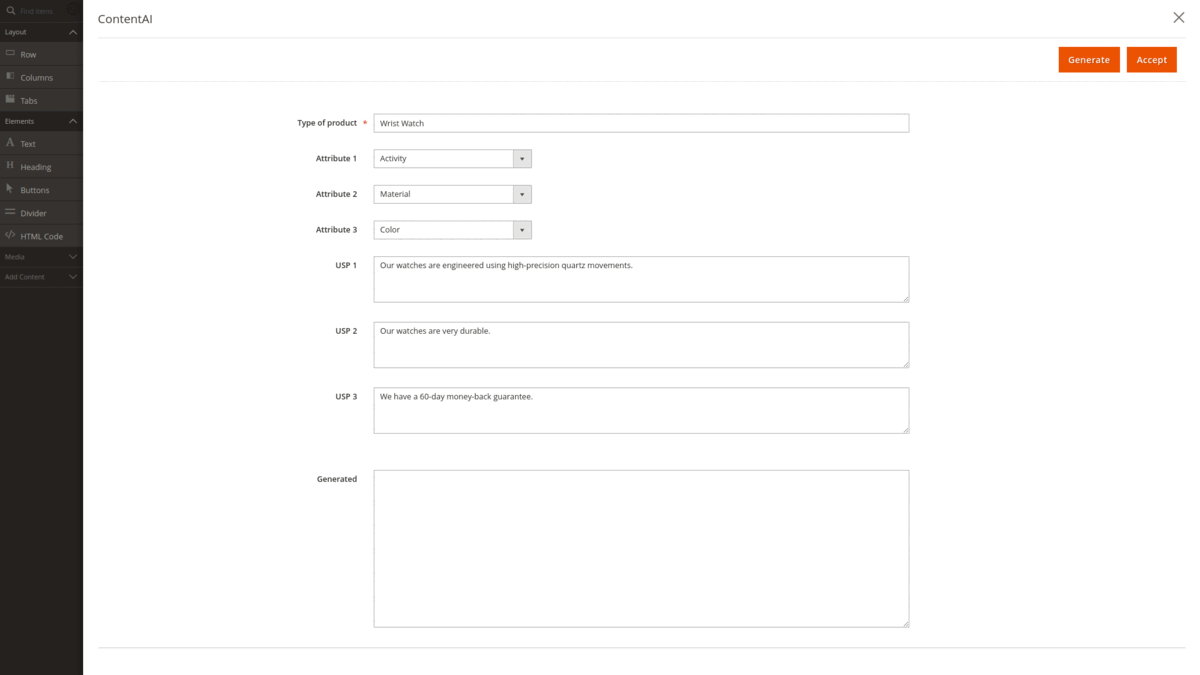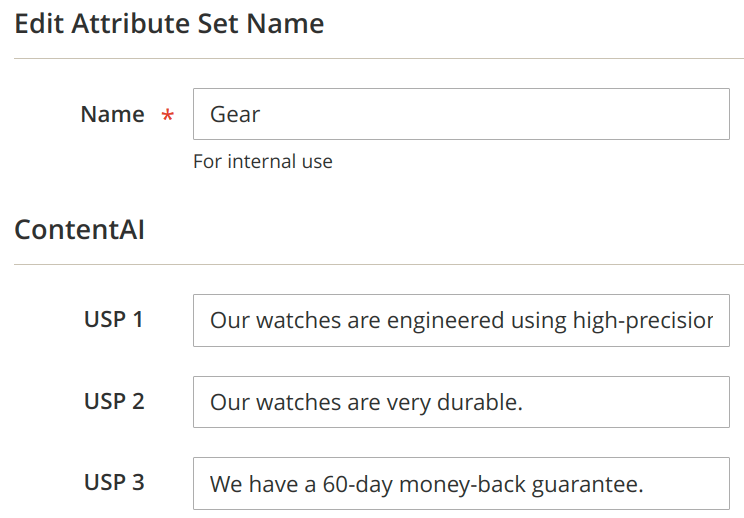 Define USPs for attribute set
The module enables store owners to define up to 3 USPs for each attribute set available on the Magento store.
That means if you have an attribute set created for different types, brands, or categories of products, the module allows you to define the key points separately for those attribute sets.
These USPs will be used to generate the product description.
Pagebuilder Text Element button to generate content
As the image highlights, the module adds a new button to the PageBuilder Text element. Using this button, you can now generate the product description.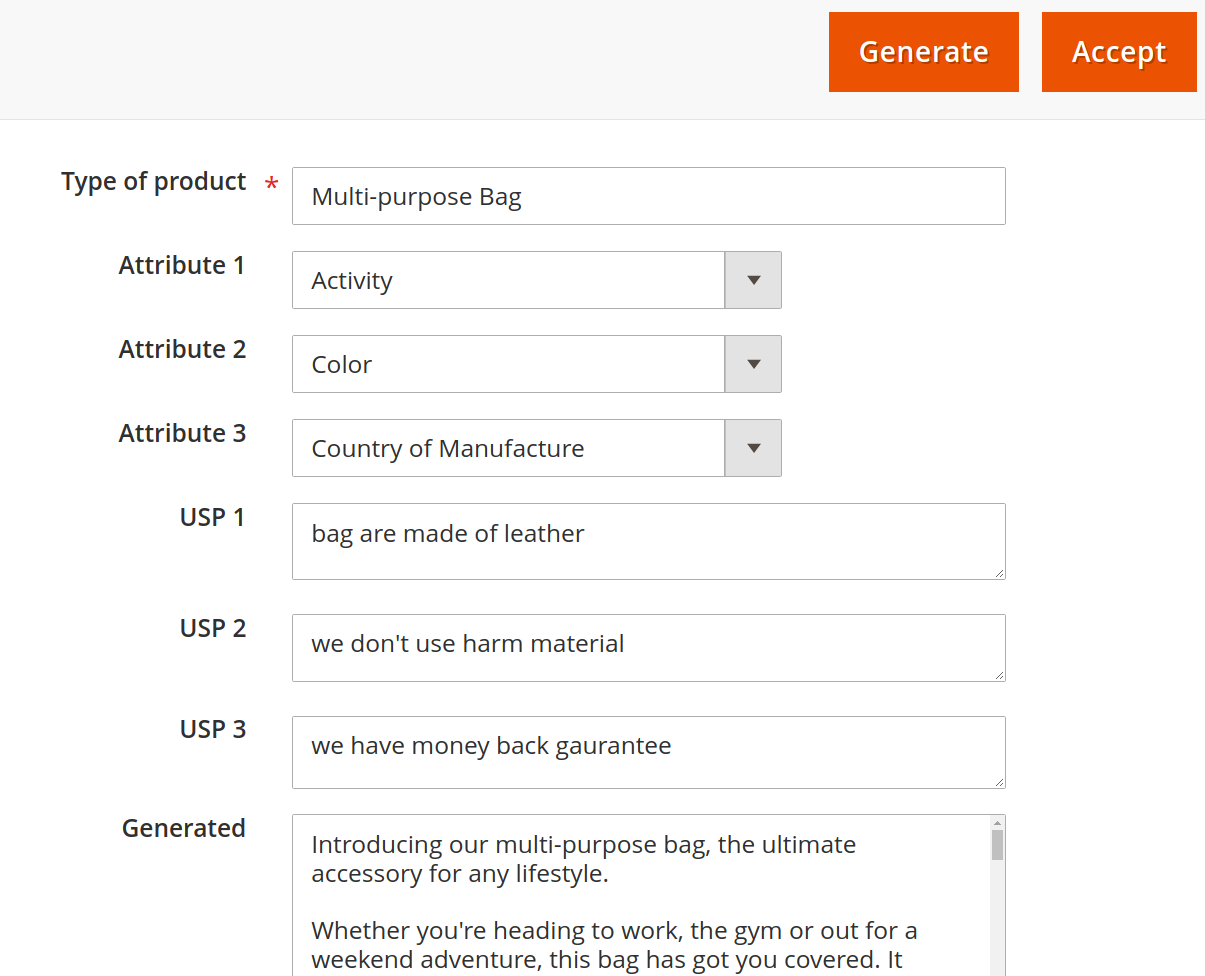 Generating product descriptions
ContentAI is excellent at transforming minimal product information into flowing product descriptions. You tell it something about the product, the essential attributes, and the unique selling points (USPs) of the product or your company, and you will get a great product description generated virtually instantly.
For configurable products, it is even aware of the attributes related to the associated simple products. It can incorporate, for example, the size/color range into the configurable's main description.
Define the product description length
You can limit the number of paragraphs for the generated product description using the module configuration. Based on the selected number of paragraphs, the content of the product description will be generated.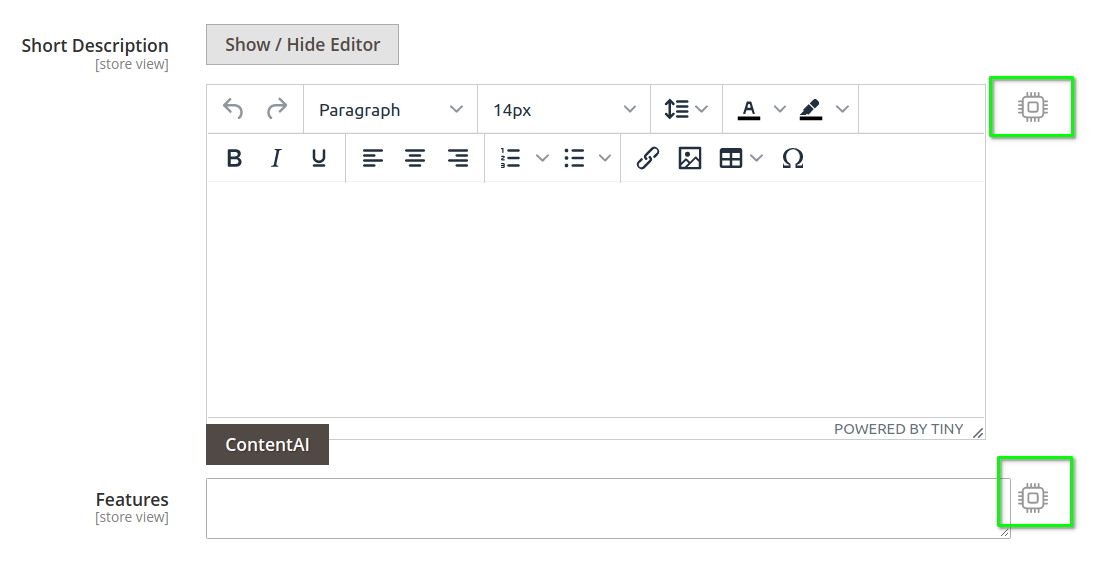 Create a Prompt for product attributes and start auto-generating content
For any attribute having the input type: Text Field, Text Area, Text Editor, and Pagebuilder, the module will display an icon as highlighted in the image.
You can create a prompt for any attribute and start auto-generating content using this icon.
Auto-generate SEO content
ContentAI is also an expert at generating relevant SEO content for your website.
Whether it is rendered short descriptions or non-rendered meta descriptions and keywords - the result is always relevant content generated virtually instantly.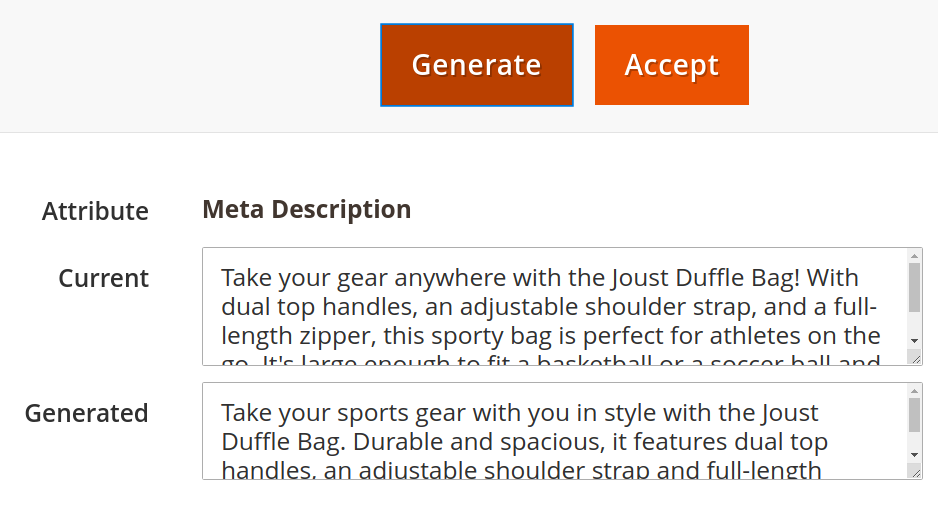 Changelog
1.0.2 - April 12th 2023
+Removed the "Unique Selling Points" tab from the module configuration
+Added option to define USPs for each attribute set
+Removed "AI Description" field and added option in PageBuilder Text element for generating product description
+Added hyperlink on the found issues in the ContentAI section to allow admin to generate content without visiting the specific attribute
+Improved ContentAI table on the product page to better manage the found issues for different store views.
+Added configuration option to define the number of paragraphs for generated description content
+Added option in content generation prompt to summarize the generated content in fewer paragraph
+Added support to OpenAI GPT-3.5-turbo model
+Added functionality to configure prompts for product attributes
+Removed "Workflow Grid" and replaced it with the Prompt management section
+Added compatibility with the WYSIWYG editor
*Fixed ContentAI button UI to make it consistent
*Removed "Meta keywords" prefix when generating Meta Keywords
*Fixed issue with editing the generated content once the product is saved.
*Fixed issue with generating content from the ContentAI issue list table when content already exists for an attribute
1.0.1 - February 9th 2023
+Initial release