Allow pre-ordering products
Place Pre Order button instead of Buy now or Add to Cart
Specify the time when items are expected to be available
Notify customers by email when their pre-ordered products arrive
Allow customer to make prepayment
Provide the ability to return products to stock on schedule
Improve your store order management and boost sales
Features
Pre Orders for Magento 2
Business environment is not always stable, and store owners should be ready to quick changes. They should be able to predict customers' needs. After all, their global goal is to make their e-commerce business working profitably and efficiently.
Applying Magento 2 backorder extension, you demonstrate your care about customers and gather valuable information on their preferences and desires.
Highlighted Features of Magento 2 Pre Order Extension
Implementing pre-orders and back orders. Accept orders for out of stock and forthcoming goods. The feature looks good when popular products are sold out quickly and merchants do not want to lose sales and lead customers to the competitor.
Arrival dates. Specify the product availability date.
Email notification. Email customers when the pre-ordered products arrive.
Right order. Prevent shoppers from mixing regular products and pre-ordered ones in their carts.
Filtering. Sort and filter orders by "Pending/Processing Pre-Order" on the grid.
Email templates. Use special email templates for "New Order" and "New Invoice" notifications.
Separate marking. Mark the pre-ordered items in orders and invoices.
Compatibility. Different types of products are compatible now. The extension works with simple, configurable, bundle and grouped products.
Proceeding and shipping. Regular purchases proceed as usual. Pre-ordered goods are shipped when the stock status changes to Available.
Customer behavior. Analyze customer demand and initial products sales.
Prepayment. Allow customers to make a prepayment and use the notification subscription mode. Emails will arrive when the product returns to stock.
Returning products on specific dates. Let customers make returning to stock in accordance with schedules.
New attribute Contains Pre-Order products. Refusal of additional order statuses in favor of a new order attribute Contains Pre-Order products.
Dynamic preorder settings. These settings at the product level allow adjusting the qty range when the product is in pre-order status.
Advanced labels display. Now the Pre Order extension is able to display pre-order labels everywhere and you can choose where exactly the label will be displayed.
Settings at the store level. Now the updated module for Magento 2 allows setting various settings at the store level (not at the global level as it was before).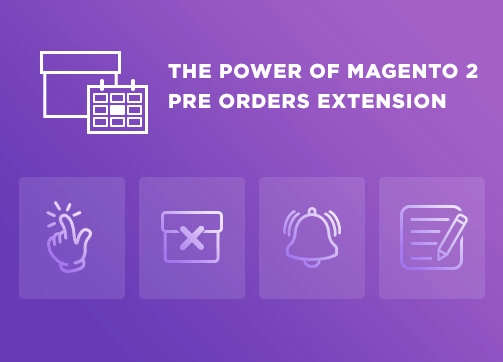 What Is the Power of Magento 2 Pre Orders Extension?
Customers are able to pre-order products they like in your Magento 2 store without extra efforts
With the help of the extension, you can sell out-of-stock products as pre-ordered goods
The Pre-Order option notifies buyers when their goods arrive
You may add custom notes to pre-order products
Key Advantages of Magento 2 Pre-orders for Store Owners

What are the benefits that persuade online retailers to apply the Pre Orders for Magento 2 extension?
Receiving revenue in advance. Giving customers the opportunity to pre-order, retailers may get proceeds from sales even before a product enters the market. They actively use this revenue for covering expenses related to shipment or product launch.
Estimating marketing demand before the product release. Although it is not easy to predict customer expectations, the module lets get an idea of the potential demand in a new product. It also helps to estimate the required supply and optimize inventory and warehouse costs. It means you can maintain the optimal inventory levels.
Converting new visitors to customers. Do not miss potential customers and increase sales of unavailable products. Pre-order notifications will keep customers and make them wait for the products coming back. Let your customers get flagman products first.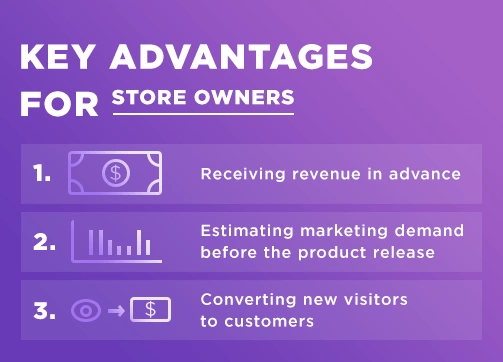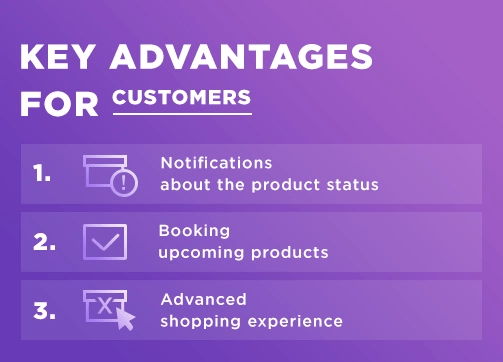 Key Advantages of Magento 2 Backorder for Customers
Notifications about the product status. It will be rather useful for buyers to get know out-of-stock status of a product and understand that this item can be pre-ordered.
Booking upcoming products. This is a good way to satisfy customers as they can book new goods even before they are in stock and available for delivery.
Advanced shopping experience. Customers may keep on checkout even with the products they like when they are out of stock. This surely makes people feel more positive and satisfied.
Changelog
2.0.8 - November 10th 2022
*Fixed error "Area code is already set" when running magento setup:install command
2.0.7 - May 23rd 2022
*Code Improvements
2.0.6 - April 4th 2022
+Added import functionality to update Pre-order product-level attributes
*Fixed error when creating simple product
*Fixed issue with "Change Product Status To In Stock Automatically By Date" and "Admin Email for In Stock Automatic Status Update Failure Notification" admin configuration field.
2.0.5 - September 7th 2021
*Fixed issue with Pre-order product and inventory source quantity calculation
*Fixed Compile error
*Fixed the issue with shipment of per-ordered simple product associated with configuration product.
*Fixed issue of adding product into cart
2.0.4 - August 10th 2021
+Added compatibility with Magento 2.4
+Added compatibility with PHP 7.4
2.0.3 - September 23rd 2020
*Fixed a bug with out of stock products.
2.0.2 - August 27th 2020
*Fixed a bug with pre-order products not being able to be added to the cart.
2.0.1 - January 15th 2020
*Fixed issues in compatibility with Magento 2.3.3
*Update composer.json dependency
*Code Refactoring
2.0.0 - September 27th 2019
*Fixed the issue with displaying Pre-order labels
*Fixed compatibility issue with different types of products
*Fixed issues in compatibility with Magento 2.3
+Added possibility to work in 2 modes: 1. Prepayment; 2. Notification subscription mode. (Email comes when the product is returned to the stock)
+Added possibility to return the product to the stock by a schedule (specific date)
+Added dynamic extension settings at the product level, allowing you to adjust the qty range when the product is in pre-order status
+Added possibility to change the place of label displaying
+Added multistore support
+Added new order attribute: Contains Pre-Order products
1.1.4 - October 31st 2017
+Added compatibility with Magento Open Source 2.2
1.1.3 - May 17th 2017
*Fixed an issue with the pre-order note for configurable products
*Fixed an issue with pre-orders for out-of-stock configurable products
1.1.2 - October 14th 2016
+Extension is compatible with Magento 2.1.2
*Fixed the issue with missing items in a shipment form
*Fixed the issue with incorrect order status changing
1.1.1 - September 16th 2016
+Extension is compatible with Magento 2.1.1
*Fixed the issue with Subscribe button replaced with Add to Cart
1.1.0 - August 15th 2016
+Extension is compatible with Magento 2.1