Shipping Suite for Magento 2
Deliver products to different shipping zones and locations
Create an unlimited number of custom shipping methods and carriers
Set shipping rates based on numerous factors
Configure shipping rules and restrictions using flexible conditions
Limit any delivery methods with the conditional shipping restrictions
Features
The Only Magento 2 Shipping Extension You Will Ever Need
It doesn't matter how big your store is — this Magento 2 shipping extension will close all the needs you may have. This ultimate Shipping Suite for Magento 2 gives you the power to easily manage and customize shipping table rates, rules, and restrictions to optimize the overall delivery strategy to be beneficial for both shoppers and a store owner.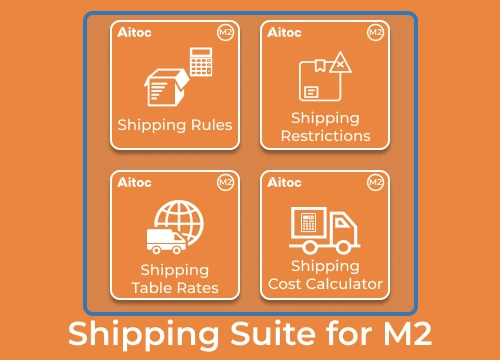 Shipping Suite for Magento 2 includes the following standalone extensions by Aitoc:
Shipping Table Rates & Methods for Magento 2
Shipping Rules for Magento 2
Shipping Restrictions for Magento 2
Shipping Cost Calculator for Magento 2
Extension Overview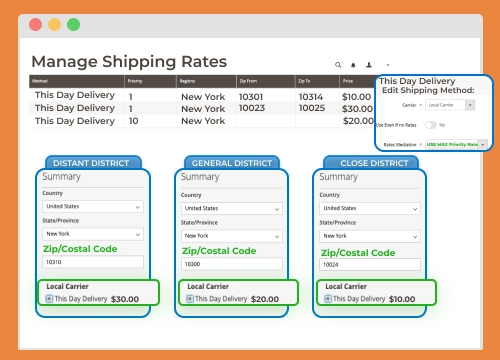 Single Magento 2 Shipping Module to Customize Shipping Carriers, Methods, and Rates
With the Magento 2 Shipping Suite, you can create and easily manage any amount of custom shipping methods. Also, using the additional combination of various Magento 2 shipping rates and conditions, you can provide customers with the unique flexible shipping options to deliver purchases cheaper, faster, and much more efficiently than your competitors.
Right out of the box you can use the Shipping Suite for Magento 2 to:
create shipping methods depending on location
set Magento 2 shipping rates per store view and arrange rates priority
display delivery time and date estimation
modify flat rates depending on items quantity or units of weight
import and export shipping table rates in a few clicks (coming soon)
Business cases and useful tips:
Use shipping rates based on the destination to avoid charges for correcting the shipping address and offering special pricing for delivery to specific areas.
Provide customers from different states with a state-specific Magento 2 shipping methods to lower the delivery price and be more customer-oriented.
Flexible Magento 2 Shipping Rules to Adjust Delivery Strategy
Add more flexibility to the Magento 2 shipping methods by creating different various shipping rules. Equip products or cart attributes with specific delivery fees to adjust the shipping rates or even utilize the free shipping rule to gain your customers' loyalty. On top of that, store admin can set the shipping rules timeframes that are essential during the promo campaigns periods or any other shopping season.
set shipping rules depending on product, order or cart attributes
modify delivery rates for a single item or the whole order
provide shipping rules based on a store view or customer group
use any order attribute to adjust the delivery pricing
utilize flexible schedule to activate certain shipping rules
Business cases and useful tips:
You can provide your regular shoppers with the special rates or free shipping using the Magento 2 shipping conditions for the customer groups.
Modify the pre-built rates for default Magento 2 shipping carriers like DHL, UPS or FedEx using various rules and conditions provided by this Shipping Suite.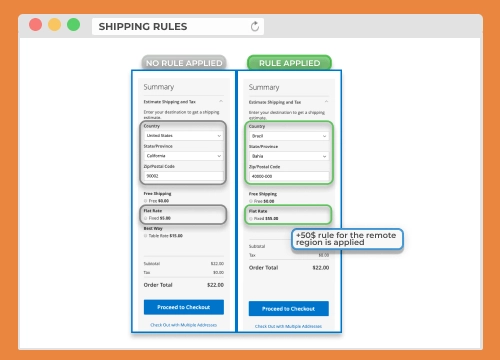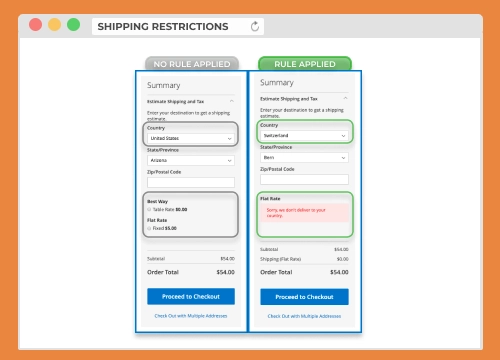 Shipping Restrictions for Certain Methods and Rates in Magento 2
With the Magento 2 Shipping Suite extension, you can set various conditions such as product attributes, payment methods, shipping location, and cart parameters to implement restrictions for certain shipping methods. In other words, you can provide customers with only relevant shipping methods while restricting the ones that are not applicable in specific occasions.
Magento 2 Shipping Restrictions module empowers you to:
limit certain shipping carriers and methods
restrict shipping based on particular product attributes
disable shipping methods for some locations, store views or customer groups
utilize cart subtotal, total commodities or total weight to display relevant shipping methods
use restrictions schedule to activate them within the specific timeframes
Business cases and useful tips:
Limit Magento 2 shipping locations by setting different shipping fees for customers from a single city depending on their location (downtown or outskirts).
Restrict specific shipping methods for particular products in the store. That option may be extremely useful for items that require proper delivery.
Lower the Abandoned Cart Rate with Magento 2 Shipping Cost Calculator
Each merchant knows how unexpected fees can frustrate customers and affect the conversion rate. Luckily, Shipping Suite for Magento 2 has the proper solution built-in. Now, you can display a handy shipping calculator on any store page to constantly inform store visitors about the final price of their cart including delivery costs. Stop getting your shopping carts abandoned, provide buyers with valuable informer.
The core benefits of shipping calculator are the following:
display the shipping calculator on the store pages
adjust the Magento 2 shipping cost calculator on-page position
show shipping cost before checkout
utilize shipping location from a customer's address book
Business cases and useful tips:
Avoid potential losses with the shipping calculator by providing your customers with the useful information about the final price far before the checkout stage.
Place the Magento 2 shipping cost calculator on any page and carefully adjust its position to get maximum benefits from this small yet handy information panel.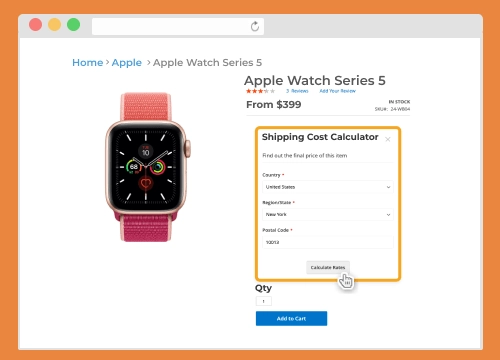 Changelog
1.0.7 - November 7th 2022
*Fixed error when deleting shipping rule and shipping zone from the detail page
1.0.6 - September 23rd 2022
+Added PHP 8.1 compatibility
+Added Magento 2.4.4 compatibility
1.0.5 - October 21st 2021
+Added compatibility with PHP 7.4
+Added compatibility with Magento 2.4
1.0.4 - March 2nd 2020
+Better compatibility with 3rd-party shipping carriers
1.0.3 - February 9th 2020
+add shipping zones condition to shipping rates
+improved configuration process for Magento 2.2.x
1.0.0 - January 4th 2020
+Initial Release