Shipping Table Rates & Methods for Magento 2
Create custom shipping methods and carriers
Customize shipping rates based on quantity, subtotal, price, and weight
Create and support delivery methods depending on locations
Establish specific rates for individual products or product groups
Edit table rates manually or easily import/export them
Display estimated delivery date and time for every shipping method
Features
Easy Step to Boost Your Shipping Process Management
Customers always worry about product shipping. Considering this fact, you should constantly control what shipping options you offer, how fast you deliver orders, what you charge for delivery and so on.
In order to deliver orders faster and more efficiently, you need to provide customers with a wide range of shipping options. Be sure, the successful shopping experience is about multiple shipping methods.
Shipping Table Rates & Methods for Magento 2 is what you really need to professionally calculate the exact shipping price based on product attributes, shipping location, price and quantity, etc. Use the robust extension to manage all shipping issues and rates effectively in the most convenient way!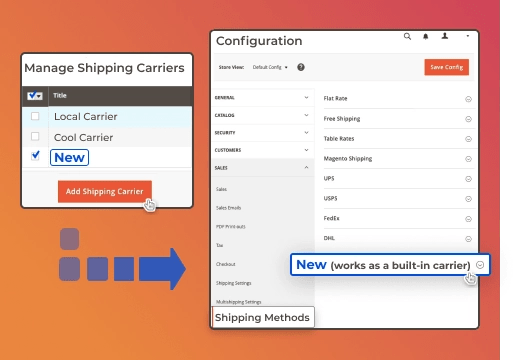 Unlimited Number of Shipping Methods, Carriers, and Rates

Now you are able to act outside the box and expand the default Magento 2 limits, easily importing a CSV list with table rates for only one method and one carrier. Magento 2 flat rate shipping empowers store admins to set up multiple local/custom shipping providers and establish as many carrier and rates as needed.
Use friendly functionality of the plugin to specify:
shipping rate priority
hide a shipping method if there are no valid rates
store view-specific rates
estimated delivery time that may replace the specified in the method value when required
Weighted Calculating of Shipping Costs

The thorough calculation of shipping rates is a must-have procedure for online stores. The Magento 2 Shipping Calculator enables admins to either rewrite the initial value or to add up to it. It's possible to specify rate pricing depending on product quantity, items quantity or units of weight.
Moreover, shipping costs can be modified by a percent or a fixed amount.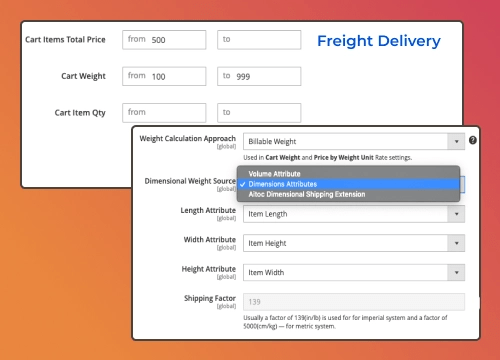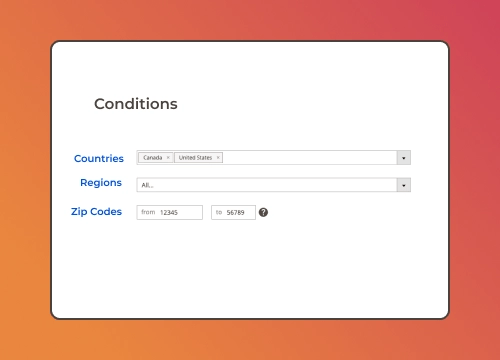 Shipping Methods Based on Locations, Including Numeric and String Type Zip Codes

The best news about the delivery destination is that the Shipping Table Rates extension allows not only choosing a country or region, but also targeting the location of customers by fixing postal or zip codes. Using the module, merchants can validate delivery depending on a particular postal code or zip code range.
Activate shipping rates based on the order destination. It will help to avoid charges for correcting the shipping address and offering special pricing for delivery to specific areas.
It's worth adding that the Magento 2 Shipping Table Rates supports alphanumeric zip codes.
Showing Estimated Delivery Time and Date

Magento 2 Flat Rate Shipping allows indicating a delivery interval in days for every shipping method right on the shopping cart page. It means, your customers will know how much time the delivery takes before they complete the order.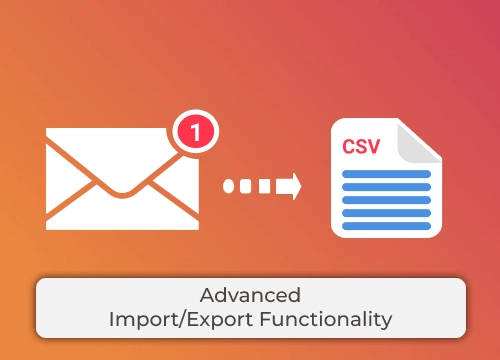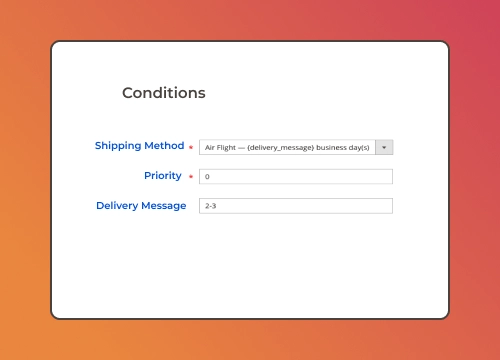 Coming Soon: Advanced Import/Export

The next powerful feature of the Magento 2 shipping calculator is the advanced import and export functionality. Using the extension, you can easily transfer all data related to shipping processes from other sources, for example, from the other website.
This assists in managing and analyzing your shipping rates from one place. You can also edit this information manually if necessary. Besides, you are able to import a CSV file with existing table rates and designate them to any carrier or shipping method.
Changelog
1.0.7 - May 19th 2022
+Added compatibility with PHP 8.1
+Added compatibility with Magento 2.4.4
1.0.6 - May 17th 2021
+Added compatibility with PHP 7.4
+Added compatibility with Magento 2.4
+Code improvement
1.0.5 - March 24th 2020
*improved compatibility with 3rd-party payment extensions
1.0.4 - March 3rd 2020
*Fix a bug with shipping methods in cart rules conditions
1.0.3 - February 18th 2020
*improved configuration process for Magento 2.2.x
1.0.1 - February 13th 2020
+add shipping zones condition from shipping rules extensions
1.0.0 - November 28th 2019
+Initial release