No one can scare us as much as we can. Have you already noticed a lot of terrifying street ads, horror movie thrillers or cheesy jokes on social networks? That's right, Halloween is around the corner.
The number of search queries related to Halloween is growing right now, so what are you waiting for? Do not save on Halloween marketing. Use this time properly to stock up some Halloween-related goods, perform holiday promotions, social media campaigns, add special emails and offers.
Do not know where to start? Let's have a closer look at how to take advantage of Halloween, considering the latest e-commerce trends and statistics.
How Halloween Inspires E-commerce Marketing 
Everyone is waiting for Halloween: from the gaming industry to social media and of course e-commerce businesses. A successful online Halloween marketing campaign is about mood, special offers, and effective after-sales.
According to the National Retail Federation's annual survey, last year Halloween retail spending was estimated at $9 billion. 

The explanation for this number is that the holiday is accessible, not as expensive as Christmas and still fun. This event is traditionally beneficial for e-commerce, as buyers tend to increase their activity and start Halloween shopping on the eve. 
As it is October, then it's high time to start the Halloween shopping season preparation right now. Surprise your customers, using the following 13 steps to prepare your online store for Halloween. Hopefully, you have no questions about why they are thirteen.
13 Ways to Boost E-commerce Halloween Sales 
1. Broaden the product range for October
It is a good idea to expand your product line in October and include Halloween items if possible (at least temporarily). It all depends on your brand, but it might be worth it for sure. Even if you don't want to make the accent on seasonal goods, you can always promote your everyday items with Halloween-related supplies and attributes. 
Here's the example of how Yolli, a Magento 2 store that sells the equipment for making candies and cakes uses ideas for Halloween marketing:
on store website:

on social media: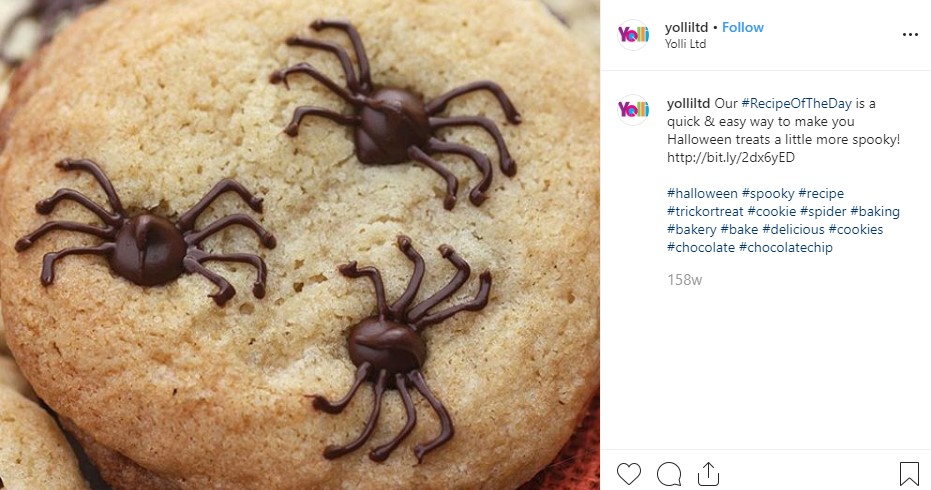 2. Apply some scaring design
Update your logo with Halloween elements to look playful. Adding some ghosts, witches, and monsters with pumpkins will definitely work.
3. Add a horrifying banner 
You do not need to develop a special Halloween Magento theme, as it will be costly in terms of time and money. Besides, it can be heavy and can make your store lag. A creative banner with an interesting plot and catchy promo is the best solution.
4. Create a Halloween landing page
No need to remake your store design, just simply create a separate holiday's category or a landing page and place all relevant goods there.
5. Use Halloween-style language
Halloween preparations allow us to be less serious, right? As your key goal is to catch a customer's eye and motivate to purchase, so don't hesitate to add some non-formal and emotional lexis.
6. Care about SEO
If your store performs fast and smooth, it's ok. However, on the eve of Halloween, it is important to let your potential customers find it on the Internet faster and easier. 
It's about SEO optimization, so be sure to take care of it (from the special keywords to creating rich snippets to boost visibility).
7. Create social media buzz
Add Halloween posts to your social media content plan starting from the middle of October. Mention the planned promotions; add quizzes, contests, hashtags and other holiday engaging activities.
Just look at the following numbers on Instagram that show the amount of use of the key Halloween hashtag. As you can see, this amount is growing up every year.



The second part of our Halloween tip-set is dedicated to specific Magento 2 tools that you can use not only to get a gorgeous wow-effect but also to increase sales, attract new customers and keep old ones as well.
8. Arrange an email follow-up campaign
The big day is coming but you still have time to compose effective emails. Inform your customers about Halloween promos and sales. Scare them with unbelievable offers, coupons, and discounts.
This is a high time to apply powerful Follow Up Emails that will remind shoppers about the sales-to-come. Customized automated emails and convenient templates are what aimed to assist perfectly.
9. Allow your store visitors to express their creativity
Give your customers a chance to create and adorn your products with unique personalized prints. 
Let this Halloween be unforgettable for them thanks to the Custom Product Designer for Magento 2 that you are able to acquire. The handy web-to-print tool is all that they need to add a personal touch to products.
10. Work up targeted promos
Customers tend to make unintended purchases when they are provided with an attractive discount. Your key objective is to select the right audience. Analyze your sales reports, defining the most purchase-prone groups and target the special Halloween promo for them.
11. Present magic gifts
Halloween is not only about horrifying things but also about magic. You know exactly how customers love gifts. If you can not offer candies, then offer your shoppers to choose a free gift. The Free Gift for Magento 2 extension is here to assist as it allows auto adding free products to carts and many more excellent features.
12. Allow buyers to identify products thanks to personalized data
Let your buyers get products faster, easier and more efficiently. Such great solutions as the Advanced Magento 2 Configurable Products extension allows them to generate simple products with required attributes automatically, use unlimited options for every single attribute, specify various product parameters and more.
13. Use after-Halloween sales to recover cart abandoners
It's also a good idea to run an after-Halloween sale. Customers appreciate such events because some products may become cheaper. 
It is also a good chance to motivate cart abandoners for shopping. Send personalized emails to return visitors to their carts, choosing optimal send intervals to maximize customer response. A powerful Abandoned Cart Emails Pro for Magento 2 at your disposal.
Final thoughts 
As you can see, Halloween is not only about pics with pumpkins and fun celebration, it is also a great event to activate your marketing and succeed in business. All the tips and recommended plugins mentioned above will help your store look amazing against competitors on Halloween eve and get great business results.
Perhaps, you find our list of tips incomplete. Would you like to add something more about Halloween preparation? Feel free to comment below.