Take advantage of Magento 2 modules to optimize order management at your store
Today, ecommerce business owners face ever-growing customer expectations, continuous market fluctuations, and supply chain complexity. To ensure their businesses run smoothly, online retailers should take care of a ton of processes, ranging from procurement and inventory management to customer service and post-purchase communications.
When it comes to customer satisfaction, each aspect matters, but order accuracy and timely fulfillment are the key factors affecting the game. Modern customers require faster delivery and better service, making it more difficult for merchants to address their demands. If order-related activities are ineffective and poor, prospects just walk away, leaving merchants dead broke. No wonder that order management is the highest priority for  37% wholesale distributors and retailers.
Effective order management requires access to real-time information, process transparency, and standby control across the entire supply chain. All of it can hardly be achieved if executed manually. Fortunately, modern order management software can tackle the task.
Bigger industry players using Magento for their ecommerce store can take advantage of Magento Order Management to take full control over their order-related processes across all channels. But what for the smaller online retail businesses?
Thanks to a huge community of developers and contributors, mid-sized and small Magento store owners can leverage a pool of proven extensions to meet their order management needs. In this post, we overview top challenges online retailers face and share some effective Magento plugins that help address them. Here they are.
#1 Order Numbering
Challenge:
You only can ensure accurate order processing if you have a well-established order numbering practice in place. Magento features a default ID assignment algorithm, labeling orders automatically. Nevertheless, business requirements vary from one store to another. So some merchants feel the need to introduce custom order numbers that would be tailored exactly to their demands.
Solution:
Magento 2 Custom Order Number is designed specifically for that. Available for both Magento 1 and Magento 2, this handy extension allows configuring custom IDs for orders and related sales documents. Orders, Invoices, Shipments, and Credit memos can be numbered in such a way so that to be more informative both admin users and customers. Leveraging Magento Custom Order Number, online retailers can introduce a more effective and well-thought-out order numbering practice to their stores. Better order accounting means higher order accuracy. No need to say, this extension is a must if you're looking to enhance your order management routine.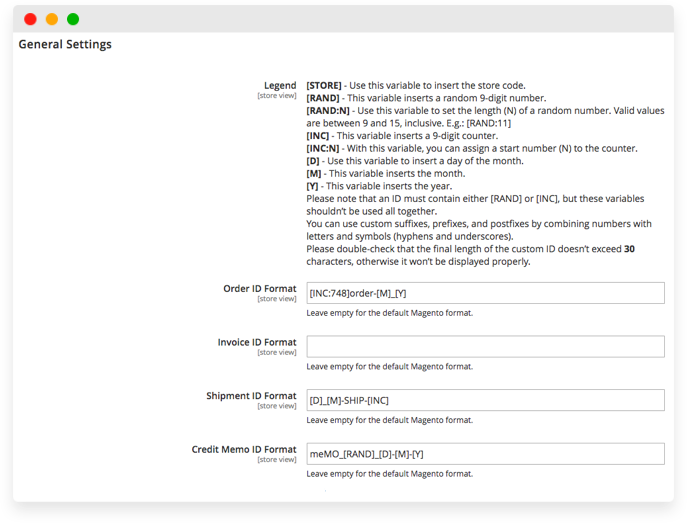 #2 Accurate Export and Import of Order Records
Challenge:
With the release of Magento 2 back in 2015, platform users got the opportunity to take advantage of a more powerful, feature-reach and secure installation. Magento migration became (and still remains) one of the most popular services requested by store owners from all over the world.
Migrating to a newer installation, online retailers face inevitable challenges related to data transfer. All the relevant information, including orders, should be safely moved to the new platform version. If data is lost or damaged, it may cost a fortune for a business to recover it.
Solution:
Here's where Magento 2 Orders Export & Import comes to play! The extension allows exporting and importing all orders and related customer information. Automatic or manual modes can be configured, so you can either export orders by-hand from the order grid or do it automatically after the checkout.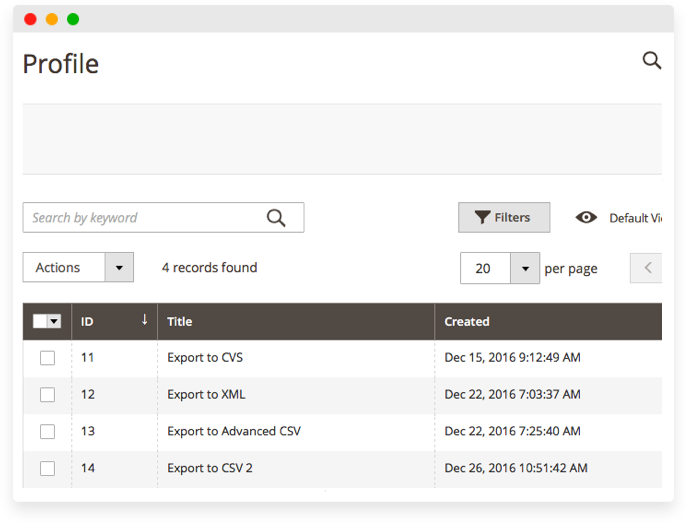 With the help of the module, you can import order information to corresponding store views too. The solution provides the opportunity to create new customers during the import based on their billing/shipping addresses.
Apart from that, Magento 2 Orders Export & Import makes it possible to extract order data from Magento and transfer it to accounting, ERP, and other external systems in a convenient format. Thus, this tool is truly a silver bullet that covers the entire range of order data transfer tasks. Good news for Magento 1 users, Orders Export & import is also available for the first platform edition.
#3 Irrelevant Orders Handling
Challenge:
Okay, now that we have all our orders imported and numbered, how do we manage them on the order grid? The bigger a store is, the more orders it has. Pending, fulfilled, canceled – with the variety of records, sometimes it gets really hard to keep the grid in order. Therefore, store owners may need to remove some redundant orders. Unfortunately, the default Magento does not support this kind of functionality, so additional tools are required.
Solution:
With this Magento drawback in mind, Aitoc launched the Magento 2 Delete/Archive Orders extension. Intuitive and super easy-to-use, this solution helps you to remove unnecessary orders and corresponding documents from the order grid or customer accounts with no effort. The extension features flexible deletion settings, also providing for scheduled data deletion carried out automatically.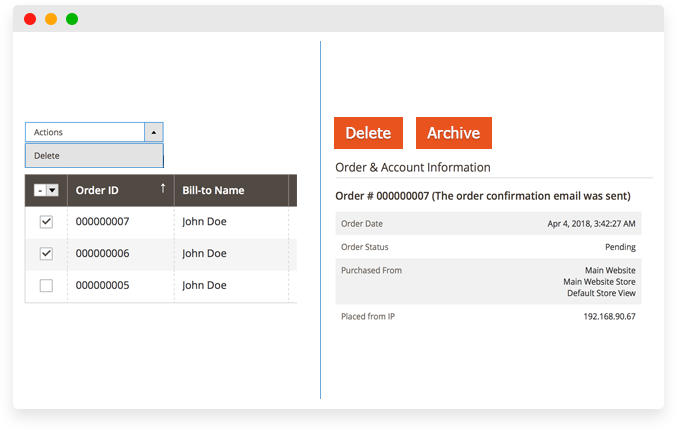 The icing on the cake is that the module supports the archiving functionality, so orders can be temporarily put into an archive and restored just if need be.
#4 Real-time Order Status Monitoring
Challenge: 
There are many challenges related to order processing, but the majority of them are caused by the lack of real-time control, among others. Even if your supply chain works like clockwork at all stages, sometimes the process may slow down. For instance, someone at the warehouse accidentally missed the time to hand the package over to the delivery team. Unfortunately, the order will hardly be delivered on time in this case.
Solution:
Real-time order status tracking is important to eliminate information delays and ensure accurate and fast order execution. Custom Order Status Change for Magento 2 is designed to address this task. The tool allows sending out automated email notifications to responsible employees when the order status is changed.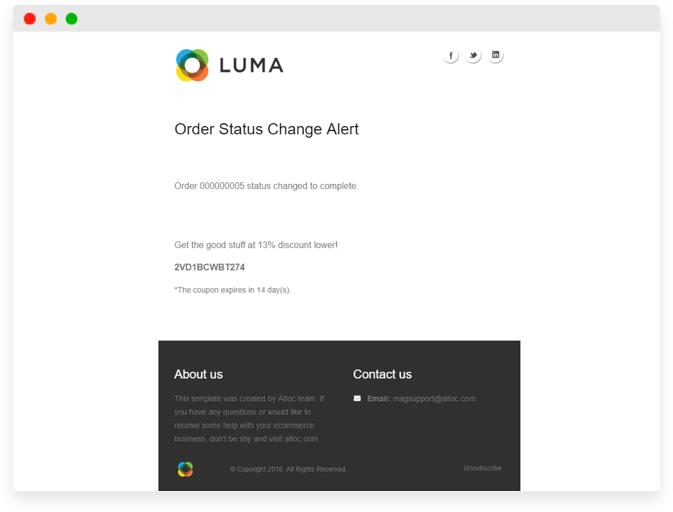 Leveraging the module, you ensure that no order status change goes unnoticed and that necessary actions are taken at every phase of the order fulfillment process.
Wrapping up
Even though establishing an effective order management strategy requires considerable efforts, its implementation is vital on the way toward higher business performance and customer satisfaction. Making use of tried and true technology solutions, you can simplify this challenging process and yield worthwhile results. We hope that the extensions we have introduced will give you a helping hand in your order management initiatives, bringing your business administration to a whole new level.
You're welcome to contact us any minute at [email protected], should you have any questions or suggestions.