Choosing the best platform for your eCommerce store is a crucial decision that can significantly impact your business's success and growth. With numerous options available, it's essential to consider several factors before making your choice. At Aitoc, our team is here to guide you through this decision-making process, starting with this article, and we also offer a complimentary consulting call to help you make an informed decision for your business.
Before selecting a platform, it's crucial to understand your store's specific needs and requirements clearly. Here are some key factors to consider:
Budget: Determine your budget for setting up and maintaining the eCommerce store. Keep in mind that different platforms have varying costs, including setup fees, transaction fees, hosting fees, and add-on expenses for extensions and themes.
Question: Are you on a fixed budget or willing to adapt?
Ease of Use: Consider your technical expertise and the platform's ease of use. Some platforms offer user-friendly interfaces and drag-and-drop functionality, making them suitable for beginners, while others may require more technical knowledge.
Question: Do you have an in-house team? Will you do it yourself or hire experts and provide ongoing support?
Scalability: Ensure that the platform can accommodate your business growth. As your store expands, you'll want a platform that can handle increased traffic, product listings, and orders without sacrificing performance.
Question: How fast do you want your business to grow? Can you afford to change platforms in the middle of the growth?
Customization and Flexibility: Look for a platform that allows you to customize the design and user experience to align with your brand identity. The ability to integrate third-party tools and extensions is also essential for extending the platform's functionality.
Question: Do you have a clear design in your mind, or would you be okay to go with ready-made templates?
Security: Security is paramount in eCommerce. Ensure that the platform adheres to the latest security standards and offers features like SSL certification and secure payment gateways to protect your customers' data.
Question: How can you protect your store from being hacked? (maybe it's best to hire experts)
Support and Community: Consider the availability of customer support and the platform's community. A strong user community can provide valuable resources, tutorials, and help in troubleshooting issues.
Question: Do you also want to learn how to maintain your own store?
Payment Options: Check if the platform supports a wide range of payment gateways and if it aligns with your customer's preferred payment methods.
Question: Which is the most convenient payment that you would like to have?
SEO and Marketing Capabilities: Choose a platform with built-in SEO features and marketing tools to help you optimize your store for search engines and facilitate marketing campaigns.
Question: How will you drive traffic to your store? Will you do PPC or SEO?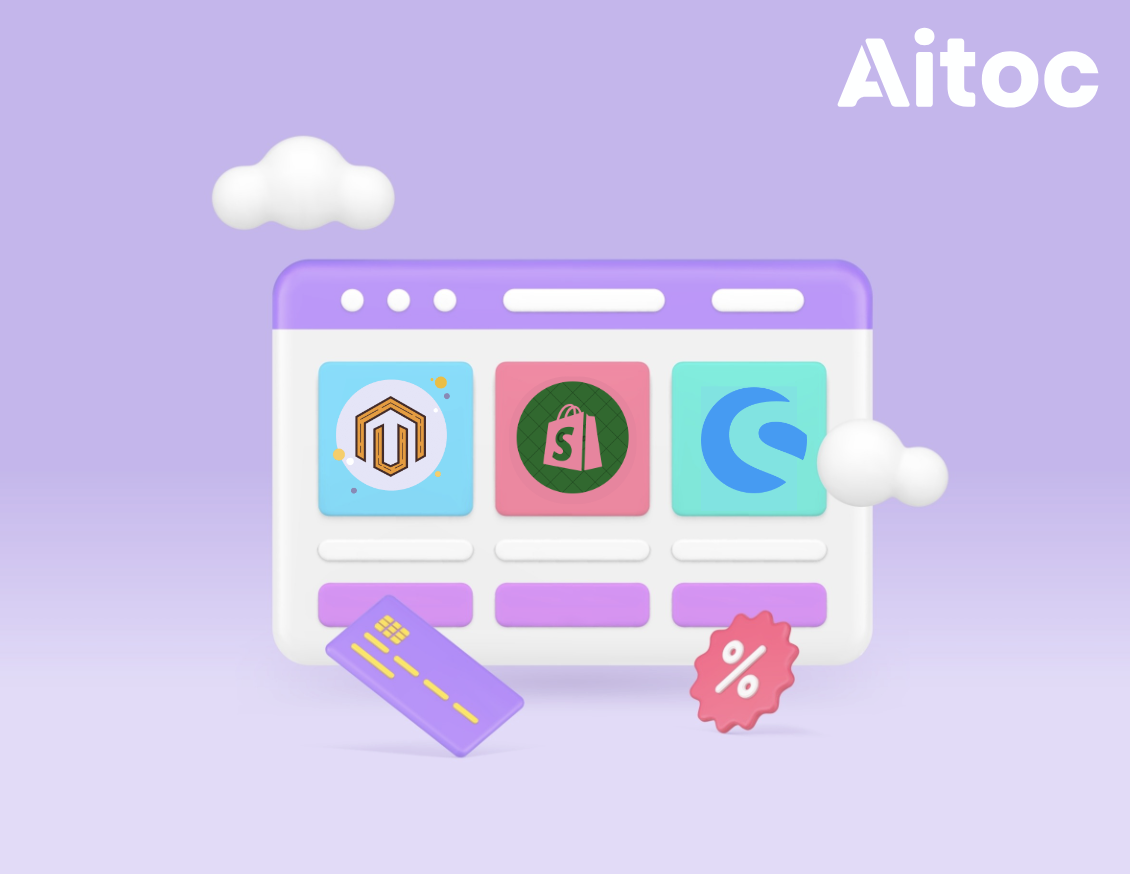 Now that you have a clear understanding of your platform needs let's compare three main platforms to give you a better understanding of which one might be your best choice:
1. Magento:
- Features: Magento is an open-source platform with extensive customization options and robust functionalities suitable for large and complex eCommerce stores.
- Ease of Use: Magento's flexibility comes with a steeper learning curve, making it more suitable for users with technical expertise or those willing to invest in development resources.
- Scalability: Magento is highly scalable and well-suited for businesses with substantial growth aspirations.
- Pricing: Magento offers both a free, self-hosted version (Magento Open Source) and a paid, cloud-hosted version (Magento Commerce) with additional features and support.
- Suitability: Magento is ideal for medium to large-sized businesses with the resources to handle the technical aspects of a highly customizable and scalable solution.

2. Shopify:
- Features: Shopify is a hosted platform known for its user-friendly interface and a wide range of built-in features, making it suitable for startups and small to medium-sized businesses.
- Ease of Use: Shopify is incredibly user-friendly, with drag-and-drop functionality and a large collection of themes and plugins.
- Scalability: Shopify can handle moderate to high traffic and is suitable for growing businesses, though it may have limitations with extensive product catalogs compared to Magento.
- Pricing: Shopify offers various pricing plans, with costs increasing as your business grows and requires more advanced features.
- Suitability: Shopify is well-suited for small to medium-sized eCommerce startups looking for an easy-to-use platform with a quick setup and a robust ecosystem of apps and integrations.

3. Shopware
- Features: Shopware is a German-based open-source platform offering strong customization capabilities and a wide range of built-in features, focusing on providing an immersive shopping experience.
- Ease of Use: Shopware provides a user-friendly interface and a growing community, making it accessible to users with varying levels of technical expertise.
- Scalability: Shopware is scalable and suitable for growing businesses, with higher-tiered editions catering to larger enterprises.
- Pricing: Shopware offers a free Community Edition and paid Professional and Enterprise Editions with additional support and features.
- Suitability: Shopware is a good fit for eCommerce startups valuing a strong focus on customer experience, customization options, and a platform that can grow with their business.
In conclusion, each platform, Magento, Shopify, and Shopware, has its strengths and is suitable for different types of eCommerce businesses. If scalability and extensive customization are your priorities and you have the necessary resources, Magento might be the right choice. For user-friendliness, quick setup, and a robust ecosystem of apps, Shopify is an excellent option for small to medium-sized startups. If you seek a platform with a focus on customer experience and customization, catering to medium to large-sized enterprises, Shopware could be the ideal fit.
To make the best decision for your startup, we invite you to schedule a consulting session with our team at Aitoc Consulting. We offer Rapid Deployment Packages for Magento, help you understand the best solution for Shopify, and guide you through the practices we use for Shopware development.