Magento continues to be the best CMS for ecommerce stores. What's the reason behind Magento's long-standing dominance in the ecommerce sphere? Well, the answer to this question is quite simple. Magento is an open-source CMS with rich features and offers flexibility to the online businesses to augment their success.
Magento is a robust CMS solution and built on a complex architecture, so it can't run on an ordinary hosting server. It requires a reliable and strong hosting solution that can keep the store's performance up to the mark with minimum server downtime. If you're planning to opt shared hosting then it won't be a good fit for managing Magento ecommerce store.
Explicit thought! Shared hosting won't be a smart choice to host CMS like Magento.
What is the Best Hosting Solution for Magento?
For Magento ecommerce platform managed cloud hosting is the best option that offers flexibility, simplicity, choice, with optimized server performance. There are many hosting service providers that claim to provide the best Magento hosting, but then again, choosing a managed Magento hosting service is a tricky job to decide about.
One of the managed hosting services that I have found to stand out amongst the competitors is Cloudways. Cloudways, the Platform-as-a-Service (PaaS) provider allows you to host Magento on five popular cloud infrastructure providers including:
DigitalOcean (3-Day Free Trial)

Vultr (3-Day Free Trial)

Linode (3-Day Free Trial)

Google Cloud Platform

Amazon Web Service
All the above-mentioned cloud providers offer top-notch hosting services with an affordable pricing plan. In this blog, I will review Cloudways and how it's the best fit for Magento hosting solution.
Why Choose Cloudways for your Magento Store?
In general, online merchants have to go through a hectic process just to install Magento on the cloud, but the hassle doesn't end here. The next challenge is to manage and monitor server resources manually. Moreover, configuring SSL certificate, CDN, and keeping an eye on security processes to the Magento store from cyber-attacks pose a huge challenge altogether.
On the other hand, Cloudways takes care of all your Magento hosting woes. It is a platform that's built to facilitate Magento stores in the most effective way where you (as a merchant) don't need to build a team of the system administrators. It saves Magento store owners' time and money at the same time which becomes great value for them.
Launch Your First Magento Cloud Server with Cloudways
Launching the Magento server on Cloudways is quite easy. The Platform offers an easy signup process, helping you set up your Magento server in minutes.
First of all, you must create your account on Cloudways.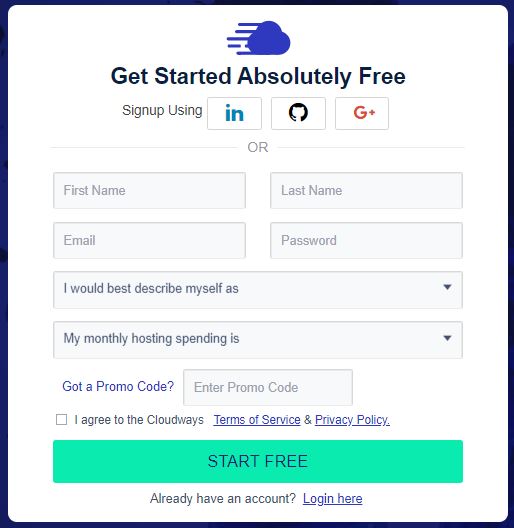 Once you have signed up, you can select the Magento version of your choice. For this review, I have selected Magento 2.

Next, you must select the cloud provider of your choice. I have chosen DigitalOcean which starts from $10 per month.

Now, you must, select server size. At this point, remember that with more RAM and disk space, you'll experience better results. If you have no idea about selecting server specifications, the customer support team is always there to help you out.

For a typical Magento store, it's recommended to host your store with a 4GB server plan.

Select the server location that is nearest to your target audience.

Click LAUNCH NOW!

Cloudways Features Make Magento Store Robust & More Flexible
Magento is a powerful platform that requires high-maintenance, zero compatibility issues and demand-resources to sustain its performance. Many smart Magento users are not interested in shared hosting or dedicating time for server maintenance. They always ask for a smoothly functioning hosting platform that allows them to focus on running their business.
While keeping all the above facts in mind, here's why Cloudways is the best option for hosting Magento stores.
Affordable
Most hosting service providers charge fixed monthly invoices but Cloudways runs on a pay-as-you-go model. This means you're worry-free from over-charge hosting rates. With Cloudways, you only pay for the server resources that your Magento store consumes and nothing more than that!
Check out the Cloudways pricing plans.
Single Click Operations
Being a Magento developer, you must have gone through the installation processes and faced some unwanted errors as well.
On average, installing Magento from scratch requires approximately three to four hours. On the other hand, with Cloudways you can reduce your installation hassles and save your time. Simply select your desired Magento application version and your server will be ready around 10 minutes.
With Cloudways, you don't need any technical staff. In just a few clicks, you can access your server via secure SFTP and SSH tools.
Security
Cloudways keeps the security concern as its first priority. Cloudways offers many features that ensure iron-clad security for your Magento store. Some of the salient security features include IP whitelisting, database isolation, two-factor authentication and 1-click free SSL certificate for all Magento-powered stores.
Optimized Magento Performance with ThunderStack
It's true that achieving 'lightning-fast' and having an outstanding 'page load time speed' is not just a marketing tactic. Well, thanks to the optimized Cloudways ThunderStack that offers a unique recipe of the cache technology that comprises of the most commonly used web development tools. The stack includes Memcached, New Relic, Nginx, Varnish, Redis, MySQL, MariaDB, PHP-FPM, etc.
Some of the Magento users on Cloudways have achieved a page load speed of 300ms for their Magento store. As a result, these users see a significant improvement in SERPs and website traffic.
Scalability
Cloudways offers seamless server scalability at any time with the user-friendly Graphical User Interface (GUI). You can scale or change the size of RAM, processor, and capacity of your server, through the easy interface. You don't need assistance or approval from the Support Team.
This feature helps Magento store owners to handle high-traffic volume during Black Friday, Cyber Monday, holiday seasons or other festive events.
Backups
Be proactive to protect your ecommerce store from unwanted attacks. A common question, what happens when your store suffers an attack?
Crackers are eveready to compromise the security of ecommerce stores in different ways. Malicious attacks can breach the confidential records, customer details, payment information. And, you never know when they will target your store.
Therefore, to protect your store against cyber-attacks, the best option is to have an auto-backup option enabled. Again kudos to Cloudways, they offer routine backups. In case anything goes wrong, you always have a backup that you can restore to get your store back online within minutes.
It's Time for the Verdict
Before I give my verdict, I want to ask you a question: Do other cloud hosting providers offer such features? I don't think so. There are hardly any Magento hosting providers available that offer this many features.
Is Cloudways worth it? My verdict is A BIG YES!
Why? If your store is in a running position and gets some good traffic. Then, I must say spending less than $50 per month on hosting won't be a bad deal. I must say it's worth it to try the Cloudways - 4GB plan using DigitalOcean which costs less than $50 per month.
Cloudways also offers free Magento store migration for new users. What are you waiting for? Hurry up and join Cloudways now!
BFCM is live on Cloudways! Get 40% OFF on managed Magento hosting.
Promo code: BFCM40
BFCM Deal: 40% off for 3 Months
Valid till: December, 4th 2019