Most Magento 2 store owners once came across different business demands that need to be done to optimize customer service. Nowadays hundreds of them use configurable products for many business goals.
If you use configurable products as default, you'll probably face a lot of drawbacks.
Fortunately, there are powerful and handy extensions that may professionally assist store owners to save tons of workloads with the configurable product. In this post, we briefly define all special aspects of configurable products and suggest a great solution to have all things done on the perfect level. Are you intrigued? Then let's dive deeper!
What are configurable products?
The easiest way to answer is to consider the example of buying clothes. Clothes are sold with many attributes, including size and color.
Logically, you want to sell such clothes items and let your customers choose the appropriate size and color in your Magento 2 store. For this aim, you need to apply configurable products.
Here's a quick example: You have 10 green pullovers and 20 blue ones. Thanks to configurable products, Magento knows exactly when each variation runs out.
Simple products with custom options will make you continuously track each order and add required adjustments manually. Seems not user-friendly. The key advantage of configurable products is about advanced product variation inventory management.
How do configurable products work?
A configurable product is a parent product, as you may assign some simple products to it. The simple (children) products perform as configurable product variations. In our example, each color for the pullover is a separate simple product and it is assigned to the configurable one.
Every time when shoppers choose a variation and add it to their product carts, they acquire Magento 2 simple product that has been assigned to the configurable one. In simple words, the product configuration allows merchants to demonstrate all the simple products in a handy grid for quicker purchasing.
As a store owner, you are able to display all the useful data about simple products in that grid, including product availability, quantity, unit price, and subtotal.
Want to take advantage of configurable products in practice? That's right, no more theory it's a high time to learn about the practical benefits of the powerful solution - the Magento 2 Advanced Configurable Products extension.
Improve your customers' shopping experience
Advanced Configurable Products for Magento 2 is a complete solution that provides great configurable functionality, improves customer experience and increases conversion rate.
The robust module covers almost all functional aspects of configurable products. There are 3 key features that help to accomplish it.
The matrix-like view that extension provides. The advanced plugin may easily convert the configurable product to a Magento 2 product grid with all variations. Such a grid is especially useful for customers making bulk purchases as it allows them to simultaneously add multiple variations to the cart.

Dynamic updates of the Magento 2 products and category pages. Depending on the customer's choice, you can automatically update the page URL, product name, description, price, and SKU.

Customizable options for configurable products in your Magento 2 store. All configurable product variations may have a unique set of additional options that can be chosen by shoppers. When a customer chooses a configurable product variation, the proper set of options is displayed.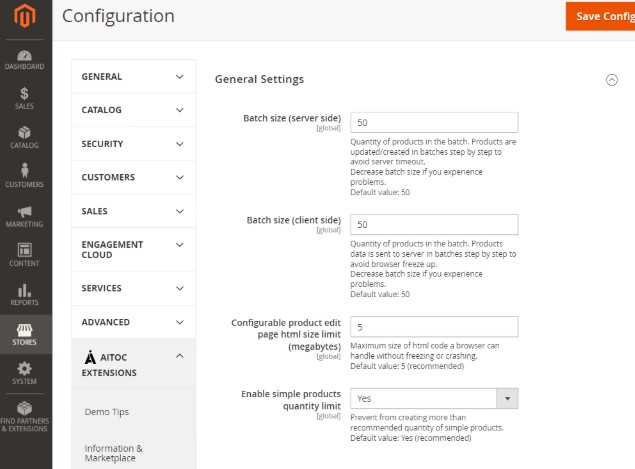 What are the benefits for customers?
Customers get complete information about each product

They are able to select the desired product that fits best of all

The extension provides a simplified and intuitive navigation

The streamlined search by unique product name and SKU is available

Customers are allowed to explore various product dimensions through just one product

They save their precious time thanks to many options at the same place
What are the benefits for store owners?
Increasing conversion by clear targeting promotion campaigns with unique URL variations

Improving customers' loyalty by offering a full set of user experience enhancements.

Increasing the average order value with the product matrix view and bulk purchases offering

Improving SEO rates

Advancing store usability with the possibility to add configurable products inside bundles
Conclusion
The Advanced Configurable Products Extension for Magento 2 is what may help your store to perform better without complex efforts.
Choosing the module you'll get the high-quality product crafted by certified developers, guaranteed stability reached through high-quality coding, testing, and maintaining, 45 days money back guaranty and professional tech support.
Thousands of happy customers are already using Magento 2 Configurable Products, do not hesitate to join their ranks!