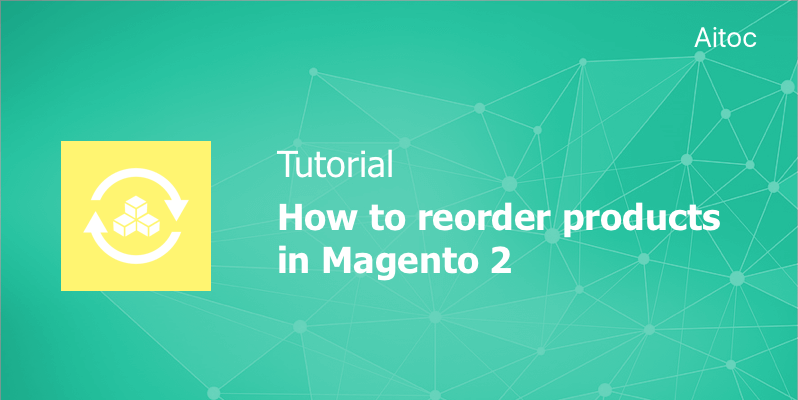 Leverage Aitoc's Magento 2 product reorder functionality to enhance inventory management
The importance of inventory management to both offline and online businesses selling different products to consumers is undeniable. But many of them still don't track their inventory, just like 43% of U.S.-based small businesses. Such a situation results in stock-outs, delayed or even unfulfilled orders, lost sales, and, certainly, buyer dissatisfaction. 
Conversely, businesses cannot afford to have too much stock, as this impedes their cash flow and reduces profitability by getting too much working capital tied up in inventory. That's why efficient inventory management is a must for forward-thinking practitioners. And timely stock replenishment plays a crucial role in this practice.
To improve inventory management and help commerce businesses more efficiently manage stock replenishment, we developed Multi Warehouse Inventory, a Magento 2 extension. In this article, we are going to show you how it helps Magento store admins reorder products that reached the par level.
Multiple Warehouses
This module provides a great feature for Magento store owners having at least two warehouse facilities. It allows splitting stock between different warehouses, thus making it easy to monitor products' availability in each facility separately. Let's start off with the creating of warehouse profiles and assigning them to products in the Catalog.
Go to System > Multi-Location Inventory by Aitoc > Warehouses to add as many warehouse profiles as you need. Their number usually depends on the number of warehouses you have.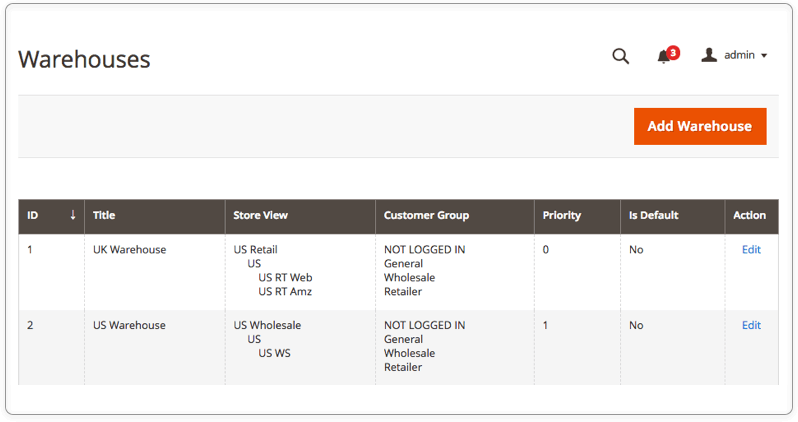 Click the 'Add Warehouse' button to create the first warehouse.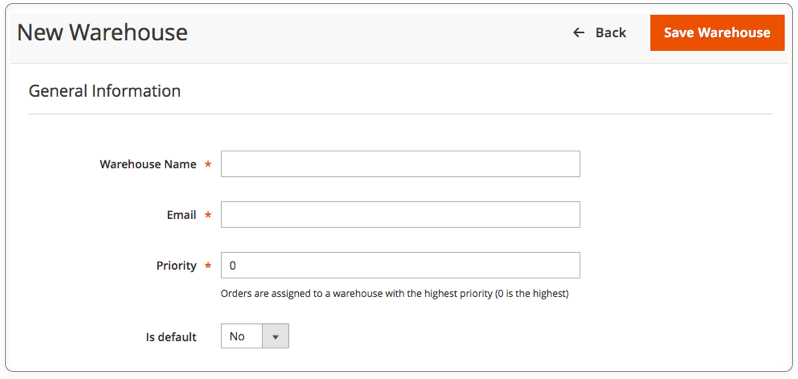 Add general information about the warehouse: its title and contact email address. You may specify a priority status for the warehouse. Please note that warehouses having highest number ('0' is the highest one) will be prioritized when it comes to product delivery.
You may also set the 'Is default' field to 'Yes', thus allowing delivery from this warehouse when the product is out-of-stock in all other warehouses.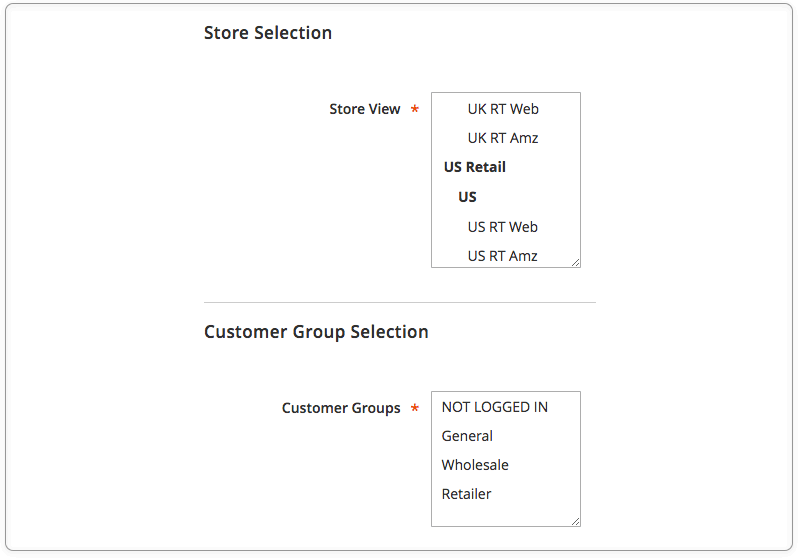 Proceed with assigning the warehouse to necessary Store Views and Customer Groups. To save the new warehouse, hit the 'Save Warehouse' button.
Supplier Profiles
Multi Warehouse Inventory extends the default Magento functionality even further by allowing admin users to create supplier profiles, thus taking supplier management to a whole new level
Navigate to System > Multi-Location Inventory by Aitoc > Suppliers to create a new supplier profile.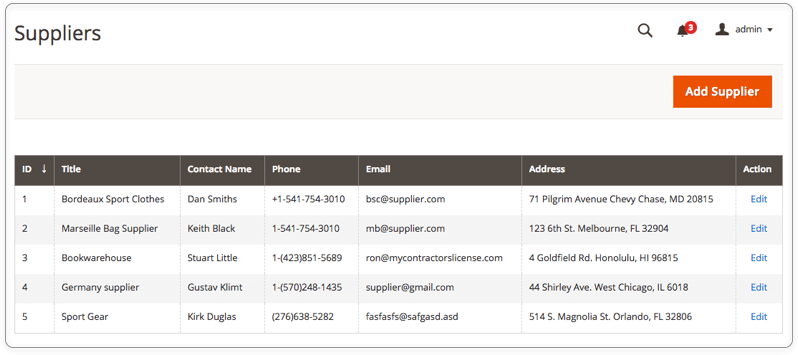 To create a new supplier profile, click the 'Add Supplier' button.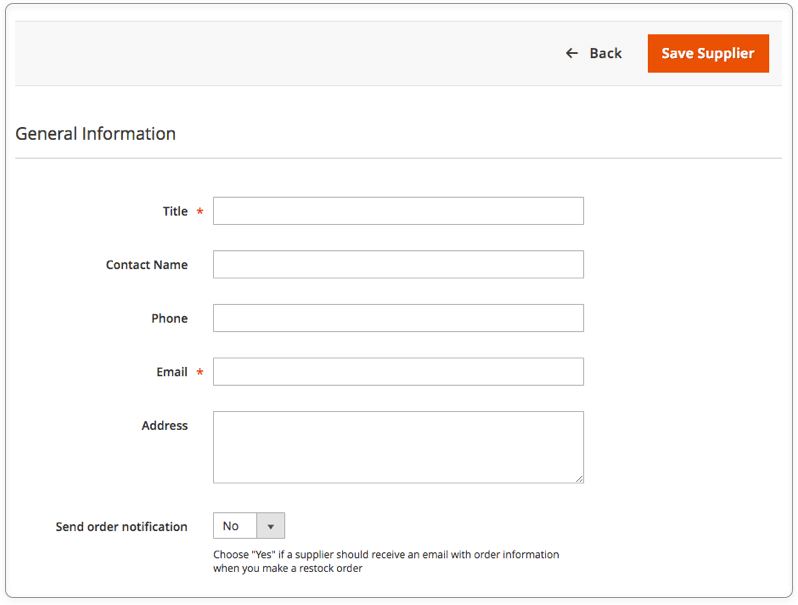 Fill out all the necessary fields, including 'Title' and 'Email Address'. To allow the extension to send restock requests to the supplier, set 'Send order notification' to 'Yes'. Save the Supplier and go to the Catalog.
Product Stock Management
Open any product in the Catalog and navigate to the 'Warehouse Stock Settings' section to configure product-specific stock settings.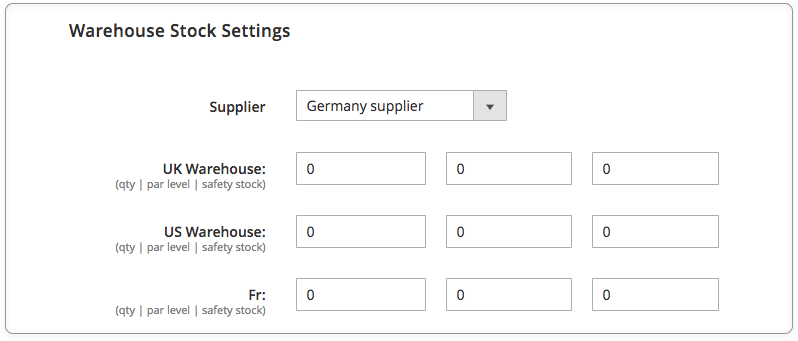 In this section, you'll be prompted to select a supplier of the product. You may choose none of the suppliers if needed.
You'll be also shown a full list of all available warehouses. You may configure product quantity, par level, safety stock for each warehouse. If the product is not available in a certain warehouse, leave '0' in its fields.
You may monitor product inventory in real time by accessing the Catalog page.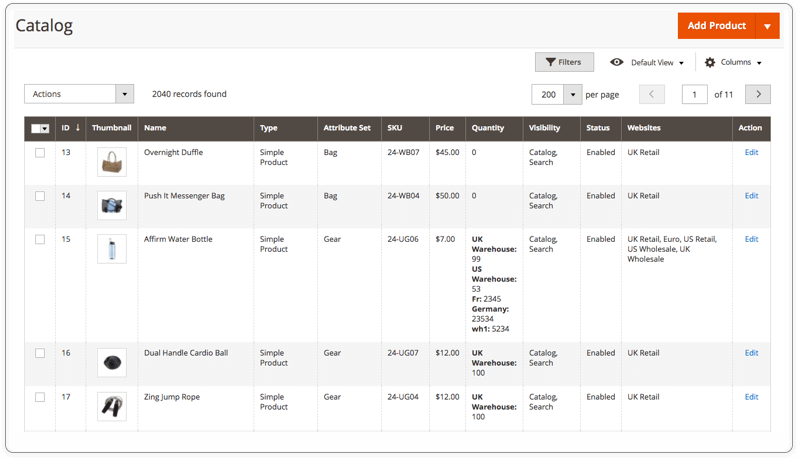 Stock Replenishment Requests
Now let's take a look at the email notification functionality. We've mentioned it previously when we talked about the supplier profile. By enabling email restock requests for suppliers, you get an excellent opportunity to send emails to particular suppliers once you see that the products they deliver hit below par levels.
Go to System > Multi-Location Inventory by Aitoc > Par Level to be shown products that reached the par level.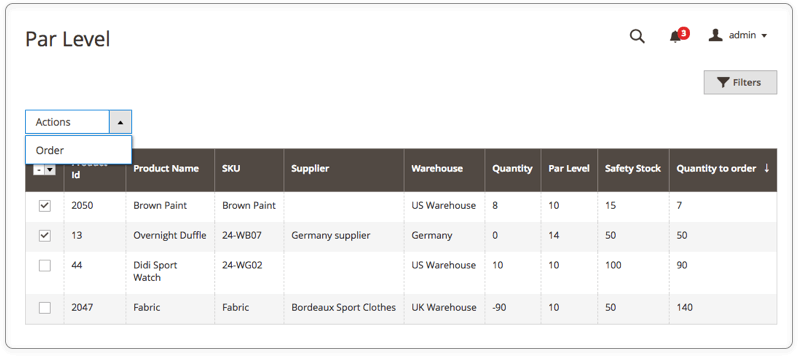 Check the box for products you need to replenish and select the 'Order' action in the dropdown menu. Your suppliers will receive a stock replenishment request similar to the one below. The Warehouse will also receive an email with product title, order quantity, and a supplier name.

Final Thoughts
Inventory management has a huge impact on profitability. Ecommerce businesses excelling at it gain an edge by winning customer loyalty through product availability and guaranteed delivery. They also cut handling, storage, and obsolescence costs. Multi Warehouse Inventory by Aitoc is a handy tool that can help online store owners enhance inventory management and minimize the risk of lost sales by ensuring timely stock replenishment.