Installation
Unzip and paste the extension file into your root Magento folder.
Connect to your server by SSH.
Go to your Magento root folder.
To install the extension, perform this command:
php bin/magento setup:upgrade

To switch the extension on/off, perform these commands:
php bin/magento module:enable Aitoc_FollowUpEmails
php bin/magento module:disable Aitoc_FollowUpEmails

You can activate/deactivate several Aitoc extensions at once by specifying their names separated by space in the command.
Note
All Aitoc extensions can be customized to fit particular business needs. If you have questions about any customization, please drop a message at [email protected]
Config settings
STORES > CONFIGURATION > AITOC EXTENSIONS
Note
Related products are gathered from your product settings.
Note
Most of the Follow Up micromodules have a unified interface which includes the same settings.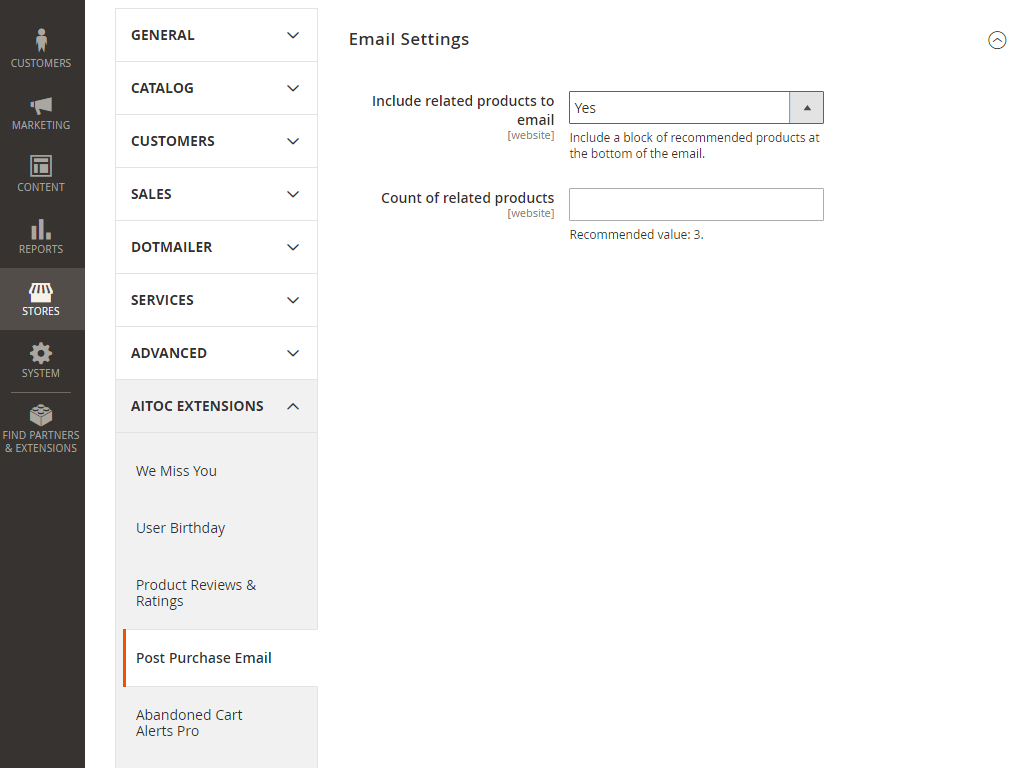 Note
Product Reviews and Ratings as well as Abandoned Cart Emails have slightly different settings, however their interface is very similar to others. Custom Order Status Change and Welcome Emails micromodules do not have global settings. Abandoned Carts and Abandoned Orders are two different events united in one micromodule.
Note
You can choose which status triggers product review prompts.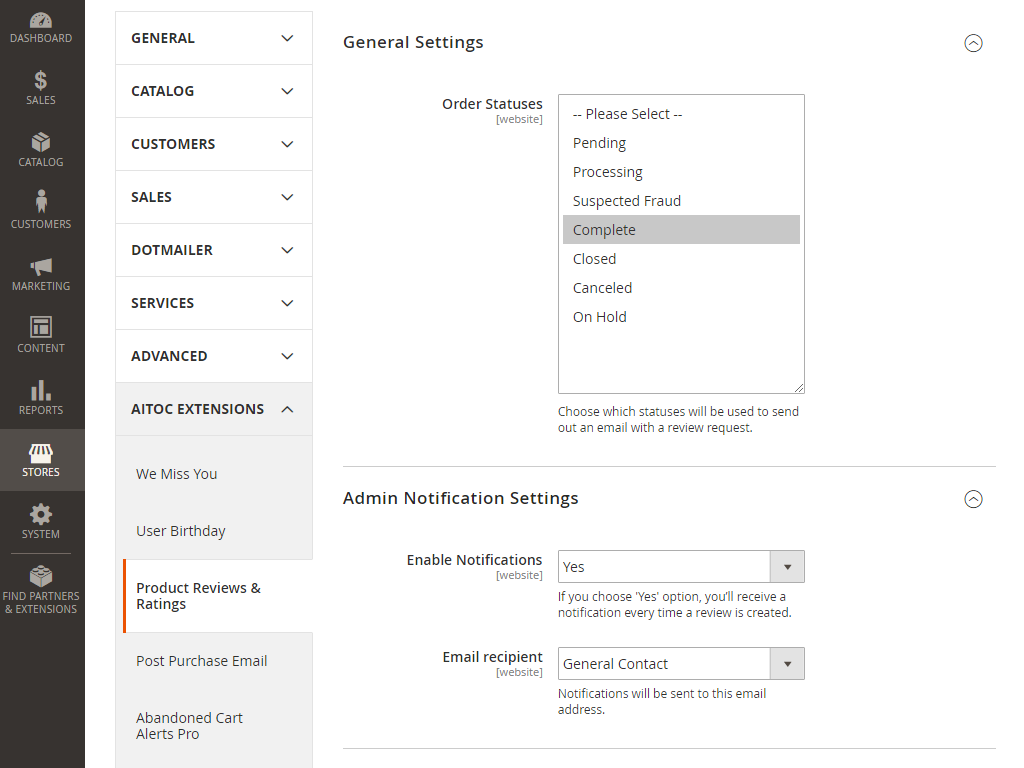 Email Templates
MARKETING > COMMUNICATIONS > EMAIL TEMPLATES
Note
On this page you can find and edit all email templates in your Magento, including Follow Up email templates.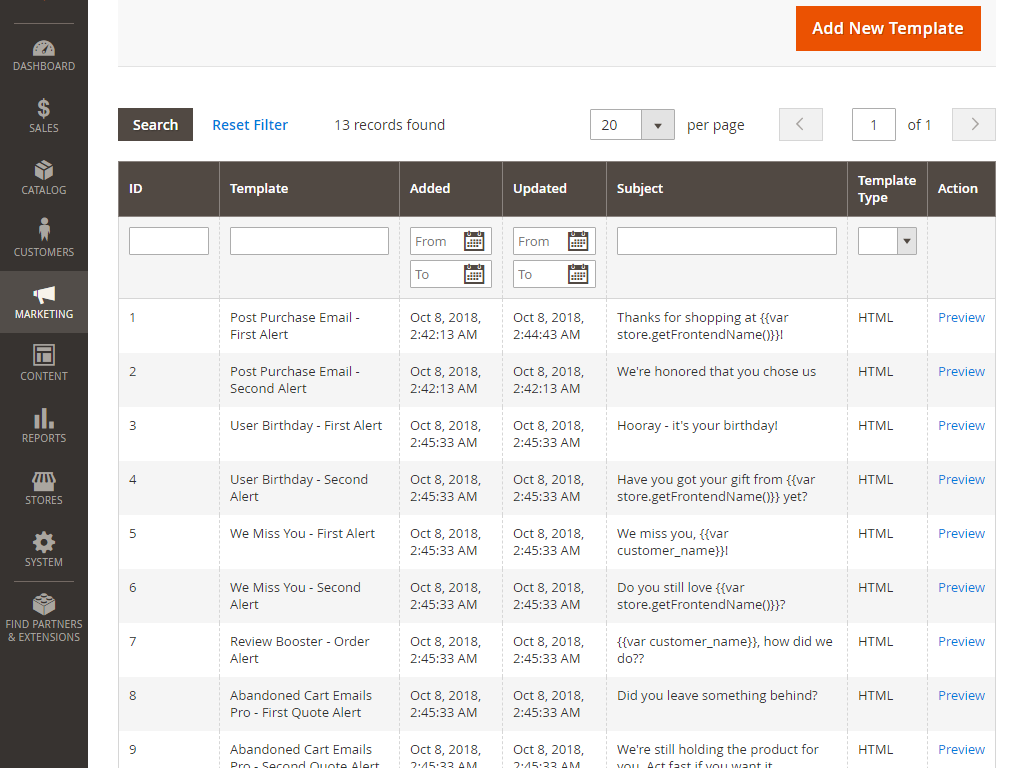 Events page
MARKETING > FOLLOW UP EMAILS BY AITOC > EVENTS
Note
Click to add or edit your current campaigns within this event.
Note
On the Events page, you can find your performance statistics as well as some tips and tricks to create campaigns.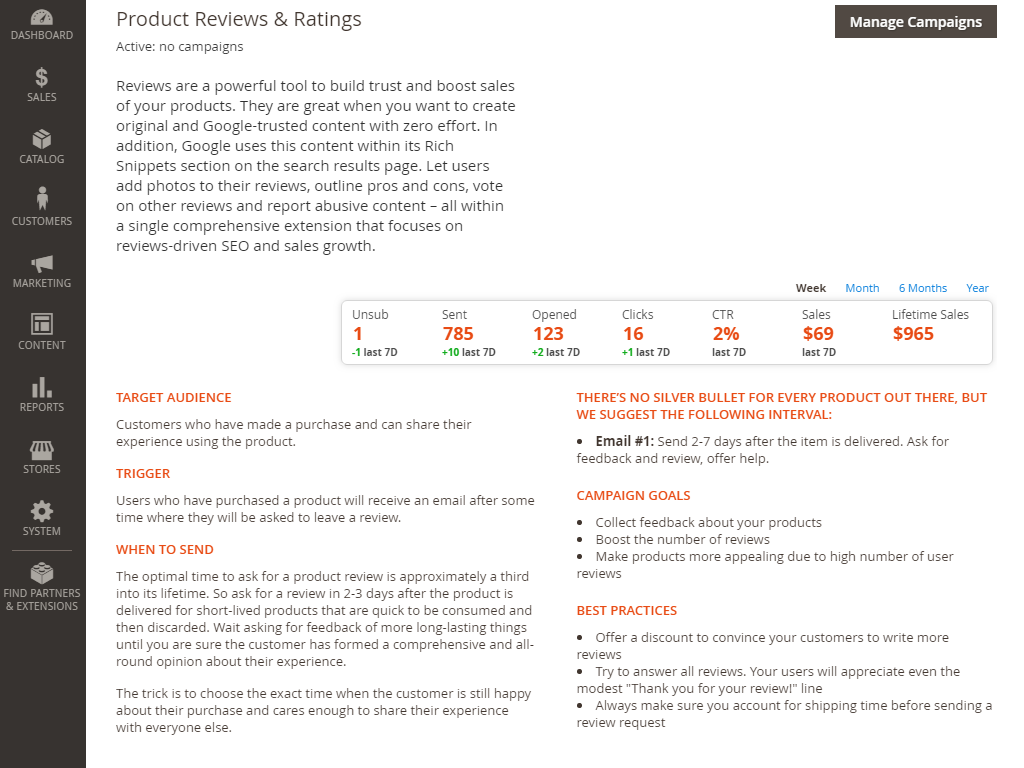 Managing single event
MARKETING > FOLLOW UP EMAILS BY AITOC > EVENTS
Note
You can edit or delete separate emails or the whole campaign at once.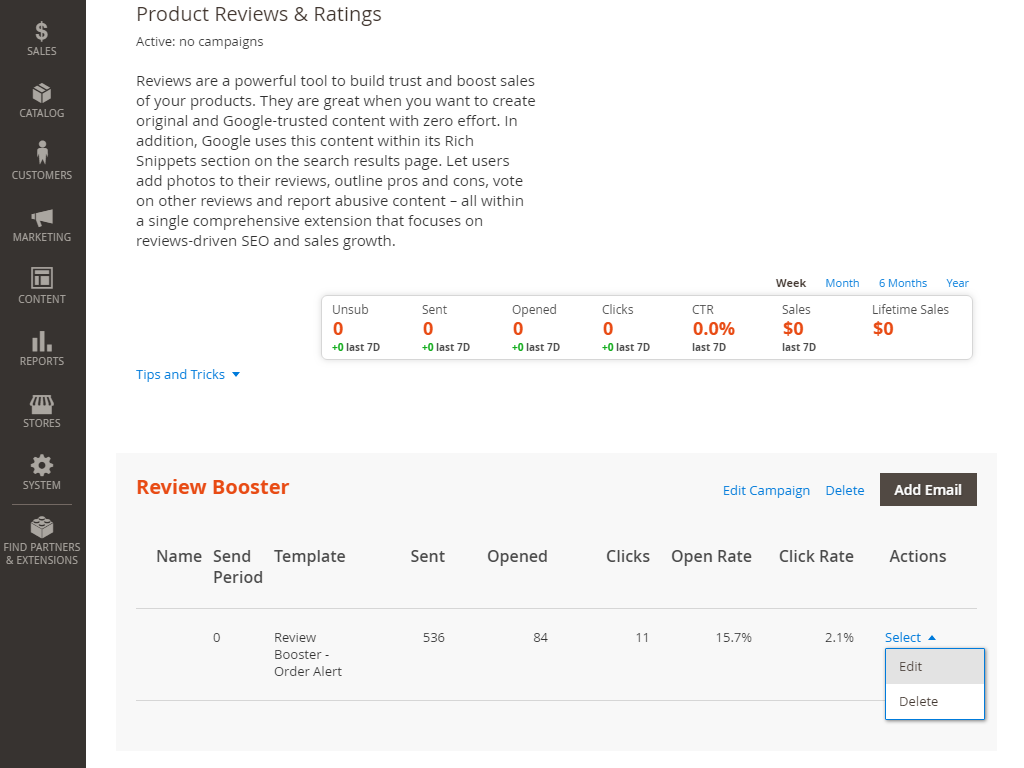 Also, click on 'Manage Campaigns' button if you need to 'Enable' the campaign and make it Active.

Then click on 'Edit Campaign' and enable it. Don't forget to 'Save Campaign' and it will be Active.

Editing email templates
MARKETING > FOLLOW UP EMAILS BY AITOC > EVENTS
Note
You can customize your email message body. The extension provides default templates that can be altered according to your needs.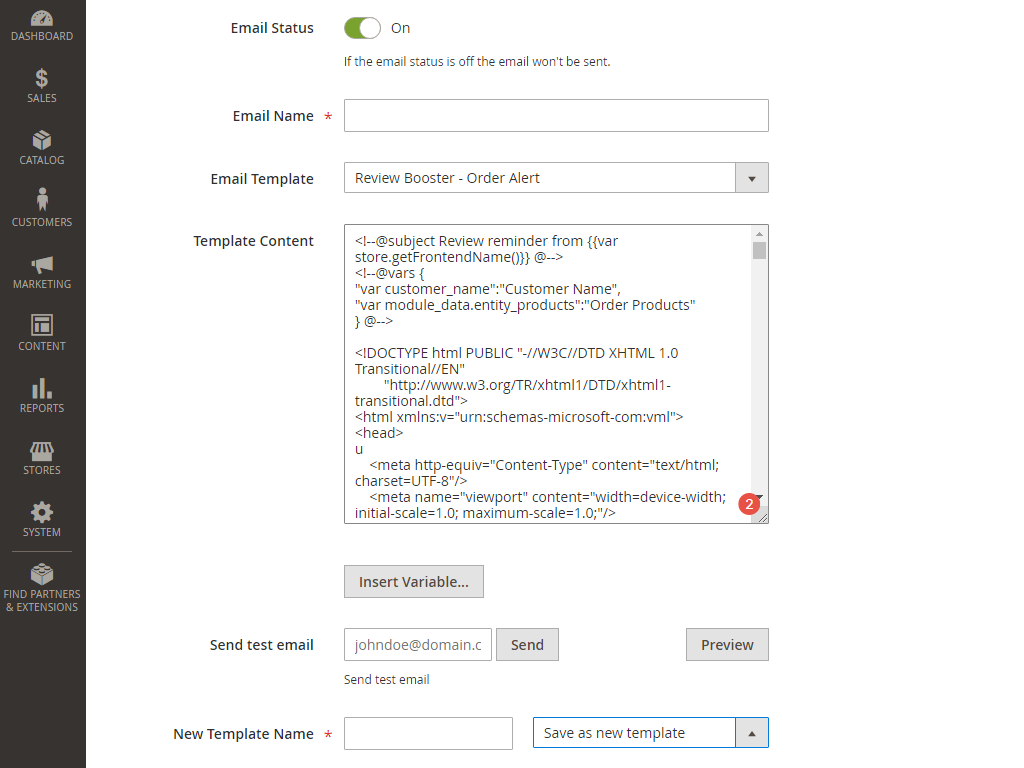 Note
You can create numerous templates based on the default one, or alter it permanently.
Note
Several units of delay period count are available: Minutes, Hours and Days.
Note
You can reset statistics for each email separately when needed.
Note
Adding a discount code to the email is optional and can be disabled.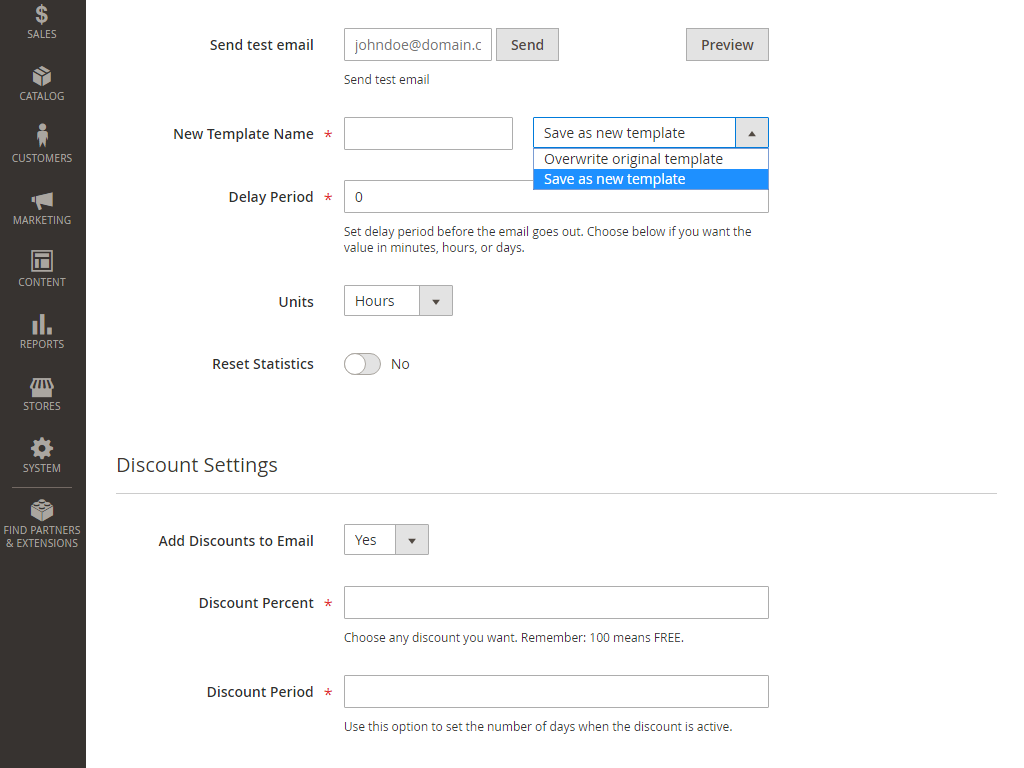 Editing the campaign
MARKETING > FOLLOW UP EMAILS BY AITOC > EVENTS
Note
When editing the whole campaing, you can set the default sender contact.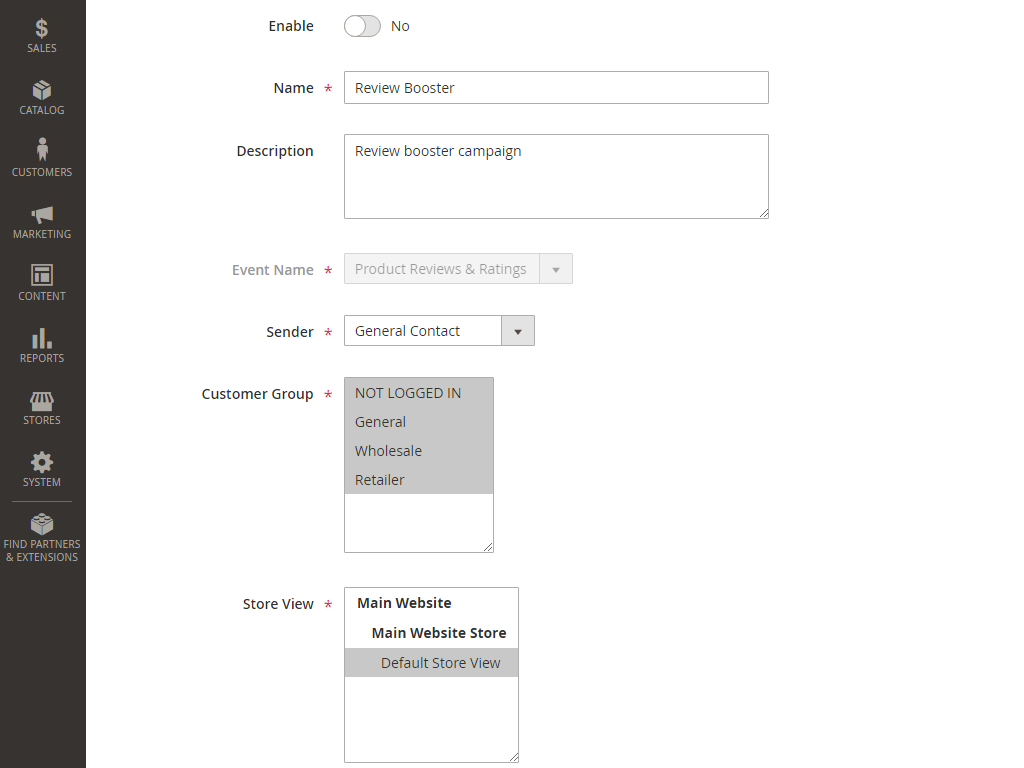 Note
You can reset the statistics for the whole campaign when needed. The values on the Events page will restore to 0.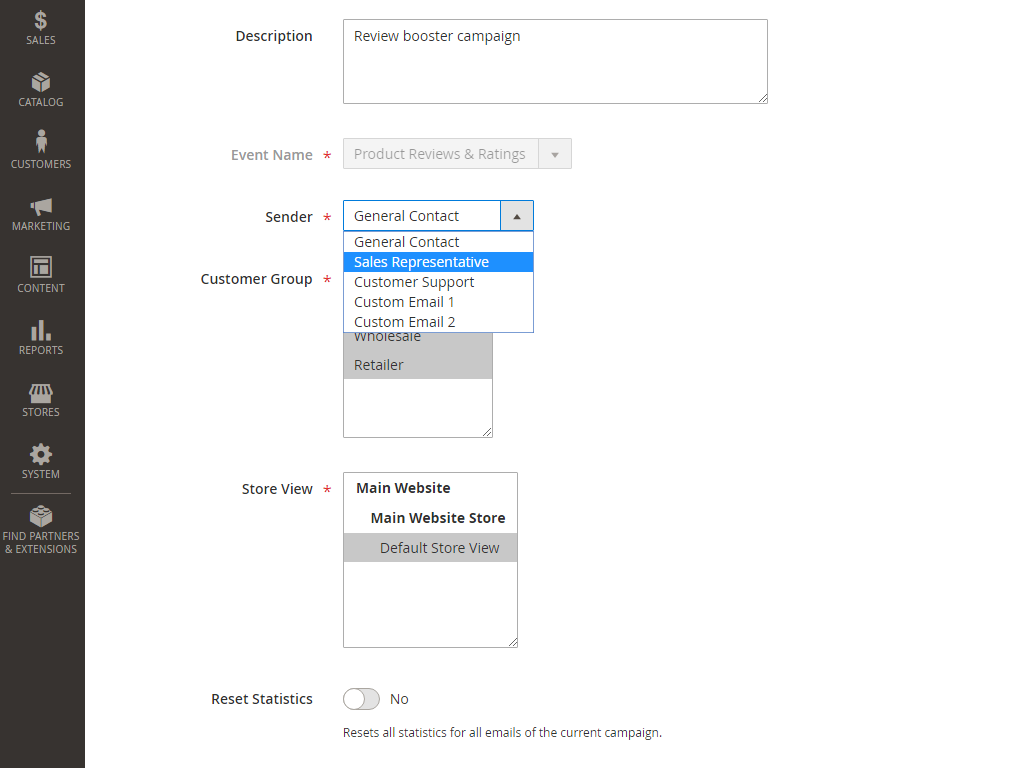 Follow Up Emails queue
MARKETING > FOLLOW UP EMAILS BY AITOC > EMAIL QUEUE
Note
You can generate emails manually provided their trigger condition corresponds to the extension settings.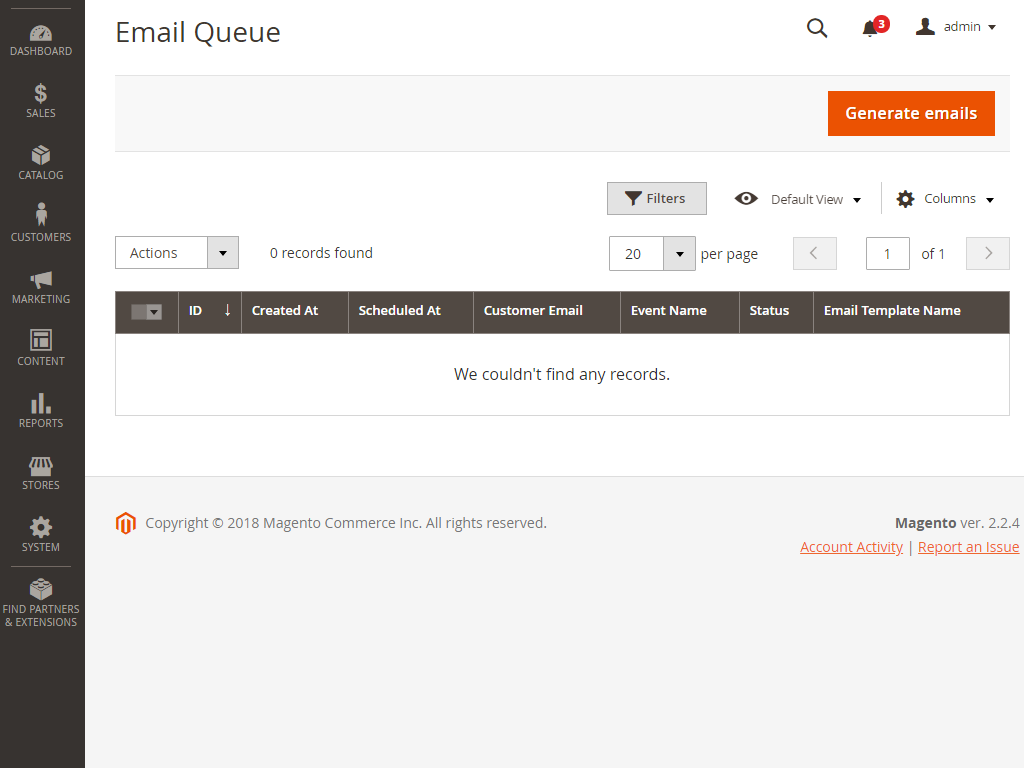 Missing Follow Up modules
MARKETING > FOLLOW UP EMAILS BY AITOC > EVENTS
Note
You can purchase any Follow Up module that you lack on the Events page.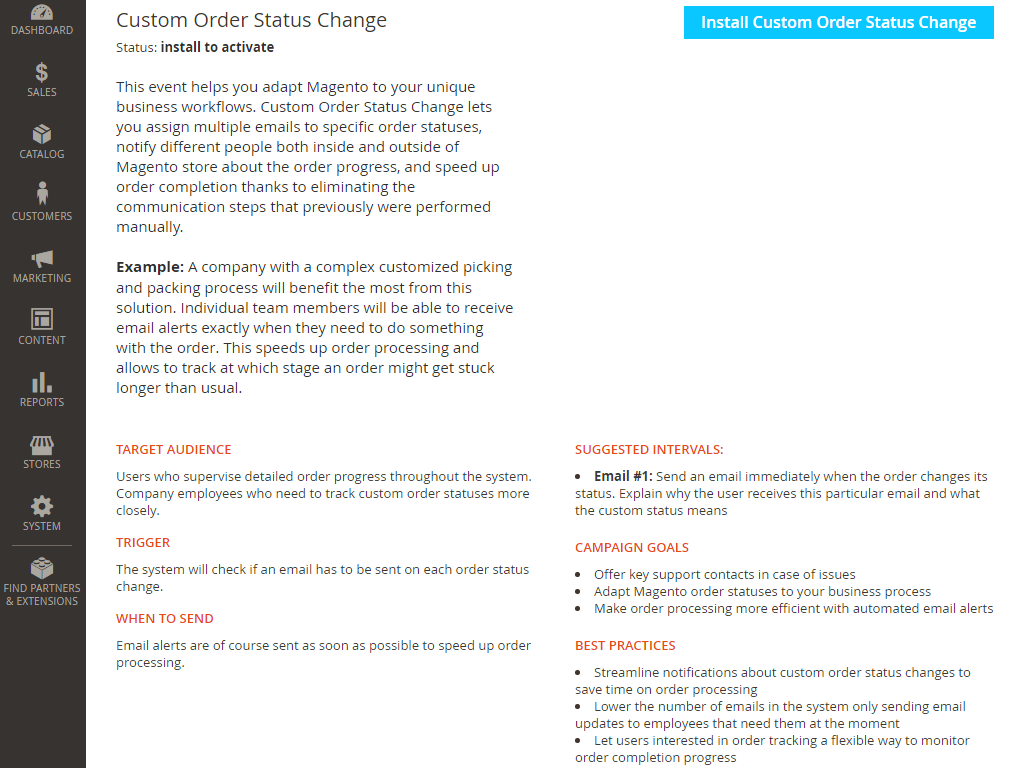 GDRP compliance
To ensure GDPR compliancy to your customers, you need to have an option to state / delete their personal data upon request. The current module allows you to export and import your orders which contain the following data about your customers:
This data can be found in the following tables:
aitoc_follow_up_emails_unsubscribed_list
aitoc_follow_up_emails_emails

THANK YOU FOR CHOOSING AITOC EXTENSIONS!