Installation
Unzip and paste the extension file into your root Magento folder.
Connect to your server by SSH.
Go to your Magento root folder.
To install the extension, perform this command:
php bin/magento setup:upgrade

To switch the extension on/off, perform these commands:
php bin/magento module:enable Aitoc_ReviewBooster
php bin/magento module:disable Aitoc_ReviewBooster

You can activate/deactivate several Aitoc extensions at once by specifying their names separated by space in the command.
Config settings
STORES > CONFIGURATION > AITOC EXTENSIONS > PRODUCT REVIEWS & RATING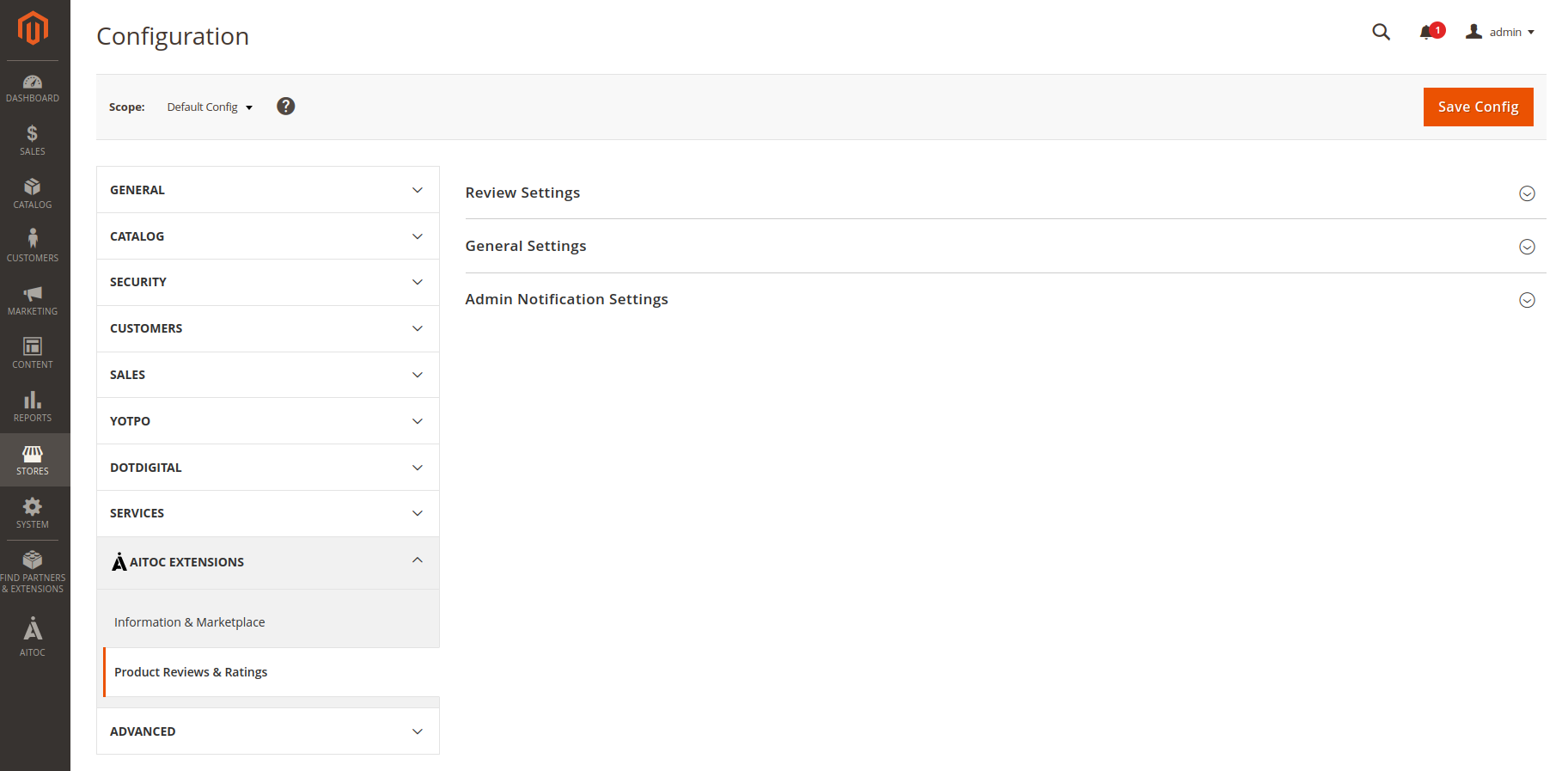 Or
ADMIN > AITOC > PRODICY REVIEWS & RATING > CONFIGURATION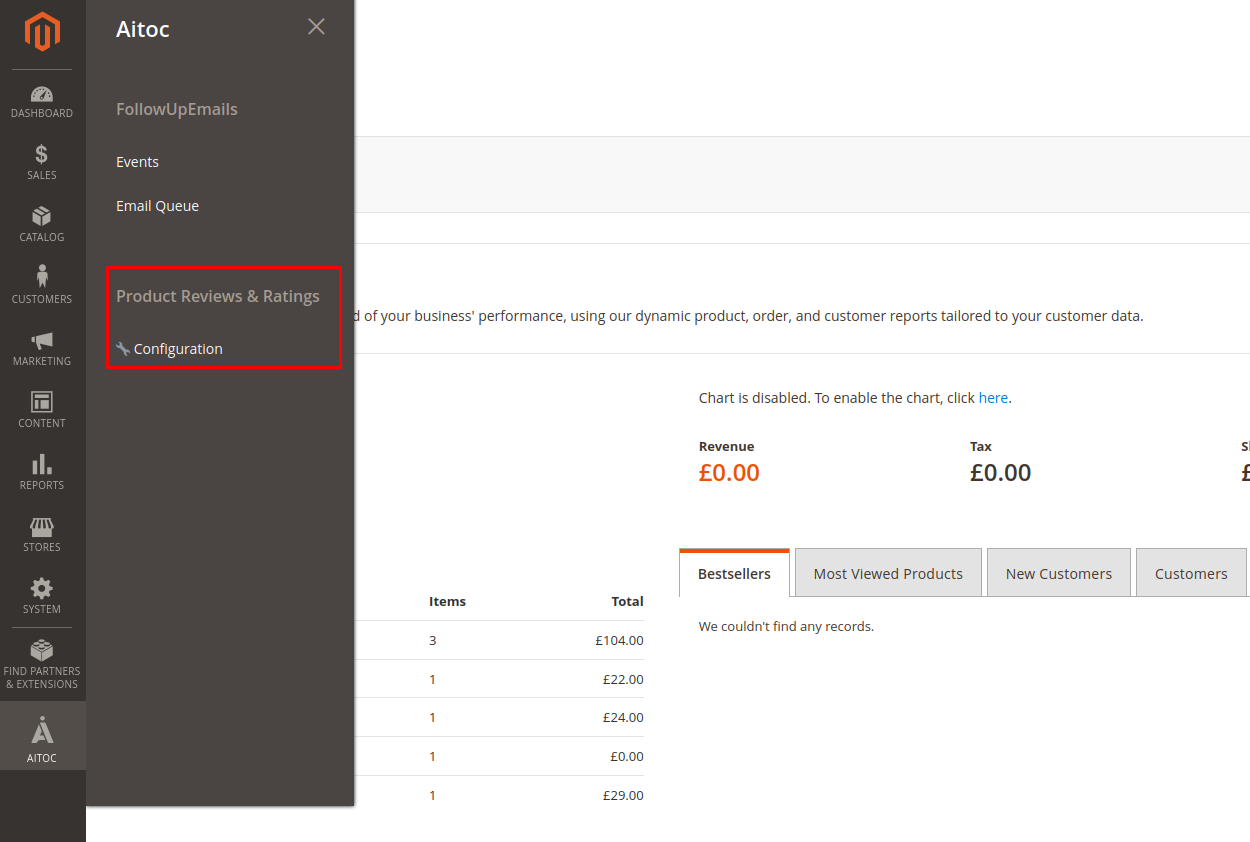 Note
You can choose which status triggers product review prompts.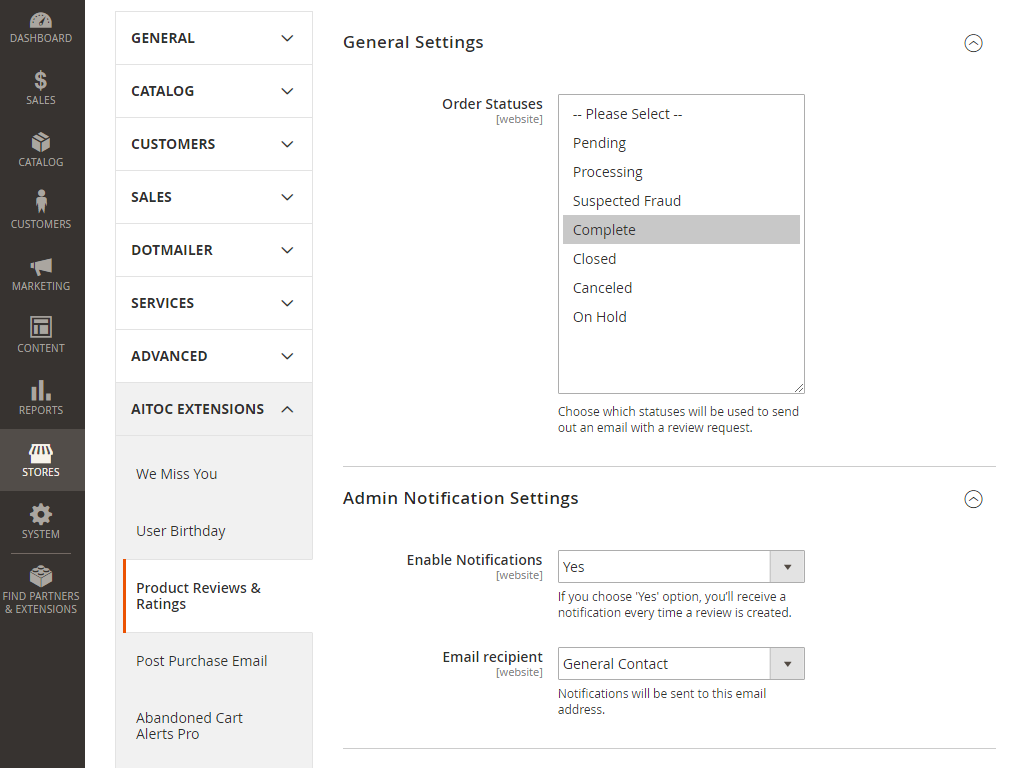 Note
You can enable or disable images in the reviews you get.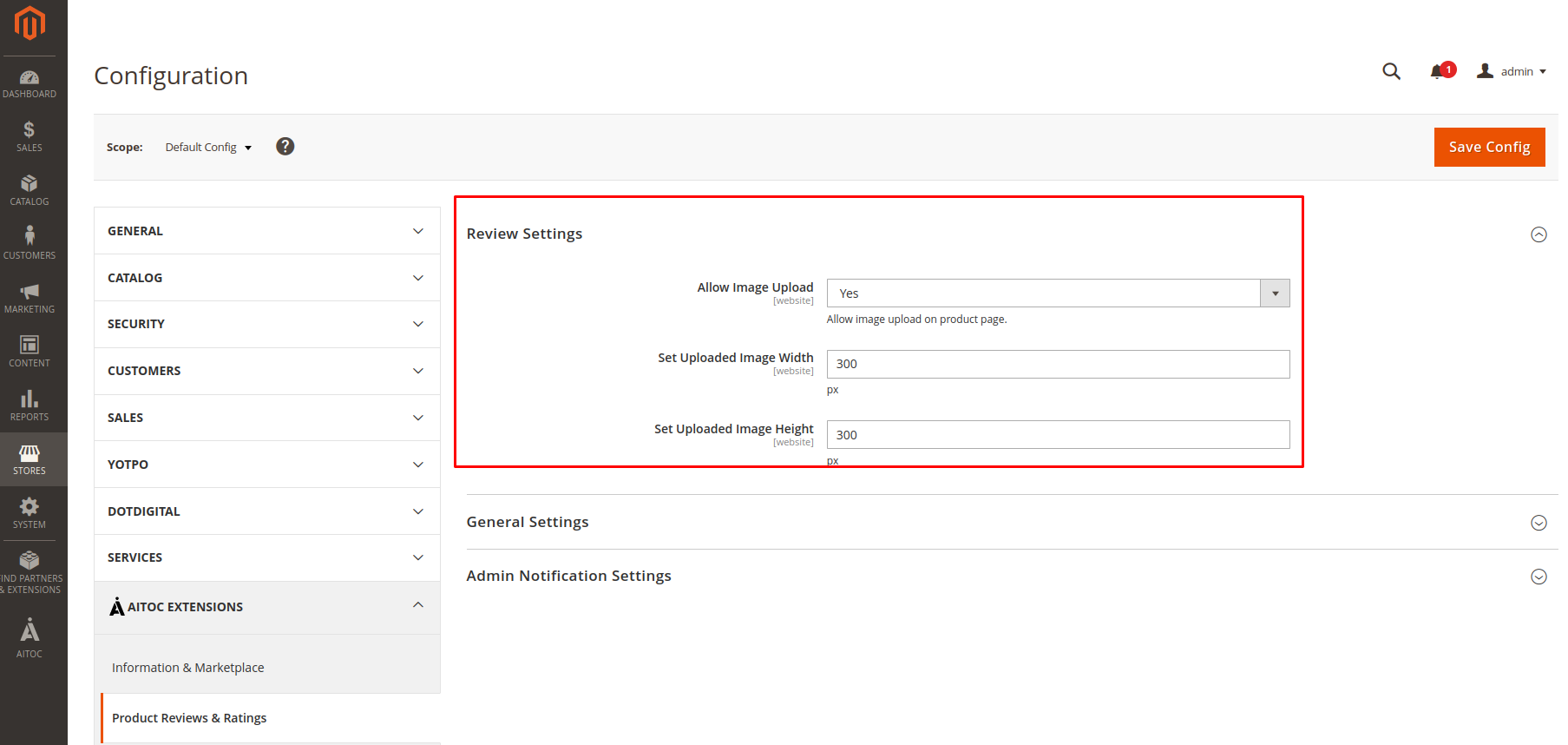 Email Templates
MARKETING > COMMUNICATIONS > EMAIL TEMPLATES
Note
On this page you can find and edit all email templates in your Magento, including Follow Up email templates.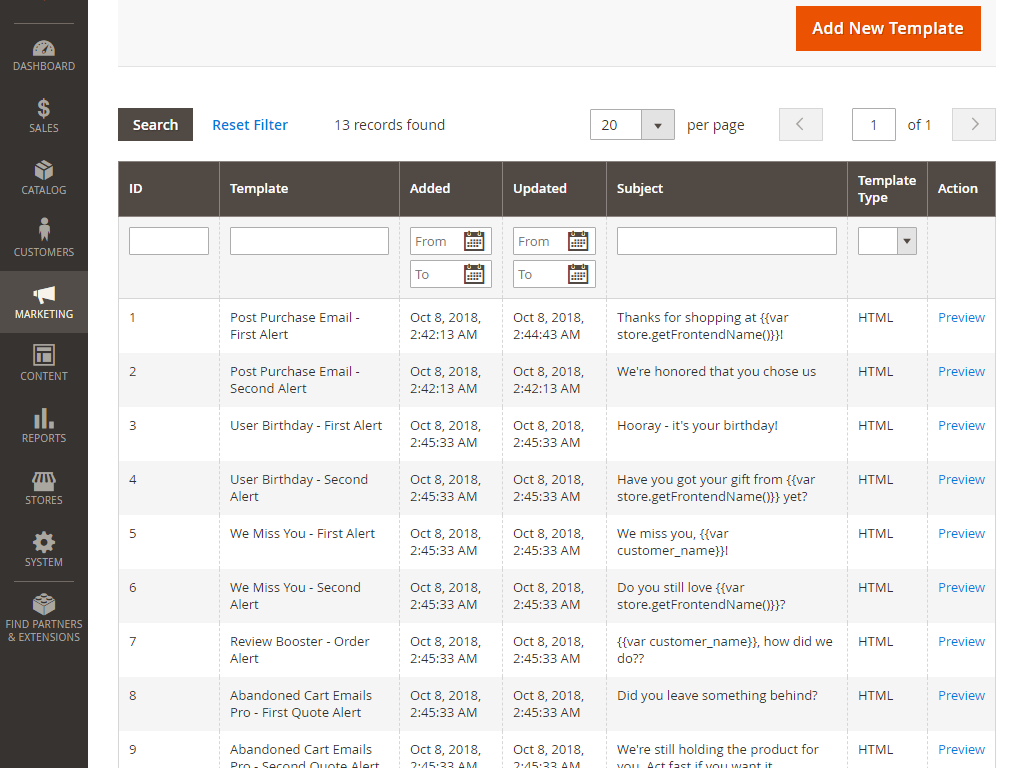 Events page
MARKETING > FOLLOW UP EMAILS > EVENTS
Note
Click to add or edit your current campaigns within this event.
Note
On the Events page, you can find your performance statistics as well as some tips and tricks to create campaigns.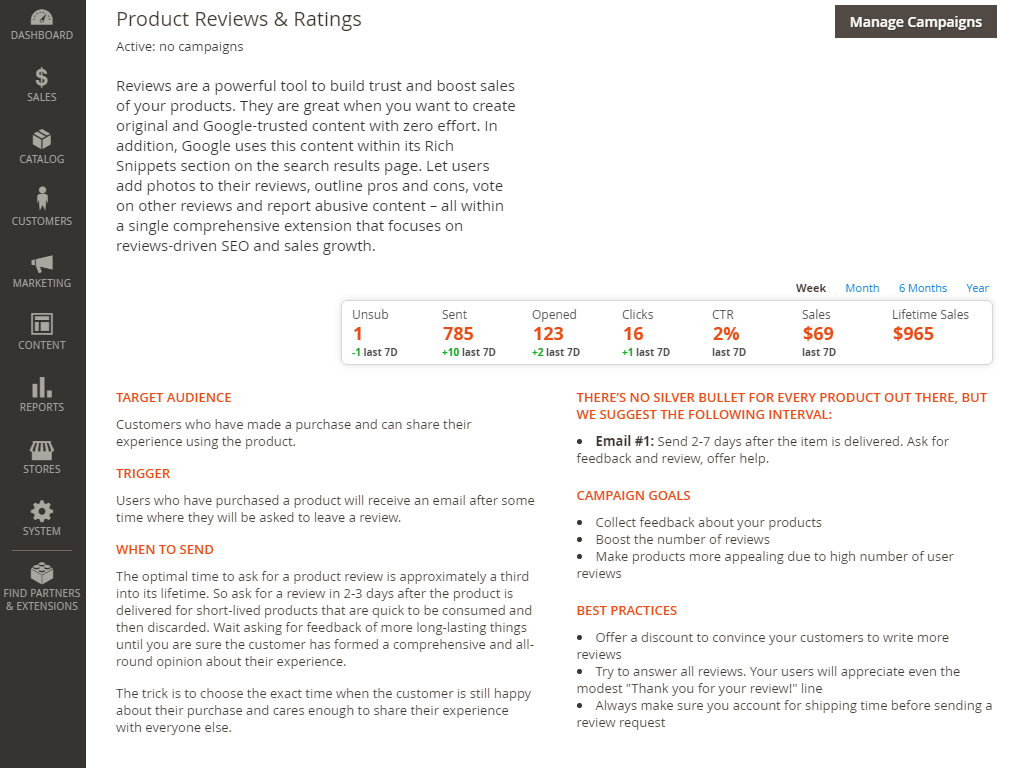 Managing single event
MARKETING > FOLLOW UP EMAILS > EVENTS
Note
You can edit or delete separate emails or the whole campaign at once.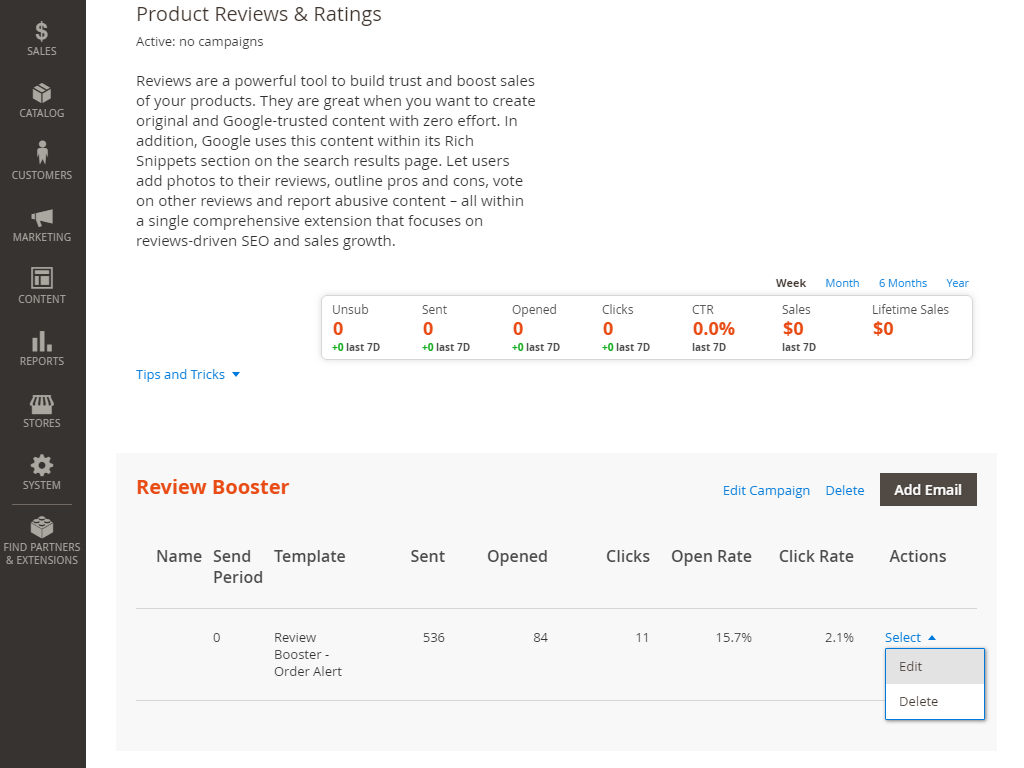 Editing email templates
MARKETING > FOLLOW UP EMAILS > EVENTS
Note
You can customize your email message body. The extension provides default templates that can be customized according to your needs.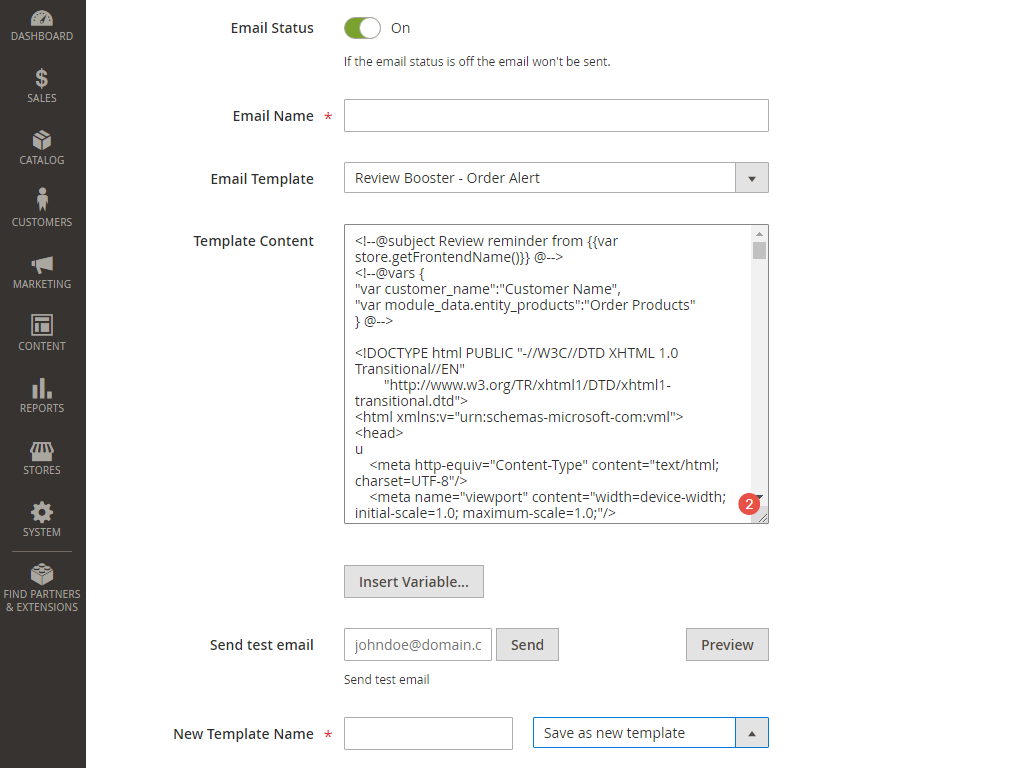 Note
You can create numerous templates based on the default one, or alter it permanently.
Note
Several units of delay period count are available: Minutes, Hours and Days.
Note
You can reset statistics for each email separately when needed.
Note
Adding a discount code to the email is optional and can be disabled.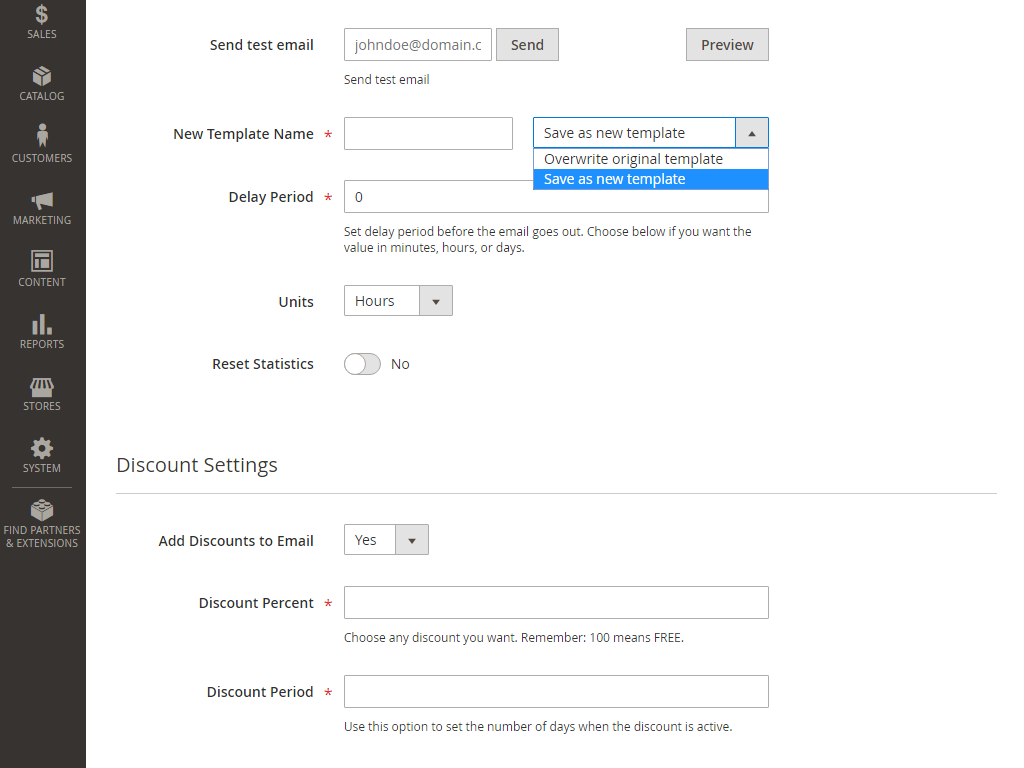 Editing the campaign
MARKETING > FOLLOW UP EMAILS > EVENTS
Note
When editing the whole campaing, you can set the default sender contact.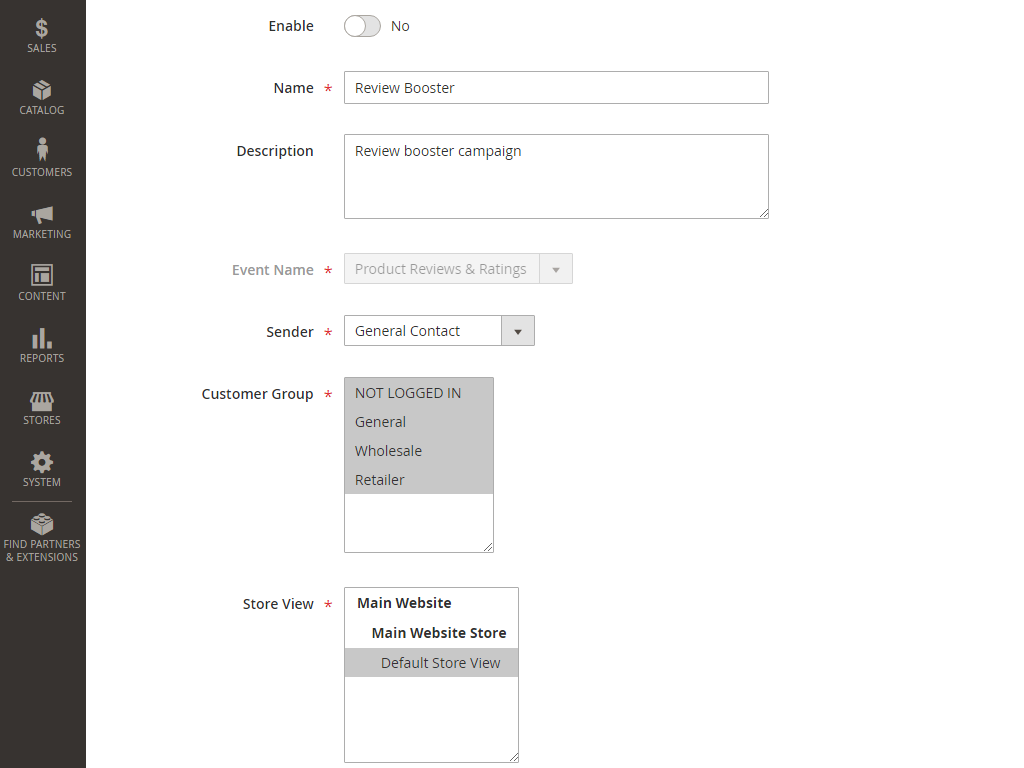 Note
You can reset the statistics for the whole campaign when needed. the values on the Events page will restore to 0.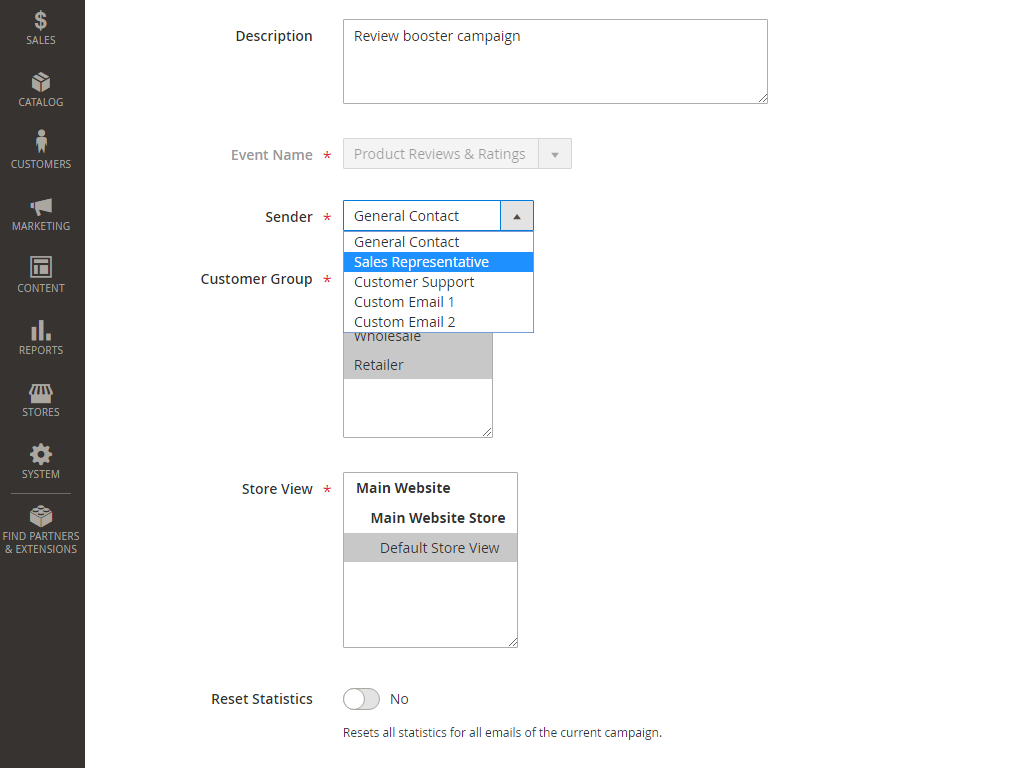 Follow Up Emails queue
Note
Full list of all emails generated by Follow Up events can be found in MARKETING -> FOLLOW UP EMAILS BY AITOC -> EMAIL QUEUE. You can generate emails manually provided their trigger condition corresponds to the extension settings.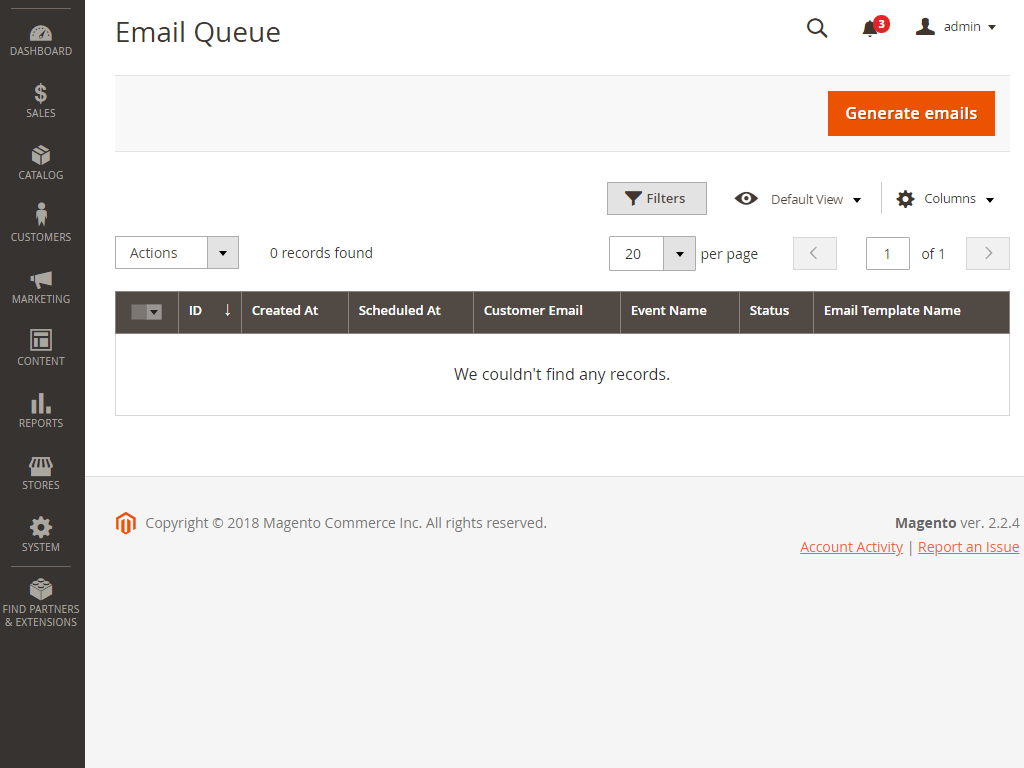 Missing Follow Up modules
MARKETING > FOLLOW UP EMAILS > EVENTS
Note
You can purchase any lacking Follow Up module on the Events page.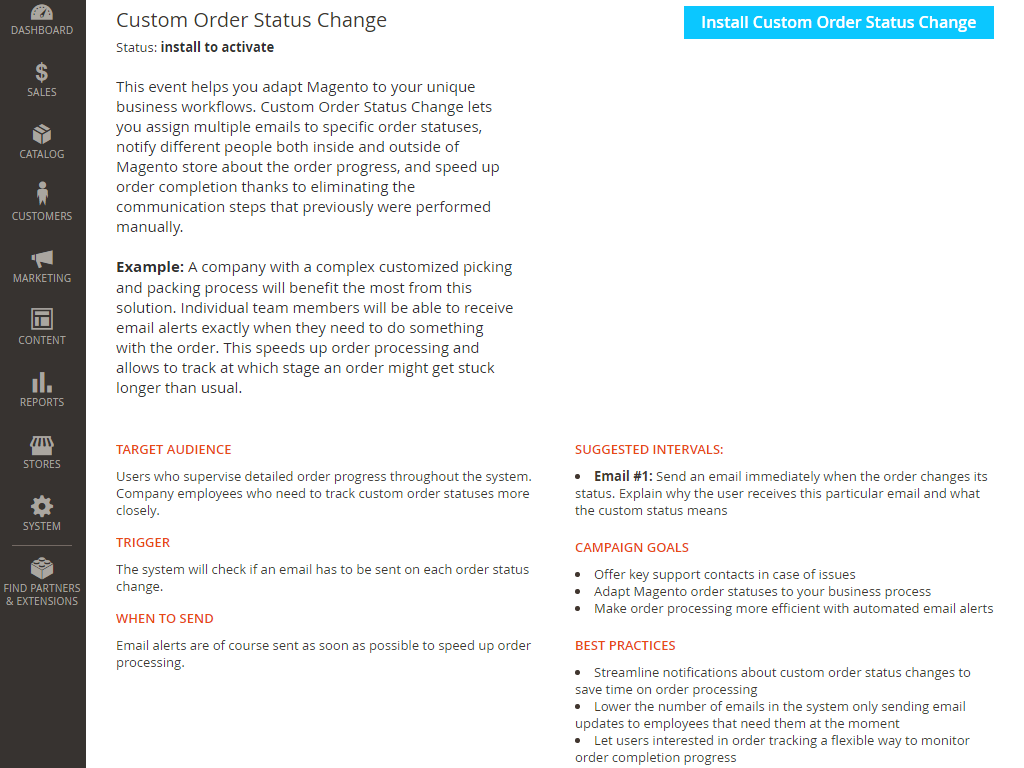 Rating
Go to ADMIN > STORES > ATTRIBUTES > RATING
Here you can create a new Rating.
To do this, please click

Then you're able to set Rating information.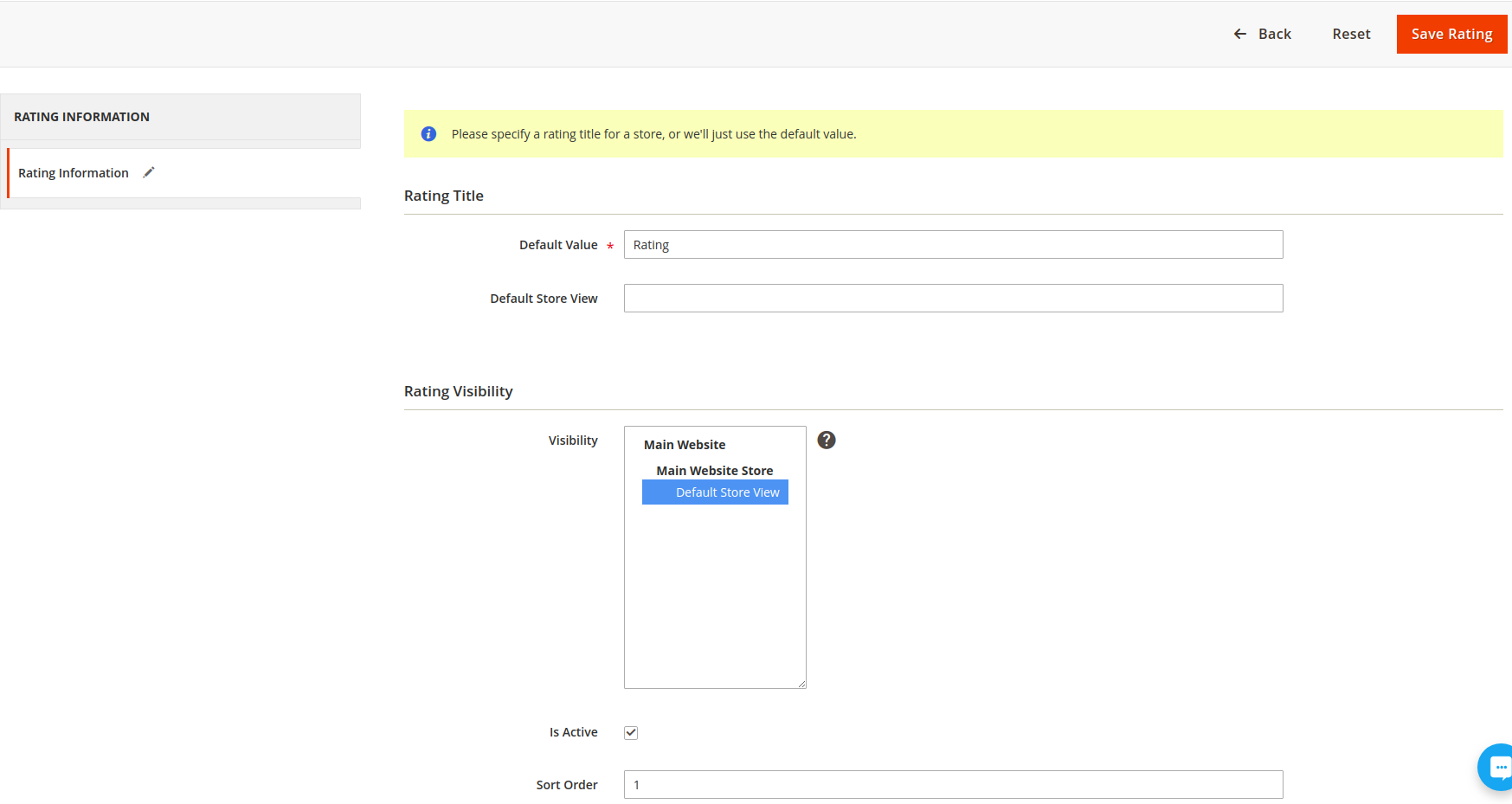 You need to specify a Rating Title for a store, or we'll just use the default value.
Also, set the Rating Visibility and make it Active.
After configuring, please don't forget to Save Rating.
Customer reviews: frontend view
Note
Each rating has a verbal representation such as Excellent, Very Good, Average, Poor or Terrible.
Note
After you install Review Booster, a new visual block appears in the Reviews tab.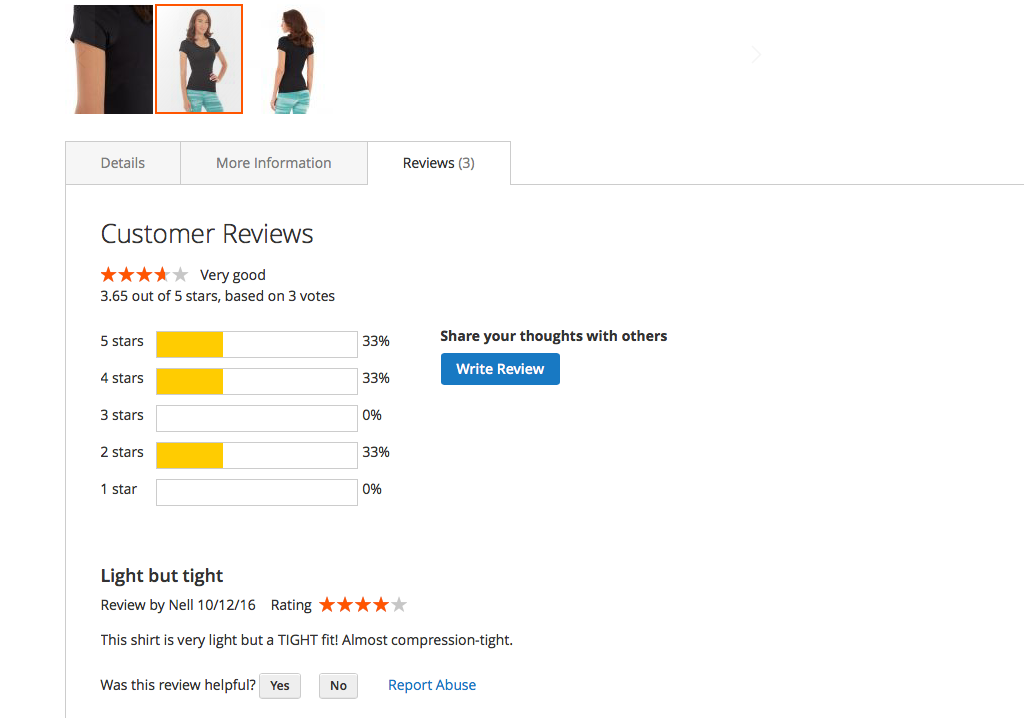 Note
The same verbal represenation is visible at mouseover when your customers are writing a review.
Note
Now customers can create anonymous reviews, the Nickname field is not mandatory.
Note
Customers can upload several images to their review.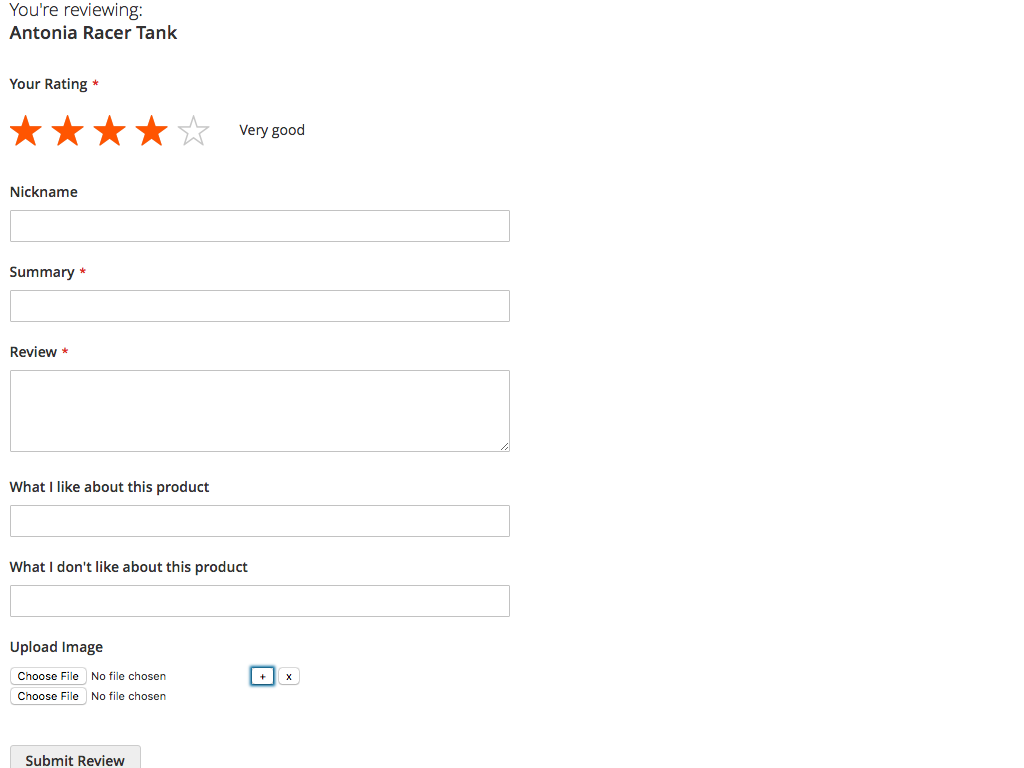 Note
Not all ratings are created equal. A rating based on 100 reviews is more accurate than a rating based on 1 review. After you install Review Booster, your customers can see the number of votes a particular rating is based on.
Note
Your customers can see a chart with the distribution of ratings (in percent).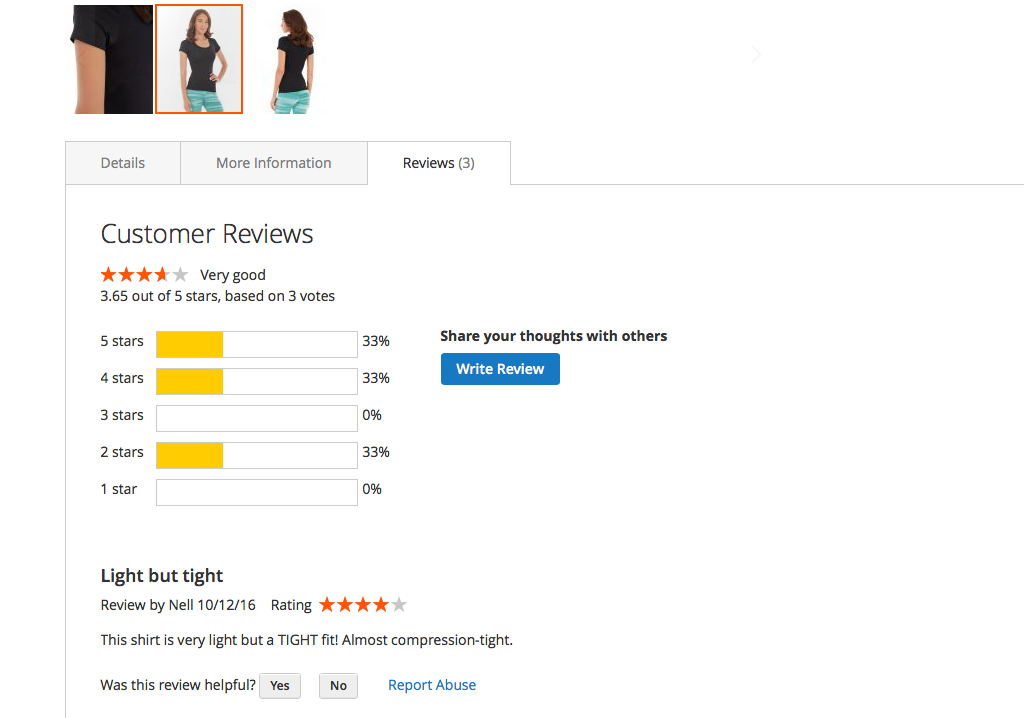 Note
Customers can filter reviews by rating (e.g., they can choose 5-star reviews only) by clicking a respective bar in the table.
Note
An additional Write Review button is placed at the top of Reviews to encourage your customers to write a review right away, without having to scroll to the end of the list.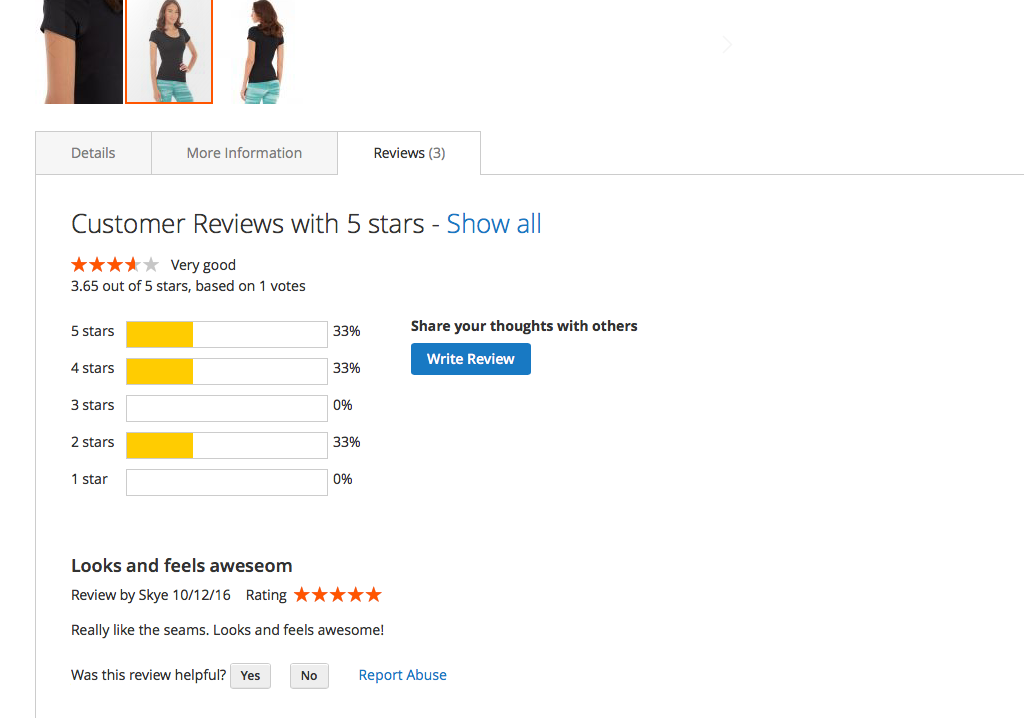 Note
Your Magento store visitors can vote reviews as helpful or unhelpful.
Note
Customers can also specify product pros and cons. The pros and cons appear on the front end only if a customer specifies them.
Note
Shoppers can report inappropriate abusive reviews in a click.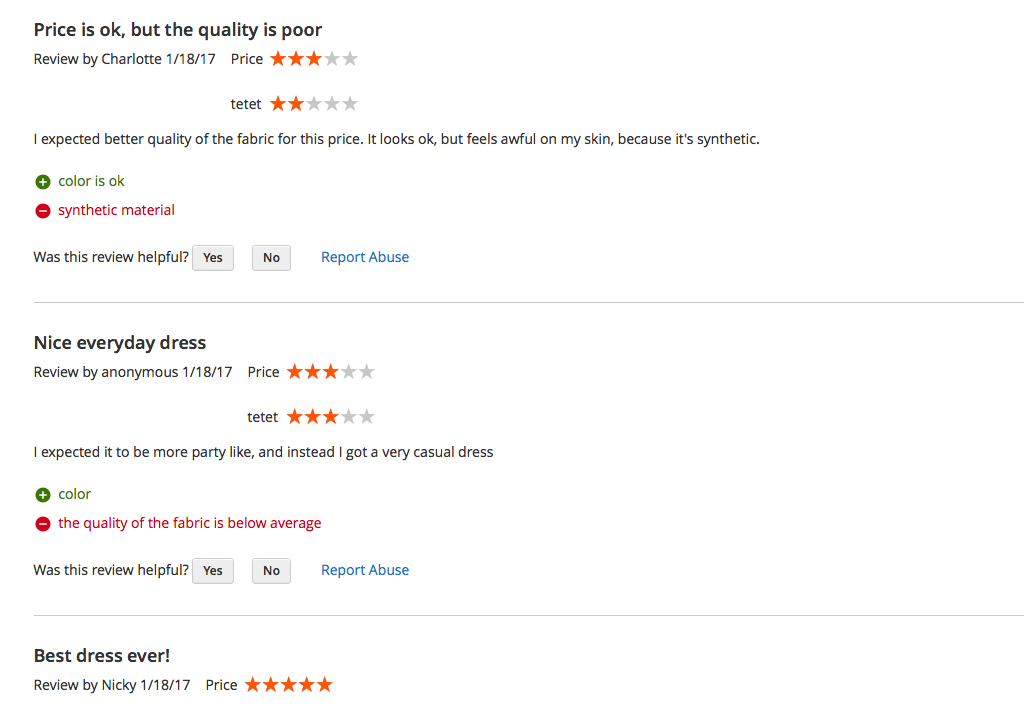 Note
The most helpful reviews appear at the top of the list.
Note
The uploaded image is rescaled to fit the dimentions set by the admin in the module Global settings. The resulting images cannot be taller or wider than set in the backend, and their proportions do not change.
Note
Verified reviews are posted by registered customers who actually bought the item.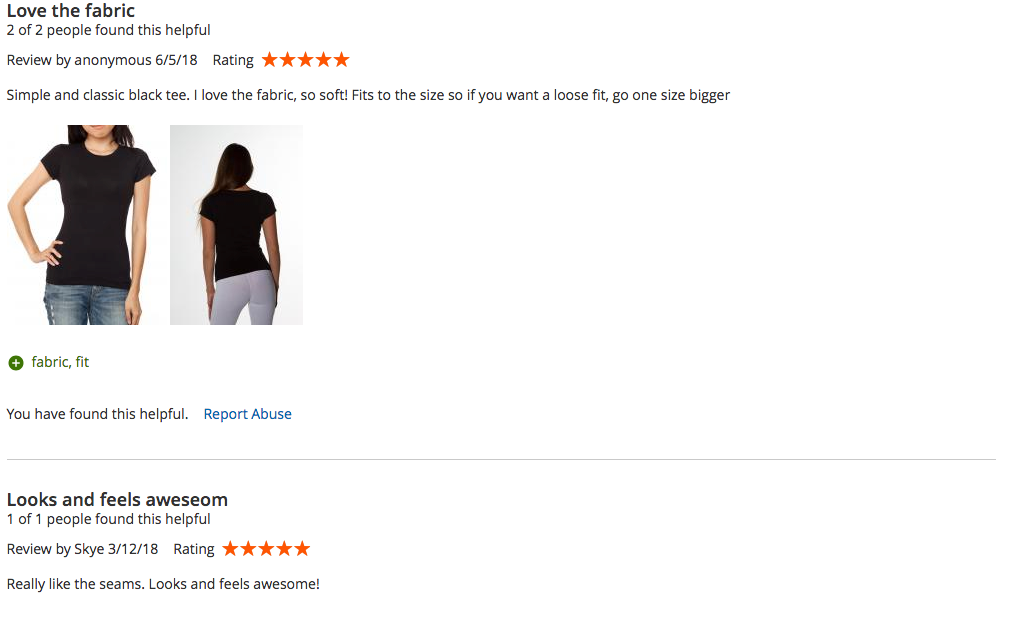 Editing a review
ADMIN > MARKETING > USER CONTENT > ALL REVIEWS > REVIEWS > EDIT REVIEW
Note
While editing a review in the admin panel, you get two additional fields: product pros and cons.
Note
You can observe the image a customer attached to the review.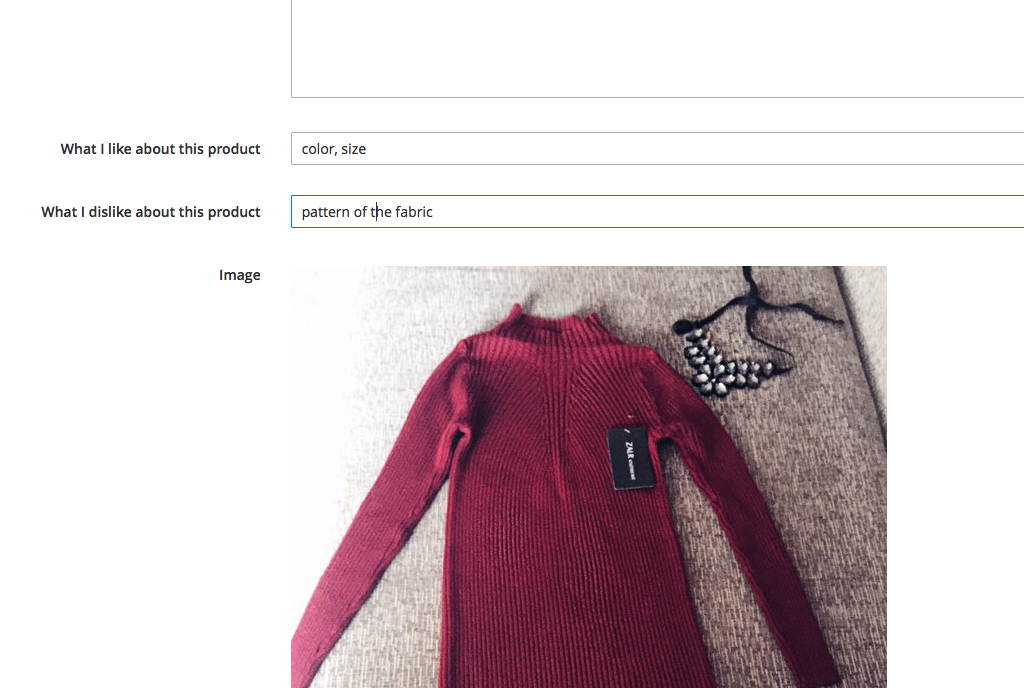 Note
You can also see the number of people who found this review helpful/unhelpful, and the number of abuse reports.
Note
While editing a review from the admin panel, you can see if it was submitted by a verified customer.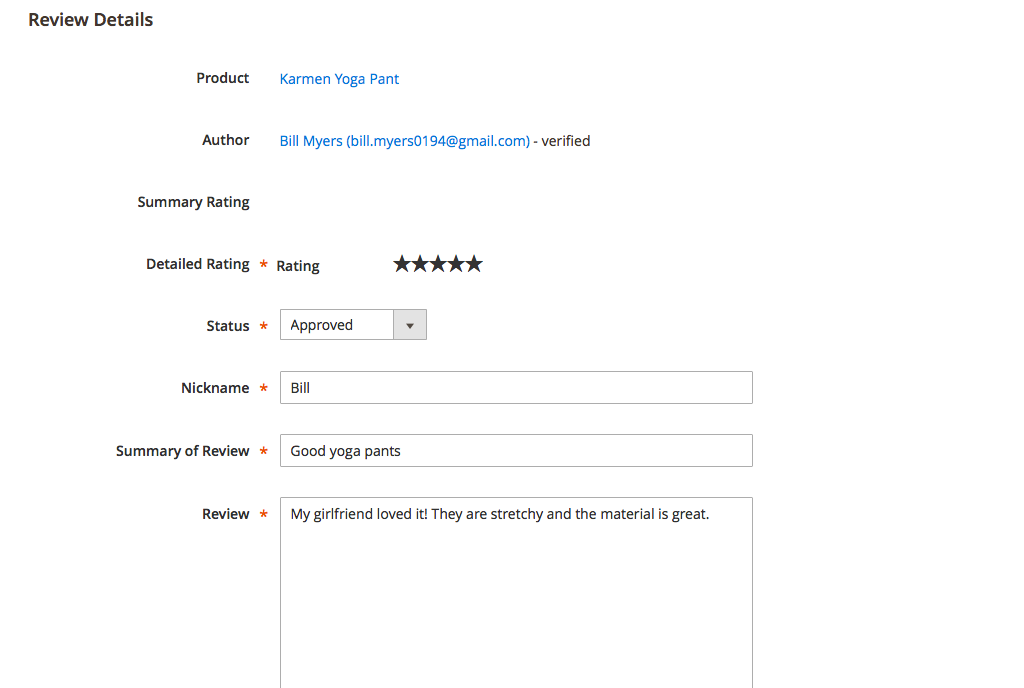 Note
Add comments to your customer reviews. Use a generic title e.g. 'Seller reply' or a specific one - 'Retail Department Manager' etc.
Note
Once this box is checked and review is saved, the customer receives the email that you commented his/her review.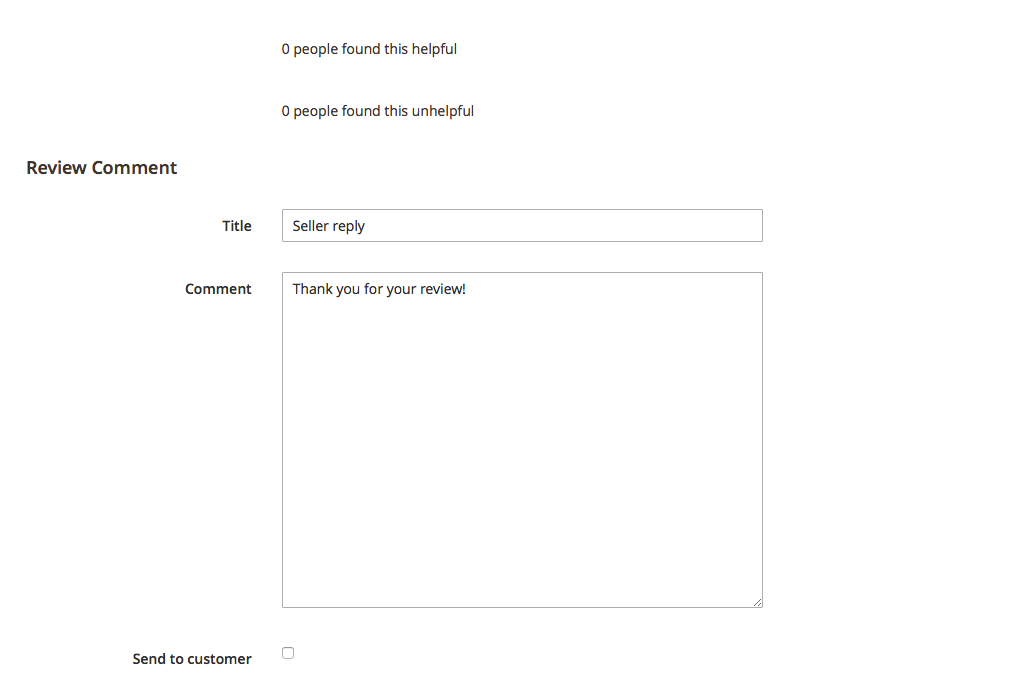 Admin reply - frontend view
Note
This is how your comment looks on the frontend.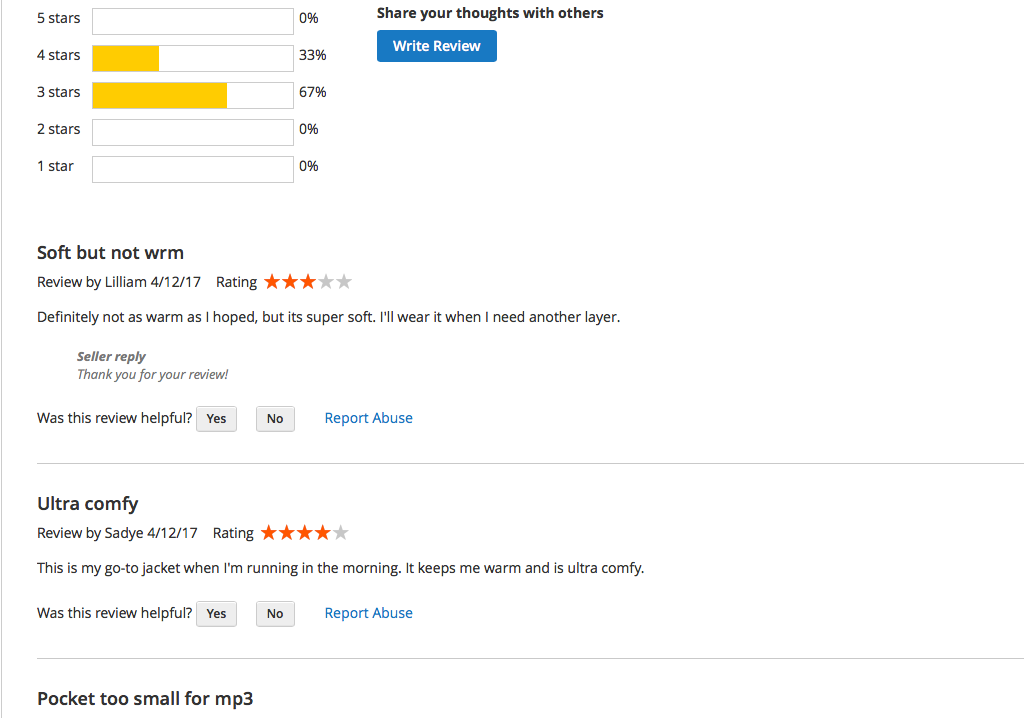 GDRP compliance
To ensure GDPR compliancy to your customers, you need to have an option to state / delete their personal data upon request. The current module allows you to export and import your orders which contain the following data about your customers:
Customer ID
Customer name
Customer email

This data can be found in the following tables:
aitoc_follow_up_emails_unsubscribed_list
aitoc_follow_up_emails_emails

THANK YOU FOR CHOOSING AITOC EXTENSIONS!